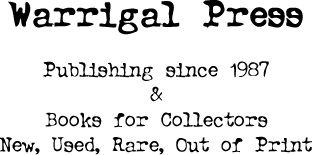 &nbsp




































This is our magazine section. To see the reference number for the images above, place your mouse over the specific image and a box will pop up with the number.
If you collect magazines, and are looking for a specific one, please email
Bob Sheppard
and he will keep a look out for you.
To order, visit our
Order Page
. Be sure to quote the book reference number and title. If you would like additional information about any magazine, as well as a scan of the cover, or are looking for an article about a particular topic (for example, in a motor magazine you may be looking for an article on the GT-Falcon), please
email Bob
. Please note that details about the condition of the magazines are not listed. All are complete. Please email for more information.
Catalog Report
Magazines
: 2922 Books
[007654] . Australasian Post July 15 1989. Melbourne: Magazine. We have hundreds of Australiasian Post mags at Warrigal Press. If you are looking for a particular story, cover or topic let us know and we can browse through the collection. Great Australiana, great stories etc... $15.00

[007664] . Australasian Post September 9 1989. Melbourne: Magazine. We have hundreds of Australiasian Post mags at Warrigal Press. If you are looking for a particular story, cover or topic let us know and we can browse through the collection. Great Australiana, great stories etc... $15.00

[007663] . Australasian Post July 22 1989. Melbourne: Magazine. We have hundreds of Australiasian Post mags at Warrigal Press. If you are looking for a particular story, cover or topic let us know and we can browse through the collection. Great Australiana, great stories etc... $15.00

[007662] . Australasian Post August 20 1988. Melbourne: Magazine. We have hundreds of Australiasian Post mags at Warrigal Press. If you are looking for a particular story, cover or topic let us know and we can browse through the collection. Great Australiana, great stories etc... $15.00

[007661] . Australasian Post March 30 1991. Melbourne: Magazine. We have hundreds of Australiasian Post mags at Warrigal Press. If you are looking for a particular story, cover or topic let us know and we can browse through the collection. Great Australiana, great stories etc... $15.00

[007660] . Australasian Post April 10 1993. Melbourne: Magazine. We have hundreds of Australiasian Post mags at Warrigal Press. If you are looking for a particular story, cover or topic let us know and we can browse through the collection. Great Australiana, great stories etc... $15.00

[007659] . Australasian Post May 4 1991. Melbourne: Magazine. We have hundreds of Australiasian Post mags at Warrigal Press. If you are looking for a particular story, cover or topic let us know and we can browse through the collection. Great Australiana, great stories etc... $15.00

[007658] . Australasian Post May 6 1989. Melbourne: Magazine. We have hundreds of Australiasian Post mags at Warrigal Press. If you are looking for a particular story, cover or topic let us know and we can browse through the collection. Great Australiana, great stories etc... $15.00

[007657] . Australasian Post July 29 1989. Melbourne: Magazine. We have hundreds of Australiasian Post mags at Warrigal Press. If you are looking for a particular story, cover or topic let us know and we can browse through the collection. Great Australiana, great stories etc... $15.00

[007644] . Australasian Post July 8 1989. Melbourne: Magazine. We have hundreds of Australiasian Post mags at Warrigal Press. If you are looking for a particular story, cover or topic let us know and we can browse through the collection. Great Australiana, great stories etc... $15.00

[007655] . Australasian Post May 13 1989. Melbourne: Magazine. We have hundreds of Australiasian Post mags at Warrigal Press. If you are looking for a particular story, cover or topic let us know and we can browse through the collection. Great Australiana, great stories etc... $15.00

[007667] . Australasian Post March 16 1991. Melbourne: Magazine. We have hundreds of Australiasian Post mags at Warrigal Press. If you are looking for a particular story, cover or topic let us know and we can browse through the collection. Great Australiana, great stories etc... $15.00

[007653] . Australasian Post August 13 1988. Melbourne: Magazine. We have hundreds of Australiasian Post mags at Warrigal Press. If you are looking for a particular story, cover or topic let us know and we can browse through the collection. Great Australiana, great stories etc... $15.00

[007652] . Australasian Post September 16 1989. Melbourne: Magazine. We have hundreds of Australiasian Post mags at Warrigal Press. If you are looking for a particular story, cover or topic let us know and we can browse through the collection. Great Australiana, great stories etc... $15.00

[007651] . Australasian Post December 31 1988. Melbourne: Magazine. We have hundreds of Australiasian Post mags at Warrigal Press. If you are looking for a particular story, cover or topic let us know and we can browse through the collection. Great Australiana, great stories etc... $15.00

[007650] . Australasian Post February 7 1985. Melbourne: Magazine. We have hundreds of Australiasian Post mags at Warrigal Press. If you are looking for a particular story, cover or topic let us know and we can browse through the collection. Great Australiana, great stories etc... $15.00

[007649] . Australasian Post August 5 1989. Melbourne: Magazine. We have hundreds of Australiasian Post mags at Warrigal Press. If you are looking for a particular story, cover or topic let us know and we can browse through the collection. Great Australiana, great stories etc... $15.00

[007648] . Australasian Post July 21 1990. Melbourne: Magazine. We have hundreds of Australiasian Post mags at Warrigal Press. If you are looking for a particular story, cover or topic let us know and we can browse through the collection. Great Australiana, great stories etc... $15.00

[007647] . Australasian Post July 28 1966. Melbourne: Magazine. We have hundreds of Australasian Post mags at Warrigal Press. If you are looking for a particular story, cover or topic let us know and we can browse through the collection. Great Australiana, great stories etc... $25.00

[007646] . Australasian Post April 29 1989. Melbourne: Magazine. We have hundreds of Australiasian Post mags at Warrigal Press. If you are looking for a particular story, cover or topic let us know and we can browse through the collection. Great Australiana, great stories etc... $15.00

[008207] . Adam March 1975. NSW, Australia: Kenmure Press, 1975. Magazine. Good A vintage Australian Men's mag. . Email for details of contents. Penned price on front cover. $30.00

[007656] . Australasian Post May 27 1989. Melbourne: Magazine. We have hundreds of Australiasian Post mags at Warrigal Press. If you are looking for a particular story, cover or topic let us know and we can browse through the collection. Great Australiana, great stories etc... $15.00

[008099] . Australian Outdoors July 1962. NSW, Australia: Kenmure Press, 1962. Magazine. Good Scarce copy of the best Australian hunting, shooting and fishing mag ever produced! Email for details of contents. $20.00

[007584] . Australasian Post August 11 1990. Melbourne: Magazine. We have hundreds of Australiasian Post mags at Warrigal Press. If you are looking for a particular story, cover or topic let us know and we can browse through the collection. Great Australiana, great stories etc... $15.00

[008203] . Australian Outdoors November 1966. NSW, Australia: Kenmure Press, 1966. Magazine. Good Scarce copy of the best Australian hunting, shooting and fishing mag ever produced! Email for details of contents. $20.00

[008143] . Australian Outdoors October 1966. NSW, Australia: Kenmure Press, 1966. Magazine. Good Scarce copy of the best Australian hunting, shooting and fishing mag ever produced! Email for details of contents. $20.00

[008123] . Wheels October 1972. Australia: Magazine. Tear on back cover. Penned price on front cover. $10.00

[008107] . Quiz Magazine July 1947. Sydney: Gardner Publications, First Edition. Magazine. Good This is a very scarce copy of the Australian men's mag. Great vintage men's cartoons, yarns and short stories A very good copy. 42 pp of gags and yars! Email for detals and a csan of the cover. Fantastic ...! $50.00

[008105] . Angler's Digest and Shooter's Monthly September 1961. NSW, Australia: Afco Pty Ltd, 1962. Magazine. Good Scarce copy of a great Australian hunting, shooting and fishing mag! Email for details of contents. $20.00

[008104] . Angler's Digest and Shooter's Monthly June 1962. NSW, Australia: Afco Pty Ltd, 1962. Magazine. Good Scarce copy of a great Australian hunting, shooting and fishing mag! Email for details of contents. $20.00

[008103] . Australian Outdoors March 1963. NSW, Australia: Kenmure Press, 1966. Magazine. Good Scarce copy of the best Australian hunting, shooting and fishing mag ever produced! Email for details of contents. $20.00

[008102] . Australian Outdoors February 1962. NSW, Australia: Kenmure Press, 1962. Magazine. Good Scarce copy of the best Australian hunting, shooting and fishing mag ever produced! Email for details of contents. $20.00

[007665] . Australasian Post August 26 1989. Melbourne: Magazine. We have hundreds of Australiasian Post mags at Warrigal Press. If you are looking for a particular story, cover or topic let us know and we can browse through the collection. Great Australiana, great stories etc... $15.00

[008100] . Australian Outdoors November 1961. NSW, Australia: Kenmure Press, 1961. Magazine. Good Scarce copy of the best Australian hunting, shooting and fishing mag ever produced! Email for details of contents. Corner on cover cut. $20.00

[007666] . Australasian Post December 23 1989. Melbourne: Magazine. We have hundreds of Australiasian Post mags at Warrigal Press. If you are looking for a particular story, cover or topic let us know and we can browse through the collection. Great Australiana, great stories etc... $15.00

[008098] . Australian Outdoors April 1963. NSW, Australia: Kenmure Press, 1963. Magazine. Good Scarce copy of the best Australian hunting, shooting and fishing mag ever produced! Email for details of contents. $20.00

[007853] . The New Idea July 23 1947. Sydney: 1947. Magazine. Fair The magazine is in frail condition. The cover is torn and separate from the contents, and has a few losses. Pages are browning. There are numerous short stoies etc in the magazine, plus ads etc. Also the Don Dixon cartoon created by Carl Pfeufer and Bob More. 36 pp. $30.00

[007762] . The Owner Builder. The Australian Home Builders Magazine. June / July 2001. Magazine. No 105 $7.00

[007689] . Oz Bike. Thunder Down Under No 52. Australia: Magazine. Repaired, pp 7-8 missing. $5.00

[007688] . Live to Ride. The Australian Bikers Journal No 185. Australia: Magazine. Includes poster $9.90

[007687] . Live to Ride. The Australian Bikers Journal No 179. Australia: Magazine. $9.90

[007686] . Live to Ride. The Australian Bikers Journal No 186. Australia: Magazine. Part of one page missing. $4.00

[007685] . R M Williams Outback April / May 2002. Australia: 2002. Magazine. Good $10.00

[007643] . Australasian Post October 29 1988. Melbourne: Magazine. We have hundreds of Australiasian Post mags at Warrigal Press. If you are looking for a particular story, cover or topic let us know and we can browse through the collection. Great Australiana, great stories etc... $15.00

[008101] . Australian Outdoors May 1966. NSW, Australia: Kenmure Press, 1966. Magazine. Good Scarce copy of the best Australian hunting, shooting and fishing mag ever produced! Email for details of contents. $20.00

[007595] . Australasian Post February 24 1990. Melbourne: Magazine. $15.00

[007605] . Australasian Post December 9 1989. Melbourne: Magazine. We have hundreds of Australiasian Post mags at Warrigal Press. If you are looking for a particular story, cover or topic let us know and we can browse through the collection. Great Australiana, great stories etc... $15.00

[007604] . Australasian Post October 28 1989. Melbourne: Magazine. We have hundreds of Australiasian Post mags at Warrigal Press. If you are looking for a particular story, cover or topic let us know and we can browse through the collection. Great Australiana, great stories etc... $15.00

[007603] . Australasian Post October 21 1989. Melbourne: Magazine. We have hundreds of Australiasian Post mags at Warrigal Press. If you are looking for a particular story, cover or topic let us know and we can browse through the collection. Great Australiana, great stories etc... $15.00

[007602] . Australasian Post January 6 1990. Melbourne: Magazine. We have hundreds of Australiasian Post mags at Warrigal Press. If you are looking for a particular story, cover or topic let us know and we can browse through the collection. Great Australiana, great stories etc... $15.00

[007601] . Australasian Post March 5 1987. Melbourne: Magazine. $15.00

[007600] . Australasian Post February 17 1990. Melbourne: Magazine. $15.00

[007599] . Australasian Post September 30 1989. Melbourne: Magazine. $15.00

[007598] . Australasian Post September 23 1989. Melbourne: Magazine. $15.00

[007645] . Australasian Post July 13 1991. Melbourne: Magazine. We have hundreds of Australiasian Post mags at Warrigal Press. If you are looking for a particular story, cover or topic let us know and we can browse through the collection. Great Australiana, great stories etc... $15.00

[007596] . Australasian Post May 11 1991. Melbourne: Magazine. $15.00

[007609] . Australasian Post April 1 1989. Melbourne: Magazine. We have hundreds of Australiasian Post mags at Warrigal Press. If you are looking for a particular story, cover or topic let us know and we can browse through the collection. Great Australiana, great stories etc... $15.00

[007594] . Australasian Post January 27 1990. Melbourne: Magazine. $15.00

[007593] . Australasian Post April 15 1989. Melbourne: Magazine. We have hundreds of Australiasian Post mags at Warrigal Press. If you are looking for a particular story, cover or topic let us know and we can browse through the collection. Great Australiana, great stories etc... $15.00

[007592] . Australasian Post May 20 1989. Melbourne: Magazine. We have hundreds of Australiasian Post mags at Warrigal Press. If you are looking for a particular story, cover or topic let us know and we can browse through the collection. Great Australiana, great stories etc... $15.00

[007591] . Australasian Post January 20 1990. Melbourne: Magazine. We have hundreds of Australiasian Post mags at Warrigal Press. If you are looking for a particular story, cover or topic let us know and we can browse through the collection. Great Australiana, great stories etc... $15.00

[007590] . Australasian Post March 28 1985. Melbourne: Magazine. We have hundreds of Australiasian Post mags at Warrigal Press. If you are looking for a particular story, cover or topic let us know and we can browse through the collection. Great Australiana, great stories etc... $15.00

[007589] . Australasian Post August 18 1990. Melbourne: Magazine. We have hundreds of Australiasian Post mags at Warrigal Press. If you are looking for a particular story, cover or topic let us know and we can browse through the collection. Great Australiana, great stories etc... $15.00

[007588] . Australasian Post September 8 1990. Melbourne: Magazine. We have hundreds of Australiasian Post mags at Warrigal Press. If you are looking for a particular story, cover or topic let us know and we can browse through the collection. Great Australiana, great stories etc... $15.00

[007586] . Australasian Post August 25 1990. Melbourne: Magazine. We have hundreds of Australiasian Post mags at Warrigal Press. If you are looking for a particular story, cover or topic let us know and we can browse through the collection. Great Australiana, great stories etc... $15.00

[011135] . The Australian Woman's Mirror November 11 1953. Australia: 1953. Magazine. Vintage Australian Womens mag with short stories, kids pages, craft ideas etc. Worn copy. Email for details. Inc Phantom comic strip. $20.00

[007597] . Australasian Post April 27 1991. Melbourne: Magazine. $15.00

[007630] . Australasian Post August 7 1991. Melbourne: Magazine. We have hundreds of Australiasian Post mags at Warrigal Press. If you are looking for a particular story, cover or topic let us know and we can browse through the collection. Great Australiana, great stories etc... $15.00

[007642] . Australasian Post August 3 1991. Melbourne: Magazine. We have hundreds of Australiasian Post mags at Warrigal Press. If you are looking for a particular story, cover or topic let us know and we can browse through the collection. Great Australiana, great stories etc... $15.00

[007641] . Australasian Post November 11 1989. Melbourne: Magazine. We have hundreds of Australiasian Post mags at Warrigal Press. If you are looking for a particular story, cover or topic let us know and we can browse through the collection. Great Australiana, great stories etc... $15.00

[007640] . Australasian Post December 16 1989. Melbourne: Magazine. We have hundreds of Australiasian Post mags at Warrigal Press. If you are looking for a particular story, cover or topic let us know and we can browse through the collection. Great Australiana, great stories etc... $15.00

[007639] . Australasian Post October 14 1989. Melbourne: Magazine. We have hundreds of Australiasian Post mags at Warrigal Press. If you are looking for a particular story, cover or topic let us know and we can browse through the collection. Great Australiana, great stories etc... $15.00

[007637] . Australasian Post August 24 1991. Melbourne: Magazine. We have hundreds of Australiasian Post mags at Warrigal Press. If you are looking for a particular story, cover or topic let us know and we can browse through the collection. Great Australiana, great stories etc... $15.00

[007636] . Australasian Post January 4 1992. Melbourne: Magazine. We have hundreds of Australiasian Post mags at Warrigal Press. If you are looking for a particular story, cover or topic let us know and we can browse through the collection. Great Australiana, great stories etc... $15.00

[007635] . Australasian Post June 5 1993. Melbourne: Magazine. We have hundreds of Australiasian Post mags at Warrigal Press. If you are looking for a particular story, cover or topic let us know and we can browse through the collection. Great Australiana, great stories etc... $15.00

[007634] . Australasian Post July 25 1992. Melbourne: Magazine. We have hundreds of Australiasian Post mags at Warrigal Press. If you are looking for a particular story, cover or topic let us know and we can browse through the collection. Great Australiana, great stories etc... $15.00

[007633] . Australasian Post March 28 1992. Melbourne: Magazine. We have hundreds of Australiasian Post mags at Warrigal Press. If you are looking for a particular story, cover or topic let us know and we can browse through the collection. Great Australiana, great stories etc... $15.00

[007607] . Australasian Post November 18 1989. Melbourne: Magazine. We have hundreds of Australiasian Post mags at Warrigal Press. If you are looking for a particular story, cover or topic let us know and we can browse through the collection. Great Australiana, great stories etc... $15.00

[007631] . Australasian Post December 7 1991. Melbourne: Magazine. We have hundreds of Australiasian Post mags at Warrigal Press. If you are looking for a particular story, cover or topic let us know and we can browse through the collection. Great Australiana, great stories etc... $15.00

[007608] . Australasian Post September 2 1989. Melbourne: Magazine. We have hundreds of Australiasian Post mags at Warrigal Press. If you are looking for a particular story, cover or topic let us know and we can browse through the collection. Great Australiana, great stories etc... $15.00

[007617] . Australasian Post April 8 1989. Melbourne: Magazine. We have hundreds of Australiasian Post mags at Warrigal Press. If you are looking for a particular story, cover or topic let us know and we can browse through the collection. Great Australiana, great stories etc... $15.00

[007616] . Australasian Post March 18 1989. Melbourne: Magazine. We have hundreds of Australiasian Post mags at Warrigal Press. If you are looking for a particular story, cover or topic let us know and we can browse through the collection. Great Australiana, great stories etc... $15.00


[007615] . Australasian Post June 30 1990. Melbourne: Magazine. We have hundreds of Australiasian Post mags at Warrigal Press. If you are looking for a particular story, cover or topic let us know and we can browse through the collection. Great Australiana, great stories etc... $15.00

[007614] . Australasian Post July 7 1990. Melbourne: Magazine. We have hundreds of Australiasian Post mags at Warrigal Press. If you are looking for a particular story, cover or topic let us know and we can browse through the collection. Great Australiana, great stories etc... $15.00

[007613] . Australasian Post February 9 1991. Melbourne: Magazine. We have hundreds of Australiasian Post mags at Warrigal Press. If you are looking for a particular story, cover or topic let us know and we can browse through the collection. Great Australiana, great stories etc... $15.00

[007612] . Australasian Post February 2 1991. Melbourne: Magazine. We have hundreds of Australiasian Post mags at Warrigal Press. If you are looking for a particular story, cover or topic let us know and we can browse through the collection. Great Australiana, great stories etc... $15.00

[007611] . Australasian Post December 1 1990. Melbourne: Magazine. We have hundreds of Australiasian Post mags at Warrigal Press. If you are looking for a particular story, cover or topic let us know and we can browse through the collection. Great Australiana, great stories etc... $15.00

[007610] . Australasian Post December 8 1990. Melbourne: Magazine. We have hundreds of Australiasian Post mags at Warrigal Press. If you are looking for a particular story, cover or topic let us know and we can browse through the collection. Great Australiana, great stories etc... $15.00

[008208] . Parade No 39 February 1954. Australia: Magazine. $16.00

[007632] . Australasian Post October 5 1991. Melbourne: Magazine. We have hundreds of Australiasian Post mags at Warrigal Press. If you are looking for a particular story, cover or topic let us know and we can browse through the collection. Great Australiana, great stories etc... $15.00

[008600] . White Dwarf No 177. Games Workshop, Magazine. Good Email for details of contents. $10.00

[008656] . Fiesta Vol 14 No 6. London: Galaxy Publications, Magazine. Good Includes details of the Modesty Blaise cartoon strip. $14.00

[008655] . Playboy US Edition February 1977. USA: 1977. Magazine. Good $14.00

[008654] . Penthouse US Edition December 1979. USA: 1979. Magazine. Good no calendar $10.00

[008653] . Penthouse US Edition October 1979. USA: 1979. Magazine. Good $10.00

[008652] . Australian Penthouse August 1980. Australia: 1980. Magazine. Good $18.00

[008605] . White Dwarf No 175. Games Workshop, Magazine. Good Email for details of contents. $10.00

[008604] . White Dwarf No 217. Games Workshop, Magazine. Good Email for details of contents. $10.00

[008603] . White Dwarf No 185. Games Workshop, Magazine. Good Email for details of contents. $10.00

[008486] . R.M.Williams Outback Apr/May 2004. Australia: 2004. Magazine. Good $6.60

[008601] . White Dwarf No 190. Games Workshop, Magazine. Good Email for details of contents. $10.00

[008689] . Australian Scuba Diver September/October 1998. NSW, Australia: Yaffa Publishing Group, 1998. Magazine. Good Australian diving mag. Email for details of contents or if you are looking for specific articles/ topics. $10.00

[008599] . White Dwarf No 189. Games Workshop, Magazine. Good Email for details of contents. $10.00

[008598] . White Dwarf No 219. Games Workshop, Magazine. Good Email for details of contents. $10.00

[008534] . Ralph December 2003. Sydney: ACP Men's Lifestyle, 2003. Magazine. No sealed section or double sided poster. $5.50

[008533] . Ralph June 2003. Sydney: ACP Men's Lifestyle, 2003. Magazine. No sealed section or double sided poster. $5.50

[008513] . Naval Historical Review Volume 20 No 2 1999. Australia: Naval Historical Society of Australia Inc, 2001. Magazine. Good Email for details of contents. Contact Warrigal Press if you are looking for a particular naval/nautical topic. $6.00

[008512] . Naval Historical Review Volume 22 No 4 2001. Australia: Naval Historical Society of Australia Inc, 2001. Magazine. Good Email for details of contents. Contact Warrigal Press if you are looking for a particular naval/nautical topic. $6.00

[008511] . Naval Historical Review Volume 19 No 3 1998. Australia: Naval Historical Society of Australia Inc, 1998. Magazine. Good Email for details of contents. Contact Warrigal Press if you are looking for a particular naval/nautical topic. $6.00

[008510] . Naval Historical Review Volume 22 No 2 2001. Australia: Naval Historical Society of Australia Inc, 2001. Magazine. Good Email for details of contents. Contact Warrigal Press if you are looking for a particular naval/nautical topic. $6.00

[008206] . Man Junior August 1950. NSW, Australia: Man Magazine Pty Ltd, 1950. Magazine. Good Near very good copy, and rare! Great Australian popular fiction. Girls and gags $25.00

[008602] . White Dwarf No 178. Games Workshop, Magazine. Good Email for details of contents. $10.00

[008731] . Parade No 175 June 1965. Australia: Magazine. A few loose pages. $14.00

[008793] . Walkabout Vol 29 No3 March 1963. Melbourne: Australian National Travel Association, Magazine. $15.00

[008792] . Walkabout Vol 33 No 6 June 1967. Melbourne: Australian National Travel Association, Magazine. Silverfish damage at corners. $15.00

[008791] . Walkabout Vol 29 No6 June 1963. Melbourne: Australian National Travel Association, Magazine. $15.00

[008790] . Walkabout Vol 26 No10 October 1960. Melbourne: Australian National Travel Association, Magazine. $15.00

[008789] . Walkabout Vol 32 No 5 May 1966. Melbourne: Australian National Travel Association, Magazine. $15.00

[008788] . Walkabout Vol 33 No 11 November 1967. Melbourne: Australian National Travel Association, Magazine. $15.00

[008787] . Walkabout Vol 26 No12 December 1960. Melbourne: Australian National Travel Association, Magazine. $15.00

[008782] . Quiz Magazine Sept Oct 1956. Sydney: Gardner Publications, First Edition. Magazine. Good This is a very scarce copy of the Australian men's mag. Great vintage men's cartoons, yarns and short stories A very good copy! Email for details and a scan of the cover. Fantastic ...! $50.00

[008747] . The Australian Journal August 2nd 1948. Melbourne: A H Massina and Co, 1948. Magazine. Good Vintage Australian magazine. Great authors. Email for details of contributors. $40.00

[008657] . Moni April 1980. New York: Omni Publications, 1980. Magazine. Good Sci Fi mag. Email for details of contents. $10.00

[008732] . Man Junior March 1952. NSW, Australia: Kenmure Press, 1952. Magazine. Good Good copy. $30.00

[008688] . Australian Scuba Diver September/October 2000. NSW, Australia: Yaffa Publishing Group, 2000. Magazine. Good Australian diving mag. Email for details of contents or if you are looking for specific articles/ topics. $10.00

[008715] . International Permaculture Journal No 30 1988. Australia: Permaculture Internationa , 1988. Magazine. Good Permaculture magazine. $10.00

[008714] . International Permaculture Journal No 32 1989. Australia: Permaculture Internationa , 1989. Magazine. Good Permaculture magazine. $10.00

[008713] . International Permaculture Journal No 28 Feb - Aril 1988. Australia: Permaculture Internationa , 1988. Magazine. Good Permaculture magazine. $10.00

[008695] . Ralph February 2000. Sydney: AcP Men's Lifestyle, 2000. Magazine. $10.00

[008693] . Rodale's Scuba Diving November 2002. USA: 2002. Magazine. Good USA diving mag. Email for details of contents or request a search for diving articles. $10.00

[008692] . Scuba Diver February/March 1985. NSW, Australia: Ron Calcutt, 1985. Magazine. Good Australian diving mag. Email for details of contents or if you are looking for specific articles/ topics. $10.00

[008691] . Scuba Diver Australasia Issue 2 2003. Singapore: Asian Geographic Magazines Pty Ltd, 2003. Magazine. Good Australian diving mag. Email for details of contents or if you are looking for specific articles/ topics. $10.00

[008690] . Australian Scuba Diver february/March 1992. NSW, Australia: Yaffa Publishing Group, 1992. Magazine. Good Australian diving mag. Email for details of contents or if you are looking for specific articles/ topics. $10.00

[008485] . R.M.Williams Outback Jun/July 2003. Australia: 2003. Magazine. Good $6.60

[008733] . Peep for Men Only October 1953. Sydney: American Australian Magazines Pty Ltd, 1953. Magazine. Good Scarce copy of this men's ony mag. Great gags and pin-ups etc. Light losses on corners. Inc Mickey Spillane story. $45.00

[008253] . R M Williams Outback Feb/Mar 2004. Australia: 2004. Magazine. Good $10.00

[008356] . Quiz Magazine October 1941. Sydney: Gardner Publications, First Edition. Magazine. Good This is a very scarce copy of the Australian men's mag. Great vintage men's cartoons, yarns and short stories A very good copy. 42 pp of gags and yarns! Email for detals and a scan of the cover. Fantastic ...! $50.00

[008295] . Australian Outdoors August 1959. NSW, Australia: Kenmure Press, 1959. Magazine. Fair Scarce copy of the best Australian hunting, shooting and fishing mag ever produced! Email for details of contents. Covers worn, fair copy only. $20.00

[008261] . R M Williams Outback Dec 2003 / Jan 2004. Australia: Magazine. Good $10.00

[008260] . R M Williams Outback Oct/Nov 2003. Australia: Magazine. Good $10.00

[008259] . R M Williams Outback Jun/Jul 2004. Australia: Magazine. Good $10.00

[008258] . R M Williams Outback Feb/Mar 2003. Australia: Magazine. Good $10.00

[008257] . R M Williams Outback Apr/May 2003. Australia: Magazine. Good $10.00

[008256] . R M Williams Outback Aug/Sept 2004. Australia: Magazine. Good $10.00

[008487] . R.M.Williams Outback Dec 2003 / Jan 2004. Australia: 2004. Magazine. Good $6.60

[008254] . R M Williams Outback Feb/Mar 2005. Australia: Magazine. Good $10.00

[008359] . Quiz Magazine December 1951. Sydney: Gardner Publications, First Edition. Magazine. Good This is a very scarce copy of the Australian men's mag. Great vintage men's cartoons, yarns and short stories A very good copy! Email for detals and a scan of the cover. Fantastic ...! $50.00

[008233] . Man Junior December 1951. NSW, Australia: Man Magazine Pty Ltd, 1951. Magazine. Good Near very good copy, and rare! Great Australian popular fiction. Girls and gags $25.00

[008232] . Man Junior September 1952. NSW, Australia: Man Magazine Pty Ltd, 1952. Magazine. Good Near very good copy, and rare! Great Australian popular fiction. Girls and gags $25.00

[008215] . Walkabout Vol 26 No6 June 1960. Melbourne: Australian National Travel Association, Magazine. $15.00

[008214] . Walkabout Vol 26 No5 May 1960. Melbourne: Australian National Travel Association, Magazine. $15.00

[008213] . Walkabout Vol 27 No 10 October 1961. Melbourne: Australian National Travel Association, Magazine. $15.00

[008212] . Walkabout Vol 26 No6 June 1960. Melbourne: Australian National Travel Association, Magazine. $15.00

[008211] . Walkabout Vol 26 No10 October 1960. Melbourne: Australian National Travel Association, Magazine. $15.00

[008210] . Walkabout Vol 27 No 2 February 1961. Melbourne: Australian National Travel Association, Magazine. Cover loose $15.00

[008209] . Walkabout Vol 26 No94 April 1960. Melbourne: Australian National Travel Association, Magazine. $15.00

[008255] . R M Williams Outback Oct/Nov 2004. Australia: Magazine. Good $10.00

[008393] . Man February 1954 Volume 35 Number 3. NSW, Australia: Man Magazine Pty Ltd, 1954. Magazine. A few marks, stains and tears. Fair copy. $25.00

[008479] . Man August 1955. NSW, Australia: K G Murray Publishing Co, 1955. Magazine. Email for details of contents. $35.00

[008477] . Man November 1950 Vol 28 No 6. NSW, Australia: Kenmure Press, 1950. Magazine. Slightly wrinkled and marked from dampness. $40.00

[008475] . Adam February 1963 Vol 34 No 3. NSW, Australia: Kenmure Press, 1963. Magazine. Good A vintage Australian Men's mag. . Email for details of contents. $30.00

[008445] . Man August 1972. NSW, Australia: Man Magazine Pty Ltd, 1972. Magazine. Email for details and contents. $25.00

[008442] . Man September 1969. NSW, Australia: Man Magazine Pty Ltd, 1969. Magazine. Email for details and contents. $25.00

[008441] . Man January 1971. NSW, Australia: Man Magazine Pty Ltd, 1971. Magazine. Very worn along spine. Email for details and contents. $25.00

[008440] . Man November 1971. NSW, Australia: Man Magazine Pty Ltd, 1971. Magazine. Slightly wrinkled and marked from dampness. $12.00

[008439] . Adam November 1971. NSW, Australia: Kenmure Press, 1971. Magazine. Good A vintage Australian Men's mag. . Email for details of contents. $30.00

[008424] . Australian Outdoors January 1958. NSW, Australia: Kenmure Press, 1958. Magazine. Fair Scarce copy of the best Australian hunting, shooting and fishing mag ever produced! Email for details of contents. Covers worn, fair copy only. $20.00

[008357] . Australian Outdoors April 1959. NSW, Australia: Kenmure Press, 1959. Magazine. Fair Scarce copy of the best Australian hunting, shooting and fishing mag ever produced! Email for details of contents. Covers worn, fair copy only. $20.00

[008422] . Australian Outdoors March 1957. NSW, Australia: Kenmure Press, 1957. Magazine. Fair Scarce copy of the best Australian hunting, shooting and fishing mag ever produced! Email for details of contents. Covers worn, fair copy only. $20.00

[008358] . Quiz Magazine November 1955. Sydney: Gardner Publications, First Edition. Magazine. Good This is a very scarce copy of the Australian men's mag. Great vintage men's cartoons, yarns and short stories A very good copy! Email for detals and a scan of the cover. Fantastic ...! $50.00

[008378] . Man October 1955. NSW, Australia: K G Murray Publishing Co, 1956. Magazine. Email for details of contents. $30.00

[008376] . Man June 1958. NSW, Australia: K G Murray Publishing Co, 1958. Magazine. Email for details of contents. $30.00

[008375] . Man February 1959. NSW, Australia: K G Murray Publishing Co, 1959. Magazine. Email for details of contents. $30.00

[008374] . Man June 1956. NSW, Australia: K G Murray Publishing Co, 1956. Magazine. Email for details of contents. $30.00

[008373] . Man May 1956. NSW, Australia: K G Murray Publishing Co, 1956. Magazine. Email for details of contents. $30.00

[008363] . Man Junior February1952. NSW, Australia: Man Magazine Pty Ltd, 1952. Magazine. Fair Fair copy, pieces missing on covers, very worn. Rare! Great Australian popular fiction. Girls and gags $15.00

[008362] . Cavalcade Vol 18 No 5 October 1953. Sydney: Cavalcade Magazine, 1953. 12mo - over 6¾" - 7¾" tall. Magazine. Good Scarce men's only mag from the 50s. gags, girls and stories. Covers worn. $22.00

[008361] . Peep for Men Only Vol 2 No 7 July 1953. Sydney: American Australian Magazines Pty Ltd, 1953. Magazine. Good Scarce copy of this men's ony mag. Great gags and pin-ups etc. Ligt losses on corners. $45.00

[007583] . Australasian Post June 16 1990. Melbourne: Magazine. We have hundreds of Australiasian Post mags at Warrigal Press. If you are looking for a particular story, cover or topic let us know and we can browse through the collection. Great Australiana, great stories etc... $15.00

[008423] . Australian Outdoors January 1957. NSW, Australia: Kenmure Press, 1957. Magazine. Fair Scarce copy of the best Australian hunting, shooting and fishing mag ever produced! Email for details of contents. Covers worn, fair copy only. $20.00

[007243] . Sports Car World April 1963. Australia: Magazine. no cover $4.00

[007253] . Sports Car World February 1966. Australia: Magazine. $14.00

[007252] . Sports Car World January 1966. Australia: Magazine. $14.00

[007251] . Sports Car World April 1963. Australia: Magazine. covers marked $7.00

[007250] . Sports Car World December 1963. Australia: Magazine. $14.00

[007249] . Sports Car World September 1963. Australia: Magazine. $14.00

[007248] . Sports Car World August 1963. Australia: Magazine. $14.00

[007247] . Sports Car World October 1963. Australia: Magazine. $14.00

[007246] . Sports Car World June 1963. Australia: Magazine. $14.00

[007233] . Ozbike No 212. Australia: Magazine. $10.00

[007244] . Sports Car World May 1963. Australia: Magazine. $14.00

[007258] . Sports Car World July 1966. Australia: Magazine. $14.00

[007242] . Sports Car World July 1963. Australia: Magazine. $14.00

[007241] . Easyriders June 1996. USA: Magazine. 25th anniversary edition. $15.00

[007240] . Live to Ride. The Australian Bikers Journal No 103. Australia: Magazine. Top quarter of cover removed. $4.00

[007239] . Harleys in Australia Vol 1 No 4. USA: Magazine. $10.00

[007238] . Tattoos Down Under No 15. USA: Magazine. $10.00

[007237] . Tattoos Down Under No 12. USA: Magazine. $10.00

[007236] . Easyriders July 1998. USA: Magazine. $10.00

[007235] . Easyriders March 1999. USA: Magazine. $10.00

[007493] . Australasian Post August 12 1989. Melbourne: Magazine. We have hundreds of Australiasian Post mags at Warrigal Press. If you are looking for a particular story, cover or topic let us know and we can browse through the collection. Great Australiana, great stories etc... $25.00

[007245] . Sports Car World November 1963. Australia: Magazine. $14.00

[007268] . Motor Manual August 1974. Australia: Magazine. $12.00

[007585] . Australasian Post August 4 1990. Melbourne: Magazine. We have hundreds of Australiasian Post mags at Warrigal Press. If you are looking for a particular story, cover or topic let us know and we can browse through the collection. Great Australiana, great stories etc... $15.00

[007491] . Australasian Post March 19 1987. Melbourne: Magazine. We have hundreds of Australiasian Post mags at Warrigal Press. If you are looking for a particular story, cover or topic let us know and we can browse through the collection. Great Australiana, great stories etc... $15.00

[007490] . Australasian Post March 4 1989. Melbourne: Magazine. We have hundreds of Australiasian Post mags at Warrigal Press. If you are looking for a particular story, cover or topic let us know and we can browse through the collection. Great Australiana, great stories etc... $15.00

[007489] . Australasian Post September 29 1990. Melbourne: Magazine. We have hundreds of Australiasian Post mags at Warrigal Press. If you are looking for a particular story, cover or topic let us know and we can browse through the collection. Great Australiana, great stories etc... $15.00

[007488] . Australasian Post October 27 1990. Melbourne: Magazine. We have hundreds of Australiasian Post mags at Warrigal Press. If you are looking for a particular story, cover or topic let us know and we can browse through the collection. Great Australiana, great stories etc... $15.00

[007487] . Australasian Post July 14 1990. Melbourne: Magazine. We have hundreds of Australiasian Post mags at Warrigal Press. If you are looking for a particular story, cover or topic let us know and we can browse through the collection. Great Australiana, great stories etc... $15.00

[007486] . Australasian Post April 23 1988. Melbourne: Magazine. We have hundreds of Australiasian Post mags at Warrigal Press. If you are looking for a particular story, cover or topic let us know and we can browse through the collection. Great Australiana, great stories etc... $15.00

[007485] . Australasian Post February 21 1985. Melbourne: Magazine. We have hundreds of Australiasian Post mags at Warrigal Press. If you are looking for a particular story, cover or topic let us know and we can browse through the collection. Great Australiana, great stories etc... $15.00


[007271] . Motor Manual May 1970. Australia: Magazine. $12.00

[007254] . Sports Car World March 1966. Australia: Magazine. $14.00

[007269] . Motor Manual January 1970. Australia: Magazine. $12.00

[007256] . Sports Car World May 1966. Australia: Magazine. $14.00

[007267] . Motor Manual April 1971. Australia: Magazine. $12.00

[007266] . Motor Manual August 1973. Australia: Magazine. $12.00

[007265] . Motor Manual September 1975. Australia: Magazine. $12.00

[007264] . Motor Manual November 1975. Australia: Magazine. $12.00

[007263] . Sports Car World December 1966. Australia: Magazine. $14.00

[007262] . Sports Car World November 1966. Australia: Magazine. $14.00

[007261] . Sports Car World October 1966. Australia: Magazine. $14.00

[007260] . Sports Car World September 1966. Australia: Magazine. $14.00

[007232] . Ozbike No 119. Australia: Magazine. $10.00

[007270] . Motor Manual February 1974. Australia: Magazine. $12.00

[007198] . Live to Ride. The Australian Bikers Journal No 84. Australia: Magazine. $9.00

[007208] . Live to Ride. The Australian Bikers Journal No 122. Australia: Magazine. $9.00

[007207] . Live to Ride. The Australian Bikers Journal No 113. Australia: Magazine. $9.00

[007206] . Live to Ride. The Australian Bikers Journal No 74. Australia: Magazine. $9.00

[007205] . Live to Ride. The Australian Bikers Journal No 68. Australia: Magazine. $9.00

[007204] . Live to Ride. The Australian Bikers Journal No 113. Australia: Magazine. $9.00

[007203] . Live to Ride. The Australian Bikers Journal No 97. Australia: Magazine. $9.00

[007202] . Live to Ride. The Australian Bikers Journal No 134. Australia: Magazine. $9.00

[007201] . Live to Ride. The Australian Bikers Journal No 123. Australia: Magazine. $9.00

[007234] . Ozbike No 213. Australia: Magazine. $10.00

[007199] . Live to Ride. The Australian Bikers Journal No 132. Australia: Magazine. $9.00

[007211] . Live to Ride. The Australian Bikers Journal No 127. Australia: Magazine. $9.00

[007196] . Live to Ride. The Australian Bikers Journal No 125. Australia: Magazine. $9.00

[007195] . Live to Ride. The Australian Bikers Journal No 123. Australia: Magazine. $9.00

[007194] . Live to Ride. The Australian Bikers Journal No 128. Australia: Magazine. $9.00

[007193] . Live to Ride. The Australian Bikers Journal No 129. Australia: Magazine. $9.00

[007192] . Live to Ride. The Australian Bikers Journal No 135. Australia: Magazine. $9.00

[007191] . Live to Ride. The Australian Bikers Journal No 120. Australia: Magazine. $9.00

[007190] . Live to Ride. The Australian Bikers Journal No 112. Australia: Magazine. $9.00

[007188] . Live to Ride. The Australian Bikers Journal No 85. Australia: Magazine. $9.00

[007187] . Live to Ride. The Australian Bikers Journal Custom Harleys. Australia: Magazine. 18 of the hottest , fastest rods. $11.00

[007200] . Live to Ride. The Australian Bikers Journal No 77. Australia: Magazine. $9.00

[007220] . Live to Ride. The Australian Bikers Journal No 130. Australia: Magazine. $10.00

[007231] . Ozbike No 217. Australia: Magazine. $10.00

[007230] . Ozbike No 119. Australia: Magazine. $10.00

[007229] . Ozbike No 118. Australia: Magazine. $10.00

[007228] . Heavy Duty January - February 1996. Australia: Magazine. $10.00

[007227] . Heavy Duty Vol 8 No 7. Australia: Magazine. $10.00

[007226] . Heavy Duty Vol 6 No 5. Australia: Magazine. $10.00

[007225] . Heavy Duty Vol 7 No 5. Australia: Magazine. $10.00

[007224] . Heavy Duty Vol 7 No 2. Australia: Magazine. $10.00

[007223] . Heavy Duty Vol 7 No 3. Australia: Magazine. $10.00

[007209] . Live to Ride. The Australian Bikers Journal No 98. Australia: Magazine. $9.00

[007221] . Heavy Duty Vol 7 No 6. Australia: Magazine. $10.00

[007210] . Live to Ride. The Australian Bikers Journal No 80. Australia: Magazine. $9.00

[007219] . Live to Ride. The Australian Bikers Journal No 112. Australia: Magazine. $10.00

[007218] . Live to Ride. The Australian Bikers Journal No 133. Australia: Magazine. $10.00

[007217] . Live to Ride. The Australian Bikers Journal No 121. Australia: Magazine. $10.00

[007216] . Live to Ride. The Australian Bikers Journal No 28. Australia: Magazine. $15.00

[007215] . Live to Ride. The Australian Bikers Journal No 81. Australia: Magazine. $10.00

[007214] . Live to Ride. The Australian Bikers Journal No 84. Australia: Magazine. $10.00

[007213] . Live to Ride. The Australian Bikers Journal No 75. Australia: Magazine. $10.00

[007212] . Live to Ride. The Australian Bikers Journal No 131. Australia: Magazine. $9.00

[007494] . Australasian Post December 30 1989. Melbourne: Magazine. We have hundreds of Australiasian Post mags at Warrigal Press. If you are looking for a particular story, cover or topic let us know and we can browse through the collection. Great Australiana, great stories etc... $25.00

[007222] . Heavy Duty March - April 1996. Australia: Magazine. $10.00

[007549] . Australasian Post October 22 1988. Melbourne: Magazine. We have hundreds of Australiasian Post mags at Warrigal Press. If you are looking for a particular story, cover or topic let us know and we can browse through the collection. Great Australiana, great stories etc... $25.00

[007559] . Australasian Post March 25 1989. Melbourne: Magazine. We have hundreds of Australiasian Post mags at Warrigal Press. If you are looking for a particular story, cover or topic let us know and we can browse through the collection. Great Australiana, great stories etc... $25.00

[007558] . Australasian Post June 24 1989. Melbourne: Magazine. We have hundreds of Australiasian Post mags at Warrigal Press. If you are looking for a particular story, cover or topic let us know and we can browse through the collection. Great Australiana, great stories etc... $25.00

[007557] . Australasian Post June 10 1989. Melbourne: Magazine. We have hundreds of Australiasian Post mags at Warrigal Press. If you are looking for a particular story, cover or topic let us know and we can browse through the collection. Great Australiana, great stories etc... $25.00

[007556] . Australasian Post May 12 1990. Melbourne: Magazine. We have hundreds of Australiasian Post mags at Warrigal Press. If you are looking for a particular story, cover or topic let us know and we can browse through the collection. Great Australiana, great stories etc... $25.00

[007555] . Australasian Post February 23 1991. Melbourne: Magazine. We have hundreds of Australiasian Post mags at Warrigal Press. If you are looking for a particular story, cover or topic let us know and we can browse through the collection. Great Australiana, great stories etc... $25.00

[007554] . Australasian Post January 13 1990. Melbourne: Magazine. We have hundreds of Australiasian Post mags at Warrigal Press. If you are looking for a particular story, cover or topic let us know and we can browse through the collection. Great Australiana, great stories etc... $25.00

[007553] . Australasian Post November 12 1988. Melbourne: Magazine. We have hundreds of Australiasian Post mags at Warrigal Press. If you are looking for a particular story, cover or topic let us know and we can browse through the collection. Great Australiana, great stories etc... $25.00

[007552] . Australasian Post November 19 1988. Melbourne: Magazine. We have hundreds of Australiasian Post mags at Warrigal Press. If you are looking for a particular story, cover or topic let us know and we can browse through the collection. Great Australiana, great stories etc... $25.00

[007539] . Australasian Post December 10 1988. Melbourne: Magazine. We have hundreds of Australiasian Post mags at Warrigal Press. If you are looking for a particular story, cover or topic let us know and we can browse through the collection. Great Australiana, great stories etc... $25.00

[007550] . Australasian Post October 15 1988. Melbourne: Magazine. We have hundreds of Australiasian Post mags at Warrigal Press. If you are looking for a particular story, cover or topic let us know and we can browse through the collection. Great Australiana, great stories etc... $25.00

[007562] . Australasian Post May 14 1988. Melbourne: Magazine. We have hundreds of Australiasian Post mags at Warrigal Press. If you are looking for a particular story, cover or topic let us know and we can browse through the collection. Great Australiana, great stories etc... $25.00

[007548] . Australasian Post June 3 1989. Melbourne: Magazine. We have hundreds of Australiasian Post mags at Warrigal Press. If you are looking for a particular story, cover or topic let us know and we can browse through the collection. Great Australiana, great stories etc... $25.00

[007547] . Australasian Post July 1 1989. Melbourne: Magazine. We have hundreds of Australiasian Post mags at Warrigal Press. If you are looking for a particular story, cover or topic let us know and we can browse through the collection. Great Australiana, great stories etc... $250.00

[007546] . Australasian Post February 18 1989. Melbourne: Magazine. We have hundreds of Australiasian Post mags at Warrigal Press. If you are looking for a particular story, cover or topic let us know and we can browse through the collection. Great Australiana, great stories etc... $25.00

[007545] . Australasian Post December 24 1988. Melbourne: Magazine. We have hundreds of Australiasian Post mags at Warrigal Press. If you are looking for a particular story, cover or topic let us know and we can browse through the collection. Great Australiana, great stories etc... $25.00

[007544] . Australasian Post November 5 1988. Melbourne: Magazine. We have hundreds of Australiasian Post mags at Warrigal Press. If you are looking for a particular story, cover or topic let us know and we can browse through the collection. Great Australiana, great stories etc... $25.00

[007543] . Australasian Post April 22 1989. Melbourne: Magazine. We have hundreds of Australiasian Post mags at Warrigal Press. If you are looking for a particular story, cover or topic let us know and we can browse through the collection. Great Australiana, great stories etc... $25.00

[007542] . Australasian Post February 10 1990. Melbourne: Magazine. We have hundreds of Australiasian Post mags at Warrigal Press. If you are looking for a particular story, cover or topic let us know and we can browse through the collection. Great Australiana, great stories etc... $25.00

[007541] . Australasian Post July 6 1991. Melbourne: Magazine. We have hundreds of Australiasian Post mags at Warrigal Press. If you are looking for a particular story, cover or topic let us know and we can browse through the collection. Great Australiana, great stories etc... $25.00

[007492] . Australasian Post April 9 1987. Melbourne: Magazine. We have hundreds of Australiasian Post mags at Warrigal Press. If you are looking for a particular story, cover or topic let us know and we can browse through the collection. Great Australiana, great stories etc... $15.00

[007551] . Australasian Post October 1 1988. Melbourne: Magazine. We have hundreds of Australiasian Post mags at Warrigal Press. If you are looking for a particular story, cover or topic let us know and we can browse through the collection. Great Australiana, great stories etc... $25.00

[007571] . Australasian Post April 20 1991. Melbourne: Magazine. We have hundreds of Australiasian Post mags at Warrigal Press. If you are looking for a particular story, cover or topic let us know and we can browse through the collection. Great Australiana, great stories etc... $25.00

[007582] . Australasian Post June 17 1989. Melbourne: Magazine. We have hundreds of Australiasian Post mags at Warrigal Press. If you are looking for a particular story, cover or topic let us know and we can browse through the collection. Great Australiana, great stories etc... $15.00

[007581] . Australasian Post January 28 1989. Melbourne: Magazine. We have hundreds of Australiasian Post mags at Warrigal Press. If you are looking for a particular story, cover or topic let us know and we can browse through the collection. Great Australiana, great stories etc... $15.00

[007580] . Australasian Post January 21 1989. Melbourne: Magazine. We have hundreds of Australiasian Post mags at Warrigal Press. If you are looking for a particular story, cover or topic let us know and we can browse through the collection. Great Australiana, great stories etc... $15.00

[007579] . Australasian Post January 14 1988. Melbourne: Magazine. We have hundreds of Australiasian Post mags at Warrigal Press. If you are looking for a particular story, cover or topic let us know and we can browse through the collection. Great Australiana, great stories etc... $15.00

[007578] . Australasian Post September 3 1988. Melbourne: Magazine. We have hundreds of Australiasian Post mags at Warrigal Press. If you are looking for a particular story, cover or topic let us know and we can browse through the collection. Great Australiana, great stories etc... $15.00

[007577] . Australasian Post July 30 1988. Melbourne: Magazine. We have hundreds of Australiasian Post mags at Warrigal Press. If you are looking for a particular story, cover or topic let us know and we can browse through the collection. Great Australiana, great stories etc... $15.00

[007576] . Australasian Post August 6 1988. Melbourne: Magazine. We have hundreds of Australiasian Post mags at Warrigal Press. If you are looking for a particular story, cover or topic let us know and we can browse through the collection. Great Australiana, great stories etc... $25.00

[007575] . Australasian Post September 10 1988. Melbourne: Magazine. We have hundreds of Australiasian Post mags at Warrigal Press. If you are looking for a particular story, cover or topic let us know and we can browse through the collection. Great Australiana, great stories etc... $25.00

[007574] . Australasian Post July 23 1988. Melbourne: Magazine. We have hundreds of Australiasian Post mags at Warrigal Press. If you are looking for a particular story, cover or topic let us know and we can browse through the collection. Great Australiana, great stories etc... $25.00

[007560] . Australasian Post June 8 1991. Melbourne: Magazine. We have hundreds of Australiasian Post mags at Warrigal Press. If you are looking for a particular story, cover or topic let us know and we can browse through the collection. Great Australiana, great stories etc... $25.00

[007572] . Australasian Post June 15 1991. Melbourne: Magazine. We have hundreds of Australiasian Post mags at Warrigal Press. If you are looking for a particular story, cover or topic let us know and we can browse through the collection. Great Australiana, great stories etc... $25.00

[007561] . Australasian Post March 23 1991. Melbourne: Magazine. We have hundreds of Australiasian Post mags at Warrigal Press. If you are looking for a particular story, cover or topic let us know and we can browse through the collection. Great Australiana, great stories etc... $25.00

[007570] . Australasian Post November 25 1989. Melbourne: Magazine. We have hundreds of Australiasian Post mags at Warrigal Press. If you are looking for a particular story, cover or topic let us know and we can browse through the collection. Great Australiana, great stories etc... $25.00

[007569] . Australasian Post December 2 1989. Melbourne: Magazine. We have hundreds of Australiasian Post mags at Warrigal Press. If you are looking for a particular story, cover or topic let us know and we can browse through the collection. Great Australiana, great stories etc... $25.00

[007568] . Australasian Post February 3 1990. Melbourne: Magazine. We have hundreds of Australiasian Post mags at Warrigal Press. If you are looking for a particular story, cover or topic let us know and we can browse through the collection. Great Australiana, great stories etc... $25.00

[007567] . Australasian Post April 13 1991. Melbourne: Magazine. We have hundreds of Australiasian Post mags at Warrigal Press. If you are looking for a particular story, cover or topic let us know and we can browse through the collection. Great Australiana, great stories etc... $25.00

[007566] . Australasian Post April 6 1991. Melbourne: Magazine. We have hundreds of Australiasian Post mags at Warrigal Press. If you are looking for a particular story, cover or topic let us know and we can browse through the collection. Great Australiana, great stories etc... $25.00

[007565] . Australasian Post November 23 1991. Melbourne: Magazine. We have hundreds of Australiasian Post mags at Warrigal Press. If you are looking for a particular story, cover or topic let us know and we can browse through the collection. Great Australiana, great stories etc... $25.00

[007564] . Australasian Post September 21 1991. Melbourne: Magazine. We have hundreds of Australiasian Post mags at Warrigal Press. If you are looking for a particular story, cover or topic let us know and we can browse through the collection. Great Australiana, great stories etc... $25.00

[007563] . Australasian Post August 31 1991. Melbourne: Magazine. We have hundreds of Australiasian Post mags at Warrigal Press. If you are looking for a particular story, cover or topic let us know and we can browse through the collection. Great Australiana, great stories etc... $25.00

[007538] . Australasian Post December 17 1988. Melbourne: Magazine. We have hundreds of Australiasian Post mags at Warrigal Press. If you are looking for a particular story, cover or topic let us know and we can browse through the collection. Great Australiana, great stories etc... $25.00

[007573] . Australasian Post December 22 1990. Melbourne: Magazine. We have hundreds of Australiasian Post mags at Warrigal Press. If you are looking for a particular story, cover or topic let us know and we can browse through the collection. Great Australiana, great stories etc... $25.00

[007504] . Australasian Post December 13 1990. Melbourne: Magazine. We have hundreds of Australiasian Post mags at Warrigal Press. If you are looking for a particular story, cover or topic let us know and we can browse through the collection. Great Australiana, great stories etc... $25.00

[007514] . Australasian Post October 6 1990. Melbourne: Magazine. We have hundreds of Australiasian Post mags at Warrigal Press. If you are looking for a particular story, cover or topic let us know and we can browse through the collection. Great Australiana, great stories etc... $25.00

[007513] . Australasian Post March 24 1990. Melbourne: Magazine. We have hundreds of Australiasian Post mags at Warrigal Press. If you are looking for a particular story, cover or topic let us know and we can browse through the collection. Great Australiana, great stories etc... $25.00

[007512] . Australasian Post March 26 1987. Melbourne: Magazine. We have hundreds of Australiasian Post mags at Warrigal Press. If you are looking for a particular story, cover or topic let us know and we can browse through the collection. Great Australiana, great stories etc... $25.00

[007511] . Australasian Post March 10 1990. Melbourne: Magazine. We have hundreds of Australiasian Post mags at Warrigal Press. If you are looking for a particular story, cover or topic let us know and we can browse through the collection. Great Australiana, great stories etc... $25.00

[007510] . Australasian Post March 3 1990. Melbourne: Magazine. We have hundreds of Australiasian Post mags at Warrigal Press. If you are looking for a particular story, cover or topic let us know and we can browse through the collection. Great Australiana, great stories etc... $25.00

[007509] . Australasian Post January 7 1989. Melbourne: Magazine. We have hundreds of Australiasian Post mags at Warrigal Press. If you are looking for a particular story, cover or topic let us know and we can browse through the collection. Great Australiana, great stories etc... $25.00


[007508] . Australasian Post June 9 1990. Melbourne: Magazine. We have hundreds of Australiasian Post mags at Warrigal Press. If you are looking for a particular story, cover or topic let us know and we can browse through the collection. Great Australiana, great stories etc... $25.00

[007507] . Australasian Post June 23 1990. Melbourne: Magazine. We have hundreds of Australiasian Post mags at Warrigal Press. If you are looking for a particular story, cover or topic let us know and we can browse through the collection. Great Australiana, great stories etc... $25.00

[007540] . Australasian Post June 1 1991. Melbourne: Magazine. We have hundreds of Australiasian Post mags at Warrigal Press. If you are looking for a particular story, cover or topic let us know and we can browse through the collection. Great Australiana, great stories etc... $25.00

[007505] . Australasian Post April 7 1990. Melbourne: Magazine. We have hundreds of Australiasian Post mags at Warrigal Press. If you are looking for a particular story, cover or topic let us know and we can browse through the collection. Great Australiana, great stories etc... $25.00

[007517] . Australasian Post February 16 1991. Melbourne: Magazine. We have hundreds of Australiasian Post mags at Warrigal Press. If you are looking for a particular story, cover or topic let us know and we can browse through the collection. Great Australiana, great stories etc... $25.00

[007503] . Australasian Post October 20 1990. Melbourne: Magazine. We have hundreds of Australiasian Post mags at Warrigal Press. If you are looking for a particular story, cover or topic let us know and we can browse through the collection. Great Australiana, great stories etc... $25.00

[007502] . Australasian Post November 10 1990. Melbourne: Magazine. We have hundreds of Australiasian Post mags at Warrigal Press. If you are looking for a particular story, cover or topic let us know and we can browse through the collection. Great Australiana, great stories etc... $25.00

[007501] . Australasian Post November 3 1990. Melbourne: Magazine. We have hundreds of Australiasian Post mags at Warrigal Press. If you are looking for a particular story, cover or topic let us know and we can browse through the collection. Great Australiana, great stories etc... $25.00

[007500] . Australasian Post March 11 1989. Melbourne: Magazine. We have hundreds of Australiasian Post mags at Warrigal Press. If you are looking for a particular story, cover or topic let us know and we can browse through the collection. Great Australiana, great stories etc... $25.00

[007499] . Australasian Post February 25 1989. Melbourne: Magazine. We have hundreds of Australiasian Post mags at Warrigal Press. If you are looking for a particular story, cover or topic let us know and we can browse through the collection. Great Australiana, great stories etc... $25.00

[007498] . Australasian Post February 11 1989. Melbourne: Magazine. We have hundreds of Australiasian Post mags at Warrigal Press. If you are looking for a particular story, cover or topic let us know and we can browse through the collection. Great Australiana, great stories etc... $25.00

[007497] . Australasian Post February 4 1989. Melbourne: Magazine. We have hundreds of Australiasian Post mags at Warrigal Press. If you are looking for a particular story, cover or topic let us know and we can browse through the collection. Great Australiana, great stories etc... $25.00

[007496] . Australasian Post May 25 1991. Melbourne: Magazine. We have hundreds of Australiasian Post mags at Warrigal Press. If you are looking for a particular story, cover or topic let us know and we can browse through the collection. Great Australiana, great stories etc... $25.00

[007495] . Australasian Post April 21 1990. Melbourne: Magazine. We have hundreds of Australiasian Post mags at Warrigal Press. If you are looking for a particular story, cover or topic let us know and we can browse through the collection. Great Australiana, great stories etc... $25.00

[007506] . Australasian Post March 31 1990. Melbourne: Magazine. We have hundreds of Australiasian Post mags at Warrigal Press. If you are looking for a particular story, cover or topic let us know and we can browse through the collection. Great Australiana, great stories etc... $25.00

[007526] . Australasian Post December 15 1990. Melbourne: Magazine. We have hundreds of Australiasian Post mags at Warrigal Press. If you are looking for a particular story, cover or topic let us know and we can browse through the collection. Great Australiana, great stories etc... $25.00

[007537] . Australasian Post December 3 1988. Melbourne: Magazine. We have hundreds of Australiasian Post mags at Warrigal Press. If you are looking for a particular story, cover or topic let us know and we can browse through the collection. Great Australiana, great stories etc... $25.00

[007536] . Australasian Post November 26 1988. Melbourne: Magazine. We have hundreds of Australiasian Post mags at Warrigal Press. If you are looking for a particular story, cover or topic let us know and we can browse through the collection. Great Australiana, great stories etc... $25.00

[007535] . Australasian Post September 24 1988. Melbourne: Magazine. We have hundreds of Australiasian Post mags at Warrigal Press. If you are looking for a particular story, cover or topic let us know and we can browse through the collection. Great Australiana, great stories etc... $25.00

[007534] . Australasian Post March 17 1990. Melbourne: Magazine. We have hundreds of Australiasian Post mags at Warrigal Press. If you are looking for a particular story, cover or topic let us know and we can browse through the collection. Great Australiana, great stories etc... $25.00

[007533] . Australasian Post March 2 1991. Melbourne: Magazine. We have hundreds of Australiasian Post mags at Warrigal Press. If you are looking for a particular story, cover or topic let us know and we can browse through the collection. Great Australiana, great stories etc... $25.00

[007532] . Australasian Post January 19 1991. Melbourne: Magazine. We have hundreds of Australiasian Post mags at Warrigal Press. If you are looking for a particular story, cover or topic let us know and we can browse through the collection. Great Australiana, great stories etc... $25.00

[007531] . Australasian Post January 26 1991. Melbourne: Magazine. We have hundreds of Australiasian Post mags at Warrigal Press. If you are looking for a particular story, cover or topic let us know and we can browse through the collection. Great Australiana, great stories etc... $25.00

[007530] . Australasian Post June 2 1990. Melbourne: Magazine. We have hundreds of Australiasian Post mags at Warrigal Press. If you are looking for a particular story, cover or topic let us know and we can browse through the collection. Great Australiana, great stories etc... $25.00

[007529] . Australasian Post May 26 1990. Melbourne: Magazine. We have hundreds of Australiasian Post mags at Warrigal Press. If you are looking for a particular story, cover or topic let us know and we can browse through the collection. Great Australiana, great stories etc... $25.00

[007515] . Australasian Post September 22 1990. Melbourne: Magazine. We have hundreds of Australiasian Post mags at Warrigal Press. If you are looking for a particular story, cover or topic let us know and we can browse through the collection. Great Australiana, great stories etc... $25.00

[007527] . Australasian Post January 5 1991. Melbourne: Magazine. We have hundreds of Australiasian Post mags at Warrigal Press. If you are looking for a particular story, cover or topic let us know and we can browse through the collection. Great Australiana, great stories etc... $25.00

[007516] . Australasian Post September 15 1990. Melbourne: Magazine. We have hundreds of Australiasian Post mags at Warrigal Press. If you are looking for a particular story, cover or topic let us know and we can browse through the collection. Great Australiana, great stories etc... $25.00

[007525] . Australasian Post December 29 1990. Melbourne: Magazine. We have hundreds of Australiasian Post mags at Warrigal Press. If you are looking for a particular story, cover or topic let us know and we can browse through the collection. Great Australiana, great stories etc... $25.00

[007524] . Australasian Post November 24 1990. Melbourne: Magazine. We have hundreds of Australiasian Post mags at Warrigal Press. If you are looking for a particular story, cover or topic let us know and we can browse through the collection. Great Australiana, great stories etc... $25.00

[007523] . Australasian Post November 17 1990. Melbourne: Magazine. We have hundreds of Australiasian Post mags at Warrigal Press. If you are looking for a particular story, cover or topic let us know and we can browse through the collection. Great Australiana, great stories etc... $25.00

[007522] . Australasian Post March 9 1991. Melbourne: Magazine. We have hundreds of Australiasian Post mags at Warrigal Press. If you are looking for a particular story, cover or topic let us know and we can browse through the collection. Great Australiana, great stories etc... $25.00

[007521] . Australasian Post April 14 1990. Melbourne: Magazine. We have hundreds of Australiasian Post mags at Warrigal Press. If you are looking for a particular story, cover or topic let us know and we can browse through the collection. Great Australiana, great stories etc... $25.00

[007520] . Australasian Post April 28 1990. Melbourne: Magazine. We have hundreds of Australiasian Post mags at Warrigal Press. If you are looking for a particular story, cover or topic let us know and we can browse through the collection. Great Australiana, great stories etc... $25.00

[007519] . Australasian Post May 5 1990. Melbourne: Magazine. We have hundreds of Australiasian Post mags at Warrigal Press. If you are looking for a particular story, cover or topic let us know and we can browse through the collection. Great Australiana, great stories etc... $25.00

[007518] . Australasian Post January 12 1991. Melbourne: Magazine. We have hundreds of Australiasian Post mags at Warrigal Press. If you are looking for a particular story, cover or topic let us know and we can browse through the collection. Great Australiana, great stories etc... $25.00

[008796] . Walkabout Vol 32 No 12 December 1966. Melbourne: Australian National Travel Association, Magazine. $15.00

[007528] . Australasian Post May 19 1990. Melbourne: Magazine. We have hundreds of Australiasian Post mags at Warrigal Press. If you are looking for a particular story, cover or topic let us know and we can browse through the collection. Great Australiana, great stories etc... $25.00

[010220] . Man September 1967. NSW, Australia: Man Magazine Pty Ltd, 1967. Magazine. Email for details and contents. Pages 5-6 missing. $10.00

[010298] . Australasian Dirt Bike December 2002. Magazine. $6.60

[010235] . The Australian Journal March 1 1940. Melbourne: A H Massina and Co Pty Ltd, 1940. Magazine. Good Vintage Australian magazine. Great stories and illus. fact and fiction. $40.00

[010234] . The Australian Journal February 1 1940. Melbourne: A H Massina and Co Pty Ltd, 1940. Magazine. Good Vintage Australian magazine. Great stories and illus. fact and fiction. $40.00

[010233] . The Australian Journal April 1 1940. Melbourne: A H Massina and Co Pty Ltd, 1940. Magazine. Good Vintage Australian magazine. Great stories and illus. fact and fiction. $40.00

[010232] . The Australian Journal May 1 1940. Melbourne: A H Massina and Co Pty Ltd, 1940. Magazine. Good Vintage Australian magazine. Great stories and illus. fact and fiction. $40.00

[010226] . Cavalier the New Man's Magazine September 1953 Vol 1 No 2. Australia: Fawcett, 1953. Magazine. Good Very scarce men's mag. Srippers, boxing, gals, drama, stories. Etc. A few marks, light losses. Browning with age. $35.00

[010224] . Australian Outdoors April 1963. NSW, Australia: Kenmure Press, 1963. Magazine. Good Scarce copy of the best Australian hunting, shooting and fishing mag ever produced! Email for details of contents. $20.00

[010223] . Australian Outdoors April 1964. NSW, Australia: Kenmure Press, 1964. Magazine. Good Scarce copy of the best Australian hunting, shooting and fishing mag ever produced! Email for details of contents. $20.00

[010154] . Police Detective February 1972. New York: Rostam Publishing Inc, 1972. Magazine. Good Vintage detective mag! Good copy. $15.00

[010221] . Man August 1967. NSW, Australia: Man Magazine Pty Ltd, 1967. Magazine. Email for details and contents. $25.00

[010369] . Man November 1966 Volume 60 Number 6. NSW, Australia: Man Magazine Pty Ltd, 1966. Magazine. Fair Email for details of contents. This is an ex editorial file copy from the offices of man with numerous hand written notes on pages and covers, eg details of ads to reprint. Spine damage. $30.00

[010219] . Man October 1965 Volume 58 Number 5. NSW, Australia: Man Magazine Pty Ltd, 1965. Magazine. Good copy. $30.00

[010218] . Man February 1964 Volume 55 Number 3. NSW, Australia: Man Magazine Pty Ltd, 1964. Magazine. Email for details of contents. Small tear and name on front cover. Coupn cut out of page 33. $22.00

[010196] . Real Detective September 1972. New York: Rostam Publishing Inc, 1972. Magazine. Fair Worn and marked covesr. Vintage detective magazine. Includes , I was held love captive by a sex sadist! $20.00

[010195] . True Detective February/March 1973 Volume 1 No 6. Australia: Kenmure Press, 1973. Magazine. Good Vintage True Crime detective magazine.. Includes Mystery Torso on the Trash Heap! $25.00

[010193] . Man October 1966 Volume 60 Number 5. NSW, Australia: Man Magazine Pty Ltd, 1966. Magazine. This is a file copy from Kenmure Press's files. Has "file copy" written across the front of the magazine and some notes across some images and advertising giving details of what ad is to be repeated in subsequent mags. Gives and insight into how the publication worked! Worn copy. Some damage to spine. A few short tears. Interesting ! $30.00

[010184] . Aviation Modeller International September 1997. London: Tony Dowdeswell, 1997. Magazine. Good Aviation model mag. Good copy. $10.00

[010158] . National Geographic Vol 134 No 5 November 1968. USA: National Geographic Society, 1968. Magazine. Fair Worn copy, some damage to top of spine. $10.00

[010157] . Australian Arabian Horse News Vol 18 No 3 1984. Australia: Horse World Publications, 1984. Magazine. Good 143 pp magazine. Smal silverfish nibble along edge. $15.00

[010424] . Parade No 191 October 1966. Australia: Magazine. $16.00

[010222] . Man June 1951. NSW, Australia: K G Murray Publishing Co, 1951. Magazine. Back cover missing. Some writing on cover and inside. $22.00

[010411] . Pix November 10 1962. Melbourne: Magazine. $25.00

[008794] . Walkabout Vol 15 No 7 July 1949. Melbourne: Australian National Travel Association, Magazine. Silverfish damage along edges. $15.00

[010422] . Parade No 224 July 1969. Australia: Magazine. $16.00

[010421] . Parade No 196 March 1967. Australia: Magazine. $16.00

[010420] . Parade No 280 March 1974. Australia: Magazine. $16.00

[010419] . Parade No 186 May 1966. Australia: Magazine. $16.00

[010418] . Cavalier October 1964 Vol 14 No 136. USA: Fawcett, 1964. Magazine. Fair Vintage mens' mag. Worn copy . Email for details of contents. $25.00

[010417] . Cavalcade Vol 5 No 4 May 1965. New York: Skye Publishing, 1965. Magazine. Fair Centrefold missing. A few loose pages. Marked and worn. $15.00

[010416] . Cavalier November 1964 Vol 14 No 137. USA: Fawcett, 1964. Magazine. Fair Vintage mens' mag Worn copy . Email for details of contents. $25.00

[010415] . Men Only April 1965. New York: City Magazines Ltd, 1965. Magazine. Fair Vintage international Men's magazine. Email for details of contents. Great stories. Worn copy. $35.00

[010299] . Australasian Dirt Bike January 2003. Magazine. $6.60

[010413] . Men Only January 1965. New York: City Magazines Ltd, 1965. Magazine. Fair Vintage international Men's magazine. Email for details of contents. Great stories. Worn copy. $33.00

[010367] . Tractor & Machinery March 2004. England: Kelsey Publishing Group, 2004. Magazine. Good For the tractor enthusiast, collector and restorer. Good copy. $10.00

[010410] . Australasian Post September 20 1962. Melbourne: Magazine. $25.00

[010409] . Australasian Post November 1 1961. Melbourne: Magazine. $25.00

[010408] . Australasian Post November 16 1961. Melbourne: Magazine. $20.00

[010407] . Australasian Post October 25 1962. Melbourne: Magazine. $20.00

[010406] . Australasian Post October 11 1962. Melbourne: Magazine. $20.00

[010405] . Man's Epic May 1971 Vol 4 No 5. NSW, Australia: Kenmure Press, 1971. Magazine. Good A vintage Australian Men's mag. . Email for details of contents .Includes story, The incredible saga of the 2nd Ranger Battalion. $30.00

[010371] . Man January 1963 Volume 53 Number 2. NSW, Australia: Man Magazine Pty Ltd, 1963. Magazine. Man magazine. January 1963.Includes short stories by Olaf Ruhen and Xavier Herbert. cartoons by Humph, Waugh, Gibson. Factual stories on the girls at Cannes, the Glowworm's battle against a German cruiser, Princes Grace's naughty godfather, the mammoth of Angola, Manadorables ( pinups).Etc. In good condition. Check out our vintage Men's mags in the magazine section. $30.00

[010370] . Man December 1966 Volume 61 Number 1. NSW, Australia: Man Magazine Pty Ltd, 1966. Magazine. Fair Email for details of contents. This is an ex editorial file copy from the offices of man with numerous hand written notes on pages and covers, eg details of ads to reprint. Piece missing fro front cover. Spine damage. $30.00

[010153] . Special Detective-Crime August 1972. Arizona: Jalart, 1972. Magazine. Good Vintage crime mag. Great stories. A few marks. $15.00

[010414] . Men Only November 1965. New York: City Magazines Ltd, 1965. Magazine. Fair Vintage international Men's magazine. Email for details of contents. Great stories. Worn copy. $35.00

[009830] . Grass Roots No 121 June/July 1997. Eurora: Night Owl Publishers, 1998. Magazine. Craft and self sufficiency magazine for down to earth people. $10.00

[009871] . Men Only February 1968. New York: City Magazines Ltd, 1968. Magazine. Good Vintage international Men's magazine. Email for details of contents. Great stories. $44.00

[009870] . Men Only April 1968. New York: City Magazines Ltd, 1968. Magazine. Good Vintage international Men's magazine. Email for details of contents. Great stories. $44.00

[009868] . Lucifer Vol 1 No 6 July 1969. Victoria: Kangaroo Publishing Co, 1969. Magazine. Good Scarce Australian 60s mens mag, girls gags, cartoons, and stories ! $55.00

[009867] . Lucifer Vol 1 No 5 June 1969. Victoria: Kangaroo Publishing Co, 1969. Magazine. Good Scarce Australian 60s mens mag, girls gags, cartoons, and stories ! $55.00

[009866] . MW Mans World No 2. Australia: Scripts, 1967. Magazine. Good Scarce Scripts publications mens mag. 58 pp inc humour, pin ups, fact and fiction. Interesting 1960s publication. 2 pages loose. Old penned price on front cover. $44.00

[009865] . Squire the New Magazine for Modern Men Vol 1 No 6. Sydney: Squire Magazines, Magazine. Good Scarce Australian Men's magazine from the mid 60s. In good condition. Great surfing girl centrefold. $40.00

[009864] . Swank August 1970 Volume 17 Number 6. New York: Magnum-Royal Publications, 1970. Magazine. Good Vintage men only mag. Email for details of contents. $22.00

[009862] . Man October 1969 Volume 66 Number 5. NSW, Australia: Man Magazine Pty Ltd, 1969. Magazine. $30.00

[010155] . True Police Cases April 1973 Vol 24 No 22. USA: Globe Communications, 1973. Magazine. Good Vinatge detective mag. Good copy. $15.00


[009831] . Australasian Dirt Bike May 1998 Issue 224. Magazine. $6.60

[009977] . Man Junior August 1950. NSW, Australia: Man Magazine Pty Ltd, 1950. Magazine. Good Some damage to spine. Great Oz men's magand rare! Great Australian popular fiction. Girls and gags $20.00

[009829] . White Dwarf No 228. Games Workshop, Magazine. Good Email for details of contents. $10.00

[009828] . White Dwarf No 215. Games Workshop, Magazine. Good Email for details of contents. $10.00

[009827] . White Dwarf No 226. Games Workshop, Magazine. Good Email for details of contents. $10.00

[009826] . White Dwarf No 217. Games Workshop, Magazine. Good Email for details of contents. $10.00

[009825] . White Dwarf No 232. Games Workshop, Magazine. Good Email for details of contents. $10.00

[009814] . Grass Roots No 138 April/May 2000. Eurora: Night Owl Publishers, 2000. Magazine. Craft and self sufficiency magazine for down to earth people. $10.00

[009786] . Air Aces January 1981 Vol 5 No 4. New York: Countrywide Communications, 1981. Magazine. Fair Air aces and aviation pulp style mag. 1800 kamikazes spit death in bloody pacific turkey shoot, their motto, one ship one plane. The thunder killer over Korea. Air ace stories in a mag. 58 pp. Illus. One coupon has been cut out. Interesting aviaton mag. $12.00

[009778] . Man Junior September 1951. NSW, Australia: Kenmure Press, 1951. Magazine. Good Vintage Australian men's mag. Good copy. Inc illus by Belbin. $20.00

[009777] . Man Junior October 1952. NSW, Australia: Kenmure Press, 1952. Magazine. Fair Vintage Australian men's mag. Some damp stains. $20.00

[009844] . Vietnam April 1999. USA: Vietnam, 1999. First Edition. Magazine. Good Magazine containing war stories about the Vietnam War. Good copy. $10.00

[010079] . Sporting Life August 1949. Australia: Associated Newspapers, 1949. Magazine. Fair Vintage Australian sporting mag. Email for details of contents. Fair copy. $15.00

[010151] . Australian Penthouse October 1983. Australia: 1983. Magazine. Good $20.00

[010150] . Man June 1962 Volume 52 Number 1. NSW, Australia: Man Magazine Pty Ltd, 1962. Magazine. Email for details of contents. $30.00

[010140] . Real Detective Cases. Australia: Page Publications, 1973. Magazine. Fair Worn copy. Vintage detective magazine. Australian reprint of American cases. $10.00

[010139] . Real Detective May 1972. New York: Rostam Publishing Inc, 1972. Magazine. Fair Worn cover has severe silverfish damage. Contents OK. Vintage detective magazine. $10.00

[010138] . Detective Files May 1972 Vol 17 No 3. New York: Globe Communications, 1972. Magazine. Good A vintage detective mag . Email for details of contents . A young girl ran down the highway, screaming for help. At east 100 motorists passed her by. So she was raped, strangled and left to die. Small penned price on cover. $12.00

[010137] . Ellery Queen's Mystery Magazine Australian Edition No 131 May 1958. Australia: Shakespeare Head, 1958. 12mo - over 6¾" - 7¾" tall. Stapled. Good Stories by Roy Vickers, Ellery Queen, Agatha Christie, Thomas Walsh and Rufus King. Worn copy. Anniersary issue. Digest style. $15.00

[010114] . Australian Penthouse February 1983. Australia: 1983. Magazine. Fair Worn copy. Some pen marks on cover. $15.00

[010113] . Australian Penthouse January 1981. Australia: 1981. Magazine. Fair Worn copy. A few pen marks on cover. Easing at staples. $12.00

[010086] . Australian Penthouse May 1981. Australia: 1981. Magazine. Good Centrefold is loose from mag. Penned price on front cover. Worn copy. $15.00

[009872] . Frolic Vol 1 No 9. Victoria: Atlas Publications, 8vo - over 7¾" - 9¾" tall. Magazine. Vintage Australian girls and gag style mag. 64 pp. $33.00

[010080] . Sporting Life December 1949. Australia: Associated Newspapers, 1949. Magazine. Fair Vintage Australian sporting mag. Email for details of contents. Fair copy. Cover is separate from contents. $12.00

[009976] . Man October 1967 Volume 62 Number 5. NSW, Australia: Man Magazine Pty Ltd, 1967. Magazine. $30.00

[010071] . Australian Playboy September 1979. Australia: Australian Consolidated Press, 1979. Magazine. Good Pen marks on front cover. $15.00

[010070] . Australian Penthouse September 1983. Australia: 1983. Magazine. Good Centrefold is loose from mag. $15.00

[010049] . Man Junior January 1954. NSW, Australia: Kenmure Press, 1954. Magazine. Fair Has damp stains. $15.00

[010046] . Man Junior February 1942. NSW, Australia: Kenneth G Murray, 1942. Magazine. Good Vintage Australian men's mag. Good copy. Digest size. $35.00

[010045] . Man Junior December 1941. NSW, Australia: Kenneth G Murray, 1941. Magazine. Good Vintage Australian men's mag. Good copy. Digest size. $35.00

[010030] . Australian Penthouse August 1983. Australia: 1983. Magazine. Good Good copy. $30.00

[009980] . Headquarters Detective December 1971. New York: Globe Communications, 1971. Magazine. Good A vintage detective mag. . Email for details of contents . $13.00

[009978] . Pocket Man December 1965. Australia: K G Murray Publishing Co, 1965. 12mo - over 6¾" - 7¾" tall. Magazine. Good Vintage Pocket Man mag with great pulp style stories and glam girls! $18.00

[010425] . Parade No 192 November 1966. Australia: Magazine. $16.00

[010084] . Australian Penthouse February 1980. Australia: 1980. Magazine. Fair Centrefold is loose from mag. $15.00

[010998] . Frolic Vol 2 No 12. Victoria: Atlas Publications, 8vo - over 7¾" - 9¾" tall. Magazine. Vintage Australian girls and gag style mag. 64 pp. $33.00

[011108] . Man's Epic July / August 1976 Vol 9 No 6. NSW, Australia: Kenmure Press, 1976. Magazine. Good A vintage Australian Men's mag. . Email for details of contents .Includes story, Strange female lovemaking practices. $30.00

[011107] . Peep for Men Only April 1953. Sydney: American Australian Magazines Pty Ltd, 1953. Magazine. Good Scarce copy of this men's ony mag. Great gags and pin-ups etc. A Few short tears and light losses. Cover coming loose at staples. ome marks. $45.00

[011023] . Male Bag Vol 1 No 2. Auckland: 12mo - over 6¾" - 7¾" tall. Stapled. Good Cartoons, stories, articles ... Undated. Pre decimal. NZ humour, gals and gags. Some short sories ... I mean short stories. 68 pp. $30.00

[011022] . The Spice of Life No 8. Australia: Jubilee, 12mo - over 6¾" - 7¾" tall. Stapled. Fair A pocket full of lusty laughs. 45c on cover. 60s? Approx 64 pp of gags. Worn copy. $12.00

[011021] . Humour Bound Volume No 81. Sydney: New Century Press, 1948. 4to - over 9¾" - 12" tall. Paperback. Good Australian and world humour. Bound copy from October 15 1948 to November 12 1948. 5 issues in one. 750 jokes, 30 stories 250 cartoons. Around 180 pp. Good, square copy. Vintage humour. $35.00

[011020] . Humour Bound Volume No 103. Sydney: New Century Press, 1959. 4to - over 9¾" - 12" tall. Paperback. Good Australian and world humour. Bound copy of June 19 1959 , June 26 1959, July 3 1959, July 10 1959, July 17 1959, and July 24 1959. Around 180 pp. Spine rolled and slightly cracked. Vintage humour. $35.00

[011017] . Fun Volume 1 No 8. Victoria: Atlas Publications, 8vo - over 7¾" - 9¾" tall. Magazine. Vintage Australian girls and gag style mag. 64 pp. $30.00

[011016] . Fun Volume 1 No 12. Victoria: Atlas Publications, 8vo - over 7¾" - 9¾" tall. Magazine. Vintage Australian girls and gag style mag. 64 pp. $30.00

[010962] . Wheels April 1973. Australia: Magazine. $12.00

[010999] . Frolic Vol 1 No 4. Victoria: Atlas Publications, 8vo - over 7¾" - 9¾" tall. Magazine. Vintage Australian girls and gag style mag. 64 pp. $33.00

[011113] . Peep for Men Only January 1954. Sydney: American Australian Magazines Pty Ltd, 1954. Magazine. Good Scarce copy of this men's ony mag. Great gags and pin-ups etc.. Email for a scan. Inc Mickey Spillane story. $47.00

[010996] . The Oldie Issue 116 November 1998. London: Oldie Publications, 1998. Magazine. Good $7.70

[010995] . The Oldie Issue 117 December 1998. London: Oldie Publications, 1998. Magazine. Good $7.70

[010994] . The Oldie Issue 114 September 1998. London: Oldie Publications, 1998. Magazine. Good $7.70

[010993] . The Oldie Issue 107 February 1998. London: Oldie Publications, 1998. Magazine. Good $7.70

[010968] . Gals and Gags New Series No 8. Australia: Kenmure Press, Magazine. Fair Undated. 60s ? A few pen marks inside. $8.00

[010967] . Australian Seaspray Ocytober 18 1974. NSW, Australia: IPC Business Press, 1974. Magazine. Boating magazine $7.00

[010965] . Wheels September 1973. Australia: Magazine. $12.00

[010964] . Wheels June 1973. Australia: Magazine. $12.00

[010423] . Parade No 195 February 1967. Australia: Magazine. $16.00

[011000] . Cavalcade Vol 14 No 1 July 1951. Sydney: Cavalcade Magazine, 1951. 12mo - over 6¾" - 7¾" tall. Magazine. Fair Scarce men's only mag from the 50s. Gags, girls and stories. Covers worn. Some silverfish nibbles around the edges. $25.00

[011123] . The Australian Woman's Mirror July 29 1953. Australia: 1953. Magazine. Vintage Australian Womens mag with short stories, kids pages, craft ideas etc. Worn copy. Email for details. Inc Phantom comic strip. $20.00

[011134] . The Australian Woman's Mirror March 4 1953. Australia: 1953. Magazine. Vintage Australian Womens mag with short stories, kids pages, craft ideas etc. Worn copy. Email for details. Inc Phantom comic strip. $20.00

[011133] . The Australian Woman's Mirror May 13 1953. Australia: 1953. Magazine. Vintage Australian Womens mag with short stories, kids pages, craft ideas etc. Worn copy. Email for details. Inc Phantom comic strip. $20.00

[011132] . The Australian Woman's Mirror December 2 1953. Australia: 1953. Magazine. Vintage Australian Womens mag with short stories, kids pages, craft ideas etc. Worn copy. Email for details. Inc Phantom comic strip. $20.00

[011131] . The Australian Woman's Mirror June 10 1953. Australia: 1953. Magazine. Vintage Australian Womens mag with short stories, kids pages, craft ideas etc. Worn copy. Email for details. Inc Phantom comic strip. $20.00

[011130] . The Australian Woman's Mirror April 29 1953. Australia: 1953. Magazine. Vintage Australian Womens mag with short stories, kids pages, craft ideas etc. Worn copy. Email for details. Inc Phantom comic strip. $20.00

[011129] . The Australian Woman's Mirror October 7 1953. Australia: 1953. Magazine. Vintage Australian Womens mag with short stories, kids pages, craft ideas etc. Worn copy. Email for details. Inc Phantom comic strip. $20.00

[011128] . The Australian Woman's Mirror May 11 1949. Australia: 1949. Magazine. Vintage Australian Womens mag with short stories, kids pages, craft ideas etc. Worn copy. Email for details. Inc Phantom comic strip. $20.00

[011127] . The Australian Woman's Mirror August 15 1951. Australia: 1951. Magazine. Vintage Australian Womens mag with short stories, kids pages, craft ideas etc. Worn copy. Email for details. Inc Phantom comic strip. $20.00

[011126] . The Australian Woman's Mirror August 22 1951. Australia: 1951. Magazine. Vintage Australian Womens mag with short stories, kids pages, craft ideas etc. Worn copy. Email for details. Inc Phantom comic strip. $20.00

[011109] . Figure and Vigour Vol 1 No 4 October 1952. Australia: 1952. Magazine. Good Australia's National Health Journal. Small magazine size folds out t a newpaper size 8pp. Unusual underground type paper for the nudist/sunseeker. On the cover says ... A conroversial periodicaldevoted to fearless fact ... sexology ... art ... theatre... beauty. You do not have to buy this paper - if its frankness - daring - and fearless comment offends you, we suggest you read more conventional efforts - if you seek the unusual this is the paper for you. Stories about bodgies and widgies, Japanese wives, vice etc. Nude pictorials. $44.00

[011124] . The Australian Woman's Mirror August 22 1951. Australia: 1951. Magazine. Vintage Australian Womens mag with short stories, kids pages, craft ideas etc. Worn copy. Email for details. Inc Phantom comic strip. $20.00

[011112] . Gals and Gags May 1955. Australia: Kenmure Press, Magazine. Fair Large loss on back cover, other losses and tears. $15.00

[011122] . The Australian Woman's Mirror December 23 1953. Australia: 1953. Magazine. Vintage Australian Womens mag with short stories, kids pages, craft ideas etc. Worn copy. Email for details. Inc Phantom comic strip. $20.00

[011121] . The Australian Woman's Mirror July 18 1951. Australia: 1951. Magazine. Vintage Australian Womens mag with short stories, kids pages, craft ideas etc. Worn copy. Email for details. Inc Phantom comic strip. $20.00

[011120] . The Australian Woman's Mirror September 15 1953. Australia: 1953. Magazine. Vintage Australian Womens mag with short stories, kids pages, craft ideas etc. Worn copy. Email for details. Inc Phantom comic strip. $20.00

[023147] . Brief Incorporating Male and Photo Vol 1 No 2 January. Australia: Horiwtz, Magazine. Good Vintage Australian men's mag. Undated but mid 50s? Includes Secret Rites of Arnhem Land, Pictorial of Mamie Van Doren. Lot's of repeats of US stories and some Australian materail. $30.00

[011118] . The Australian Woman's Mirror October 14 1953. Australia: 1953. Magazine. Vintage Australian Womens mag with short stories, kids pages, craft ideas etc. Worn copy. Email for details. Inc Phantom comic strip. $20.00

[011116] . The Australian Woman's Mirror December 30 1953. Australia: 1953. Magazine. Vintage Australian Womens mag with short stories, kids pages, craft ideas etc. Worn copy. Email for details. Inc Phantom comic strip. $20.00

[011115] . Figure and Vigour Vol 1 No 1 July 1952. Australia: 1952. Magazine. Good Australia's National Health Journal. Small magazine size folds out to a newpaper size 8pp. Unusual underground type paper for the nudist/sunseeker. Stories about bodgies and widgies, vice etc. Nude pictorials. $44.00

[011114] . Gals and Gags . Australia: Kenmure Press, Magazine. Good Undated. 60s ? good copy. 1'3 pence on cover. $22.00

[010961] . Wheels October 1976. Australia: Magazine. $13.00

[011125] . The Australian Woman's Mirror July 18 1951. Australia: 1951. Magazine. Vintage Australian Womens mag with short stories, kids pages, craft ideas etc. Worn copy. Email for details. Inc Phantom comic strip. $20.00

[010447] . Parade No 210 May 1968. Australia: Magazine. $16.00

[010507] . Walkabout February 1936 - October 1936 Bound Copies. Melbourne: Australian National Travel Association, Magazine. This is a bound set of Walkabout magazines from February 1936 - October 1936. Binding covers are worn and marked. Contents are good. Great Australiana! $150.00

[010506] . Walkabout Vol 10 November 1943 - October 1944 Bound Copies. Melbourne: Australian National Travel Association, Magazine. This is a bound set of Walkabout magazines from November 1943 - October 1944. Binding covers are worn and marked. Contents are good. Includes index. Great Australiana! $150.00

[010505] . Walkabout Vol 3 November 1936 - October 1937 Bound Copies. Melbourne: Australian National Travel Association, Magazine. This is a bound set of Walkabout magazines from November 1936 - October 1937. Binding covers are worn and marked. Contents are good. Includes index. Great Australiana! $150.00

[010491] . Industrial; and Commercial Photography Volume 25 Number 2 March-April 1987. Australia: Photo Publishing, 1987. Magazine. Good Australian photography mag. Email for details of contents. $15.00

[010490] . Movie Maker January 1984. England: Model And Allied Publications, 1984. Magazine. Good Vintage movie making mag. Email for details of contents.Pen marks of front cover. $15.00

[010489] . Amatuer Photographer February 7 1987. Great Britain: Prospect Magazines, 1987. Magazine. Fair A few tears and pen marks. Email for details of contents. $10.00

[010488] . Movie Maker August 1984. England: Model And Allied Publications, 1984. Magazine. Good Vintage movie making mag. Email for details of contents. Slightly wrinkled. $15.00

[010487] . Movie Maker January 1976. England: Model And Allied Publications, 1976. Magazine. Good Vintage movie making mag. Email for details of contents. Slightly wrinkled. $15.00

[010963] . Wheels May 1973. Australia: Magazine. $12.00

[010448] . Parade No 188 July 1966. Australia: Magazine. $16.00

[010510] . Walkabout November 1937 - October 1938 Bound Copies. Melbourne: Australian National Travel Association, Magazine. This is a bound set of Walkabout magazines from November 1937 - October 1938. Binding covers are worn and marked, Great Australiana! $100.00

[010446] . Parade No 194 January 1967. Australia: Magazine. $16.00

[010440] . Parade No 265 December 1972. Australia: Magazine. $16.00

[010437] . Parade No 275 October 1973. Australia: Magazine. $16.00

[010435] . Parade No 302 January 1976. Australia: Magazine. $16.00

[010434] . Parade No 200 July 1967. Australia: Magazine. $16.00

[010433] . Parade No 193 December 1966. Australia: Magazine. $16.00

[010432] . Parade No 296 July 1975. Australia: Magazine. $16.00

[010427] . Parade No 190 September 1966. Australia: Magazine. $16.00

[010426] . Parade No 187 June 1966. Australia: Magazine. $16.00

[010449] . Parade No 189 August 1966. Australia: Magazine. $16.00

[010949] . Wheels October 1974. Australia: Magazine. $13.00

[010960] . Wheels September 1976. Australia: Magazine. $13.00

[010959] . Wheels August 1976. Australia: Magazine. $10.00

[010958] . Wheels July 1976. Australia: Magazine. $12.00

[010957] . Wheels June 1976. Australia: Magazine. $12.00

[010956] . Wheels May 1976. Australia: Magazine. $12.00

[010955] . Wheels April 1976. Australia: Magazine. $12.00

[010954] . Wheels March 1976. Australia: Magazine. Torn corner, missing. $12.00

[010953] . Wheels January 1976. Australia: Magazine. $12.00

[010952] . Wheels January 1976. Australia: Magazine. $12.00

[010508] . Walkabout Vol 9 November 1942 - October 1943 Bound Copies. Melbourne: Australian National Travel Association, Magazine. This is a bound set of Walkabout magazines from November 1942 - October 1943. Binding covers are worn and marked. Contents are good. Includes index. Great Australiana! $150.00

[010950] . Wheels November 1974. Australia: Magazine. Scribble on front cover $8.00

[010509] . Walkabout November 1938 - October 1939 Bound Copies. Melbourne: Australian National Travel Association, Magazine. This is a bound set of Walkabout magazines from February 1936 - October 1936. Binding covers are worn and marked.Some water staining last few pages. All pages free and readable. Great Australiana! $100.00

[010947] . Wheels January 1974. Australia: Magazine. $12.00

[010946] . Wheels February 1977. Australia: Magazine. $13.00

[010945] . Wheels February 1977. Australia: Magazine. $13.00

[010944] . Wheels October 1977. Australia: Magazine. $13.00

[010943] . Wheels July 1977. Australia: Magazine. $12.00

[010942] . Wheels March 1971. Australia: Magazine. $13.00

[010941] . Wheels February 1971. Australia: Magazine. $13.00

[010679] . Quiz Magazine November 1953. Sydney: Gardner Publications, First Edition. Magazine. Good This is a very scarce copy of the Australian men's mag. Great vintage men's cartoons, yarns and short stories A very good copy! Email for detals and a scan of the cover. Fantastic ...! $50.00

[009771] . Man's Life August 1971 Vol 4 No 6. NSW, Australia: Kenmure Press, 1971. Magazine. Fair Great collectible Men's mag. Stories such as The Vice Dolls Who Blasted the International White Slavers, The Death Wish That Spells Your Doom. Suicide march of Merrill's Jungle Killers, great gals and illustrations. Slightly damp affected. $30.00

[010951] . Wheels December 1974. Australia: Magazine. $12.00

[008965] . Combat and Survival Magazine Volume 7 Issue 7 October 1995.
United Kingdom: Mai Publications, 1995. Magazine. Good Email for details. $10.00

[009100] . Men and Adventure August 1971. Sydney: Kenmure Press, 1972. Magazine. Good Vintage men's magazine (Australian). Email for a list of stories. Published by arrangement with New Publications in New York. Reprint of collectible USA pulp mag. $25.00

[009099] . Men and Adventure June 1972. Sydney: Kenmure Press, 1972. Magazine. Good Vintage men's magazine (Australian). Email for a list of stories. Published by arrangement with New Publications in New York. Reprint of collectible USA pulp mag. $25.00

[009098] . Men and Adventure March 1972. Sydney: Kenmure Press, 1972. Magazine. Good Vintage men's magazine (Australian). Email for a list of stories. Published by arrangement with New Publications in New York. Reprint of collectible USA pulp mag. $25.00

[008984] . Man December 1963. NSW, Australia: K G Murray Publishing Co, 1963. Magazine. Fair Email for details of contents. Back cover missing. $20.00

[008983] . The Australian Journal June 2 1952. Melbourne: A H Massina and Co, 1952. Magazine. Good Vintage Australian magazine. Great authors. Email for details of contributors. $30.00

[008982] . The Australian Journal July 1 1952. Melbourne: A H Massina and Co, 1952. Magazine. Good Vintage Australian magazine. Great authors. Email for details of contributors. $30.00

[008981] . Radio Control Modeller September 1980. United Kingdom: Model And Allied Publications, 1980. Magazine. Fair Modeling magazine. Email for details of contents. Cover near loose. $10.00

[008980] . R/C Model Builder January 1981. California: RCMB Inc, 1981. Magazine. Good Modeling magazine. Email for details of contents. $10.00

[008866] . Australian Gold Gem & Treasure June 1991. Sydney: Express Publications, 1991. Magazine. Email for details of contents or if you are looking for a particular article. $10.00

[008978] . Radio Control Models & Electronics April 1980. United Kingdom: Model And Allied Publications, 1980. Magazine. Good Modeling magazine. Email for details of contents. $10.00

[009104] . Man in Action No 15. Hong Kong: Transpacific Magazines, Magazine. Good Vintage men's magazine. Email for a list of stories. Great girls and artwork! $25.00

[008964] . Australian Gold Gem & Treasure May 1988. Sydney: Express Publications, 1988. Magazine. Email for details of contents or if you are looking for a particular article. $10.00

[008963] . Australian Gold Gem & Treasure March 1987. Sydney: Express Publications, 1994. Magazine. Email for details of contents or if you are looking for a particular article. $10.00

[008962] . Australian Gold Gem & Treasure April 1987. Sydney: Express Publications, 1987. Magazine. Email for details of contents or if you are looking for a particular article. $10.00

[008961] . Australian Shooter March 2005. Magazine. Good $10.00

[008960] . Australian Shooter February 2005. Magazine. Good $10.00

[008870] . Skindiving in Australia and New Zealand Vol 9 No 4 May 1979. Victoria: Australian Sports Publications, 1979. Magazine. Vintage Australian diving mag, publsihed when diving was free! Interesting. Great WA diving stories inc Abrolhos. Some pen marks inside. $15.00

[008869] . Australian Gold Gem & Treasure November 1991. Sydney: Express Publications, 1991. Magazine. Email for details of contents or if you are looking for a particular article. $10.00

[008868] . Australian Gold Gem & Treasure April 1992. Sydney: Express Publications, 1990. Magazine. Email for details of contents or if you are looking for a particular article. $10.00

[009774] . Man is Ten Commemorative Collection of the Best Cartoons In Ten Years of "Man". Australia: Kenmure Press, 1946. Magazine. Good This is a rare and very collectible special 10th aniversary edition of Man magazine containing a brief history of the magazine and its cartoonists and expamples of their work. Features the works of Emile Mercier, Gibson, Humph, Royston, Such, etc. Very rare. Warrigal Press has not seen any other copy of this collection. $100.00

[008979] . Radio Control Models & Electronics March 1980. United Kingdom: Model And Allied Publications, 1980. Magazine. Good Modeling magazine. Email for details of contents. $10.00

[009113] . Man Junior September 1971. NSW, Australia: Kenmure Press, 1971. Magazine. Good Good copy. Vintage Australian men's mag. $30.00

[009233] . Front Page Detective October 1972. New York: Detective Publications, 1972. Magazine. Good Worn copy. Email for details of contents. $12.00

[009232] . Front Page Detective December 1971. New York: Detective Publications, 1971. Magazine. Good Worn copy. Email for details of contents. $12.00

[009231] . Front Page Detective September 1971. New York: Detective Publications, 1971. Magazine. Good Worn copy. Email for details of contents. $12.00

[009230] . Front Page Detective April 1972. New York: Detective Publications, 1972. Magazine. Fair Worn copy. Email for details of contents. $12.00

[009120] . Man Junior May 1972. NSW, Australia: Kenmure Press, 1972. Magazine. Good Good copy. Vintage Australian men's mag. $30.00

[009119] . Man Junior October 1968. NSW, Australia: Kenmure Press, 1968. Magazine. Good Good copy. Vintage Australian men's mag. $30.00

[009118] . Man Junior June 1972. NSW, Australia: Kenmure Press, 1972. Magazine. Good Good copy. Vintage Australian men's mag. $30.00

[009117] . Man Junior December 1972. NSW, Australia: Kenmure Press, 1972. Magazine. Good Good copy. Vintage Australian men's mag. $30.00

[009116] . Man Junior October 1972. NSW, Australia: Kenmure Press, 1972. Magazine. Good Good copy. Vintage Australian men's mag. $30.00

[009102] . Men and Adventure February 1972. Sydney: Kenmure Press, 1972. Magazine. Good Vintage men's magazine (Australian). Email for a list of stories. Published by arrangement with New Publications in New York. Reprint of collectible USA pulp mag. $25.00

[009114] . Man Junior November 1972. NSW, Australia: Kenmure Press, 1972. Magazine. Good Good copy. Vintage Australian men's mag. $30.00

[009103] . Men and Adventure December 1971. Sydney: Kenmure Press, 1971. Magazine. Good Vintage men's magazine (Australian). Email for a list of stories. Published by arrangement with New Publications in New York. Reprint of collectible USA pulp mag. $25.00

[009112] . Man Junior July 1972. NSW, Australia: Kenmure Press, 1972. Magazine. Good Good copy. Vintage Australian men's mag. $30.00

[009111] . Adam October 1972 Vol 53 No 5. NSW, Australia: Kenmure Press, 1972. Magazine. Good A vintage Australian Men's mag. . Email for details of contents. $30.00

[009110] . Adam September 1972 Vol 53 No 4. NSW, Australia: Kenmure Press, 1972. Magazine. Good A vintage Australian Men's mag. . Email for details of contents. $30.00

[009109] . Adam June 1972 Vol 53 No 1. NSW, Australia: Kenmure Press, 1972. Magazine. Good A vintage Australian Men's mag. . Email for details of contents. $30.00

[009108] . Adam December 1972 Vol 54 No 1. NSW, Australia: Kenmure Press, 1972. Magazine. Good A vintage Australian Men's mag. . Email for details of contents. $30.00

[009107] . Adam June 1973 Vol 55 No 1. NSW, Australia: Kenmure Press, 1973. Magazine. Good A vintage Australian Men's mag. . Email for details of contents. $30.00

[009106] . Adam June 1976 Vol 61 No 1. NSW, Australia: Kenmure Press, 1976. Magazine. Good A vintage Australian Men's mag. . Email for details of contents. $30.00

[009105] . Man in Action No 18. Hong Kong: Transpacific Magazines, Magazine. Good Vintage men's magazine. Email for a list of stories. Great girls and artwork! $25.00

[008865] . Australian Gold Gem & Treasure February 1991. Sydney: Express Publications, 1991. Magazine. Email for details of contents or if you are looking for a particular article. $10.00

[009115] . Man Junior January 1972. NSW, Australia: Kenmure Press, 1972. Magazine. Good Good copy. Vintage Australian men's mag. $30.00

[008828] . Australian Gold Gem & Treasure May 1993. Sydney: Express Publications, 1993. Magazine. Email for details of contents or if you are looking for a particular article. $10.00

[008838] . Australian Gold Gem & Treasure October 1992. Sydney: Express Publications, 1992. Magazine. Email for details of contents or if you are looking for a particular article. $10.00

[008837] . Australian Gold Gem & Treasure July 1992. Sydney: Express Publications, 1992. Magazine. Email for details of contents or if you are looking for a particular article. $10.00

[008836] . Australian Gold Gem & Treasure March 1991. Sydney: Express Publications, 1991. Magazine. Email for details of contents or if you are looking for a particular article. $10.00

[008835] . Australian Gold Gem & Treasure August 1990. Sydney: Express Publications, 1990. Magazine. Email for details of contents or if you are looking for a particular article. $10.00

[008834] . Australian Gold Gem & Treasure July 1990. Sydney: Express Publications, 1990. Magazine. Email for details of contents or if you are looking for a particular article. $10.00

[008833] . The Australian Amateur Mineralogist December 1955. Adelaide: Geosurveys of Australia, 1955. 8vo - over 7¾" - 9¾" tall. Stapled. Email for details of contents. Of prospecting interest. $10.00

[008832] . Australian Gem and Treasure Hunter September 1985 No 105. Victoria: Gencraft, 1985. Magazine. Email for details of contents or if you are looking for a particular article. $12.00

[008831] . Australian Gem and Treasure Hunter March 1986 No 110. Victoria: Gemcraft, 1986. Magazine. Email for details of contents or if you are looking for a particular article. $12.00

[008867] . Australian Gold Gem & Treasure June 1990. Sydney: Express Publications, 1990. Magazine. Email for details of contents or if you are looking for a particular article. $10.00

[008829] . Australian Gold Gem & Treasure May 1990. Sydney: Express Publications, 1990. Magazine. Email for details of contents or if you are looking for a particular article. $10.00

[008841] . Australian Gold Gem & Treasure May 1986. Sydney: Express Publications, 1986. Magazine. Email for details of contents or if you are looking for a particular article. $10.00

[008826] . Australian Gold Gem & Treasure May 1992. Sydney: Express Publications, 1992. Magazine. Email for details of contents or if you are looking for a particular article. $10.00

[008803] . Walkabout Vol 22 No 12 December 1956. Melbourne: Australian National Travel Association, Magazine. $18.00

[008802] . Walkabout Vol 13 No 10 August 1947. Melbourne: Australian National Travel Association, Magazine. $13.50

[008801] . Walkabout Vol 14 No 5 March 1948. Melbourne: Australian National Travel Association, Magazine. $20.00

[008800] . Walkabout Vol 25 No 11 November 1959. Melbourne: Australian National Travel Association, Magazine. $15.00

[008799] . Walkabout Vol 24 No 9 September 1958. Melbourne: Australian National Travel Association, Magazine. $15.00

[008798] . Walkabout Vol 32 No 3 March 1966. Melbourne: Australian National Travel Association, Magazine. $15.00

[008797] . Walkabout Vol 32 No 11 November 1966. Melbourne: Australian National Travel Association, Magazine. $15.00

[007136] . Earth Garden No 92 June-August 1995. Trentham: Magazine. Self sufficiency and Planet care for bush or city alternatives. Magazine. $10.00

[008830] . Overlander May 1980. NSW, Australia: Modern Magazines, 1980. Magazine. Email for details of contents $10.00

[008852] . Australian Gold Gem & Treasure March 1991. Sydney: Express Publications, 1991. Magazine. Email for details of contents or if you are looking for a particular article. $10.00

[008864] . Australian Gold Gem & Treasure February 1992. Sydney: Express Publications, 1992. Magazine. Email for details of contents or if you are looking for a particular article. $10.00

[008863] . Australian Gold Gem & Treasure June 1989. Sydney: Express Publications, 1989. Magazine. Email for details of contents or if you are looking for a particular article. $10.00

[008862] . Australian Gold Gem & Treasure July 1989. Sydney: Express Publications, 1989. Magazine. Email for details of contents or if you are looking for a particular article. $10.00

[008861] . Australian Gold Gem & Treasure November 1990. Sydney: Express Publications, 1990. Magazine. Email for details of contents or if you are looking for a particular article. $10.00

[008860] . Australian Gold Gem & Treasure August 1988. Sydney: Express Publications, 1988. Magazine. Email for details of contents or if you are looking for a particular article. $10.00

[008859] . Australian Gold Gem & Treasure December 1990. Sydney: Express Publications, 1990. Magazine. Email for details of contents or if you are looking for a particular article. $10.00

[008858] . Australian Gold Gem & Treasure August 1991. Sydney: Express Publications, 1991. Magazine. Email for details of contents or if you are looking for a particular article. $10.00

[008857] . Australian Gold Gem & Treasure June 1991. Sydney: Express Publications, 1990. Magazine. Email for details of contents or if you are looking for a particular article. $10.00

[008856] . Australian Gold Gem & Treasure October 1990. Sydney: Express Publications, 1990. Magazine. Email for details of contents or if you are looking for a particular article. $10.00

[008839] . Australian Gold Gem & Treasure December 1993. Sydney: Express Publications, 1993. Magazine. Email for details of contents or if you are looking for a particular article. $10.00

[008854] . Australian Gold Gem & Treasure May 1992. Sydney: Express Publications, 1992. Magazine. Email for details of contents or if you are looking for a particular article. $10.00

[008840] . Australian Gold Gem & Treasure February 1992. Sydney: Express Publications, 1992. Magazine. Email for details of contents or if you are looking for a particular article. $10.00

[008851] . Australian Gold Gem & Treasure August 1992. Sydney: Express Publications, 1992. Magazine. Email for details of contents or if you are looking for a particular article. $10.00

[008850] . Australian Gold Gem & Treasure February 1993. Sydney: Express Publications, 1993. Magazine. Email for details of contents or if you are looking for a particular article. $10.00

[008849] . Australian Gold Gem & Treasure July 1990. Sydney: Express Publications, 1990. Magazine. Email for details of contents or if you are looking for a particular article. $10.00

[008846] . Australian Gold Gem & Treasure November 1990. Sydney: Express Publications, 1991. Magazine. Email for details of contents or if you are looking for a particular article. $10.00

[008845] . Australian Gold Gem & Treasure September 1991. Sydney: Express Publications, 1991. Magazine. Email for details of contents or if you are looking for a particular article. $10.00

[008844] . Australian Gold Gem & Treasure July 1991. Sydney: Express Publications, 1991. Magazine. Email for details of contents or if you are looking for a particular article. $10.00

[008843] . Australian Gold Gem & Treasure April 1993. Sydney: Express Publications, 1993. Magazine. Email for details of contents or if you are looking for a particular article. $10.00

[008842] . Australian Gold Gem & Treasure Yearbook 1990. Sydney: Express Publications, 1990. Magazine. Email for details of contents or if you are looking for a particular article. $10.00

[009236] . International Crime Detective No 34. Hong Kong: Transpacfic Magazines, Magazine. Good Worn copy. Email for details of contents. Detective mag. $12.00

[008855] . Australian Gold Gem & Treasure March 1994. Sydney: Express Publications, 1994. Magazine. Email for details of contents or if you are looking for a particular article. $10.00

[009709] . The Small War Corvettes: The 39 Through Fremantle. Perth: Wa Newspaper, 1991. First Edition. 8vo - over 7¾" - 9¾" tall. Stapled. Oblong 8vo. 95 pp. B/w illus. The RAN's WW2 corvette fleet. Good copy. $20.00

[009725] . Dune Buggies and Hot VWs Volume 25 Number 6 June 1992. California: Wright Publishing, 1992. Magazine. Good Great VW enthusiasts mag $15.00

[009724] . Australian VW Power No 21 June/July 1992. Australia: Syme Magazines, 1992. Magazine. Good Great VW enthusiasts mag $12.00

[009723] . Australian VW Power No 20 April/May 1992. Australia: Syme Magazines, 1992. Magazine. Good Great VW enthusiasts mag $12.00

[009722] . Australian VW Power No 14 April/May 1991. Australia: Syme Magazines, 1991. Magazine. Good Great VW enthusiasts mag $12.00

[009721] . Australian VW Power No 19 February/March 1992. Australia: Syme Magazines, 1992. Magazine. Good Great VW enthusiasts mag $12.00

[009720] . Adam December 1970. NSW, Australia: Kenmure Press, 1970. Magazine. Fair A vintage Australian Men's mag. Good copy. $30.00

[009719] . Adam January 1971. NSW, Australia: Kenmure Press, 1971. Magazine. Good A vintage Australian Men's mag. . Email for details of contents. $30.00

[009718] . Man Junior March 1971. NSW, Australia: Man Magazine Pty Ltd, 1971. Magazine. Fair Good copy. $20.00

[009234] . Front Page Detective August 1972. New York: Detective Publications, 1972. Magazine. Good Worn copy. Email for details of contents. $12.00

[009716] . Man Junior September 1972. NSW, Australia: Kenmure Press, 1972. Magazine. Good Good copy. Vintage Australian men's mag. $30.00

[009728] . Dune Buggies and Hot VWs Volume 25 Number 4 April 1992. California: Wright Publishing, 1992. Magazine. Good Great VW enthusiasts mag $15.00

[009708] . Live to Ride. Custome Harleys. Australia: Magazine. A Live to Ride publication of great custom Harleys. 82 pp. Worn copy. $9.90

[009700] . Man May 1956. NSW, Australia: K G Murray Publishing Co, 1946. Magazine. Poor Poor copy. Cover is loose, marked and has large losses. $15.00

[009698] . 1994 Number 14 August 1980. New York: Warren Publishing, 1980. Magazine. Good 74 pp of provocative illustrated adult fantasy. Inc Ghita of Alizarr. Light wear. Pages browning with age. $25.00

[009697] . Star Quest Comix Ocober 1978. New York: Warren Publishing, 1978. Magazine. Good 80 pp of provocative illustrated stories. Inc Star Wars. Light wear. Pages browning with age. Book exchange stamps inside and old penned price on front cover. $14.00

[009696] . Creepy January 1980 No 114. New York: Warren Publishing, 1980. Magazine. Good 74 pp of provocative illustrated stories. Inc Hitler returns! Light wear. Pages browning with age. $25.00

[009671] . 1984 Magazine Number 10 December 1979. New York: Warren Publishing, 1979. Magazine. Good 82 pp of provocative illustrated adult fantasy. Inc Herma the Bold and Ghita the Nude. Light wear. Pages browning with age. $25.00

[009659] . Sport Diving Number 45 August/September 1994. Australia: Barry Andrewather, 1994. Magazine. Great diving mag. Email for details of contents. $15.00

[009658] . Sport Diving Number 68 June/July 1998. Australia: Barry Andrewather, 1998. Magazine. Great diving mag. Email for details of contents. $15.00

[009657] . Sport Diving Number 94 October/November 2002. Australia: Barry Andrewather, 2002. Magazine. Great diving mag. Email for details of contents. $15.00

[009717] . Man Junior October 1971. NSW, Australia: Kenmure Press, 1971. Magazine. Good Good copy. Vintage Australian men's mag. $30.00

[009746] . Mister the New Magazine for Men Vol 4 No 47. Auckland: Chas Davy and Sons, Magazine. Good Circa 1950s Men's magazine. Slightly more risque than some of the Oz mags of the same era. 32 pp. Edgeworn. $40.00

[008795] . Walkabout Vol 29 No1 January 1963. Melbourne: Australian National Travel Association, Magazine. $15.00

[009768] . Welding News October 1955 Folio 85. Sydney: The Commonwealth Industrial Gases Ltd, 1955. Magazine. Fair A vintage welding magazine. 28 pp. Inc details on powder cutting, penstock welding, tube welding, care of handcutting nozzles, arhgonarc welding, AC automatic welding speeds, classification of BHP steels, cutting machines, etc. Interesting info for the welder. $10.00


[009761] . Man January 1963 Volume 53 Number 2. NSW, Australia: Man Magazine Pty Ltd, 1963. Magazine. Man magazine. January 1963.Includes short stories by Olaf Ruhen and Xavier Herbert. cartoons by Humph, Waugh, Gibson. Factual stories on the girls at Cannes, the Glowworm's battle against a German cruiser, Princes Grace's naughty godfather, the mammoth of Angola, Manadorables ( pinups).Etc. In good condition. Check out our vintage Men's mags in the magazine section. $30.00

[009760] . Man November 1962 Volume 52 Number 6. NSW, Australia: Man Magazine Pty Ltd, 1962. Magazine. Email for details of contents. $30.00

[009759] . Man July 1958 Volume 44 Number 2. NSW, Australia: Man Magazine Pty Ltd, 1957. Magazine. Magazine. Small piece missing on back cover. Email for details of contents. $35.00

[009758] . Man February 1956. NSW, Australia: K G Murray Publishing Co, 1956. Magazine. Email for details of contents. $30.00

[009757] . Man October 1962 Volume 52 Number 5. NSW, Australia: Man Magazine Pty Ltd, 1962. Magazine. Email for details of contents. $30.00

[009756] . Man October 1955. NSW, Australia: K G Murray Publishing Co, 1956. Magazine. Email for details of contents. $30.00

[009755] . Man January 1958 Volume 43 Number 2. NSW, Australia: Man Magazine Pty Ltd, 1958. Magazine. Email for details of contents. Covers worn and almost detatched from contents. $35.00

[009726] . Dune Buggies and Hot VWs Volume 25 Number 5 May 1992. California: Wright Publishing, 1992. Magazine. Good Great VW enthusiasts mag $15.00

[009747] . Mister the New Magazine for Men Vol 5 No 56. Auckland: Chas Davy and Sons, Magazine. Good Circa 1950s Men's magazine. Slightly more risque than some of the Oz mags of the same era. 32 pp. Edgeworn. $40.00

[009727] . Dune Buggies and Hot VWs Volume 25 Number 7 July 1992. California: Wright Publishing, 1992. Magazine. Good Great VW enthusiasts mag $15.00

[009745] . Mister the New Magazine for Men Vol 5 No 50. Auckland: Chas Davy and Sons, Magazine. Good Circa 1950s Men's magazine. Slightly more risque than some of the Oz mags of the same era. 32 pp. Edgeworn. $40.00

[009744] . Mister the New Magazine for Men Vol 5 No 49. Auckland: Chas Davy and Sons, Magazine. Good Circa 1950s Men's magazine. Slightly more risque than some of the Oz mags of the same era. 32 pp. Edgeworn. $40.00

[009743] . Mister the New Magazine for Men Vol 5 No 50. Auckland: Chas Davy and Sons, Magazine. Good Circa 1950s Men's magazine. Slightly more risque than some of the Oz mags of the same era. 32 pp. Edgeworn. $40.00

[009742] . Peep for Men Only January 1953. Sydney: American Australian Magazines Pty Ltd, 1953. Magazine. Good Scarce copy of this men's ony mag. Great gags and pin-ups etc. A Few short tears and light losses.Insignificant smoke , fire stain on back cover corner. Email for a scan. $45.00

[009741] . Peep for Men Only June 1953. Sydney: American Australian Magazines Pty Ltd, 1953. Magazine. Good Scarce copy of this men's ony mag. Great gags and pin-ups etc. A Few short tears and light losses.Insignificant smoke , fire stain on back cover corner. Email for a scan. $45.00

[009740] . Peep for Men Only February 1954. Sydney: American Australian Magazines Pty Ltd, 1954. Magazine. Good Scarce copy of this men's ony mag. Great gags and pin-ups etc.Bottom corner of front cover missing. Email for a scan. Inc final instalment of the Mickey Spillane story My Gun Is Quick. $45.00

[009739] . Peep for Men Only March 1954. Sydney: American Australian Magazines Pty Ltd, 1954. Magazine. Good Scarce copy of this men's ony mag. Great gags and pin-ups etc. Near very good condition. Includes Vargas pin up inside front cover. $45.00

[009729] . VW Trends July 1992 Vol11 No 7. California: McMullen and Yee, 1992. Magazine. Good Great VW enthusiasts mag $15.00

[009653] . Australasian Model Railroad Magazine January/February 1977 Issue 82. Vol. 8 No. 1. Australia: S.C.R Publications, 1976. Magazine. Good 54 pp vintage railway modelling mag. Great layouts, projects etc. Email for details of contents. $30.00

[009754] . Man March 1956. NSW, Australia: K G Murray Publishing Co, 1956. Magazine. Email for details of contents. $30.00

[009245] . Man's Adventure No 18. Hong Kong: Transpacfic Magazines, Magazine. Good A vintage Men's mag. . Email for details of contents . $30.00

[009656] . Skindiving in Australia and New Zealand Vol 5 No 4 May 1975. Victoria: Australian Sports Publications, 1979. Magazine. Vintage Australian diving mag, published when diving was free! Interesting. Great Australian diving stries, inc sharks ... $15.00

[009460] . Adam May 1974 Vol 56 No 6. NSW, Australia: Kenmure Press, 1974. Magazine. Fair A vintage Australian Men's mag. . Email for details of contents. Worn copy. $25.00

[009266] . People May 13 1959. Melbourne: Magazine. $20.00

[009265] . People September 9 1953. Melbourne: Magazine. $20.00

[009264] . People August 3 1960. Melbourne: Magazine. $20.00

[009263] . People February 28 1962. Melbourne: Magazine. $20.00

[009262] . People September Febraury 28 1962. Melbourne: Magazine. $20.00

[009261] . People September January 31 1951. Melbourne: Magazine. $20.00

[009248] . Detective Dragnet June 1972. New York: Globe Communications, 1972. Magazine. Good A vintage detective mag. . Email for details of contents . $12.00

[009462] . Adam December 1972 Vol 54 No 1. NSW, Australia: Kenmure Press, 1974. Magazine. Fair A vintage Australian Men's mag. . Email for details of contents. Worn copy. Part of back cover missing. $20.00

[009246] . Official Detective Stories March 1973. New York: RGH Publishing, 1973. Magazine. Good A vintage detective mag. . Email for details of contents . $12.00

[009522] . Adam September 1975. NSW, Australia: Kenmure Press, 1972. Magazine. Good A vintage Australian Men's mag. Email for details of contents. $30.00

[009244] . True Men December 1971 January 1972 Vol 1 No 1. Sydney: Kenmure Press, 1971. Magazine. Good Vintage men's magazine (Australian). Email for a list of stories. Inc how to find the lost $5,000,000 of Rommel's gold. Good condition. $20.00

[009243] . Man Junior August 1972. NSW, Australia: Kenmure Press, 1972. Magazine. Good Good copy. Vintage Australian men's mag. $30.00

[009242] . Man Junior June 1972. NSW, Australia: Kenmure Press, 1972. Magazine. Good Good copy. Vintage Australian men's mag. $30.00

[009241] . Inside Detective August 1972. New York: Detective Publications, 1972. Magazine. Good Worn copy. Email for details of contents. $12.00

[009240] . Inside Detective April 1972. New York: Detective Publications, 1972. Magazine. Good Worn copy. Email for details of contents. $12.00

[009239] . Inside Detective January 1973. New York: Detective Publications, 1973. Magazine. Good Worn copy. Email for details of contents. $12.00

[009238] . Inside Detective September 1972. New York: Detective Publications, 1972. Magazine. Good Worn copy. Email for details of contents. $12.00

[009237] . International Crime Detective No 35. Hong Kong: Transpacfic Magazines, Magazine. Good Worn copy. Email for details of contents. Detective mag. Coupon removed from back page. $12.00

[009773] . Men and Adventure May 1972. Sydney: Kenmure Press, 1971. Magazine. Good Vintage men's magazine (Australian). Email for a list of stories. Published by arrangement with New Publications in New York. Reprint of collectible USA pulp mag. Inc artwork by Bob Larkin, Eral Norem. Includes I Beat Okuma's Shock-A-Second Electric Torture Cage. Lightly moisture affected. $20.00

[009247] . Detective Dragnet August 1972. New York: Globe Communications, 1972. Magazine. Good A vintage detective mag. . Email for details of contents . $12.00

[009642] . Street & Strip Issue No 4 1987. NSW, Australia: Street & Strip, 1987. Magazine. Good Hot cars and hotter babes! Australian street car, drag racing and strippers mag. We have numerous copies of these mags. Emal for details of contents and condition report. Toranas, hot Fords, GTs etc. Some centrefolds may be missing. $15.00

[009235] . International Crime Detective December 1972. Hong Kong: Commag Publications, 1972. Magazine. Good Worn copy. Email for details of contents. Detective mag. $12.00

[009652] . Australasian Model Railroad Magazine march/April 1977 Issue 83 Vol. 8 No.2. Australia: S.C.R Publications, 1977. Magazine. Good 54 pp vintage railway modelling mag. Great layouts, projects etc. Email for details of contents. $30.00

[009651] . Australasian Model Railroad Magazine November/December 1976 Issue 81. Vol. 7 No. 12. Australia: S.C.R Publications, 1976. Magazine. Good 54 pp vintage railway modelling mag. Great layouts, projects etc. Email for details of contents. $30.00

[009650] . Summernats Nine 1995-96. Australia: Street MacHine Magazines, 1996. Magazine. Good Hot cars and hotter babes! Australian street car, drag racing, Summernats. Great petrol head mag! $15.00

[009649] . Street & Strip Issue No 17 Nov 1989. NSW, Australia: Street & Strip, 1989. Magazine. Good Hot cars and hotter babes! Australian street car, drag racing and strippers mag. We have numerous copies of these mags. Emal for details of contents and condition report. Toranas, hot Fords, GTs etc. Some centrefolds may be missing. $15.00

[009648] . Street & Strip Issue No 12 1989. NSW, Australia: Street & Strip, 1989. Magazine. Good Hot cars and hotter babes! Australian street car, drag racing and strippers mag. We have numerous copies of these mags. Emal for details of contents and condition report. Toranas, hot Fords, GTs etc. Some centrefolds may be missing. $15.00

[009647] . Street & Strip Issue No 15 July Aug 1989. NSW, Australia: Street & Strip, 1989. Magazine. Good Hot cars and hotter babes! Australian street car, drag racing and strippers mag. We have numerous copies of these mags. Emal for details of contents and condition report. Toranas, hot Fords, GTs etc. Some centrefolds may be missing. $15.00

[009646] . Street & Strip Issue No 18 Dec 1989. NSW, Australia: Street & Strip, 1988. Magazine. Good Hot cars and hotter babes! Australian street car, drag racing and strippers mag. We have numerous copies of these mags. Emal for details of contents and condition report. Toranas, hot Fords, GTs etc. Some centrefolds may be missing. $15.00

[009645] . Street & Strip Issue No 11 1988. NSW, Australia: Street & Strip, 1988. Magazine. Good Hot cars and hotter babes! Australian street car, drag racing and strippers mag. We have numerous copies of these mags. Emal for details of contents and condition report. Toranas, hot Fords, GTs etc. Some centrefolds may be missing. $15.00

[009461] . Adam August 1974 Vol 57 No3. NSW, Australia: Kenmure Press, 1974. Magazine. Fair A vintage Australian Men's mag. . Email for details of contents. Worn copy. Back cover missing. Coupon or cartoon cut out. $15.00

[009643] . Street & Strip Issue No 9 1988. NSW, Australia: Street & Strip, 1988. Magazine. Good Hot cars and hotter babes! Australian street car, drag racing and strippers mag. We have numerous copies of these mags. Emal for details of contents and condition report. Toranas, hot Fords, GTs etc. Some centrefolds may be missing. $15.00

[009654] . Hard Evidence Volume 3 Number 3 May-June 2003. Australia: Earthlink Publishing, 2003. Magazine. Good Exposing the truth. An expose/conspiracy magazine. Email for details of contents. $15.00

[009641] . Street & Strip Apr/May 1990. NSW, Australia: Street & Strip, 1990. Magazine. Good Hot cars and hotter babes! Australian street car, drag racing and strippers mag. We have numerous copies of these mags. Emal for details of contents and condition report. Toranas, hot Fords, GTs etc. $15.00

[009640] . Australasian Model Railroad Magazine september/October 1976 Issue 80. Vol.7 No.11. Australia: S.C.R Publications, 1976. Magazine. Good 54 pp vintage railway modelling mag. Great layouts, projects etc. Email for details of contents. $30.00

[009617] . Australian Natural History June 1975 Volume 18 Number 6. Australia: A H and A W Reed, 1975. Magazine. Good Australian museum magazine. Email for details of contents. $33.00

[009616] . Australian Natural History Winter 1987 Vol 22 No 5. Australia: A H and A W Reed, 1987. Magazine. Good Australian museum magazine. Email for details of contents. $22.00

[009615] . Australian Natural History June 1974 Volume 18Number 2. Australia: A H and A W Reed, 1974. Magazine. Good Australian museum magazine. Email for details of contents. $35.00

[009614] . Australian Natural History December 1975 Volume 18 Number 8. Australia: A H and A W Reed, 1975. Magazine. Good Australian museum magazine. Includes story of diving on Batavia, Abrolhos by Jeremy green $35.00

[009576] . Peep for Men Only January 1954. Sydney: American Australian Magazines Pty Ltd, 1954. Magazine. Good Scarce copy of this men's ony mag. Great gags and pin-ups etc.Bottom corner of front cover missing. Email for a scan. Inc Mickey Spillane story. $45.00

[009563] . FlyPast July 2005. London: Kay Publishing, Magazine. Good FlyPast magazine inc Ausytrtalian P40 Kittyhawk.. 95 pp of colour and b/w pic, battle stories etc. Covers worn. Good copy. $7.70

[009529] . Man February 1965 Volume 47 Number 3. NSW, Australia: Man Magazine Pty Ltd, 1964. Magazine. Email for details of contents. $30.00

[009644] . Street & Strip Issue No 14 1989. NSW, Australia: Street & Strip, 1988. Magazine. Good Hot cars and hotter babes! Australian street car, drag racing and strippers mag. We have numerous copies of these mags. Emal for details of contents and condition report. Toranas, hot Fords, GTs etc. Some centrefolds may be missing. $15.00

[003671] . Two Wheels May 1997. Australia: Magazine. $5.50

[003681] . Australian Motorcycle News June 2 - 15 1995. Australia: Magazine. $6.00

[003680] . Australian Motorcycle News Oct 31 - Nov 13 1997. Australia: Magazine. $6.00

[003679] . Australian Motorcycle News June 14 - 27 1996. Australia: Magazine. $6.00

[003678] . Australian Motorcycle News June 28 - July 11 1996. Australia: Magazine. $6.00

[003677] . Australian Motorcycle News April 5 - 18 1996. Australia: Magazine. $6.00

[003676] . Australian Motorcycle News Feb 5 - 18 1999. Australia: Magazine. $6.00

[003675] . Australian Motorcycle News Dec 15 - Jan 11 1996. Australia: Magazine. $6.00

[003674] . Australian Motorcycle News August 23 - Sept 5 1996. Australia: Magazine. $6.00

[003660] . Wheels June 1984. Australia: Magazine. $5.50

[003672] . Australian Motorcycle News April 19 - May 2 1996. Australia: Magazine. $6.00

[003684] . Australian Motorcycle News October 3 - 16 1997. Australia: Magazine. $6.00

[003670] . Two Wheels February 1997. Australia: Magazine. Inc bike of the year $5.50

[003669] . Two Wheels October 1997. Australia: Magazine. $5.50

[003668] . Two Wheels July 1997. Australia: Magazine. $5.50

[003667] . Two Wheels April 1997. Australia: Magazine. $5.50

[003666] . Two Wheels March 1997. Australia: Magazine. $5.50

[003665] . Two Wheels September 1997. Australia: Magazine. $5.50

[003663] . Wheels May 1982. Australia: Magazine. $5.50

[003662] . Wheels February 1984. Australia: Magazine. $5.50

[004232] . Australasian Post February 19 1976. Melbourne: Magazine. $25.00

[003673] . Australian Motorcycle News January 10 - 23 1997. Australia: Magazine. $6.00

[003998] . Australasian Post August April 15 1965. Melbourne: Magazine. $40.00

[005279] . Man February 1955 Volume 37 Number 3. NSW, Australia: Man Magazine Pty Ltd, 1955. Magazine. $35.00

[004230] . Australasian Post October 7 1976. Melbourne: Magazine. $40.00

[004229] . Australasian Post June 3 1976. Melbourne: Magazine. $40.00

[004228] . Australasian Post May 27 1976. Melbourne: Magazine. $40.00

[004227] . Australasian Post May 13 1976. Melbourne: Magazine. $40.00

[004226] . Australasian Post August 19 1976. Melbourne: Magazine. $40.00

[004225] . Australasian Post December 2 1976. Melbourne: Magazine. $40.00

[004224] . Australasian Post December 9 1976. Melbourne: Magazine. $40.00

[004223] . Australasian Post June 24 1976. Melbourne: Magazine. $40.00

[003682] . Australian Motorcycle News Yearbook Summer 1997 - 98. Australia: Magazine. $6.00

[003999] . Australasian Post December 30 1965. Melbourne: Magazine. $40.00

[003683] . Australian Motorcycle News Sept 5 - 18 1997. Australia: Magazine. $6.00

[003997] . Australasian Post August 6 1964. Melbourne: Magazine. $40.00

[003996] . Australasian Post January 14 1965. Melbourne: Magazine. $40.00

[003880] . Australian Geographic Jan/Mar 2004. Australia: Dick Smith, 2004. Magazine. No 73. Includes Australian shark poster. $10.00

[003696] . Motor November 1998. Australia: 1998. Magazine. Good $6.00

[003688] . Australian Motorcycle News May 29 - June 11 1998. Australia: Magazine. $6.00

[003687] . Australian Motorcycle News June 26 - July 9 1998. Australia: Magazine. $6.00

[003686] . Australian Motorcycle News April 4 - 17 1997. Australia: Magazine. $6.00

[003685] . Australian Motorcycle News Sept 19 - Oct 2 1997. Australia: Magazine. $6.00

[003659] . Wheels March 1982. Australia: Magazine. $5.50

[004222] . Australasian Post March 10 1977. Melbourne: Magazine. $40.00

[003535] . Australian Motorcycle News. September 15 - 28 2000. Australia: Magazine. $6.00

[003545] . Australian Motorcycle News. Nov 26 - Dec 9 1999. Australia: Magazine. $6.00

[003544] . Australian Motorcycle News. Jan 21 - Feb 3 2000. Australia: Magazine. $6.00

[003543] . Australian Motorcycle News. June 23 - July 6 2000. Australia: Magazine. $6.00

[003542] . Australian Motorcycle News. Oct 15 - 28 1999. Australia: Magazine. $6.00

[003541] . Australian Motorcycle News. Nov 9 - 22 2001. Australia: Magazine. $6.00

[003540] . Australian Motorcycle News. Oct 13 - 26 2000. Australia: Magazine. $6.00

[003539] . Australian Motorcycle News. Jan 19 - Feb 1 2001. Australia: Magazine. $6.00

[003538] . Australian Motorcycle News. Feb 16 - Mar 3 2001. Australia: Magazine. $6.00

[003661] . Wheels August 1983. Australia: Magazine. $5.50

[003536] . Australian Motorcycle News. Sept 29 - Oct 12 2000. Australia: Magazine. $6.00

[003548] . Australian Rider. Autumn 1998. Australia: Magazine. $8.00

[003534] . Live to Ride. The Australian Bikers Journal No 25. Australia: Magazine. $9.00

[003533] . Australian Motorcycle News. March 30 - April 12 2001. Australia: Magazine. $6.00

[003532] . Australian Motorcycle News. Feb 2 - 15 2001. Australia: Magazine. $6.00

[003531] . Australian Motorcycle News. Dec 7 - 20 2001. Australia: Magazine. $6.00

[003530] . Live to Ride. The Australian Bikers Journal No 41. Australia: Magazine. Inc poster $9.00

[003529] . Live to Ride. The Australian Bikers Journal No 38. Australia: Magazine. $9.00

[003528] . Live to Ride. The Australian Bikers Journal No 42. Australia: Magazine. $9.00

[003527] . Live to Ride The Australian Bikers Journal No 37. Australia: Magazine. $9.00

[003526] . Australian Motorcycle News. Sept 8 - 21 1995. Australia: Magazine. $6.00

[003537] . Australian Motorcycle News. Summer 2000 - 2001 Yearbok. Australia: Magazine. $8.00

[003557] . Two Wheels. February 1998. Australia: Magazine. $6.00

[003656] . Modern Motor June 1975. Australia: Magazine. $5.50

[003655] . Modern Motor September 1979. Australia: Magazine. $5.50

[003566] . Riding On. No 62 March 1999. Australia: Magazine. $6.00

[003565] . Two Wheels. June 1996. Australia: Magazine. $6.00

[003564] . Two Wheels. March 1996. Australia: Magazine. $6.00

[003563] . Two Wheels. February 1996. Australia: Magazine. $6.00

[003562] . Two Wheels. 1996 Yearbook. Januray 1996. Australia: Magazine. $8.00

[003561] . Two Wheels. August 1996. Australia: Magazine. $6.00

[003560] . Two Wheels. November 1997.
Australia: Magazine. $6.00

[003546] . Australian Motorcycle News. Feb 18 - Mar 2 2000. Australia: Magazine. $6.00

[003558] . Two Wheels. September 1996. Australia: Magazine. $6.00

[003547] . Australian Motorcycle News. July 7 - 20 2000. Australia: Magazine. $6.00

[003556] . Two Wheels. June 1998. Australia: Magazine. $6.00

[003555] . Two Wheels. March 1998. Australia: Magazine. $6.00

[003554] . Two Wheels. May 1998. Australia: Magazine. $6.00

[003553] . Two Wheels. January 1999. Australia: Magazine. $6.00

[003552] . Streetbike. The Aussie Kiwi Performance Motorcycle Magazine. No 30. October/November 1994. Australia: Magazine. $7.00

[003551] . Streetbike. The Aussie Kiwi Performance Motorcycle Magazine. No 37. December/January 1995/96. Australia: Magazine. $7.00

[003550] . Performance Bike. May 1996. United Kingdom: Magazine. $6.00

[003549] . Riding On. No 63. June 1999. Australia: Magazine. $6.00

[004233] . Australasian Post August 5 1976. Melbourne: Magazine. $25.00

[003559] . Two Wheels. August 1997. Australia: Magazine. $6.00

[004437] . Parade No 68 July 1956. Australia: Magazine. $16.00

[004789] . Australasian Post October 1 1964. Melbourne: Magazine. $25.00

[004788] . Australasian Post March July 24 1980. Melbourne: Magazine. $25.00

[004787] . Australasian Post March 20 1980. Melbourne: Magazine. $40.00

[004717] . Heritage Australia Vol 4 No 3. Australia: Australian Council of National Trusts, 1985. Large Format. Pictorial Card. Good Magazine in good condition. $12.00

[004716] . Heritage Australia Vol 4 No 1. Australia: Australian Council of National Trusts, 1985. Large Format. Pictorial Card. Good Magazine in good condition. $12.00

[004715] . Heritage Australia Vol 4 No 2. Australia: Australian Council of National Trusts, 1985. Large Format. Pictorial Card. Good Magazine in good condition. $12.00

[004714] . Heritage Australia Vol 4 No 4. Australia: Australian Council of National Trusts, 1985. Large Format. Pictorial Card. Good Magazine in good condition. Slight wrinkling of a few pages. $12.00

[004440] . Parade No 179 October 1965. Australia: Magazine. $16.00

[004424] . Australasian Post August 3 1978. Melbourne: Magazine. $25.00

[004438] . Parade No 69 August 1956. Australia: Magazine. $16.00

[004792] . Pix March 24 1962. Melbourne: Magazine. $25.00

[004436] . Parade No 149 April 1963. Australia: Magazine. $16.00

[004434] . Parade No 158 January 1964. Australia: Magazine. $16.00

[004431] . Man October 1968 Volume 63 Number 6. NSW, Australia: Man Magazine Pty Ltd, 1968. Magazine. $30.00

[004430] . Man October 1964 Volume 53 No 2. NSW, Australia: Man Magazine Pty Ltd, 1964. Magazine. $30.00

[004429] . Man October 1965 Volume 58 Number 5. NSW, Australia: Man Magazine Pty Ltd, 1965. Magazine. $30.00

[004428] . Australasian Post January 9 1975. Melbourne: Magazine. $25.00

[004427] . Australasian Post November 18 1976. Melbourne: Magazine. $25.00

[004426] . Australasian Post December 29 1977. Melbourne: Magazine. $25.00

[004231] . Australasian Post April 1 1976. Melbourne: Magazine. $25.00

[004439] . Parade No 175 June 1965. Australia: Magazine. $16.00

[005116] . Australasian Post October 22 1953. Melbourne: Magazine. $18.00

[007138] . Earth Garden No 67 June/July 1989. Trentham: Magazine. Self sufficiency and Planet care for bush or city alternatives. Magazine. $10.00

[005234] . Aeroplane January 2004. London: IPC Media Ltd, Magazine. Good History in the air. Fantastic magazine covering aviation history. Numerous interesting aviation articles and illus. Historical fighter aircraft and aircraft restoration a specialty. $15.00

[005233] . Aeroplane June 2003. London: IPC Media Ltd, Magazine. Good History in the air. Fantastic magazine covering aviation history. Numerous interesting aviation articles and illus. Historical fighter aircraft and aircraft restoration a specialty. $15.00

[005232] . Aeroplane October 2003. London: IPC Media Ltd, Magazine. Good History in the air. Fantastic magazine covering aviation history. Numerous interesting aviation articles and illus. Historical fighter aircraft and aircraft restoration a specialty. $15.00

[005231] . Aeroplane December 2002. London: IPC Media Ltd, Magazine. Good History in the air. Fantastic magazine covering aviation history. Numerous interesting aviation articles and illus. Historical fighter aircraft and aircraft restoration a specialty. $15.00

[005230] . Aeroplane February 2003. London: IPC Media Ltd, Magazine. Good History in the air. Fantastic magazine covering aviation history. Numerous interesting aviation articles and illus. Historical fighter aircraft and aircraft restoration a specialty. $15.00

[005229] . Aeroplane August 2003. London: IPC Media Ltd, Magazine. Good History in the air. Fantastic magazine covering aviation history. Numerous interesting aviation articles and illus. Historical fighter aircraft and aircraft restoration a specialty. $15.00

[005120] . Pix February 6 1960. Melbourne: Magazine. $25.00

[005119] . Pix June 1 1957. Melbourne: Magazine. $25.00

[004790] . Australasian Post December 3 1964. Melbourne: Magazine. $25.00

[005117] . People November 7 1951. Melbourne: Magazine. $25.00

[004791] . Australasian Post August 7 1975. Melbourne: Magazine. $25.00

[005115] . Australasian Post June 20 1957. Melbourne: Magazine. $18.00

[005114] . Australasian Post August 29 1957. Melbourne: Magazine. $18.00

[005113] . Australasian Post November 14 1957. Melbourne: Magazine. $18.00

[005112] . Australasian Post May 8 1958. Melbourne: Magazine. $18.00

[005111] . Australasian Post April 3 1958. Melbourne: Magazine. $25.00

[004795] . World of Men. NSW, Australia: Page Publications, Magazine. 70s Australian men's magazine. $10.00

[004794] . Pix February 22 1969. Melbourne: Magazine. $25.00

[004793] . Pix November 10 1962. Melbourne: Magazine. $25.00

[004423] . Australasian Post August 25 1977. Melbourne: Magazine. $25.00

[005118] . People January 30 1952. Melbourne: Magazine. $25.00

[004243] . Australasian Post July 22 1976. Melbourne: Magazine. $25.00

[004398] . Australasian Post May 26 1977. Melbourne: Magazine. $25.00

[004397] . Australasian Post October 28 1982. Melbourne: Magazine. $25.00

[004396] . Australasian Post February 12 1953. Melbourne: Magazine. $20.00

[004395] . Australasian Post February 3 1949. Melbourne: Magazine. $30.00

[004394] . Australasian Post June 16 2001. Melbourne: Magazine. $25.00

[004393] . Australasian Post April 5 1984. Melbourne: Magazine. $25.00

[004392] . Australasian Post February 19 1953. Melbourne: Magazine. $30.00

[004391] . Australasian Post October 22 1964. Melbourne: Magazine. $25.00

[004425] . Australasian Post April 3 1975. Melbourne: Magazine. $25.00

[004389] . Australasian Post February 10 1966. Melbourne: Magazine. $25.00

[004401] . Australasian Post March 17 1977. Melbourne: Magazine. $25.00

[004242] . Australasian Post December 23 1976. Melbourne: Magazine. $25.00

[004241] . Australasian Post August 12 1976. Melbourne: Magazine. $25.00

[004240] . Australasian Post January 27 1977. Melbourne: Magazine. $40.00

[004239] . Australasian Post July 29 1976. Melbourne: Magazine. $25.00

[004238] . Australasian Post July 1 1976. Melbourne: Magazine. $25.00

[004237] . Australasian Post December 30 1976. Melbourne: Magazine. $25.00

[004236] . Australasian Post June 17 1976. Melbourne: Magazine. $25.00

[004235] . Australasian Post June 17 1976. Melbourne: Magazine. $25.00

[004234] . Australasian Post June 10 1976. Melbourne: Magazine. $25.00

[004390] . Australasian Post February 3 1966. Melbourne: Magazine. $25.00

[004411] . Pix June 29 1963. Melbourne: Magazine. $25.00

[004422] . Australasian Post December 30 1965. Melbourne: Magazine. $20.00

[004421] . Australasian Post October 6 1966. Melbourne: Magazine. We have hundreds of Australasian Post mags at Warrigal Press. If you are looking for a particular story, cover or topic let us know and we can browse through the collection. Great Australiana, great stories etc... $25.00

[004420] . Australasian Post July 29 1982. Melbourne: Magazine. $25.00

[004419] . Australasian Post November 23 1978. Melbourne: Magazine. $25.00

[004418] . Australasian Post July 1 1976. Melbourne: Magazine. $25.00

[004417] . Australasian Post March 31 1977. Melbourne: Magazine. $25.00

[004416] . Australasian Post May 20 1976. Melbourne: Magazine. $25.00

[004415] . Australasian Post August 14 1975. Melbourne: Magazine. $25.00

[004414] . Australasian Post April 22 1976. Melbourne: Magazine. $25.00

[004399] . Australasian Post November 4 1976. Melbourne: Magazine. $25.00

[004412] . Pix February 1 1964. Melbourne: Magazine. $25.00

[004400] . Australasian Post May 29 1980. Melbourne: Magazine. $25.00

[004410] . Pix October 24 1964. Melbourne: Magazine. $25.00

[004409] . Pix December 5 1964. Melbourne: Magazine. $25.00

[004408] . People April 13 1960. Melbourne: Magazine. $25.00

[004407] . Australasian Post April 6 1963. Melbourne: Magazine. $20.00

[004406] . Australasian Post April 18 1963. Melbourne: Magazine. $25.00

[004405] . Australasian Post December 25 1986. Melbourne: Magazine. $25.00

[004404] . Australasian Post January 25 1962. Melbourne: Magazine. $25.00

[004402] . Australasian Post June 8 1961. Melbourne: Magazine. $20.00

[003523] . Australian Motorcycle News. July Aug 9 - 22 1996. Australia: Magazine. $6.00

[004413] . Pix May 14 1966. Melbourne: Magazine. $15.00

[003165] . Electronics Illustrated. January 1970. USA: Magazine. $5.00

[003292] . The Australian Archery Journal No 17. Magazine. $7.00

[003291] . The Australian Archery Journal No 14. Magazine. $7.00

[003290] . The Australian Archery Journal No 16. Magazine. $7.00

[003289] . The Australian Archery Journal October/November 1991. Magazine. $7.00

[003262] . Ellery Queen's Mystery Magazine April 1967. USA: B.G.Davies, 1967. 12mo - over 6¾" - 7¾" tall. Mass Market Paperback. Good No 281 in good condition. Stories from Lawrence Treat, Robert Bloch, Dorothy Sayers, Edward D Hoch, Julian Symons and Cornell Woolrich. $10.00

[003261] . Ellery Queen's Mystery Magazine May 1967. USA: B.G.Davies, 1967. 12mo - over 6¾" - 7¾" tall. Mass Market Paperback. Good No 282 in good condition. Stories from Nedra Tyre, Ed McBain, Michael Gilbert, Christianna Brand etc. Binding good. $10.00

[003212] . The Owner Builder. The Australian Home Builders Magazine. May/August 1985. Magazine. No 15. $6.00

[003211] . The Owner Builder. The Australian Home Builders Magazine. July/October 1984. Magazine. No 12. $6.00

[003149] . Trail and Track. November 1982. Australia: Magazine. $5.00

[003166] . Popular Mechanics. June 1970. USA: Magazine. $5.00

[003295] . The Australian Archery Journal No 23. Magazine. $7.00

[003164] . Supercycle. July/August 1978. USA: Magazine. $10.00

[003162] . Choppers Magazine. July 1978. USA: Magazine. $10.00

[003161] . Australian Hot Rod Yearbook. 1964 & 1965.. Magazine. $10.00

[003160] . Australian Hot Rodding Review. February 1969.. Magazine. $5.00

[003159] . Dirt Bike. February 1982.. USA: Magazine. $5.00

[003153] . Australian Trail and Track. August 1985. Australia: Magazine. $5.00

[003152] . Australian Trail and Track. November 1985. Australia: Magazine. $5.00

[003151] . Australian Trail and Track. December 1985. Australia: Magazine. $5.00

[003525] . Australian Motorcycle News. Oct 20 - Nov 2 1995. Australia: Magazine. $6.00

[003210] . The Owner Builder. The Australian Home Builders Magazine. February/April 1984. Magazine. No 14 $6.00

[003309] . Walkabout Vol 24 No 5 May 1958. Melbourne: Australian National Travel Association, Magazine. $15.00

[003320] . Australasian Post October 11 1956. Melbourne: Magazine. $40.00

[003319] . Australasian Post March 4 1965. Melbourne: Magazine. $40.00

[003318] . Australasian Post March 23 1950. Melbourne: Magazine. $40.00

[003317] . Australasian Post January 12 1950. Melbourne: Magazine. $40.00

[003316] . Australasian Post June 28 1956. Melbourne: Magazine. $40.00

[003315] . Australasian Post June 10 1948. Melbourne: Magazine. $40.00

[003314] . Australasian Post September 28 1950. Melbourne: Magazine. $40.00

[003313] . Australasian Post March 3 1977. Melbourne: Magazine. $40.00

[003312] . Australasian Post May 27 1976. Melbourne: Magazine. $40.00

[003293] . The Australian Archery Journal August/September 1992. Magazine. $7.00

[003310] . Walkabout Vol 27 No 3 March 1961. Melbourne: Australian National Travel Association, Magazine. $15.00

[003294] . The Australian Archery Journal April/May 1992. Magazine. $7.00

[003308] . Walkabout Vol 23 No 4 April 1957. Melbourne: Australian National Travel Association, Magazine. $15.00

[003307] . Walkabout Vol 23 No 2 February 1957. Melbourne: Australian National Travel Association, Magazine. $15.00

[003306] . Walkabout Vol 27 No 7 July 1961. Melbourne: Australian National Travel Association, Magazine. $15.00

[003300] . Australasian Sporting Shooter November 1991. Magazine. $7.00

[003299] . Australasian Sporting Shooter September 1991. Magazine. $7.00

[003298] . Australasian Sporting Shooter January 1992. Magazine. $7.00

[003297] . Australasian Sporting Shooter October 1991. Magazine. $7.00

[003296] . The Australian Archery Journal February/March 1992. Magazine. $7.00

[003148] . Electronics Today. July 1971. Australia: Magazine. $5.00

[003311] . Australasian Post March 4 1965. Melbourne: Magazine. $40.00

[003114] . The Australian Woodworker. February 1997. Magazine. $5.00

[003124] . The Australian Woodworker. September/October 1989. Magazine. $5.00

[003123] . The Australian Woodworker. February 1998. Magazine. $5.00

[003122] . The Australian Woodworker. October 1999. Magazine. $5.00

[003121] . The Australian Woodworker. February 1999. Magazine. $5.00

[003120] . The Australian Woodworker. July/August 1994. Magazine. $5.00

[003119] . The Australian Woodworker. May/June 1994. Magazine. $5.00

[003118] . The Australian Woodworker. August 2001. Magazine. $5.00

[003117] . The Australian Woodworker. November/December 1993. Magazine. $5.00

[003150] . Australian Trail and Track. September 1985. Australia: Magazine. $5.00

[003115] . The Australian Woodworker. April 2000. Magazine. $5.00

[003127] . The Australian Woodworker. November/December 1991. Magazine. $5.00

[003113] . The Australian Woodworker. December 1996. Magazine. $5.00

[003112] . The Australian Woodworker. April 1998. Magazine. $5.00

[003111] . The Australian Woodworker. June 1999. Magazine. $5.00

[003110] . The Australian Woodworker. June 2000. Magazine. $5.00

[003109] . The Australian Woodworker. October 2000. Magazine. $5.00

[003108] . The Australian Woodworker. November/December 1995. Magazine. $5.00

[003107] . The Australian Woodworker. August 2000. Magazine. $5.00

[003106] . The Australian Woodworker, October 1998. Magazine. good copy $5.00

[003105] . The Australian Woodworker. January/February 1990. Magazine. $5.00

[003116] . The Australian Woodworker. October 2001. Magazine. $5.00

[003136] . The Australian Woodworker. December 2001. Magazine. $5.00

[003147] . Motorcyclist. Aptil, 1978. USA: Magazine. $5.00

[003146] . Hi-Fi Review. April, 1976. Australia: Magazine. $5.00

[003145] . Electronics Today. May, 1971.. Australia: Magazine. $5.00

[003144] . Electronics Australia. September, 1970. Magazine. $8.00

[003143] . Electronics Australia. November, 1973. Magazine. $8.00

[003142] . Electronics Australia. June, 1970. Magazine. $8.00

[003141] . Electronics Australia. April, 1971. Magazine. $8.00

[003140] . Electronics Australia. October, 1970. Magazine. $8.00

[003139] . Electronics Australia. August, 1972. Magazine. $8.00

[003125] . The Australian Woodworker. April 1997. Magazine. $5.00

[003137] . The Australian Woodworker. February 2002. Magazine. $5.00

[003126] . The Australian Woodworker. February 2000. Magazine. $5.00

[003135] . The Australian Woodworker. November/December 1987. Magazine. $5.00

[003134] . The Australian Woodworker Source Book 1989. Magazine. $5.00

[003133] . The Australian Woodworker. May/June 1993. Magazine. $5.00

[003132] . The Australian Woodworker. March/April 1996. Magazine. $5.00

[003131] . The Australian Woodworker. September/October 1995. Magazine. $5.00

[003130] . The Australian Woodworker. February 2001. Magazine. $5.00

[003129] . The Australian Woodworker. December 1999. Magazine. $5.00

[003128] . The Australian Woodworker. December 1997. Magazine. $5.00

[003323] . Walkabout Vol 14 No 13 November 1948. Melbourne: Australian National Travel Association, Magazine. $15.00

[003138] . Woodturning. An Official Journal of the Guild of Master Craftsmen. October 1993. England: Magazine. $5.00

[003489] . Australian Motorcycle News Aug 25 - Sep 7 1995. Australia: Magazine. $6.00

[003499] . Performance Bikes. February 1995. United Kingdom: Magazine. $8.00

[003498] . Two Wheels. October 1996. Australia: Magazine. $6.00

[003497] . Two Wheels. June 1997. Australia: Magazine. $6.00

[003496] . Two Wheels. December 1995. Australia: Magazine. $6.00

[003495] . Two Wheels. July 1996. Australia: Magazine. $6.00

[003494] . Two Wheels. November 1996. Australia: Magazine. $6.00

[003493] . Australian Motorcycle News. Motorcycle Yearbook Summer 1996-97. Australia: Magazine. $8.00

[003492] . Hot Rod Bikes. October 1997. USA: Magazine. $8.00

[003321] . Australasian Post November 29 1956. Melbourne: Magazine. $40.00

[003490] . Australian Motorcycle News Sep 22 - Oct 5 1995. Australia: Magazine. $6.00

[003503] . Australian Motorcycle News. May 2 - 15 1997. Australia: Magazine. $6.00

[003487] . Australian Motorcycle News Dec 6 - 19 2002. Australia: Magazine. $6.00

[003484] . Australian Motorcycle News Aug 20 - Sept 2 1999. Australia: Magazine. $6.00

[003483] . Australian Motorcycle News Oct 24 - Nov 8 2003. Australia: Magazine. $6.00

[003482] . Australian Motorcycle News April 28 - May 11 2000. Australia: Magazine. $6.00

[003481] . Australian Motorcycle News July 21 - Aug 3 2000. Australia: Magazine. $6.00

[003480] . Australian Motorcycle News August 18 - 13 2000. Australia: Magazine. $6.00

[003479] . Australian Motorcycle News Feb 4 - 17 2000. Australia: Magazine. $6.00

[003478] . Australian Motorcycle News July 9 - 22 1999. Australia: Magazine. $6.00

[003477] . Australian Motorcycle News Dec 16 - Jan 13 1994. Australia: Magazine. $6.00

[003491] . Thunder Alley. Harleys for Real Riders. October 1997. USA: Magazine. $8.00

[003512] . Australian Motorcycle News. Aug 11 - 24 1995. Australia: Magazine. $6.00

[005292] . Man November 1965 Volume 58 Number 6. NSW, Australia: Man Magazine Pty Ltd, 1965. Magazine. Email for details of contents. $30.00

[003522] . Australian Motorcycle News. May 31 - June 13 1996. Australia: Magazine. $6.00

[003521] . Australian Motorcycle News. Oct 4 - 17 1996. Australia: Magazine. $6.00

[003520] . Australian Motorcycle News. Feb 21 - Mar 6 1997. Australia: Magazine. $6.00

[003519] . Australian Motorcycle News. May 3 - 16 1995. Australia: Magazine. $6.00

[003518] . Australian Motorcycle News. Sept 6 - 19 1996. Australia: Magazine. $6.00

[003517] . Australian Motorcycle News. May 16 - 29 1997. Australia: Magazine. $6.00

[003516] . Australian Motorcycle News. Jan 12 - 26 1995. Australia: Magazine. $6.00

[003515] . Australian Motorcycle News. Sep 18 - Oct 1 1998. Australia: Magazine. $6.00

[003500] . Performance Bikes. January 1996. United Kingdom: Magazine. $8.00

[003513] . Australian Motorcycle News. Jan 27 - Feb 9 1995. Australia: Magazine. $6.00


[003501] . Australian Motorcycle News Aug 26 - Sept 8 1994. Australia: Magazine. $6.00

[003511] . Live to Ride The Australian Bikers Journal No 36. Australia: Magazine. $9.00

[003510] . Two Wheels. May 1996. Australia: Magazine. $6.00

[003509] . Two Wheels. April 1996. Australia: Magazine. $6.00

[003508] . Hot Rod Bikes. September 1997. USA: Magazine. $8.00

[003507] . Australian Motorcycle News. Mar 24 - Apr 6 1995. Australia: Magazine. $6.00

[003506] . Australian Motorcycle News. April 18 - May 1 1997. Australia: Magazine. $6.00

[003505] . Australian Motorcycle News. Feb 7 - 20 1997. Australia: Magazine. $6.00

[003504] . Australian Motorcycle News. March 7 - 20 1997. Australia: Magazine. $6.00

[003474] . Australian Motorcycle News Sept 27 - Oct 10 2002. Australia: Magazine. $6.00

[003514] . Australian Motorcycle News. Feb 24 - Mar 9 1995. Australia: Magazine. $6.00

[003333] . Walkabout Vol 25 No 1 January 1959. Melbourne: Australian National Travel Association, Magazine. $15.00

[003476] . Australian Motorcycle News April 27 - May 10 2001. Australia: Magazine. $6.00

[003343] . The Wide World The True Adventure Magazine for Men January 1955. United Kingdom: Magazine. The magazine for men. $15.00

[003342] . Walkabout Vol 13 No 9 July 1947. Melbourne: Australian National Travel Association, Magazine. $15.00

[003341] . Walkabout Vol 23 No 12 December 1957. Melbourne: Australian National Travel Association, Magazine. $15.00

[003340] . Walkabout Vol 22 No 5 May 1956. Melbourne: Australian National Travel Association, Magazine. $15.00

[003339] . Walkabout Vol 24 No 9 October 1958. Melbourne: Australian National Travel Association, Magazine. $15.00

[003338] . Walkabout Vol 14 November 1947. Melbourne: Australian National Travel Association, Magazine. $15.00

[003337] . Walkabout Vol 14 August 1948. Melbourne: Australian National Travel Association, Magazine. $15.00

[003336] . Walkabout Vol 25 No 5 May 1959. Melbourne: Australian National Travel Association, Magazine. $15.00

[003345] . The Wide World the True Adventure Magazine for Men March 1959. United Kingdom: 1959. Magazine. Good The magazine for men. $15.00

[003334] . Walkabout Vol 25 No 6 June 1959. Melbourne: Australian National Travel Association, Magazine. $15.00

[003346] . The Wide World the True Adventure Magazine for Men January 1959. United Kingdom: Magazine. The magazine for men. $15.00

[003332] . Walkabout Vol 33 No 7 July 1967. Melbourne: Australian National Travel Association, Magazine. $15.00

[003331] . Walkabout Vol 15 No 8 August 1949. Melbourne: Australian National Travel Association, Magazine. $15.00

[003330] . Walkabout Vol 23 No 9 September 1957. Melbourne: Australian National Travel Association, Magazine. $15.00

[003329] . Walkabout Vol 13 No 4 February 1947. Melbourne: Australian National Travel Association, Magazine. $15.00

[003328] . Walkabout Vol 24 No 9 October 1958. Melbourne: Australian National Travel Association, Magazine. $15.00

[003327] . Walkabout Vol 24 No 1 January 1958. Melbourne: Australian National Travel Association, Magazine. $15.00

[003325] . Walkabout Vol 25 No 12 December 1959. Melbourne: Australian National Travel Association, Magazine. $15.00

[003324] . Walkabout Vol 35 No 5 May 1968. Melbourne: Australian National Travel Association, Magazine. $15.00

[003524] . Australian Motorcycle News. May 17 - 30 1996. Australia: Magazine. $6.00

[003335] . Walkabout Vol 26 No 3 March 1960. Melbourne: Australian National Travel Association, Magazine. $15.00

[003368] . Australasian Post July 10 1969. Melbourne: Magazine. $40.00

[003322] . Walkabout Vol 24 No 6 June 1958. Melbourne: Australian National Travel Association, Magazine. $15.00

[003473] . Australian Motorcycle News Mar 15 - 28 2002. Australia: Magazine. $6.00

[003472] . Australian Motorcycle News Oct 10-23 2003. Australia: Magazine. $6.00

[003471] . Australian Motorcycle News May 28 - June 10 1999. Australia: Magazine. $6.00

[003470] . Australian Motorcycle News July 12 - 25 1996. Australia: Magazine. $6.00

[003469] . Australian Motorcycle News Jan 22 - Feb 4 1999. Australia: Magazine. $6.00

[003468] . Australian Motorcycle News April 21 - May 4 1995. Australia: Magazine. $6.00

[003467] . Australian Motorcycle News July 28 - Aug 10 1995. Australia: Magazine. $6.00

[003466] . Australian Motorcycle News May 19 - June 1 1995. Australia: Magazine. $6.00

[003344] . The Wide World the True Adventure Magazine for Men October 1955. United Kingdom: Magazine. The magazine for men. $15.00

[003464] . Australian Motorcycle News April 14-27 2000. Australia: Magazine. $6.00

[003475] . Australian Motorcycle News Jan 8 - 21 1999. Australia: Magazine. $6.00

[003367] . Australasian Post March 20 1969. Melbourne: Magazine. Feature story. The sinking of the HMAS Perth $40.00

[003366] . Australasian Post May 21 1964. Melbourne: Magazine. Inc James Bond info. $40.00

[003353] . Walkabout Vol 24 No 10 November 1958. Melbourne: Australian National Travel Association, Magazine. $15.00

[003352] . Walkabout Vol 15 No 2 February 1949. Melbourne: Australian National Travel Association, Magazine. $15.00

[003351] . Walkabout Vol 31 No9 September 1960. Melbourne: Australian National Travel Association, Magazine. Cover loose. Picture cut out. $10.00

[003350] . Walkabout Vol 26 No9 September 1960. Melbourne: Australian National Travel Association, Magazine. $15.00

[003349] . Walkabout Vol 28 No2 February 1962. Melbourne: Australian National Travel Association, Magazine. $15.00

[003348] . Walkabout Vol 32 No 6 June 1966. Melbourne: Australian National Travel Association, Magazine. $15.00

[003347] . The Wide World The True Adventure Magazine for Men November 1959. United Kingdom: Magazine. The magazine for men. $15.00

[003465] . Australian Motorcycle News July 14-27 1995. Australia: Magazine. $6.00

[006829] . Wheels February 1971. Australia: Magazine. $13.00

[006841] . Wheels December 1970. Australia: Magazine. $14.00

[006840] . Wheels January 1969. Australia: Magazine. $14.00

[006839] . Wheels February 1969. Australia: Magazine. $14.00

[006838] . Wheels April 1969. Australia: Magazine. $14.00

[006837] . Wheels May 1969. Australia: Magazine. $14.00

[006836] . Wheels June 1969. Australia: Magazine. $14.00

[006834] . Wheels August 1969. Australia: Magazine. $14.00

[006832] . Wheels November 1969. Australia: Magazine. $14.00

[006818] . Wheels July 1974. Australia: Magazine. $12.00

[006830] . Wheels January 1971. Australia: Magazine. $13.00

[006844] . Wheels September 1970. Australia: Magazine. $14.00

[006828] . Wheels March 1971. Australia: Magazine. $13.00

[006827] . Wheels April 1971. Australia: Magazine. $13.00

[006826] . Wheels May 1971. Australia: Magazine. $13.00

[006825] . Wheels June 1971. Australia: Magazine. $13.00

[006824] . Wheels July 1971. Australia: Magazine. $13.00

[006823] . Wheels September 1971. Australia: Magazine. $13.00

[006821] . Wheels November 1971. Australia: Magazine. $12.00

[006820] . Wheels December 1971. Australia: Magazine. $12.00

[006869] . Wheels January 1967. Australia: Magazine. $14.00

[006831] . Wheels December 1969. Australia: Magazine. $14.00

[006854] . Wheels February 1968. Australia: Magazine. $14.00

[005235] . Aeroplane September 2002. London: IPC Media Ltd, Magazine. Good History in the air. Fantastic magazine covering aviation history. Numerous interesting aviation articles and illus. Historical fighter aircraft and aircraft restoration a specialty. $15.00

[006867] . Wheels March 1967. Australia: Magazine. $14.00

[006866] . Wheels April 1967. Australia: Magazine. $14.00

[006865] . Wheels May 1967. Australia: Magazine. Fair Torn cover with losses. Rear cover mssing. $6.00

[006864] . Wheels June 1967. Australia: Magazine. $14.00

[006863] . Wheels July 1967. Australia: Magazine. $14.00

[006862] . Wheels August 1967. Australia: Magazine. $14.00

[006860] . Wheels October 1967. Australia: Magazine. $14.00

[006859] . Wheels November 1967. Australia: Magazine. $14.00

[006842] . Wheels November 1970. Australia: Magazine. $14.00

[006855] . Wheels April 1968. Australia: Magazine. $14.00

[006843] . Wheels October 1970. Australia: Magazine. $14.00

[006852] . Wheels January 1970. Australia: Magazine. $14.00

[006851] . Wheels February 1970. Australia: Magazine. $14.00

[006850] . Wheels March 1970. Australia: Magazine. $14.00

[006849] . Wheels April 1970. Australia: Magazine. $14.00

[006848] . Wheels May 1970. Australia: Magazine. $14.00

[006847] . Wheels June 1970. Australia: Magazine. $14.00

[006846] . Wheels July 1970. Australia: Magazine. $14.00

[006845] . Wheels August 1970. Australia: Magazine. $14.00

[006817] . Wheels June 1974. Australia: Magazine. $12.00

[006857] . Wheels November 1968. Australia: Magazine. $14.00

[006348] . Guns Australia March/April 1994. Magazine. Good $10.00

[006359] . Australian Shooters Journal September 1998. Magazine. Good $10.00

[006358] . The Old Machinery Magazine June-July 2004 Issue No 113. Magazine. $12.00

[006356] . Australian Model Engineering July-August 2004. Magazine. $12.00

[006355] . Australian Shooter August 2000. Magazine. Good $10.00

[006354] . Australian Shooters Journal July 1998. Magazine. Good $10.00

[006353] . Australian Shooters Journal November 1998. Magazine. Good $10.00

[006352] . Australian Shooters Journal June 1998. Magazine. Good $10.00

[006351] . Australasian Sporting Shooter Magazine December 1991. Magazine. Good $10.00

[006819] . Wheels December 1971. Australia: Magazine. $12.00

[006349] . Australian Shooter March 2001. Magazine. Good $10.00

[006362] . Australasian Sporting Shooter Magazine September 1992. Magazine. Good $10.00

[006347] . Australasian Sporting Shooter Magazine August 1992. Magazine. Good $10.00

[006346] . Australasian Sporting Shooter Magazine May 1992. Australia: Magazine. Good $10.00

[006312] . GEO Australasia Vol 15 No 1. Australia: Magazine. $8.00

[006286] . Picture Home Girls Annual 1996. Australia: 1996. Magazine. Good 300 of the spunkiest homies. $20.00

[006285] . Celebrity Skin No 13. Man's World Publications, 1997. Magazine. Good $15.00

[006284] . Celebrity Skin 1988. USA: Mar-Jam, 1988. Magazine. Good $15.00

[006283] . Picture Home Girls Annual 2004. Australia: 2004. Magazine. Good 240 of the spunkiest homies. $10.00

[006282] . Picture Home Girls Summer Special. Australia: Magazine. Good 245 of the spunkiest homies. $10.00

[006281] . High Society Celebrity Special Vol 1 No 7 Celebrity Skin December 31 1984. USA: 1984. Magazine. Good $12.00

[006350] . Australian Shooter November 1999. Magazine. Good $10.00

[006804] . Wheels November 1974. Australia: Magazine. $12.00

[006816] . Wheels September 1974. Australia: Magazine. $13.00

[006815] . Wheels February 1974. Australia: Magazine. $12.00

[006814] . Wheels June 1974. Australia: Magazine. $12.00

[006813] . Wheels January 1974. Australia: Magazine. $12.00

[006812] . Wheels February 1974. Australia: Magazine. $12.00

[006811] . Wheels April 1974. Australia: Magazine. $12.00

[006810] . Wheels May 1974. Australia: Magazine. $12.00

[006809] . Wheels June 1974. Australia: Magazine. $12.00

[006808] . Wheels July 1974. Australia: Magazine. $12.00

[006360] . Australian Shooters Journal December 1996. Magazine. Good $10.00

[006805] . Wheels October 1974. Australia: Magazine. $13.00

[006361] . Australian Shooter November 2000. Magazine. Good $10.00

[006803] . R M Williams Outback Dec 2003 / Jan 2004. Australia: 2004. Magazine. Good $10.00

[006802] . R M Williams Outback April /May 2004. Australia: 2004. Magazine. Good $10.00

[006755] . The Wide World The True Adventure Magazine for Men April 1958. United Kingdom: Magazine. Fair The magazine for men. $15.00

[006754] . The Wide World The True Adventure Magazine for Men April 1963. United Kingdom: Magazine. Fair The magazine for men. $15.00

[006584] . Wooden Boat. The Magazine for Wooden Boat Owners, Builders and Designers MayJune 1990 No 94. USA: 1990. `. Magazine. Magazine in good condition. $15.00

[006366] . Soldier of Fortune Magazine May 2002. Magazine. Fair $10.00

[006365] . Soldier of Fortune Magazine January 2002. Magazine. Fair $10.00

[006364] . Australian Shooter May 2000. Magazine. Good $10.00

[006870] . Wheels December 1966. Australia: Magazine. $15.00

[006806] . Wheels September 1974. Australia: Magazine. $13.00

[006970] . Oval Track August 1974. Australia: Magazine. $10.00

[006986] . Sports Car World December 1964. Australia: Magazine. $14.00

[006985] . Sports Car World July 1964. Australia: Magazine. $14.00

[006984] . Sports Car World June 1964. Australia: Magazine. $14.00

[006983] . Sports Car World May 1964. Australia: Magazine. $14.00

[006982] . Sports Car World April 1964. Australia: Magazine. $14.00

[006981] . Sports Car World February 1964. Australia: Magazine. $14.00

[006979] . Sports Car World January 1968. Australia: Magazine. $14.00

[006978] . Sports Car World August 1968. Australia: Magazine. $14.00

[006957] . Modern Motor May 1974. Australia: Magazine. No cover. $4.00

[006971] . Chequered Flag April 1975. Australia: Magazine. $10.00

[006989] . Sports Car World August 1964. Australia: Magazine. $14.00

[006968] . Motor Manual March 1969. Australia: Magazine. $12.00

[006966] . Motor Manual August 1975. Australia: Magazine. $12.00

[006965] . Car Racing Photo Action. Australia: Magazine. late 60s ? $12.00

[006963] . Sports Car World October 1961. Australia: Magazine. $20.00

[006962] . Sports Car World November 1957. Australia: Magazine. $25.00

[006961] . Sports Car World August 1974. Australia: Magazine. $13.00

[006960] . Sports Car World February 1975. Australia: Magazine. $13.00

[006959] . Sports Car Road Tests No 3. Australia: Magazine. 1960s $8.80

[006868] . Wheels February 1967. Australia: Magazine. $14.00

[006972] . Motor Manual August 1975. Australia: Magazine. $12.00

[007124] . Grass Roots No 80 August 1990. Eurora: Night Owl Publishers, Magazine. Craft and self sufficiency magazine for down to earth people. $12.00

[011119] . The Australian Woman's Mirror January 14 1953. Australia: 1953. Magazine. Vintage Australian Womens mag with short stories, kids pages, craft ideas etc. Worn copy. Email for details. Inc Phantom comic strip. $20.00

[007135] . Grass Roots No 111 Oct/Nov 1995. Eurora: Night Owl Publishers, Magazine. Craft and self sufficiency magazine for down to earth people. $10.00

[007134] . Grass Roots No 93 Oct/Nov 1992. Eurora: Night Owl Publishers, Magazine. Craft and self sufficiency magazine for down to earth people. $10.00

[007133] . Grass Roots No 103 Jun/Jul 1994. Eurora: Night Owl Publishers, Magazine. Craft and self sufficiency magazine for down to earth people. $10.00

[007132] . Grass Roots No 90 April 1992. Eurora: Night Owl Publishers, Magazine. Craft and self sufficiency magazine for down to earth people. $10.00

[007131] . Grass Roots No 89 February 1992. Eurora: Night Owl Publishers, 1992. Magazine. Craft and self sufficiency magazine for down to earth people. $12.00

[007130] . Grass Roots No 83 February 1991. Eurora: Night Owl Publishers, Magazine. Craft and self sufficiency magazine for down to earth people. $12.00

[007129] . Grass Roots No 92 August/September 1992. Eurora: Night Owl Publishers, Magazine. Craft and self sufficiency magazine for down to earth people. $10.00

[007128] . Grass Roots No 85 June 1991. Eurora: Night Owl Publishers, Magazine. Craft and self sufficiency magazine for down to earth people. $12.00

[006987] . Sports Car World October 1964. Australia: Magazine. $14.00

[007126] . Grass Roots No 88 December 1991. Eurora: Night Owl Publishers, Magazine. Craft and self sufficiency magazine for down to earth people. $12.00

[006988] . Sports Car World September 1964. Australia: Magazine. $14.00

[007123] . Grass Roots No 101 Feb/March 1994. Eurora: Night Owl Publishers, Magazine. Craft and self sufficiency magazine for down to earth people. $10.00

[007122] . Grass Roots No 86 August 1991. Eurora: Night Owl Publishers, Magazine. Craft and self sufficiency magazine for down to earth people. $12.00

[007121] . Grass Roots No 69 October 1988. Eurora: Night Owl Publishers, Magazine. Craft and self sufficiency magazine for down to earth people. $12.00

[007120] . Grass Roots No 98 Aug/Sept 1993. Eurora: Night Owl Publishers, Magazine. Craft and self sufficiency magazine for down to earth people. $10.00

[007119] . Grass Roots No 109 June/July 1995. Eurora: Night Owl Publishers, Magazine. Craft and self sufficiency magazine for down to earth people. $10.00

[007118] . Grass Roots No 96 April/May 1993. Eurora: Night Owl Publishers, Magazine. Craft and self sufficiency magazine for down to earth people. $10.00

[007117] . Grass Roots No 94 Dec/Jan 1992/93. Eurora: Night Owl Publishers, Magazine. Craft and self sufficiency magazine for down to earth people. $10.00

[006990] . Sports Car World November1964. Australia: Magazine. $14.00

[006956] . Australian Motor Sports and Automobiles October 1966. Australia: Magazine. $6.00

[007127] . Grass Roots No 99 Oct/Nov 1993. Eurora: Night Owl Publishers, Magazine. Craft and self sufficiency magazine for down to earth people. $10.00

[006886] . Wheels December 1973. Australia: Magazine. $12.00

[006897] . Wheels January 1973. Australia: Magazine. $12.00

[006896] . Wheels February 1973. Australia: Magazine. $12.00

[006895] . Wheels March 1973. Australia: Magazine. Torn corner, missing. $12.00

[006894] . Wheels April 1973. Australia: Magazine. $12.00

[006893] . Wheels May 1973. Australia: Magazine. $12.00

[006892] . Wheels June 1973. Australia: Magazine. $12.00

[006891] . Wheels July 1973. Australia: Magazine. $12.00

[006890] . Wheels August 1973. Australia: Magazine. $12.00

[006958] . Sports Car Road Tests No 6. Australia: Magazine. 1960s $8.80

[006888] . Wheels October 1973. Australia: Magazine. $12.00

[006902] . Sports Car World February 1967. Australia: Magazine. $13.00

[006885] . Wheels April 1972. Australia: Magazine. $12.00

[006883] . Wheels June 1972. Australia: Magazine. $12.00

[006879] . Wheels September 1972. Australia: Magazine. Poor Cover torn. losses $6.00

[006878] . Wheels October 1972. Australia: Magazine. $12.00

[006877] . Wheels December 1972. Australia: Magazine. $12.00

[006875] . Wheels June 1975. Australia: Magazine. $12.00

[006874] . Wheels March 1962. Australia: Magazine. $20.00

[006872] . Wheels July 1965. Australia: Magazine. $15.00

[006871] . Wheels November 1965. Australia: Magazine. $15.00

[006889] . Wheels September 1973. Australia: Magazine. $12.00

[006912] . Sports Car World September 1965. Australia: Magazine. $14.00

[006954] . Modern Motor February 1975. Australia: Magazine. $6.00

[006950] . Australian Motor Sports and Automobiles August 1965. Australia: Magazine. $6.00

[006949] . Australian Motor Sports and Automobiles February 1966. Australia: Magazine. $6.00

[006948] . Australian Motor Sports and Automobiles May 1965. Australia: Magazine. $6.00

[006947] . Modern Motor June 1974. Australia: Magazine. $6.00

[006946] . Modern Motor July 1974. Australia: Magazine. $6.00

[006918] . Parade No 174 May 1965. Australia: Magazine. $16.00

[006917] . Sports Car World November 1965. Australia: Magazine. $14.00

[006916] . Sports Car World December 1965. Australia: Magazine. $14.00

[006900] . Sports Car World January 1967. Australia: Magazine. $12.00

[006914] . Sports Car World March 1965. Australia: Magazine. $14.00

[006901] . Sports Car World March 1967.
Australia: Magazine. No cover. $5.00

[006911] . Sports Car World April 1965. Australia: Magazine. $14.00

[006910] . Sports Car World January 1965. Australia: Magazine. $14.00

[006909] . Sports Car World May 1965. Australia: Magazine. $14.00

[006907] . Sports Car World December 1967. Australia: Magazine. $13.00

[006906] . Sports Car World May 1967. Australia: Magazine. $13.00

[006905] . Sports Car World June 1967. Australia: Magazine. $13.00

[006904] . Sports Car World September 1967. Australia: Magazine. $13.00

[006903] . Sports Car World April 1967. Australia: Magazine. $13.00

[006277] . Playboys Playmates of the Year 1960-2000. USA: 2000. Magazine. Good Some damage to spine $10.00

[006915] . Sports Car World October 1965. Australia: Magazine. $14.00

[005494] . Australian Playboy July 1982. Australia: Australian Consolidated Press, 1982. Magazine. Good Good copy. $22.00

[005506] . Australian Penthouse April 1980. Australia: 1980. Magazine. Good $18.00

[005505] . Playboy US Edition December 1978. USA: 1978. Magazine. Good $12.00

[005504] . Australian Penthouse December 1979. Australia: 1979. Magazine. Good $18.00

[005503] . Australian Penthouse January 1981. Australia: 1981. Magazine. Good $18.00

[005501] . Australian Playboy January 1981. Australia: Australian Consolidated Press, 1981. Magazine. Good $18.00

[005500] . Australian Playboy March 1981. Australia: Australian Consolidated Press, 1981. Magazine. Good Good copy. $25.00

[005499] . Australian Playboy August 1981. Australia: Australian Consolidated Press, 1981. Magazine. Good $18.00

[005498] . Playboy US Edition January 1980. USA: 1980. Magazine. Good $12.00

[005479] . Playboy US Edition June 1975. USA: 1975. Magazine. Fair $5.00

[005495] . Playboy US Edition August 1978. USA: 1978. Magazine. Good $12.00

[005510] . Playboy US Edition August 1980. USA: 1980. Magazine. Good $12.00

[005491] . Playboy US Edition April 1979. USA: 1979. Magazine. Good $12.00

[005490] . Playboy US Edition December 1979. USA: 1979. Magazine. Good $12.00

[005488] . Penthouse US Edition September 1986. USA: 1986. Magazine. Good $8.00

[005486] . Penthouse US Edition June 1979. USA: 1979. Magazine. Good $8.00

[005484] . Playboy US Edition January 1979. USA: 1979. Magazine. Good Special collector's edition includes poster of every Playboy cover to that date. $30.00

[005483] . Playboy US Edition November 1980. USA: 1980. Magazine. Good $8.00

[005482] . Playboy US Edition May 1979. USA: 1979. Magazine. Fair $8.00

[005481] . Playboy US Edition March 1982. USA: 1982. Magazine. Fair $5.00

[006280] . Picture Home Girls Summer Special. Australia: Magazine. Good 280 of the spunkiest homies. $10.00

[005497] . Playboy US Edition August 1979. USA: 1979. Magazine. Good $12.00

[005524] . Australian Penthouse February 1980. Australia: 1980. Magazine. Good $18.00

[005696] . Parade No 13 October 1950. Australia: Magazine. $20.00

[005539] . Australasian Post July 25 196. Melbourne: Magazine. $15.00

[005538] . Australasian Post August 1 1968. Melbourne: Magazine. $15.00

[005537] . Australasian Post August 22 1968. Melbourne: Magazine. $25.00

[005536] . Australasian Post August 15 1968. Melbourne: Magazine. $25.00

[005535] . Australian Playboy June 1993. Australia: Australian Consolidated Press, 1993. Magazine. Good $8.00

[005534] . Playboy US Edition December 1995. USA: 1995. Magazine. Good $14.00

[005533] . Australian Playboy October 1997. Australia: Australian Consolidated Press, 1997. Magazine. Good $8.00

[005530] . Australian Playboy August 1991. Australia: Australian Consolidated Press, 1991. Magazine. Good $8.00

[005507] . Australian Playboy May 1981. Australia: Australian Consolidated Press, 1981. Magazine. Good Good copy. $25.00

[005525] . Playboy US Edition March 1979. USA: Magazine. Good $14.00

[005508] . Australian Playboy September 1980. Australia: Australian Consolidated Press, 1980. Magazine. Good Does not incude Bo Derek poster. $15.00

[005523] . Penthouse US Edition April 1979. USA: 1979. Magazine. Good $10.00

[005522] . Australian Penthouse January 1980. Australia: 1980. Magazine. Good $18.00

[005519] . Australian Playboy February 1980. Australia: Australian Consolidated Press, 1980. Magazine. Good $20.00

[005517] . Playboy US Edition May 1978. USA: 1978. Magazine. Good $14.00

[005516] . Penthouse US Edition March 1979. USA: 1979. Magazine. Good $10.00

[005513] . Playboy US Edition June 1976. USA: 1976. Magazine. Good $14.00

[005512] . Penthouse US Edition September 1979. USA: 1979. Magazine. Good $10.00

[005511] . Playboy US Edition February 1976. USA: 1976. Magazine. Good $14.00

[005478] . Playboy US Edition October 1979. USA: 1979. Magazine. Fair $5.00

[005527] . Playboy US Edition October 1976. USA: 1976. Magazine. Good $14.00

[005304] . Man July 1962 Volume 52 Number 2. NSW, Australia: Man Magazine Pty Ltd, 1962. Magazine. Email for details of contents. $30.00

[005335] . Adam September 1972 Vol 53 No 4. NSW, Australia: Kenmure Press, 1972. Magazine. Good A vintage Australian Men's mag. . Email for details of contents .Includes story of Nazi's Amazon death camp! some small tears. $30.00

[005334] . Man Junior March 1968. NSW, Australia: Man Magazine Pty Ltd, 1968. Magazine. Fair Covers wrn and mared. Some tears. Email for details of contents. Includes secret rites of black magic seduction. $20.00

[005333] . Real Men January/February 1972 Vol 1 No2. Sydney: Kenmure Press, 1971. Magazine. Good Vintage men's magazine (Australian). Email for a list of stories. The special problems of an oversexed man. Good condition. $20.00

[005332] . True Men December 1971 January 1972 Vol 1 No 1. Sydney: Kenmure Press, 1971. Magazine. Good Vintage men's magazine (Australian). Email for a list of stories. Inc how to find the lost $5,000,000 of Rommel's gold. Good condition. $20.00

[005312] . Man May 1960 Volume 47 Number 6. NSW, Australia: Man Magazine Pty Ltd, 1960. Magazine. Email for details of contents. $30.00

[005311] . Man April 1964 Volume 55 Number 5. NSW, Australia: Man Magazine Pty Ltd, 1964. Magazine. Email for details of contents. $30.00

[005310] . Man July 1958 Volume 44 Number 2. NSW, Australia: Man Magazine Pty Ltd, 1957. Magazine. Magazine. Small piece missing on back cover. Email for details of contents. $35.00

[005309] . Man October 1961 Volume 50 Number 5. NSW, Australia: Man Magazine Pty Ltd, 1961. Magazine. Email for details of contents. $30.00

[005480] . Playboy US Edition September 1976. USA: 1976. Magazine. Fair $5.00

[005306] . Man May 1962 Volume 51 Number 6. NSW, Australia: Man Magazine Pty Ltd, 1962. Magazine. Email for details of contents. $30.00

[005447] . Australian Playboy September 1984. Australia: Australian Consolidated Press, 1984. Magazine. Good $20.00

[005303] . Man January 1963 Volume 53 Number 2. NSW, Australia: Man Magazine Pty Ltd, 1963. Magazine. Man magazine. January 1963.Includes short stories by Olaf Ruhen and Xavier Herbert. cartoons by Humph, Waugh, Gibson. Factual stories on the girls at Cannes, the Glowworn's battle against a German cruiser, Princes Grace's naughty godfather, the mammoth of Angola, Manadorables ( pinups).Etc. In good condition. Check out our vintage Men's mags in the magazine section. $30.00

[005302] . Man March 1963 Volume 53 Number 4. NSW, Australia: Man Magazine Pty Ltd, 1963. Magazine. Email for details of contents. $30.00

[005301] . Man January 1958 Volume 43 Number 2. NSW, Australia: Man Magazine Pty Ltd, 1958. Magazine. Email for details of contents. $35.00

[005300] . Man April 1963 Volume 53 Number 5. NSW, Australia: Man Magazine Pty Ltd, 1963. Magazine. Email for details of contents. $30.00

[005298] . Man October 1963 Volume 54 Number 5. NSW, Australia: Man Magazine Pty Ltd, 1963. Magazine. Email for details of contents. $30.00

[005297] . Man January 1964 Volume 55 Number 2. NSW, Australia: Man Magazine Pty Ltd, 1965. Magazine. Email for details of contents. $30.00

[005296] . Man February 1964 Volume 55 Number 3. NSW, Australia: Man Magazine Pty Ltd, 1964. Magazine. Email for details of contents. $30.00

[005295] . Man March 1964 Volume 55 Number 4. NSW, Australia: Man Magazine Pty Ltd, 1964. Magazine. Email for details of contents. $30.00

[005294] . Man July 1957 Volume 42 Number 2. NSW, Australia: Man Magazine Pty Ltd, 1957. Magazine. Magazine. Small piece missing on back cover. Email for details of contents. $35.00

[005308] . Man June 1956 . NSW, Australia: Man Magazine Pty Ltd, 1956. Magazine. Magazine. Covers worn and marked. Email for details of contents. $35.00

[005459] . Australian Playboy August 1982. Australia: Australian Consolidated Press, 1982. Magazine. Good Good copy. $25.00

[005477] . Playboy US Edition Gala Christmas Issue December 1986. USA: 1986. Magazine. Good $8.00

[005476] . Playboy US Edition November 1976. USA: 1976. Magazine. Good $8.00

[005474] . Playboy US Edition March 1981. USA: 1981. Magazine. Good $8.00

[005472] . The Outrageous World of People Magazine 1986. Australia: 1986. Magazine. Good $8.00

[005471] . Australian Penthouse October 1987. Australia: 1987. Magazine. Good $18.00

[005470] . Australian Playboy January 1984. Australia: Australian Consolidated Press, 1984. Magazine. Good $18.00

[005466] . Australian Penthouse November 1979. Australia: 1979. Magazine. Good $20.00

[005465] . Australian Penthouse October 1980. Australia: 1980. Magazine. Good $20.00

[005463] . Australian Playboy April 1980. Australia: Australian Consolidated Press, 1980. Magazine. Good $22.00

[005337] . Man's Epic November/December 1973 Vol 7 No 2. NSW, Australia: Kenmure Press, 1973. Magazine. Good A vintage Australian Men's mag. . Email for details of contents .Includes story, Trapped by the man starved Amazons of Diamond Cove. $30.00

[005460] . Australian Playboy Febuary 1980. Australia: Australian Consolidated Press, 1980. Magazine. Good $30.00

[005444] . Australian Playboy April 1979. Australia: Australian Consolidated Press, 1979. Magazine. Good $20.00

[005458] . Australian Penthouse September 1981. Australia: 1981. Magazine. Good $16.00

[005455] . Australian Playboy June 1980. Australia: Australian Consolidated Press, 1980. Magazine. Good Centrefold missing $12.00

[005454] . Australian Playboy April 1980. Australia: Australian Consolidated Press, 1980. Magazine. Good $20.00

[005453] . Australian Penthouse May 1980. Australia: 1980. Magazine. Good $16.00

[005451] . Australian Playboy December 1980. Australia: Australian Consolidated Press, 1980. Magazine. Good $15.00

[005450] . Australian Playboy April 1986. Australia: Australian Consolidated Press, 1986. Magazine. Good $12.00

[005449] . Australian Playboy August 1979. Australia: Australian Consolidated Press, 1979. Magazine. Good Good copy. $33.00

[005448] . Australian Penthouse April 1981. Australia: 1981. Magazine. Good Good copy. $25.00

[005813] . Parade No 42 May 1954. Australia: Magazine. $16.00

[005462] . Australian Playboy July 1983. Australia: Australian Consolidated Press, 1983. Magazine. Good Good copy $20.00

[006070] . Australasian Post September 13 1979. Melbourne: Magazine. $15.00

[006080] . Australasian Post February 28 1980. Melbourne: Magazine. $15.00

[006079] . Australasian Post January 22 1981. Melbourne: Magazine. $15.00

[006078] . Australasian Post June 5 1980. Melbourne: Magazine. $15.00

[006077] . Australasian Post May 8 1980. Melbourne: Magazine. $15.00

[006076] . Australasian Post August 17 1978. Melbourne: Magazine. $15.00

[006075] . Australasian Post May 7 1981. Melbourne: Magazine. $15.00

[006074] . Australasian Post July 17 1980. Melbourne: Magazine. $15.00

[006073] . Australasian Post June 15 1978. Melbourne: Magazine. $15.00

[005811] . Parade No 174 May 1965. Australia: Magazine. $16.00

[006071] . Australasian Post November 8 1979. Melbourne: Magazine. $15.00

[006088] . ANH Australia's Leading Nature Magazine Spring 1994. Sydney: The Australian Museum Trust, 1994. Magazine. Fair Some pictures cut out. $5.00

[006069] . Australasian Post May 17 1979. Melbourne: Magazine. $15.00

[006068] . Australasian Post May 18 1978. Melbourne: Magazine. $15.00

[006067] . Australasian Post February 15 1979. Melbourne: Magazine. $15.00

[006066] . Australian Woman's Day August 31 1970. Sydney: Magazine. $15.00

[006065] . Australasian Post April 12 1979. Melbourne: Magazine. $15.00

[006064] . Australasian Post August 6 1981. Melbourne: Magazine. $15.00

[006063] . Australasian Post December 25 1980. Melbourne: Magazine. $15.00

[006062] . Australasian Post April 17 1980. Melbourne: Magazine. $15.00

[006061] . Australasian Post May 28 1961. Melbourne: Magazine. $15.00

[006072] . Australasian Post August 27 1981. Melbourne: Magazine. $15.00

[006107] . Parade No 15 March 1951. Australia: Magazine. Poor Back cover missing. Front cover loose and torn. $20.00

[007137] . Earth Garden No 68 August/September 1989. Trentham: Magazine. Self sufficiency and Planet care for bush or city alternatives. Magazine. $10.00

[006276] . Pocket Man March 1964. Australia: K G Murray Publishing Co, 1964. 12mo - over 6¾" - 7¾" tall. Magazine. Good Vintage Pocket Man mag with great pulp style stories and glam girls! $15.50

[006272] . Maritime Life and Traditions No 5. United Kingdom: Wooden Boat Publications, 2000. Magazine. Nautical magazine. Authoritative. $10.00

[006271] . Maritime Life and Traditions No 8. United Kingdom: Wooden Boat Publications, 2000. Magazine. Nautical magazine. Authoritative. $10.00

[006270] . Maritime Life and Traditions No 12 September 2001. United Kingdom: Wooden Boat Publications, 2001. Magazine. Nautical magazine. Authoritative. $10.00

[006269] . Australian Amatuer Boatbuilder No 46 June 2004. Queensland ,Australia: P&G Lynch and Assoc, 2004. Magazine. Good magazine in good condition. $10.00

[006220] . Australian Coin Review Vol 24 No 12 June 1988. Sydney: Australian Coin Review, 1988. Magazine. Includes stories of MTB , Gallipoli, Niagra. Info on coins and medallions. 52 pp magazine. $10.00

[006116] . High Society January 1998. New York: High Society Magazine, 1998. Magazine. Good $20.00

[006115] . Australian Playboy October 1998. Australia: Australian Consolidated Press, 1998. Magazine. Good $20.00

[006081] . Australasian Post June 26 1980. Melbourne: Magazine. $15.00

[006113] . Celebrity Flesh '99. Sydney: ACP Extra, 1999. Magazine. Good $15.00

[006082] . Australasian Post July 1 1982. Melbourne: Magazine. $15.00

[006106] . Parade No 178 September 1965. Australia: Magazine. $16.00

[006105] . Parade No 108 November 1959. Australia: Magazine. $16.00

[006103] . Parade No 47 October 1954. Australia: Magazine. $16.00

[006102] . Parade No 172 March 1965. Australia: Magazine. $16.00

[006099] . Parade No 84 November 1957. Australia: Magazine. $16.00

[006097] . Parade No 79 June 1957. Australia: Magazine. $16.00

[006096] . Parade No 45 August 1954. Australia: Magazine. $16.00

[006089] . ANH Australia's Leading Nature Magazine Winter 1994. Sydney: The Australian Museum Trust, 1994. Magazine. Fair Some pictures cut out. $5.00

[006058] . Australasian Post December 15 1960. Melbourne: Magazine. $20.00

[006114] . Grass Roots No 125 Feb/Mar 1998. Eurora: Night Owl Publishers, 1998. Magazine. Craft and self sufficiency magazine for down to earth people. $10.00

[005837] . Parade No 142 September 1962. Australia: Magazine. $16.00

[006060] . Australasian Post May 29 1980. Melbourne: Magazine. $15.00

[005936] . Grass Roots No 77 February 1990. Eurora: Night Owl Publishers, 1990. Magazine. Craft and self sufficiency magazine for down to earth people. $10.00

[005935] . Grass Roots No 75 October 1989. Shepparton, Australia: Night Owl Publishers, 1989. Magazine. Craft and self sufficiency magazine for down to earth people. $10.00

[005934] . Grass Roots No 74 August 1989. Shepparton, Australia: Night Owl Publishers, 1989. Magazine. Craft and self sufficiency magazine for down to earth people. $10.00

[005933] . Grass Roots No 71 February 1989. Shepparton, Australia: Night Owl Publishers, 1989. Magazine. Craft and self sufficiency magazine for down to earth people. $10.00

[005924] . Australian Seaspray August 9 1974. NSW, Australia: IPC Business Press, 1974. Magazine. Boating magazine $7.00

[005923] . Australian Seacraft August 1976. NSW, Australia: Kenmure Press, 1973. Magazine. Boating magazine $7.00

[005922] . Australian Seacraft October 1973. NSW, Australia: Kenmure Press, 1973. Magazine. Boating magazine $7.00

[005921] . Australian Seacraft June 1975. NSW, Australia: Kenmure Press, 1975. Magazine. Boating magazine $7.00

[005938] . Grass Roots No 79 June 1990. Eurora: Night Owl Publishers, 1990. Magazine. Craft and self sufficiency magazine for down to earth people. $10.00

[005838] . Parade No 66 May 1956. Australia: Magazine. $16.00

[005939] . Grass Roots No 82 December 1990. Eurora: Night Owl Publishers, 1990. Magazine. Craft and self sufficiency magazine for down to earth people. $10.00

[005836] . Parade No 154 September 1963. Australia: Magazine. $16.00

[005834] . Parade No 180 November 1965. Australia: Magazine. $16.00

[005833] . Parade No 182 January 1966. Australia: Magazine. $16.00

[005829] . Parade No 159 February 1964. Australia: Magazine. $16.00

[005827] . Parade No 173 April 1965. Australia: Magazine. $16.00

[005826] . Parade No 179 October 1965. Australia: Magazine. $16.00

[005823] . Parade No 181 December 1965. Australia: Magazine. $16.00

[005818] . Parade No 78 May 1957. Australia: Magazine. $16.00

[006279] . Penthouse, the Girls of May/June 1987 Collector's Edition. USA: 1987. Magazine. Good $10.00

[005839] . Parade No 54 May 1955. Australia: Magazine. $16.00

[005989] . Australasian Post October 9 1975. Melbourne: Magazine. $15.00

[005812] . Parade No 183 February 1966. Australia: Magazine. $16.00

[006057] . Australasian Post October 25 1979. Melbourne: Magazine. $15.00

[006056] . Australasian Post September 18 1980. Melbourne: Magazine. $15.00

[006055] . Australasian Post March 29 1979. Melbourne: Magazine. $15.00

[006054] . Australasian Post April 24 1980. Melbourne: Magazine. $15.00

[006053] . Australasian Post September 3 1981. Melbourne: Magazine. $15.00

[006052] . Australasian Post August 13 1981. Melbourne: Magazine. $15.00

[006051] . Australasian Post June 12 1980. Melbourne: Magazine. $15.00

[006002] . Football Year 97. The AFL Season in Review. Victoria: Pagemasters, 1997. First Edition. Large Format. Magazine. Good The 97 season reviewed. Ablett, Williams, McKenna etc. 208 pp. Numerous colour and b/w pics. All the games results. Adelaide St Kilda Grand Final. Covers have some creases. $15.00

[005937] . Grass Roots No 78 April 1990. Eurora: Night Owl Publishers, 1990. Magazine. Craft and self sufficiency magazine for down to earth people. $10.00

[005990] . Australasian Post September 25 1975. Melbourne: Magazine. $15.00

[006059] . Australasian Post July 24 1980. Melbourne: Magazine. $40.00

[005988] . Australasian Post June 5 1975. Melbourne: Magazine. $15.00

[005987] . Australasian Post April 3 1975. Melbourne: Magazine. $15.00

[005986] . Australasian Post July 18 1974. Melbourne: Magazine. $15.00

[005945] . Grass Roots No 145 June/July 2001. Eurora: Night Owl Publishers, 2001. Magazine. Craft and self sufficiency magazine for down to earth people. $10.00

[005944] . Grass Roots No 91 June/July 1992. Eurora: Night Owl Publishers, 1992. Magazine. Craft and self sufficiency magazine for down to earth people. $10.00

[005943] . Grass Roots No 90 April/May 1992. Eurora: Night Owl Publishers, 1992. Magazine. Craft and self sufficiency magazine for down to earth people. $10.00


[005942] . Grass Roots No 87 October 1991. Eurora: Night Owl Publishers, 1991. Magazine. Craft and self sufficiency magazine for down to earth people. $10.00

[005941] . Grass Roots No 86 August 1991. Eurora: Night Owl Publishers, 1991. Magazine. Craft and self sufficiency magazine for down to earth people. $10.00

[005940] . Grass Roots No 84 April 1991. Eurora: Night Owl Publishers, 1991. Magazine. Craft and self sufficiency magazine for down to earth people. $10.00

[005992] . Australasian Post April 17 1975. Melbourne: Magazine. $15.00

[018798] . Girls of the World Vol 2 No 7. New York: Export Publications, Magazine. Fair Undaed . 60s. 64 pp mens mag of beauties of the world. Worn magazine. $12.00

[018927] . Riptide No 51 June 1996. Burleigh Heads, Queensland: Morrison Media Services, 1996. Magazine. Good Email for a list of contents. $10.00

[018926] . Riptide No 60 March 1997. Burleigh Heads, Queensland: Morrison Media Services, 1997. Magazine. Good Email for a list of contents. $10.00

[018925] . Bodyboarding Annual No 1. North Ryde: Australian Publishing and Printing Company, 1996. Magazine. Body boarding mag in good condition. $7.00

[018924] . Australian Bodyboarder december 1996. Australia: Mason Stewart Publishing Co, 1996. Magazine. Good Body boarding mag in good condition. $10.00

[018923] . Australian Bodyboarder january 1997. Australia: Mason Stewart Publishing Co, 1997. Magazine. Good Body boarding mag in good condition. $10.00

[018922] . Australian Bodyboarder February / March 1997. Australia: Mason Stewart Publishing Co, 1997. Magazine. Good Body boarding mag in good condition. $10.00

[018921] . Australian Bodyboarder October 1996. Australia: Mason Stewart Publishing Co, 1996. Magazine. Good Body boarding mag in good condition. $10.00

[018920] . Australian Bodyboarder July / August 1996. Australia: Mason Stewart Publishing Co, 1996. Magazine. Good Body boarding mag in good condition. $10.00

[018637] . The Australian Journal October 1 1951. Melbourne: A H Massina and Co Pty Ltd, 1951. Magazine. Fair Vintage Australian magazine. Great stories and illus. Fact and fiction. Worn and chipped copy. $40.00

[018918] . Bodyboarding Tips and Techniques No 2. North Ryde: Australian Publishing and Printing Company, 1993. Magazine. Body boarding mag in good condition. $7.00

[019047] . Australasian Post October 30 1980. Melbourne: Magazine. We have hundreds of Australasian Post mags at Warrigal Press. If you are looking for a particular story, cover or topic let us know and we can browse through the collection. Great Australiana, great stories etc... $30.00

[018719] . Pocket Book Weekly July 6 1946. Sydney: Associated Newspapers, 1946. 12mo - over 6¾" - 7¾" tall. Stapled. Good 80 pp.World news and stories. Front cover has losses. $10.00

[018718] . Pocket Book Weekly December 21 1946. Sydney: Associated Newspapers, 1946. 12mo - over 6¾" - 7¾" tall. Stapled. Good 80 pp.World news and stories. Good copy. $10.00

[018717] . Pocket Book Weekly July 21 1945. Sydney: Associated Newspapers, 1945. 12mo - over 6¾" - 7¾" tall. Stapled. Good 80 pp.World news and stories. Good copy. $10.00

[018716] . Pocket Book Weekly December 7 1946. Sydney: Associated Newspapers, 1946. 12mo - over 6¾" - 7¾" tall. Stapled. Good 80 pp.World news and stories. Good copy. $10.00

[018669] . Australian Playboy the Stars a Pictorial Tribute. Australia: Mawson Stewart Publishing, 1989. Magazine. Good Pictorial tribute to Madonna,Collins, Evans, Kinski, etc. Old penned price on back cover an small pen mark on front. $20.00

[018643] . The Australian Journal September 1 1950. Melbourne: A H Massina and Co Pty Ltd, 1950. Magazine. Fair Vintage Australian magazine. Great stories and illus. Fact and fiction. Worn and chipped copy. $40.00

[018642] . The Australian Journal April 2 1951. Melbourne: A H Massina and Co Pty Ltd, 1951. Magazine. Fair Vintage Australian magazine. Great stories and illus. Fact and fiction. Worn and chipped copy. $40.00

[018641] . The Australian Journal March 1 1951. Melbourne: A H Massina and Co Pty Ltd, 1951. Magazine. Fair Vintage Australian magazine. Great stories and illus. Fact and fiction. Worn and chipped copy. $40.00

[017773] . Ralph December 2007. Sydney: AcP Men's Lifestyle, Magazine. Mens mag. $10.00

[018919] . Australian Bodyboarder July / August 1993. Australia: Mason Stewart Publishing Co, 1993. Magazine. Good Body boarding mag in good condition. $10.00

[019056] . Australasian Post March 31 1983. Melbourne: Magazine. We have hundreds of Australasian Post mags at Warrigal Press. If you are looking for a particular story, cover or topic let us know and we can browse through the collection. Great Australiana, great stories etc... $25.00

[019140] . Surfing World Issue 281. NSW, Australia: Breaker Publications NSW, Magazine. Good Surfing magazine in good condition man. $10.00

[019139] . Tracks Yearbook 2005. Australia: EmAP Australia, 2005. Magazine. Worn magazine. Surfing. $10.00

[019065] . Australasian Post October 21 1982. Melbourne: Magazine. We have hundreds of Australiasian Post mags at Warrigal Press. If you are looking for a particular story, cover or topic let us know and we can browse through the collection. Great Australiana, great stories etc... $30.00

[019064] . Australasian Post August 19 1982. Melbourne: Magazine. $40.00

[019063] . Australasian Post April 24 1980. Melbourne: Magazine. $30.00

[019062] . Australasian Post February 28 1980. Melbourne: Magazine. $30.00

[019061] . Australasian Post May 8 1980. Melbourne: Magazine. $30.00

[019060] . Australasian Post October 9 1980. Melbourne: Magazine. We have hundreds of Australasian Post mags at Warrigal Press. If you are looking for a particular story, cover or topic let us know and we can browse through the collection. Great Australiana, great stories etc... $25.00

[019059] . Australasian Post June 5 1980. Melbourne: Magazine. We have hundreds of Australasian Post mags at Warrigal Press. If you are looking for a particular story, cover or topic let us know and we can browse through the collection. Great Australiana, great stories etc... $25.00

[018928] . Riptide No 48 March 1996. Burleigh Heads, Queensland: Morrison Media Services, 1996. Magazine. Good Email for a list of contents. $10.00

[019057] . Australasian Post February 10 1983. Melbourne: Magazine. $25.00

[018981] . Historic Houses and Castles In Great Britain and Northern Ireland. London: Index Publishers, 1958. 4to - over 9¾" - 12" tall. Magazine. Good Information on over 400 houses and gardens that are open to the public. Includes 150 illustrations, opening times and admission charges. Covers worn with some minor creasing. Price sticker on cover. Grubby marks to back cover. Corners creased. Text is clean. $20.00

[019055] . Australasian Post March 31 1983. Melbourne: Magazine. We have hundreds of Australasian Post mags at Warrigal Press. If you are looking for a particular story, cover or topic let us know and we can browse through the collection. Great Australiana, great stories etc... $25.00

[019054] . Australasian Post March 17 1983. Melbourne: Magazine. We have hundreds of Australasian Post mags at Warrigal Press. If you are looking for a particular story, cover or topic let us know and we can browse through the collection. Great Australiana, great stories etc... $25.00

[019053] . Australasian Post November 20 1980. Melbourne: Magazine. We have hundreds of Australasian Post mags at Warrigal Press. If you are looking for a particular story, cover or topic let us know and we can browse through the collection. Great Australiana, great stories etc... $25.00

[019052] . Australasian Post September 11 1980. Melbourne: Magazine. We have hundreds of Australasian Post mags at Warrigal Press. If you are looking for a particular story, cover or topic let us know and we can browse through the collection. Great Australiana, great stories etc... $25.00

[019051] . Australasian Post August 28 1980. Melbourne: Magazine. We have hundreds of Australasian Post mags at Warrigal Press. If you are looking for a particular story, cover or topic let us know and we can browse through the collection. Great Australiana, great stories etc... $25.00

[019050] . Australasian Post May 14 1980. Melbourne: Magazine. We have hundreds of Australasian Post mags at Warrigal Press. If you are looking for a particular story, cover or topic let us know and we can browse through the collection. Great Australiana, great stories etc... $40.00

[019049] . Australasian Post December 16 1982. Melbourne: Magazine. We have hundreds of Australasian Post mags at Warrigal Press. If you are looking for a particular story, cover or topic let us know and we can browse through the collection. Great Australiana, great stories etc... $25.00

[019048] . Australasian Post October 16 1980. Melbourne: Magazine. We have hundreds of Australasian Post mags at Warrigal Press. If you are looking for a particular story, cover or topic let us know and we can browse through the collection. Great Australiana, great stories etc... $30.00

[018636] . The Australian Journal November 1 1951. Melbourne: A H Massina and Co Pty Ltd, 1951. Magazine. Fair Vintage Australian magazine. Great stories and illus. Fact and fiction. Worn and chipped copy. $40.00

[019058] . Australasian Post September 25 1983. Melbourne: Magazine. $30.00

[017783] . Australasian Post June 7 1962. Melbourne: Magazine. $50.00

[017793] . Adam February 1960. NSW, Australia: Kenmure Press, 1960. Magazine. Fair A vintage Australian Men's mag. . Email for details of contents. Worn copy. Small pen scribble on cover. $40.00

[017792] . Australasian Post July 26 1962. Melbourne: Magazine. $50.00

[017791] . Australasian Post February 4 1965. Melbourne: Magazine. $50.00

[017790] . Australasian Post September 20 1962. Melbourne: Magazine. $50.00

[017789] . Australasian Post May 26 1960. Melbourne: Magazine. $50.00

[017788] . Australasian Post November 15 1962. Melbourne: Magazine. $50.00

[017787] . Australasian Post November 22 1962. Melbourne: Magazine. $50.00

[017786] . Australasian Post October 24 1963. Melbourne: Magazine. $50.00

[018640] . The Australian Journal February 1 1951. Melbourne: A H Massina and Co Pty Ltd, 1951. Magazine. Fair Vintage Australian magazine. Great stories and illus. Fact and fiction. Worn and chipped copy. $40.00

[017784] . Australasian Post November 28 1963. Melbourne: Magazine. $50.00

[017804] . The Wide World The Magazine for Men October 1948. United Kingdom: 1948. Magazine. Good Binding good. Some light wear to covers. $20.00

[017782] . Australasian Post June 9 1960. Melbourne: Magazine. $50.00

[017781] . Australasian Post September 19 1963. Melbourne: Magazine. $50.00

[017780] . Australasian Post June 20 1974. Melbourne: Magazine. $50.00

[017779] . Australasian Post April 9 1964. Melbourne: Magazine. $50.00

[017778] . Australasian Post February 27 1969. Melbourne: Magazine. $50.00

[017777] . Australasian Post August 1 1968. Melbourne: Magazine. $50.00

[017776] . Australasian Post January 30 1969. Melbourne: Magazine. $50.00

[017775] . Australasian Post January 28 1965. Melbourne: Magazine. $50.00

[015366] . For Him Magazine FHM the Girls of FHM special Collectors Edition. Magazine. Good Light wear. $15.00

[017785] . Australasian Post April 11 1968. Melbourne: Magazine. $50.00

[017965] . Man November 1951 Vol 30 No 5. NSW, Australia: Kenmure Press, 1951. Magazine. Fair Worn copy, tears through pp 59 -90 quarter way through. $30.00

[018635] . The Australian Journal September 1 1951. Melbourne: A H Massina and Co Pty Ltd, 1951. Magazine. Fair Vintage Australian magazine. Great stories and illus. Fact and fiction. Worn and chipped copy. $40.00

[018634] . The Australian Journal August 1 1951. Melbourne: A H Massina and Co Pty Ltd, 1951. Magazine. Fair Vintage Australian magazine. Great stories and illus. Fact and fiction. Worn and chipped copy. $40.00

[018633] . The Australian Journal July 2 1951. Melbourne: A H Massina and Co Pty Ltd, 1951. Magazine. Fair Vintage Australian magazine. Great stories and illus. Fact and fiction. Worn and chipped copy. $40.00

[018608] . The Australian Journal January 1 1951. Melbourne: A H Massina and Co Pty Ltd, 1951. Magazine. Fair Vintage Australian magazine. Great stories and illus. Fact and fiction. Worn and chipped copy. $40.00

[018607] . The Australian Journal December 1 1950. Melbourne: A H Massina and Co Pty Ltd, 1950. Magazine. Fair Vintage Australian magazine. Great stories and illus. Fact and fiction. Worn and chipped copy. $40.00

[018122] . The Best of Witchetty's Tribe. Dee Why, New South Wales: E Joliffe, 4to - over 9¾" - 12" tall. Magazine. Good Circa 1980-ish. Contains details of the Joliffe censorship debate, which is a fascinating read for any fan. Some general wear to covers, small pen mark on front cover, edges bumped. Pages browning. Some rub marks to front and back covers. $22.00

[018069] . People's Book of Girls 1984. Australia: Magazine Promotions, 1984. Magazine. Good Mens mag from Oz. Best girls and storiesfrom People's mag. $20.00

[018024] . Adam October 1955. NSW, Australia: Kenmure Press, 1955. Magazine. Good A vintage Australian Men's mag. . Email for details of contents. Good copy. A few light losses on edges and spine. $30.00

[018023] . Adam November 1955. NSW, Australia: Kenmure Press, 1955. Magazine. Good A vintage Australian Men's mag. . Email for details of contents. Good copy. A few light losses on edges and spine. $30.00

[017802] . The Wide World The Magazine for Men March 1950. United Kingdom: 1950. Magazine. Fair Spine is worn with some tears. Minor insect nibbles to edges. Spine cracked. $20.00

[018003] . Man Annual 1944. NSW, Australia: Man Magazine Pty Ltd, 1944. Magazine. Fair Email for details and contents. $100.00

[017803] . The Wide World The Magazine for Men September 1948. United Kingdom: 1948. Magazine. Fair Some creases to covers, minor losses to spine. Spine cracked. Some foxing to back cover. $20.00

[017960] . The Geographical Magazine April 1941. London: The Geographical Magazine/Chatto and Windus, 1940. Magazine. Stapled. Fair Volume XII, No. 6. Spine cracked, spine damaged, pen writing to front cover. Covers separating from text. $10.00

[017959] . The Geographical Magazine September 1940. London: The Geographical Magazine/Chatto and Windus, 1940. Magazine. Stapled. Good Volume XI, No. 5. Covers worn and stained, some pen writing, reading creases. Text clean. $10.00

[017828] . Australasian Post January 3 1963. Melbourne: Magazine. Good Good copy. $50.00

[017826] . Squire the New Magazine for Modern Men Vol 1 No 5. Sydney: Squire Magazines, Magazine. Good Scarce Australian Men's magazine from the mid 60s. In good condition. $40.00

[017825] . Squire the New Magazine for Modern Men Vol 2 No 1. Sydney: Squire Magazines, Magazine. Good Scarce Australian Men's magazine from the mid 60s. In good condition. $40.00

[017824] . Squire the New Magazine for Modern Men Vol 1 No 12. Sydney: Squire Magazines, Magazine. Good Scarce Australian Men's magazine from the mid 60s. In good condition. $40.00

[017806] . The Wide World The Magazine for Men May 1949. United Kingdom: 1949. Magazine. Fair Covers totally seperate from text. Insect nibbles to edges of cover, some losses to spine. Some grubby marks on pages. $20.00

[017805] . The Wide World The Magazine for Men November 1948. United Kingdom: 1948. Magazine. Good Foxing to covers, edges bumped, slight roll. Some light yellow marks on first page. $20.00

[019143] . Grass Roots No 61 June 1987. Eurora: Night Owl Publishers, 1987. Magazine. Craft and self sufficiency magazine for down to earth people. $12.00

[018005] . The Australian Magazine November 30 1954. Australia: Consolidated Press, 1954. Large Format. Fair Covers worn tears, a few cut outs inside. Email for details of contents. $10.00

[019561] . Adam December 1957. NSW, Australia: Kenmure Press, 1957. Magazine. Good A vintage Australian Men's mag. . Email for details of contents. Worn and marked copy. $35.00

[019825] . Razzle No. 46. Leicester: Ritz Publishing, 1935. 12mo - over 6¾" - 7¾" Tall. Stapled. Good Britain's leading monthly magazine of humour. Tidy copy. Some minor markings on cover edges. $12.00

[019737] . Man September 1957 Vol 42 No 4. NSW, Australia: Man Magazine Pty Ltd, 1957. Magazine. Poor Magazine. Email for details of contents. Cover almost loose. Tears. Worn copy. Back cover missing. $25.00

[019735] . Male August Vol 2 No 8. Sydney: Horwitz, Magazine. Fair Scarce Australian Horwitz magazine reprinting US stories. Gals, Gags, fact and fiction ... Email for details of contents! Very worn copy. Marked and has losses around edges. $35.00

[019734] . Male September - October (no year stated). Sydney: Horwitz, . Magazine. Fair Scarce Australian Horwitz magazine reprinting US stories. Gals, Gags, fact and fiction ... Email for details of conents! Worn copy. $35.00

[019698] . Joliffe's Outback 125: Crocs. Dee Why, New South Wales: Joliffe Studios, 1990. 4to - over 9¾" - 12" Wide. Stapled. Good Previous owner's name on front cover. Some creasing along spine. Tidy copy. $12.00

[019600] . Adam April 1977. NSW, Australia: Kenmure Press, 1977. Magazine. Good A vintage Australian Men's mag. . Email for details of contents. Good copy. $25.00

[019599] . Adam September 1976. NSW, Australia: Kenmure Press, 1976. Magazine. Good A vintage Australian Men's mag. . Email for details of contents. Good copy. $25.00

[019598] . Adam May 1977. NSW, Australia: Kenmure Press, 1977. Magazine. Good A vintage Australian Men's mag. . Email for details of contents. Good copy. $25.00

[019141] . Surfing World Issue 288. NSW, Australia: Breaker Publications NSW, Magazine. Good Surfing magazine in good condition man. $10.00

[019562] . Adam June 1976. NSW, Australia: Kenmure Press, 1973. Magazine. Good A vintage Australian Men's mag. . Email for details of contents. Good copy. $25.00

[019917] . Australasian Post May 29 1975. Melbourne: Magazine. We have hundreds of Australasian Post mags at Warrigal Press. If you are looking for a particular story, cover or topic let us know and we can browse through the collection. Great Australiana, great stories etc... $25.00

[019560] . Adam December 1958. NSW, Australia: Kenmure Press, 1955. Magazine. Good A vintage Australian Men's mag. . Email for details of contents. Worn and marked copy. $35.00

[019366] . Australian Geographic 86 Apr-Jun 2007. Australia: Australian Geographic, 2007. Magazine. Magazine. Good Comes with a bonus commemorative ANZAC poster. $10.00

[019359] . Rock & Gem June 2000. USA: Miller Magazines, magazine $10.00

[019358] . Gold and Treasure Hunter May June 1996. USA: Modern Gold Miner and Treasure Hunters Association, magazine $10.00

[019357] . Australian Gold Gem & Treasure Yearbook (undated). Sydney: Express Publications, Magazine. Email for details of contents or if you are looking for a particular article. $10.00

[019356] . Australian Gold Gem & Treasure September 1992. Sydney: Express Publications, Magazine. Email for details of contents or if you are looking for a particular article. $10.00

[019355] . Australian Gold Gem & Treasure Yearbook 1992. Sydney: Express Publications, Magazine. Email for details of contents or if you are looking for a particular article. $10.00

[019354] . Australian Gold Gem & Treasure 2001 Annual. Sydney: Express Publications, Magazine. Email for details of contents or if you are looking for a particular article. $10.00

[019353] . Australian Gem and Treasure Hunter Yearbook 1981. Sydney: Express Publications, Magazine. Email for details of contents or if you are looking for a particular article. $10.00

[019566]
. Adam November 1977. NSW, Australia: Kenmure Press, 1977. Magazine. Good A vintage Australian Men's mag. . Email for details of contents. $30.00

[019976] . Australasian Post July 17 1993. Melbourne: Magazine. We have hundreds of Australasian Post mags at Warrigal Press. If you are looking for a particular story, cover or topic let us know and we can browse through the collection. Great Australiana, great stories etc... $25.00

[019988] . Restored Cars Australia Number 61. Eddie Ford Publications, Magazine. Good Good copy. $20.00

[019986] . Australasian Post June 15 1994. Melbourne: Magazine. $20.00

[019985] . Australasian Post April 25 1992. Melbourne: Magazine. We have hundreds of Australasian Post mags at Warrigal Press. If you are looking for a particular story, cover or topic let us know and we can browse through the collection. Great Australiana, great stories etc... $25.00

[019984] . Australasian Post October 11 1984. Melbourne: Magazine. $30.00

[019983] . Australasian Post January 25 1992. Melbourne: Magazine. $25.00

[019982] . Australasian Post July 3 1993. Melbourne: Magazine. We have hundreds of Australasian Post mags at Warrigal Press. If you are looking for a particular story, cover or topic let us know and we can browse through the collection. Great Australiana, great stories etc... $40.00

[019981] . Australasian Post October 4 1984. Melbourne: Magazine. $30.00

[019980] . Australasian Post May 29 1993. Melbourne: Magazine. $25.00

[019979] . Australasian Post January 12 1991. Melbourne: Magazine. $30.00

[019886] . The Australian Sunbather a Journal for Naturists Vol 6 No 2 February 1952. Sydney: Ron Ashworth, 1952. 12mo - over 6¾" - 7¾" tall. Stapled. Fair Scarce vintage naturist magazine. Insect nibbles around edges of front cover. A few marks. 40 pp. Illus. $22.00

[019977] . Australasian Post October 24 1992. Melbourne: Magazine. We have hundreds of Australasian Post mags at Warrigal Press. If you are looking for a particular story, cover or topic let us know and we can browse through the collection. Great Australiana, great stories etc... $25.00

[019916] . Australasian Post November 6 1975. Melbourne: Magazine. We have hundreds of Australasian Post mags at Warrigal Press. If you are looking for a particular story, cover or topic let us know and we can browse through the collection. Great Australiana, great stories etc... $25.00

[019975] . Australasian Post August 23 1984. Melbourne: Magazine. We have hundreds of Australiasian Post mags at Warrigal Press. If you are looking for a particular story, cover or topic let us know and we can browse through the collection. Great Australiana, great stories etc... $40.00

[019925] . Australasian Post June 21 1979. Melbourne: Magazine. Good Good copy. $35.00

[019924] . Australasian Post April 6 1978. Melbourne: Magazine. $30.00

[019923] . Australasian Post February 16 1978. Melbourne: Magazine. We have hundreds of Australiasian Post mags at Warrigal Press. If you are looking for a particular story, cover or topic let us know and we can browse through the collection. Great Australiana, great stories etc... $30.00

[019922] . Australasian Post November 27 1975. Melbourne: Magazine. We have hundreds of Australasian Post mags at Warrigal Press. If you are looking for a particular story, cover or topic let us know and we can browse through the collection. Great Australiana, great stories etc... $30.00

[019921] . Australasian Post June 19 1975. Melbourne: Magazine. We have hundreds of Australasian Post mags at Warrigal Press. If you are looking for a particular story, cover or topic let us know and we can browse through the collection. Great Australiana, great stories etc... $30.00

[019920] . Australasian Post February 9 1978. Melbourne: Magazine. We have hundreds of Australiasian Post mags at Warrigal Press. If you are looking for a particular story, cover or topic let us know and we can browse through the collection. Great Australiana, great stories etc... $30.00

[019918] . Australasian Post October 30 1975. Melbourne: Magazine. We have hundreds of Australasian Post mags at Warrigal Press. If you are looking for a particular story, cover or topic let us know and we can browse through the collection. Great Australiana, great stories etc... $30.00

[019350] . Australian Gold Gem & Treasure February 1989. Sydney: Express Publications, Magazine. Email for details of contents or if you are looking for a particular article. $10.00

[019978] . Australasian Post November 16 1991. Melbourne: Magazine. $20.00

[019306] . Australasian Post February 27 1993. Melbourne: Magazine. We have hundreds of Australiasian Post mags at Warrigal Press. If you are looking for a particular story, cover or topic let us know and we can browse through the collection. Great Australiana, great stories etc... $40.00

[019352] . Australian Gold Gem & Treasure Jan Feb 2001. Sydney: Express Publications, Magazine. Email for details of contents or if you are looking for a particular article. $10.00

[019326] . Ralph January 2000. Sydney: AcP Men's Lifestyle, 2000. Magazine. Mens mag. $8.80

[019321] . Ralph July 2000. Sydney: AcP Men's Lifestyle, Magazine. Mens mag. $10.00

[019320] . Man October 1972. NSW, Australia: Man Magazine Pty Ltd, 1972. Magazine. Email for details of contents. $30.00

[019319] . Man June 1972. NSW, Australia: Man Magazine Pty Ltd, 197. Magazine. Email for details of contents. $30.00

[019312] . Australasian Post April 10 1993. Melbourne: Magazine. We have hundreds of Australiasian Post mags at Warrigal Press. If you are looking for a particular story, cover or topic let us know and we can browse through the collection. Great Australiana, great stories etc... $40.00

[019311] . Australasian Post June 12 1993. Melbourne: Magazine. We have hundreds of Australiasian Post mags at Warrigal Press. If you are looking for a particular story, cover or topic let us know and we can browse through the collection. Great Australiana, great stories etc... $40.00

[019310] . Australasian Post January 9 1986. Melbourne: Magazine. We have hundreds of Australiasian Post mags at Warrigal Press. If you are looking for a particular story, cover or topic let us know and we can browse through the collection. Great Australiana, great stories etc... $40.00

[019309] . Australasian Post April 13 1991. Melbourne: Magazine. We have hundreds of Australiasian Post mags at Warrigal Press. If you are looking for a particular story, cover or topic let us know and we can browse through the collection. Great Australiana, great stories etc... $40.00

[019328] . Australian Gold Gem & Treasure May 2000. Sydney: Express Publications, . Magazine. Email for details of contents or if you are looking for a particular article. $10.00

[019307] . Australasian Post March 11 1989. Melbourne: Magazine. We have hundreds of Australiasian Post mags at Warrigal Press. If you are looking for a particular story, cover or topic let us know and we can browse through the collection. Great Australiana, great stories etc... $40.00

[019329] . Australian Gold Gem & Treasure June 1993. Sydney: Express Publications, Magazine. Email for details of contents or if you are looking for a particular article. $10.00

[019305] . Australasian Post May 2 1992. Melbourne: Magazine. We have hundreds of Australiasian Post mags at Warrigal Press. If you are looking for a particular story, cover or topic let us know and we can browse through the collection. Great Australiana, great stories etc... $40.00

[019304] . Australasian Post August 2 1984. Melbourne: Magazine. We have hundreds of Australiasian Post mags at Warrigal Press. If you are looking for a particular story, cover or topic let us know and we can browse through the collection. Great Australiana, great stories etc... $40.00

[019303] . Australasian Post March 6 1993 . Melbourne: Magazine. We have hundreds of Australiasian Post mags at Warrigal Press. If you are looking for a particular story, cover or topic let us know and we can browse through the collection. Great Australiana, great stories etc... $40.00

[019302] . Australasian Post June 26 1993 . Melbourne: Magazine. We have hundreds of Australiasian Post mags at Warrigal Press. If you are looking for a particular story, cover or topic let us know and we can browse through the collection. Great Australiana, great stories etc... $30.00

[019301] . Australasian Post May 22 1993 . Melbourne: Magazine. We have hundreds of Australiasian Post mags at Warrigal Press. If you are looking for a particular story, cover or topic let us know and we can browse through the collection. Great Australiana, great stories etc... $30.00

[019146] . Overlander April 1982. NSW, Australia: Modern Magazines, 1982. Magazine. Email for details of contents $10.00

[019145] . Overlander December 1980. NSW, Australia: Modern Magazines, 1980. Magazine. Email for details of contents $10.00

[019144] . Overlander January 1982. NSW, Australia: Modern Magazines, 1982. Magazine. Email for details of contents $10.00

[017772] . FHM december 2007 No 116. Australia: For Him Magazine, Good Mens mag. $10.00

[019308] . Australasian Post August 7 1991. Melbourne: Magazine. We have hundreds of Australiasian Post mags at Warrigal Press. If you are looking for a particular story, cover or topic let us know and we can browse through the collection. Great Australiana, great stories etc... $40.00

[019339] . Australian Gold Gem & Treasure July 2000. Sydney: Express Publications, Magazine. Email for details of contents or if you are looking for a particular article. $10.00

[019142] . Surfing Magazine October 2006. California: Surfing Magazine, 2006. Magazine. Good Cool surfing mag man. $12.00

[019349] . Australian Gold Gem & Treasure Vol 3 No 2. Sydney: Express Publications, Magazine. Email for details of contents or if you are looking for a particular article. $10.00

[019348] . Australian Gold Gem & Treasure May 1988. Sydney: Express Publications, Magazine. Email for details of contents or if you are looking for a particular article. $10.00

[019347] . Australian Gold Gem & Treasure May 1993. Sydney: Express Publications, Magazine. Email for details of contents or if you are looking for a particular article. $10.00

[019346] . Australian Gold Gem & Treasure June 2001. Sydney: Express Publications, Magazine. Email for details of contents or if you are looking for a particular article. $10.00

[019345] . Australian Gold Gem & Treasure 2000 Year Book. Sydney: Express Publications, Magazine. Email for details of contents or if you are looking for a particular article. $10.00

[019344] . Australian Gold Gem & Treasure June 2000. Sydney: Express Publications, Magazine. Email for details of contents or if you are looking for a particular article. $10.00

[019343] . Australian Gold Gem & Treasure Vol 15 No 13. Sydney: Express Publications, Magazine. Email for details of contents or if you are looking for a particular article. $10.00

[019342] . Australian Gold Gem & Treasure 2000 Annual. Sydney: Express Publications, Magazine. Email for details of contents or if you are looking for a particular article. $10.00

[019327] . Australian Gold Gem & Treasure June 2003. Sydney: Express Publications, 2003. Magazine. Email for details of contents or if you are looking for a particular article. $10.00

[019340] . Australian Gold Gem & Treasure May 2001. Sydney: Express Publications, Magazine. Email for details of contents or if you are looking for a particular article. $10.00

[019351] . Australian Gold Gem & Treasure December 1989. Sydney: Express Publications, Magazine. Email for details of contents or if you are looking for a particular article. $10.00

[019338] . Australian Gold Gem & Treasure August 2000. Sydney: Express Publications, Magazine. Email for details of contents or if you are looking for a particular article. $10.00

[019337] . Australian Gold Gem & Treasure March 2000. Sydney: Express Publications, Magazine. Email for details of contents or if you are looking for a particular article. $10.00

[019336] . Australian Gold Gem & Treasure April 2000. Sydney: Express Publications, Magazine. Email for details of contents or if you are looking for a particular article. $10.00

[019335] . Australian Gold Gem & Treasure March 1992. Sydney: Express Publications, Magazine. Email for details of contents or if you are looking for a particular article. $10.00

[019334] . Australian Gold Gem & Treasure December 1992. Sydney: Express Publications, Magazine. Email for details of contents or if you are looking for a particular article. $10.00

[019333] . Australian Gold Gem & Treasure March 1993. Sydney: Express Publications, Magazine. Email for details of contents or if you are looking for a particular article. $10.00

[019332] . Australian Gold Gem & Treasure October 1992. Sydney: Express Publications, Magazine. Email for details of contents or if you are looking for a particular article. $10.00

[019331] . Australian Gold Gem & Treasure August 1992. Sydney: Express Publications, Magazine. Email for details of contents or if you are looking for a particular article. $10.00

[019330] . Australian Gold Gem & Treasure July 1992. Sydney: Express Publications, Magazine. Email for details of contents or if you are looking for a particular article. $10.00

[019341] . Australian Gold Gem & Treasure Vol 15 No 9. Sydney: Express Publications, Magazine. Email for details of contents or if you are looking for a particular article. $10.00

[016686] . Pocket Man January 1955. Australia: K G Murray Publishing Co, 1955. 12mo - over 6¾" - 7¾" Tall. Magazine. Poor Vintage Pocket Man mag with great pulp style stories and glam girls! Poor copy. Front cover torn and has losses. Back cover missing $18.00

[016768] . Australian Gold Gem and Treasure April 1992. Sydney: Charles Vella, 1992. Magazine. Fair Substantial water damage on contents page, large crease on front cover. Email Warrigal Press for a list of articles inside. $8.00

[016767] . Lost Treasure September 1993. Oklahoma: Lee E. Harris, 1993. Magazine. Good Worn along spine. Email Warrigal Press for a list of articles inside. $10.00

[016766] . Lost Treasure May 1995. Oklahoma: Lee E. Harris, 1995. Magazine. Good Cover worn, some creases along the top right-hand corner. Email Warrigal Press for a list of articles inside. $10.00

[016765] . Lost Treasure February 1991. Oklahoma: Lee E. Harris, 1991. Magazine. Good Cover worn along spine, previous owner's name and address on a sticker on the front cover. Email Warrigal Press for a list of articles inside. $10.00

[016764] . Australian Gold and Gem Yearbook 1990. Sydney: Charles Vella, 1990. Magazine. Fair Substantial water damage on back cover, covers loose, yellow sticker on front cover. Email Warrigal Press for a list of articles inside. $8.00

[016763] . Australian Gold and Gem Yearbook Special Issue January 1989. Sydney: Charles Vella, 1989. Magazine. Good Vol. 4, No. 1. Cover worn along spine, front cover rubbed, small yellow sticker on front cover. Large crease on top right-hand corner. $10.00

[016762] . Treasure Found! Spring 1992, Vol. 16 No. 1. California: Double Eagle Publishing, 1992. Magazine. Good Pages yellowing, cover worn along spine edge. Email Warrigal Press for a list of articles inside. $10.00

[016761] . Treasure Found! Spring 1992, Vol. 16 No. 1. California: Double Eagle Publishing, 1992. Magazine. Good Pages yellowing, cover worn along spine edge. Email Warrigal Press for a list of articles inside. $10.00

[016623] . White Dwarf 267. Games Workshop, Magazine. Good Email for details of contents. Worn copy. $10.00

[016758] . Rock and Gem October 1979. California: Behn-Miller Publishers, 1979. Stapled. Good Covers worn, rubbed and stained, remnants of price sticker on front cover. E-Mail Warrigal Press for a list of articles inside. $10.00

[016771] . Gold Prospector July/August 1996. California: Gold Prospectors Association of America, Inc, 1996. Magazine. Good Edges bumped and creased on top and bottom corner of front cover and text. Worn along spine. Covers rubbed. Email Warrigal Press for a list of articles. $9.00

[016685] . Pocket Man September 1955. Australia: K G Murray Publishing Co, 1955. 12mo - over 6¾" - 7¾" Tall. Magazine. Far Vintage Pocket Man mag with great pulp style stories and glam girls! Fair copy.Worn covers. Tears and some pieces missing from edges.Complete. $18.00

[016684] . FHM November 2006. Australia: For Him Magazine, 2006. Good Mens mag. $10.00

[016683] . Ralph January 2007. Sydney: AcP Men's Lifestyle, 2007. Magazine. Mens mag. $8.80

[016658] . Health and Efficiency Summer Number 1964. London: Plant News Ltd., 1964. 8vo - over 7¾" - 9¾" tall. Magazine. Good Rare 'health' magazine. Covers worn and creased, some light water damage on the back cover. $20.00

[016657] . Squire Magazine, Vol 3, No 7, March 1967. Sydney: D B Publications, 1967. 8vo - over 7¾" - 9¾" tall. Stapled. Good Covers worn but an otherwise good copy. Email for a description of contents. $15.00

[016627] . White Dwarf 275. Games Workshop, Magazine. Good Email for details of contents. Tidy copy. $10.00

[016626] . White Dwarf 273. Games Workshop, Magazine. Good Email for details of contents. Worn copy. $10.00

[016625] . White Dwarf 276. Games Workshop, Magazine. Good Email for details of contents. Worn copy. $10.00

[017774] . Australasian Post February 22 1968. Melbourne: Magazine. $50.00

[016760] . Western and Eastern Treasures Volume 27 November 1993. California: People's Publishing Company, 1993. Magazine. Good Covers worn and torn along spine edge. Email Warrigal Press for a list of articles inside. $10.00

[016818] . UFO Universe August/September 1991. New York: Charlotte Magazine Corp., 1991. Stapled. Fair Vol 1, No 4. Few pen marks on front cover, worn, some pen marks inside. Email for a list of contents. $10.00

[016929] . New Dawn November-December 1997. Melbourne: New Dawn Magazine, 1997. Stapled. Good Email for a list of contents. Worn along spine. Previous owner has marked pages with post-it notes. Pages yellowing. $10.00

[016928] . New Dawn September-October 1997. Melbourne: New Dawn Magazine, 1997. Stapled. Good Email for a list of contents. Worn copy, original price sticker on cover. Previous owner has marked pages with post-it notes. Pages yellowing. $10.00

[016927] . Scientific American Volume 281 Number 6. United States of America: Scientific American Inc, 1999. Magazine. Good End-of-the-millennium special issue. Email for a list of contents. Worn copy. Previous owner has used post-it notes to mark specific pages. $10.00

[016926] . Australasian Ufologist Vol. 4, No. 2, Second Quarter 2000. Queensland: Earthlink Publishing, 2000. Stapled. Good Email for a list of contents. Tidy copy, worn along spine. $10.00

[016925] . Australasian Ufologist Vol. 3, No. 4. Queensland: Earthlink Publishing, 1999. Stapled. Good Email for a list of contents. Tidy copy, small stain on bottom edge of cover & text. $10.00

[016924] . Australasian Ufologist Vol.5, No.2 2001. Queensland: Earthlink Publishing, 2001. Magazine. Good Email for a list of contents. Worn along spine. Text clean. $10.00

[016923] . The Quest Summer 1994. United States of America: The Theosophical Society, 1994. Stapled. Fair Email for a list of contents. Spine worn, price sticker on front cover, previous owner has used small post-it notes to label particular pages. $10.00

[016922] . UFO Universe Fall 1993. New York: Charlotte Magazine Corp., 1993. Stapled. Good Vol. 3, No. 3. Pen price on front cover, price sticker. Worn. Email for a list of contents. $10.00

[016921] . UFO Universe Winter 1991. New York: Charlotte Magazine Corp., 1991. Stapled. Good Vol. 1, No. 6. Pen price on front cover, pages yellowing. Email for a list of contents. $10.00


[016769] . Australian Gold Gem and Treasure October 1996. Sydney: Charles Vella, 1996. Magazine. Good Tidy copy. Email Warrigal Press for a list of articles inside. $8.00

[016887] . The Great Circle Vol. 26, No. 1 2004. Queensland: Australian Association for Maritime History, 2004. 8vo - over 7¾" - 9¾" tall. Stapled. Good Covers slightly worn and creased. Email for information about content. $12.00

[016770] . Lost Treasure September 1991. Oklahoma: Lee E. Harris, 1991. Magazine. Good Worn along spine, some stains on front cover. Email Warrigal Press for a list of articles inside. $10.00

[016817] . UFO Universe Summer 1993. New York: Charlotte Magazine Corp., 1993. Stapled. Fair Vol 3, No 2. Pencil price on cover, pen sticker on cover. Worn copy, creases. Email for a list of contents. $10.00

[016778] . Australian Gold Gem and Treasure November 2001. Sydney: Charles Vella, 2001. Magazine. Good Some wear on spine. Email Warrigal Press for a list of articles inside. $10.00

[016777] . Australian Gold Gem and Treasure March 2001. Sydney: Charles Vella, 2001. Magazine. Good Some wear on spine. Email Warrigal Press for a list of articles inside. $10.00

[016776] . Australian Gold Gem and Treasure September 2001. Sydney: Charles Vella, 2001. Magazine. Good Torn along staples on spine. Email Warrigal Press for a list of articles inside. $10.00

[016775] . Australian Gold Gem and Treasure 2001 Yearbook. Sydney: Charles Vella, 2001. Magazine. Good Rubbed along spine, Email Warrigal Press for a list of articles inside. $10.00

[016774] . Gold Prospector May/June 1996. California: Gold Prospectors Association of America, Inc, 1996. Magazine. Fair Covers nearly seperate from text, numerous creases, worn copy.Email Warrigal Press for a list of articles. $8.00

[016773] . Gold Prospector November 1992. California: Gold Prospectors Association of America, Inc, 1992. Magazine. Good Crease on cover, few light scratches, Worn along spine. Covers rubbed. Email Warrigal Press for a list of articles. $8.00

[016772] . Gold Prospector March/April 1995. California: Gold Prospectors Association of America, Inc, 1995. Magazine. Good Cover nearly seperate from text.Worn along spine. Covers rubbed. Email Warrigal Press for a list of articles. $8.00

[016622] . White Dwarf 269. Games Workshop, Magazine. Good Email for details of contents. Worn copy. $10.00

[016920] . UFO Universe Summer 1992. New York: Charlotte Magazine Corp., 1992. Stapled. Good Vol 2, No 2. Pen price on front cover, pages yellowing. Email for a list of contents. $10.00

[015666] . Real Men March / April 1973. Sydney: Kenmure Press, 1973. Magazine. Good Vintage men's magazine (Australian). Email for a list of stories. The special problems of an oversexed man. Good condition. $20.00

[016025] . FlyPast July 2003. London: Key Publishing, Magazine. Good Fantastic magazine covering aviation history. Numerous interesting aviation articles and illus. Includes articles about the Korea War, RAF Pilot Training and EE Lightning Survivors. $10.00

[016024] . FlyPast April 2003. London: Key Publishing, Magazine. Good Fantastic magazine covering aviation history. Numerous interesting aviation articles and illus. Free Mustang Poster. $10.00

[015817] . Man June 1966 Volume 60 Number 1. NSW, Australia: Man Magazine Pty Ltd, 1966. Magazine. Email for details of contents. $30.00

[015816] . Man February 1966 Volume 59 Number 3. NSW, Australia: Man Magazine Pty Ltd, 1966. Magazine. Email for details of contents. $30.00

[015806] . Sports Novels for July 1956. 4to - over 9¾" - 12" tall. Stapled. Good Vol 21, No 5. Big football issue. Bantam star Kevin James on front cover. Few insect nibbles on back cover. $25.00

[015790] . Adam August 1956. NSW, Australia: Kenmure Press, 1956. Magazine. Good A vintage Australian Men's mag. . Email for details of contents. Good copy. $30.00

[011117] . The Australian Woman's Mirror June 10 1953. Australia: 1953. Magazine. Vintage Australian Womens mag with short stories, kids pages, craft ideas etc. Worn copy. Email for details. Inc Phantom comic strip. $20.00

[015727] . Real Action Edition Not numbered #2. NSW, Australia: Page Publications, Magazine. Good Undated. Great collectible Men's mag. Great gals and illustrations. Light wear. A few fold marks. Warrigal Press has a number of these which are undated and unumbered. Email for details. $30.00

[016624] . White Dwarf 272. Games Workshop, Magazine. Good Email for details of contents. Worn copy. $10.00

[015667] . Man March 1968. NSW, Australia: K G Murray Publishing Co, 1968. Magazine. Fair Email for details of contents. $30.00

[016049] . Pocket Man September 1956. Australia: K G Murray Publishing Co, 1956. 12mo - over 6¾" - 7¾" tall. Magazine. Far Vintage Pocket Man mag with great pulp style stories and glam girls! Fair copy.Worn covers. Complete. $18.00

[015664] . R M Williams Outback June / July 2004 Issue 35. Australia: Magazine. Good A few creases. $10.00

[015599] . Beaver the Publication for the Red Blooded Male #1. Australia: Scrpts, 1976. Magazine. Good Rare #1 edition f Beaver, a risque Ausralian mens' mag. Showing plenty of the title! $30.00

[015598] . Celebrity Skin No 12. Man's World Publications, 1997. Magazine. Good $15.00

[015537] . Celebrity Skin No 14. Man's World Publications, Magazine. Good Celebrity photos. Raunchy. $15.00

[015532] . R M Williams Outback Dec 2005 / Jan 2006. Australia: Magazine. Good $10.00

[015517] . Epic Illustrated Summer 1980 Vol 1 No 2. USA: Marvel, 1980. Magazine. Fair Covers almost loose from contents. $18.00

[015516] . Celebrity Skin No 15. Man's World Publications, . Magazine. Good Celebrity photos. Raunchy. $15.00

[015372] . For Him Magazine FHM 100 Sexiest Women in the World 1997. Magazine. Good Has some creases and fold marks. $15.00

[015367] . For Him Magazine FHM No 81 October 1996 Yasmine Bleeth Incldes 100 Sexiest Women on the Planet 1996. Magazine. Good Still bagged. Unopened. Mint condition. $30.00

[011136] . The Australian Woman's Mirror May 27 1953. Australia: 1953. Magazine. Vintage Australian Womens mag with short stories, kids pages, craft ideas etc. Worn copy. Email for details. Inc Phantom comic strip. $20.00

[016273] . Ralph February 2004. Sydney: AcP Men's Lifestyle, 2004. Magazine. $8.80

[016621] . White Dwarf 274. Games Workshop, Magazine. Good Email for details of contents. Tidy copy. $10.00

[016620] . White Dwarf 271. Games Workshop, Magazine. Good Email for details of contents. Worn copy. $10.00

[016619] . White Dwarf 277. Games Workshop, Magazine. Good Email for details of contents. Good copy. $10.00

[016618] . White Dwarf 268. Games Workshop, Magazine. Good Email for details of contents. Worn copy. $10.00

[016617] . White Dwarf 266. Games Workshop, Magazine. Good Email for details of contents. Worn copy. $10.00

[016616] . White Dwarf 270. Games Workshop, Magazine. Good Email for details of contents. Worn copy. Some damage to spine. $8.00

[016471] . The Australian Journal of Earth Sciences, Vol. 51, No. 3, June 2004. South Perth: Blackwell Publishing, 2004. 4to - over 9¾" - 12" tall. Paperback. Good Includes papers on Lewis Ponds massive sulfide deposits, landslide susceptibility mapping in Iran and clay fingerprinting in Australian rivers. Right-hand side of front cover is creased. $25.00

[016469] . The Australian Journal of Earth Sciences, Vol. 49, No. 5, October 2002. South Perth: Blackwell Publishing, 2002. 4to - over 9¾" - 12" tall. Paperback. Good Includes papers on gravimetric terrain corrections, granites in Hodgkinson Province, Hill 800 mineralisation and the Moornambool Metamorphic Complex. $25.00

[016468] . The AusIMM Bulletin No 5 October 1993. Victoria: The Australian Institute of Metallurgy, 1993. 4to - over 9¾" - 12" tall. Paperback. Good Includes articles about petroleum in NSW, overseas exploration by Australian mining companies and information on mining, community opinions and native title. $25.00

[016026] . Flightpath Vol 15 No 2. Australia: Yaffa Publishing Group, Magazine. Good Magazine covering Aviation history. Comes with a free 2004 calendar. Great photos! $10.00

[016274] . FHM November 2004. Australia: For Him Magazine, 2004. Good Mens mag. $10.00

[016027] . Flightpath Vol 14 No 3. Australia: Yaffa Publishing Group, Magazine. Good Magazine covering Aviation history. Covers local and international airshows. $10.00

[016272] . Zoo January 29th 2007. Australia: EMAP Australia, Fair Worn mens' mag. $10.00

[016270] . Ralph April 2006. Sydney: AcP Men's Lifestyle, 2006. Magazine. Mens mag. $8.80

[016082] . FHM November 2007. Australia: For Him Magazine, 2007. Good Mens mag. $8.80

[016081] . FHM November 2000. London: For Him Magazine, 2000. Good Mens mag. $10.00

[016080] . FHM October 1998. London: For Him Magazine, 1998. Good Mens mag. $10.00

[016079] . FHM January 1997. London: For Him Magazine, 1997. Good Mens mag. $10.00

[016078] . Ralph March 2004. Sydney: AcP Men's Lifestyle, 2004. Magazine. Mens mag. $8.80

[016051] . Pix September 28 1968. Melbourne: Magazine. Fair Vintage Australian mag. Bardot story. $30.00

[016940] . Model Boats Vol 32 No 384 February 1983. Herts, Great Britain: Model And Allied Publications, 1983. Stapled. Good Pen and pencil marks on front cover. Email for a list of contents. $10.00

[016349] . FHM April 2006. Australia: For Him Magazine, 2006. Good Mens mag. $10.00

[017439] . Australasian Post February 12 1981. Melbourne: Magazine. We have hundreds of Australasian Post mags at Warrigal Press. If you are looking for a particular story, cover or topic let us know and we can browse through the collection. Great Australiana, great stories etc... $40.00

[017449] . Australasian Post August 9 1979. Melbourne: Magazine. We have hundreds of Australasian Post mags at Warrigal Press. If you are looking for a particular story, cover or topic let us know and we can browse through the collection. Great Australiana, great stories etc... $40.00

[017448] . Australasian Post December 6 1979. Melbourne: Magazine. We have hundreds of Australasian Post mags at Warrigal Press. If you are looking for a particular story, cover or topic let us know and we can browse through the collection. Great Australiana, great stories etc... $40.00

[017447] . Australasian Post March 1 1979. Melbourne: Magazine. We have hundreds of Australasian Post mags at Warrigal Press. If you are looking for a particular story, cover or topic let us know and we can browse through the collection. Great Australiana, great stories etc... $40.00

[017446] . Australasian Post April 4 1974. Melbourne: Magazine. We have hundreds of Australasian Post mags at Warrigal Press. If you are looking for a particular story, cover or topic let us know and we can browse through the collection. Great Australiana, great stories etc... $40.00

[017445] . Australasian Post March 15 1979. Melbourne: Magazine. We have hundreds of Australasian Post mags at Warrigal Press. If you are looking for a particular story, cover or topic let us know and we can browse through the collection. Great Australiana, great stories etc... $40.00

[017444] . Australasian Post March 14 1974. Melbourne: Magazine. We have hundreds of Australasian Post mags at Warrigal Press. If you are looking for a particular story, cover or topic let us know and we can browse through the collection. Great Australiana, great stories etc... $40.00

[017443] . Australasian Post November 8 1973. Melbourne: Magazine. We have hundreds of Australasian Post mags at Warrigal Press. If you are looking for a particular story, cover or topic let us know and we can browse through the collection. Great Australiana, great stories etc... $40.00

[017442] . Australasian Post November 29 1973. Melbourne: Magazine. We have hundreds of Australasian Post mags at Warrigal Press. If you are looking for a particular story, cover or topic let us know and we can browse through the collection. Great Australiana, great stories etc... $40.00

[016930] . The Quest Winter 1994. United States of America: The Theosophical Society, 1994. Stapled. Fair Email for a list of contents. Spine worn, price sticker on front cover, previous owner has used small post-it notes to label particular pages. $10.00

[017440] . Australasian Post August 6 1981. Melbourne: Magazine. We have hundreds of Australasian Post mags at Warrigal Press. If you are looking for a particular story, cover or topic let us know and we can browse through the collection. Great Australiana, great stories etc... $40.00

[017452] . Australasian Post March 20 1980. Melbourne: Magazine. We have hundreds of Australasian Post mags at Warrigal Press. If you are looking for a particular story, cover or topic let us know and we can browse through the collection. Great Australiana, great stories etc... $40.00

[017438] . Australasian Post April 28 1977. Melbourne: Magazine. We have hundreds of Australiasian Post mags at Warrigal Press. If you are looking for a particular story, cover or topic let us know and we can browse through the collection. Great Australiana, great stories etc... $40.00

[017395] . Australasian Post July 31 1980. Melbourne: Magazine. We have hundreds of Australasian Post mags at Warrigal Press. If you are looking for a particular story, cover or topic let us know and we can browse through the collection. Great Australiana, great stories etc... $40.00

[017394] . Australasian Post July 24 1980. Melbourne: Magazine. $40.00

[017393] . Australasian Post March 20 1980. Melbourne: Magazine. $40.00

[017392] . Australasian Post December 27 1979. Melbourne: Magazine. $40.00

[017391] . Australasian Post April 3 1980. Melbourne: Magazine. $40.00

[017390] . Australasian Post February 19 1981. Melbourne: Magazine. We have hundreds of Australasian Post mags at Warrigal Press. If you are looking for a particular story, cover or topic let us know and we can browse through the collection. Great Australiana, great stories etc... $40.00

[017389] . Australasian Post March 27 1980. Melbourne: Magazine. $30.00

[017388] . Australasian Post January 27 1977. Melbourne: Magazine. $40.00

[017441] . Australasian Post May 14 1981. Melbourne: Magazine. We have hundreds of Australasian Post mags at Warrigal Press. If you are looking for a particular story, cover or topic let us know and we can browse through the collection. Great Australiana, great stories etc... $40.00

[017625] . Courier, Vol 4 No 1, Spring 1944. London: Norman Kark, 1944. 12mo - over 6¾" - 7¾" tall. Magazine. Fair Fact, fiction, art and satire. Pencil price on front cover. Edges bumped. Numerous creases. Covers nearly seperate from text. Some tearing to last two pages. Worn. $30.00

[017771] . FHM April 2007 No 108. Australia: For Him Magazine, Good Mens mag. $10.00

[017770] . FHM June 2007 No 110. Australia: For Him Magazine, Good Mens mag. $10.00

[017745] . Laughs and Lovelies New Series No 35. Australia: Kenmure Press, Magazine. Good Girls and humour. Some marks. Late 1960s. Worn copy. $16.00

[017744] . Adam July 1972. NSW, Australia: Kenmure Press, 1972. Magazine. Fair A vintage Australian Men's mag. . Email for details of contents. Worn copy. Small pen scribble on cover. $30.00

[017632] . Courier, Vol 13 No 4, October 1949. London: Norman Kark, 1949. 12mo - over 6¾" - 7¾" tall. Magazine. Good Fact, fiction, art and satire. Edges bumped with minor creases. Reading creases to spine. Spine cracked. Texta inside front cover. $30.00

[017631] . Courier, Vol 13 No 5, November 1949. London: Norman Kark, 1949. 12mo - over 6¾" - 7¾" tall. Magazine. Good Fact, fiction, art and satire. Covers worn, edges bumped, some minor tears to spine, reading creases. Creases to back cover. Texta price inside. $30.00

[017630] . Courier, Vol 12 No 3, March 1949. London: Norman Kark, 1949. 12mo - over 6¾" - 7¾" tall. Magazine. Good Fact, fiction, art and satire. Covers worn, edges bumped, somc light discolouration to edges. Small tear on spine. Texta price inside front cover. $30.00

[017629] . Courier, Vol 9 No 2, August 1947. London: Norman Kark, 1947. 12mo - over 6¾" - 7¾" tall. Magazine. Good Fact, fiction, art and satire. Covers worn, some grubby marks and rub marks. Reading creases to spine. Binding cracked. Texta price on first page. $30.00

[017628] . Courier, Vol 12 No 4, April 1949. London: Norman Kark, 1949. 12mo - over 6¾" - 7¾" tall. Magazine. Fair Fact, fiction, art and satire. Covers worn, reading creases, covers starting to separate from spine. Creasing to first few pages. Large fold on back cover. Spine cracked. Small tear on last page. $30.00

[017450] . Australasian Post February 14 1980. Melbourne: Magazine. We have hundreds of Australasian Post mags at Warrigal Press. If you are looking for a particular story, cover or topic let us know and we can browse through the collection. Great Australiana, great stories etc... $40.00

[017626] . Courier, Vol 44 No 2, Spring 1944. London: Norman Kark, 1944. 12mo - over 6¾" - 7¾" tall. Magazine. Fair Fact, fiction, art and satire. Pencil price on front cover. Texta price inside. Spine cracked. Some losses to spine. Edges bumped. Numerous creases. Covers nearly seperate from text. Some tearing to last two pages. Worn. $30.00

[017451] . Australasian Post January 3 1980. Melbourne: Magazine. We have hundreds of Australasian Post mags at Warrigal Press. If you are looking for a particular story, cover or topic let us know and we can browse through the collection. Great Australiana, great stories etc... $40.00

[017624] . Courier, Vol 12 No 6, June 1949. London: Norman Kark, 1949. 12mo - over 6¾" - 7¾" tall. Magazine. Good Fact, fiction, art and satire. Pen price inside front cover. Reading creases. Edges bumped. Spine cracked. $30.00

[017623] . Courier, Vol 11 No 6, December 1948. London: Norman Kark, 1948. 12mo - over 6¾" - 7¾" tall. Magazine. Good Fact, fiction, art and satire. Pen price inside front cover. Reading creases. Edges bumped. Spine cracked. $30.00

[017622] . Courier, Vol 9 No 5, December 1947. London: Norman Kark, 1947. 12mo - over 6¾" - 7¾" tall. Magazine. Good Fact, fiction, art and satire. Edges bumped. Light foxing to covers. Spine cracked. Texta price inside front cover. Tidy copy. $30.00

[017553] . The Australian Quarterly, Vol XXIV, No 3, September 1952. Sydney: Australian Institute of Political Science, 1952. 8vo - over 7¾" - 9¾" tall. Magazine. Fair Australian political science and criticism. Covers very worn with numerous reading creases, browning with some light foxing. Substantial damage to spine which is beginning to seperate from the text. Pages browning and brittle. $20.00

[017462] . Pocket Man January, 1957. Sydney: K G Murray Publishing Co, 1957. 12mo - over 6¾" - 7¾" tall. Paperback. Fair Covers very worn with large water stain on front and back covers and some discolouration on bottom edge. Edges chipped and torn. Numerous creases and rub marks. Water stains continue throughout the text but are very light and do not interfere. Text is nearly seperate from covers. Very worn copy. $20.00

[017458] . FHM November 1996. London: For Him Magazine, . Good Mens mag. $10.00

[017457] . Ralph August 2001. Sydney: AcP Men's Lifestyle, Magazine. Mens mag. $8.80

[017456] . Ralph December 2006. Sydney: AcP Men's Lifestyle, . Magazine. Mens mag. $8.80

[017340] . Cavalcade September 1953. Sydney: K.G.Murray Publishing Co, 1953. 12mo - over 6¾" - 7¾" tall. Magazine. Fair Volume 18, number 4. Covers worn and rubbed, insect nibbles along bottom edge of front cover. Damp marks inside both front and back cover. Waterstains inside front cover. Worn copy, but text is clean. $25.00

[017627] . Courier, Vol 2 No 1, January 1949. London: Norman Kark, 1949. 12mo - over 6¾" - 7¾" tall. Magazine. Good Fact, fiction, art and satire. Edges bumped and chipped. Reading creases. Some grubby marks. $30.00


[016949] . Model Boats Vol 30 No 348 February 1980. Herts, Great Britain: Model And Allied Publications, 1980. Stapled. Good Pencil price on front cover. Email for a list of contents. $10.00

[017387] . Australasian Post February 17 1977. Melbourne: Magazine. We have hundreds of Australasian Post mags at Warrigal Press. If you are looking for a particular story, cover or topic let us know and we can browse through the collection. Great Australiana, great stories etc... $40.00

[016959] . Model Boats Vol 37 No 440 October 1987. Great Britain: Argus Specialist Publications, 1987. Stapled. Good Edges bumped, price sticker on front cover. Email for a list of contents. $10.00

[016958] . Model Boats Vol 37 No 432 February 1987. Great Britain: Argus Specialist Publications, 1987. Stapled. Good A few pen marks, price sticker on front cover. Email for a list of contents. $10.00

[016957] . Model Boats Vol 37 No 432 February 1987. Great Britain: Argus Specialist Publications, 1987. Stapled. Good Worn copy, price sticker on front cover. Email for a list of contents. $10.00

[016956] . Model Boats Vol 36 No 423 May 1986. Great Britain: Argus Specialist Publications, 1986. Stapled. Good Worn copy, price sticker on front cover. Email for a list of contents. $10.00

[016955] . Model Boats Vol 37 No 441 November 1987. Great Britain: Argus Specialist Publications, 1987. Stapled. Good Worn copy, price sticker on front cover. Email for a list of contents. $10.00

[016954] . Model Boats Vol 36 No 421 March 1986. Great Britain: Argus Specialist Publications, 1986. Stapled. Good Worn copy, tear on front cover, price sticker on front cover. Email for a list of contents. $10.00

[016953] . Model Boats Vol 39 No 461 July 1989. Great Britain: Argus Specialist Publications, 1989. Stapled. Good Worn copy, price sticker on front cover. Email for a list of contents. $10.00

[016952] . Model Boats Vol 38 No 454 December 1988. Herts, Great Britain: Model And Allied Publications, 1988. Stapled. Good Worn copy, price sticker on front cover. Email for a list of contents. $10.00

[016961] . Model Boats 39 No 459 May 1989. Great Britain: Model And Allied Publications, 1989. Stapled. Good Original price sticker, few pen marks. Email for a list of contents. $10.00

[016950] . Model Boats Vol 35 No 411 May 1985. Herts, Great Britain: Model And Allied Publications, 1985. Stapled. Good Pen marks on front cover, edges bumped. Email for a list of contents. $10.00

[016963] . Gold & Minerals Gazette September 2004. Australia: Resource Information Unit, 2004. Magazine. Good Email for a list of contents. $10.00

[016948] . Model Boats Vol 32 No 375 May 1982. Herts, Great Britain: Model And Allied Publications, 1982. Stapled. Good Some writing on front cover. Email for a list of contents. $10.00

[016947] . Model Boats Vol 31 No 368 October 1981. Herts, Great Britain: Model And Allied Publications, 1981. Stapled. Good Some writing on front cover, covers worn. Email for a list of contents. $10.00

[016946] . Model Boats Vol 31 No 365 July 1981. Herts, Great Britain: Model And Allied Publications, 1981. Stapled. Good Pencil price on front cover, edges worn. Email for a list of contents. $10.00

[016945] . Model Boats Vol 31 No 361 March 1981. Herts, Great Britain: Model And Allied Publications, 1981. Stapled. Good Pen and pencil marks on front cover. Email for a list of contents. $10.00

[016944] . Model Boats Vol 32 No 378 August 1982. Herts, Great Britain: Model And Allied Publications, 1982. Stapled. Good Pen and pencil marks on front cover. Email for a list of contents. $10.00

[016943] . Model Boats Vol 32 No 383 January 1983. Herts, Great Britain: Model And Allied Publications, 1983. Stapled. Good Pen and pencil marks on front cover. Email for a list of contents. $10.00

[016942] . Model Boats Vol 32 No 381 November 1982. Herts, Great Britain: Model And Allied Publications, 1982. Stapled. Good Pencil prices on front cover. Email for a list of contents. $10.00

[016941] . Ozbike NO. 220. Australia: UCP Publishing, 1999. Stapled. Good Price sticker on cover, edges worn, few stains on cover.. Email for a list of contents. $10.00

[019991] . Restored Cars Australia Number 53. Eddie Ford Publications, Magazine. Good Good copy. $20.00

[016951] . Model Boats Vol 38 No 449 July 1988. Herts, Great Britain: Model And Allied Publications, 1988. Stapled. Good Worn copy, price sticker on front cover. Email for a list of contents. $10.00

[017046] . Grass Roots August/September 2004. Seymour, Australia: Grass Roots Publishing, 2004. Magazine. Stapled. Good Australia's most popular self-sufficiency magazine. Worn copy. Email for a list of contents. $10.00

[016936] . Ozbike NO. 222. Australia: UCP Publishing, 1999. Stapled. Good Price sticker on cover, edges worn. Email for a list of contents. $10.00

[017339] . Cavalcade September 1952. Sydney: K.G.Murray Publishing Co, 1952. 12mo - over 6¾" - 7¾" tall. Magazine. Good Volume 16, number 4. Covers worn, some light creases on front cover. Staples exposed inside front cover. Pages yellowing with age. $25.00

[017338] . Cavalcade November 1952. Sydney: K.G.Murray Publishing Co, 1952. 12mo - over 6¾" - 7¾" tall. Magazine. Good Volume 16, number 6. Some light markings on front and back cover. Reading creases. Pages browning. $25.00

[017337] . Cavalcade April 1953. Sydney: K.G.Murray Publishing Co, 1953. 12mo - over 6¾" - 7¾" tall. Magazine. Fair Volume 17, number 5. Some damage to spine. Edges grubby and watermarked. Numerous black ink or water (?) spots inside front cover and on contents page. Appear sporadically throughout the magazine. Text clean. Worn. $25.00

[017336] . Cavalcade May 1948. Sydney: K.G.Murray Publishing Co, 1948. 12mo - over 6¾" - 7¾" tall. Magazine. Good Volume 7, number 6. Pages browning, some light water damage (?) and insect nibbling on back cover. $25.00

[017136] . Joliffe's Calendar '85. Dee Why, New South Wales: Joliffe Studios Publications, 1984. 4to - over 9¾" - 12" tall. Magazine. Good Used calendar from 1985. Few days filled in. Some grubby marks on front cover. $12.00

[017119] . Australian Penthouse August 1984. Australia: 1984. Magazine. Good $18.00

[017118] . Australian Penthouse September 1986. Australia: 1986. Magazine. Good Centrefold is loose from mag. $15.00

[017117] . Australian Playboy July 1980. Australia: Australian Consolidated Press, 1980. Magazine. Good $18.00

[016960] . Model Boats Vol 35 No 415 September 1985. Great Britain: Model And Allied Publications, 1985. Stapled. Good Pencil price on front cover. Email for a list of contents. $10.00

[017047] . Grass Roots October/November 2002. Seymour, Australia: Grass Roots Publishing, 2002. Magazine. Stapled. Good Australia's most popular self-sufficiency magazine. Worn copy. Email for a list of contents. $10.00

[017341] . Cavalcade November 1954. Sydney: K.G.Murray Publishing Co, 1953. 12mo - over 6¾" - 7¾" tall. Magazine. Fair Volume 20, number 6. Covers worn wioth some light stains and creases. Tear on front cover, top left-hand side. Back cover stained with a few damp marks along the edges. Pages yellowing. $25.00

[017045] . Grass Roots October/November 1999. Seymour, Australia: Grass Roots Publishing, 1999. Magazine. Stapled. Good Australia's most popular self-sufficiency magazine. Worn copy. Email for a list of contents. $10.00

[017044] . Grass Roots October November 2004. Seymour, Australia: Grass Roots Publishing, 2004. Magazine. Stapled. Good Australia's most popular self-sufficiency magazine. Worn copy. Email for a list of contents. $10.00

[017043] . Grass Roots Aug/Septemer 1999. Seymour, Australia: Grass Roots Publishing, 1999. Magazine. Stapled. Good Australia's most popular self-sufficiency magazine. Email for a list of contents. $10.00

[017005] . Grass Roots: The Early Years. Victoria, Australia: Self-Published, 1979. 4to - over 9¾" - 12" tall. Paperback. Good ISBN: 0 9595244 0 1. A compendium of the first five issues of 'Grass Roots' magazines, an Australian magazine concerning arts, crafts and self-sufficiency. Covers creased, spine cracked, pages yellowing. $20.00

[016968] . Dirt Bike Bible #2. New South Wales: Federal Publishing Co. , Magazine. Good Worn copy. Email for a list of contents. $10.00

[016967] . Riptide No. 64, July 1997. Burleigh Heads, Queensland: Morrison Media Services, 1997. Magazine. Good Email for a list of contents. $10.00

[016966] . Rush Vol 1 No 1 . Australia: Australian Publishing Company, Magazine. Good Circa late 1990s. Email for a list of contents. $10.00

[016965] . Australian Target Rifle September/October 1996 Iss. 5. Swanbourne, Western Australia: Australian Target Rifle, 1996. Magazine. Good Covers worn and creased. Email for a list of contents. $10.00

[016964] . Gold & Minerals Gazette July 2005. Australia: Resource Information Unit, 2005. Magazine. Good Email for a list of contents. $10.00

[017048] . Grass Roots June/July 2004. Seymour, Australia: Grass Roots Publishing, 2004. Magazine. Stapled. Good Australia's most popular self-sufficiency magazine. Worn copy. Email for a list of contents. $10.00

[021277] . Playboy US Edition June 1971. USA: 1971. Magazine. Good Very good copy from a private collection. $20.00

[021287] . Penthouse US Edition January 1976. USA: 1976. Magazine. Good Good copy. From a private collection. $15.00

[021286] . Australian Playboy August 1980. Australia: Australian Consolidated Press, 1980. Magazine. Good Very good copy from a private collection. $44.00

[021285] . Playboy US Edition September 1975. USA: 1975. Magazine. Good Very good copy from a private collection. $20.00

[021284] . Playboy US Edition May 1977. USA: 1977. Magazine. Good Very good copy from a private collection. $20.00

[021283] . Playboy US Edition October 1975. USA: 1975. Magazine. Good Very good copy from a private collection. $20.00

[021282] . Playboy US Edition September 1979. USA: 1979. Magazine. Good Very good copy from a private collection. $20.00

[021281] . Playboy US Edition May 1975. USA: 1975. Magazine. Good Very good copy from a private collection. $20.00

[021280] . Australian Penthouse Augsut 1980. Australia: 1980. Magazine. Very Good Very good copy from a private collection. $44.00

[021267] . Playboy US Edition december 1971. USA: 1971. Magazine. Good Very good copy from a private collection. $20.00

[021278] . Playboy's Girls of the World 1971. USA: 1971. Magazine. Good Very good copy from a private collection. $20.00

[021290] . Penthouse US Edition November 1980. USA: 1980. Magazine. Good Good copy. From a private collection. $15.00

[021276] . Playboy US Edition May 1971. USA: 1971. Magazine. Good Very good copy from a private collection. $20.00

[021275] . Playboy US Edition April 1971. USA: 1971. Magazine. Good Very good copy from a private collection. $20.00

[021274] . Playboy US Edition March 1971. USA: 1971. Magazine. Good Very good copy from a private collection. $20.00

[021273] . Playboy US Edition February 1971. USA: 1971. Magazine. Good Very good copy from a private collection. $20.00

[021272] . Playboy US Edition January 1971. USA: 1971. Magazine. Good Very good copy from a private collection. $20.00

[021271] . Playboy US Edition July 1971. USA: 1971. Magazine. Good Very good copy from a private collection. $20.00

[021270] . Playboy US Edition August 1971. USA: 1971. Magazine. Good Very good copy from a private collection. $20.00

[021269] . Playboy US Edition September 1971. USA: 1971. Magazine. Good Very good copy from a private collection. $20.00

[019989] . Restored Cars Australia No 8. Eddie Ford Publications, Magazine. Good Good copy. $20.00

[021279] . Playboy's Holiday Album 1971. USA: 1971. Magazine. Good Very good copy from a private collection. $20.00

[021457] . Penthouse US Edition December 1973. USA: 1973. Magazine. Good Good copy. From a private collection. Centrfold loose. No calendar. $15.00

[021469] . Australian Penthouse November 1979. Australia: 1979. Magazine. Good Good copy from a private collection. $40.00

[021468] . Australian Penthouse November 1979. Australia: 1979. Magazine. Good Good copy from a private collection. $40.00

[021467] . Australian Penthouse February 1980. Australia: 1980. Magazine. Good Good copy from a private collection. $40.00

[021466] . Australian Penthouse February 1980. Australia: 1980. Magazine. Good Good copy from a private collection. $40.00

[021465] . Australian Penthouse March 1980. Australia: 1980. Magazine. Good good copy from a private collection $40.00

[021464] . Playboy US Edition March 1974. USA: 1974. Magazine. Good Good copy from a private collection. Covers rubbed and edge worn. $20.00

[021462] . Australian Penthouse September 1986 Black Label. Australia: 1986. Magazine. Good Good copy from private collection. $15.00

[021461] . Australian Penthouse October 1980. Australia: 1980. Magazine. Good Good copy from a private collection. $20.00

[021460] . Penthouse US Edition January 1974. USA: 1974. Magazine. Good Good copy. From a private collection. $15.00

[021288] . Playboy US Edition January 1976. USA: 1976. Magazine. Good Very good copy from a private collection. $20.00

[021458] . Playboy US Edition April 1974. USA: 1974. Magazine. Good Good copy from a private collection. Few creases and slight edge damage from insects. $20.00

[021289] . Playboy US Edition September 1977. USA: 1977. Magazine. Good Very good copy from a private collection. $20.00

[021455] . Playboy US Edition February 1974. USA: 1974. Magazine. Good Very good copy from a private collection. $20.00

[021454] . Penthouse US Edition March 1974. USA: 1974. Magazine. Good Good copy. From a private collection. Few tears at corners. $15.00

[021453] . Penthouse US Edition February 1974. USA: 1974. Magazine. Good Good copy. From a private collection. Viva promo label on cover. $15.00

[021296] . Paul Raymond's Club International Volume 5 Number 2 February 1976. London: Paul Raymind, 1976. Good Near very good copy. A few insect nibbles along edges. $15.00

[021295] . Game Volume 2 No 11. London: Top Sellers Ltd, Magazine. Very Good Vintage men's mag in very good condition. $15.00

[021294] . Oui September 1975. USA: 195. Magazine. Good Good copy , a few insect nibbles around edges. $20.00

[021293] . Penthouse US Edition February 1976. USA: 1976. Magazine. Good Good copy. From a private collection. A few insect nibbles along edges. $15.00

[021292] . Penthouse US Edition September 1975. USA: 1975. Magazine. Good Good copy. From a private collection. $15.00

[021266] . Playboy US Edition February 1972. USA: 1972. Magazine. Good Very good copy from a private collection. $20.00

[021459] . Adam September 1966. NSW, Australia: Kenmure Press, 1966. Magazine. Good A vintage Australian Men's mag. Email for details of contents. Good copy. $25.00

[021231] . Playboy US Edition September 1968. USA: 1968. Magazine. Good Very good copy from a private collection. $20.00

[021241] . Playboy US Edition August 1975. USA: 1975. Magazine. Good Very good copy from a private collection. $20.00

[021240] . Playboy US Edition January 1972. USA: 1972. Magazine. Good Very good copy from a private collection. $20.00

[021239] . Australian Playboy April 1980. Australia: Australian Consolidated Press, 1980. Magazine. Good Very good copy from a private collection. $44.00

[021238] . Australian Playboy May 1980. Australia: Australian Consolidated Press, 1980. Magazine. Good Very good copy from a private collection. A few marks on the front cover. $44.00

[021237] . Penthouse US Edition Volume 7 No 3. USA: . Magazine. Good Good copy. From a private collection. $15.00

[021236] . Playboy US Edition June 1981. USA: 1981. Magazine. Good Very good copy from a private collection. $20.00

[021235] . Playboy US Edition June 1981. USA: 1981. Magazine. Good Very good copy from a private collection. $20.00

[021234] . Playboy US Edition February 1969. USA: 1969. Magazine. Good Very good copy from a private collection. $20.00

[021268] . Playboy US Edition November 1971. USA: 1971. Magazine. Good Very good copy from a private collection. $20.00

[021232] . Playboy US Edition August 1973. USA: 1973. Magazine. Good Very good copy from a private collection. $20.00

[021244] . Playboy US Edition July 1975. USA: 1975. Magazine. Good Very good copy from a private collection. $20.00

[021230] . Playboy US Edition May 1968. USA: 1968. Magazine. Good Very good copy from a private collection. $20.00

[021229] . Playboy US Edition March 1968. USA: 1968. Magazine. Good Very good copy from a private collection. $20.00

[021228] . Playboy US Edition February 1968. USA: 1968. Magazine. Good Very good copy from a private collection. $20.00

[021227] . Playboy US Edition May 1970. USA: 1970. Magazine. Good Very good copy from a private collection. $20.00

[021226] . Playboy US Edition September 1970. USA: 1970. Magazine. Good Very good copy from a private collection. $20.00

[021225] . Playboy US Edition October 1970. USA: 1970. Magazine. Good Very good copy from a private collection. $20.00

[021224] . Penthouse US Edition September 1973. USA: 1973. Magazine. Good Good copy. From a private collection. $15.00

[021223] . Penthouse US Edition july 1973. USA: 1978. Magazine. Good Good copy. From a private collection. $15.00

[021222] . Playboy US Edition December 1977. USA: 1977. Magazine. Good Very good copy from a private collection. $20.00

[021233] . Playboy US Edition September 1969. USA: 1969. Magazine. Good Very good copy from a private collection. $20.00

[021254] . Playboy US Edition April 1979. USA: 1979. Magazine. Good Very good copy from a private collection. $20.00

[021265] . Playboy US Edition July 1972. USA: 1972. Magazine. Good Very good copy from a private collection. $20.00

[021264] . Playboy US Edition August 1972. USA: 1972. Magazine. Good Very good copy from a private collection. $20.00

[021263] . Playboy US Edition October 1972. USA: 1972. Magazine. Good Very good copy from a private collection. $20.00

[021262] . Playboy US Edition November 1972. USA: 1972. Magazine. Good Very good copy from a private collection. $20.00

[021261] . Penthouse US Edition December 1978. USA: 1978. Magazine. Good Good copy. From a private collection. $15.00

[021260] . Australian Penthouse February 1983. Australia: 1983. Magazine. Very Good Very good copy from a private collection. $44.00

[021259] . Playboy US Edition November 1981. USA: 1981. Magazine. Good Very good copy from a private collection. $20.00

[021258] . Playboy US Edition April 1980. USA: 1980. Magazine. Good Very good copy from a private collection. $20.00

[021257] . Playboy US Edition May 1979. USA: 1979. Magazine. Good Very good copy from a private collection. $20.00

[021242] . Penthouse US Edition March 1978. USA: 1978. Magazine. Good Good copy. From a private collection. $15.00

[021255] . Playboy US Edition October 1979. USA: 1979. Magazine. Good Very good copy from a private collection. $20.00

[021243] . Penthouse US Edition January 1978. USA: 1978. Magazine. Good Good copy. From a private collection. $15.00

[021253] . Playboy US Edition December 1982. USA: 1982. Magazine. Good Very good copy from a private collection. $20.00

[021252] . Playboy US Edition December 1981. USA: 1981. Magazine. Good Very good copy from a private collection. $20.00

[021251] . Australian Penthouse July 1982. Australia: 1982. Magazine. Very Good Very good copy from a private collection. $44.00

[021249] . Playboy US Edition March 1972. USA: 1972. Magazine. Good Very good copy from a private collection. $20.00

[021248] . Playboy US Edition April 1972. USA: 1972. Magazine. Good Very good copy from a private collection. $20.00

[021247] . Playboy US Edition October 1978.
USA: 1978. Magazine. Good Very good copy from a private collection. $20.00

[021246] . Playboy US Edition June 1978. USA: 1978. Magazine. Good Very good copy from a private collection. $20.00

[021245] . Playboy US Edition August 1975. USA: 1975. Magazine. Good Very good copy from a private collection. $20.00

[021473] . Playboy US Edition December 1975. USA: 1975. Magazine. Good Good copy from a private collection. $20.00

[021256] . Playboy US Edition June 1979. USA: 1979. Magazine. Good Very good copy from a private collection. $20.00

[022795] . Mayfair Entertainment for Men Vol 9 No 4. London: Fisk Publishing, . Magazine. Very Good Very good copy from private collection. $20.00

[022876] . Australian Playboy January 1993. Australia: Australian Consolidated Press, 1993. Magazine. Very Good Good copy. From private collection. $30.00

[022875] . Australian Playboy June 1990. Australia: Australian Consolidated Press, 1996. Magazine. Good $40.00

[022874] . Australian Playboy April 1985. Australia: Australian Consolidated Press, 1985. Magazine. Very Good Very good copy. From a private collection. $44.00

[022849] . Oui April 1974. USA: 1974. Magazine. Good Email for details of contents. $10.00

[022848] . Playboy US Edition December 1971. USA: Magazine. Good Good copy. $14.00

[022847] . Australian Playboy Collector's Edition Altuna. Australia: Australian Consolidated Press, . Magazine. Good 20 of the world's hottest erotic cartoon strips from the master Horacio Altuna. Good copy. A few marks. $20.00

[022846] . Playboy US Edition February 1997. USA: 1997. Magazine. Good Good copy . Inc sup Bare , Beautifull and Blonde. $20.00

[022799] . Penthouse US Edition June 1974. USA: 1974. Magazine. Good Good copy. $20.00

[021470] . Australian Penthouse November 1983. Australia: 1983. Magazine. Good Good copy from a private collection. $40.00

[022797] . Playboy US Edition December 1995. USA: 1995. Magazine. Good Magazine in good condition. $14.00

[022879] . Australian Playboy June 1997. Australia: Australian Consolidated Press, 1997. Magazine. Good $40.00

[022794] . Club for Today's Men No 8. NSW, Australia: Mentimore Press , Magazine. Good Vintage Australian mens mag in good condition. $20.00

[022793] . Carnival April 1974. Williams Publishing Co, Magazine. Stapled. Good Vintage mens mag. in good condition. Inc Mickey Spillane article. $20.00

[022772] . Playboy US Edition May 1974. USA: 1974. Magazine. Good Very good copy from a private collection. $20.00

[022771] . Playboy US Edition September 1996. USA: 1996. Magazine. Good Very good copy from a private collection. $20.00

[022770] . Australian Playboy December 1996. Australia: Australian Consolidated Press, 1996. Magazine. Good Good copy from private collection. $20.00

[022769] . Australian Penthouse January 1993 . Australia: 1993. Magazine. Good $20.00

[022768] . Australian Playboy January 1995. Australia: Australian Consolidated Press, 1995. Magazine. Very Good Good copy. From private collection. $30.00

[022685] . Australian Penthouse December 1999. Australia: 1999. Magazine. Very Good Very good copy. $35.00

[022684] . Playboy US Edition May 1995. USA: 1995. Magazine. Good Nancy Sinatra pictorial. $14.00

[022798] . Playboy US Edition October 1998. USA: 1998. Magazine. Good Magazine in good condition. $14.00

[022900] . The Australian Amateur Mineralogist June 1955. Adelaide: Geosurveys of Australia, 1955. 8vo - over 7¾" - 9¾" tall. Stapled. Email for details of contents. Of prospecting interest. $10.00

[023111] . Pocket Book, March 12 1954. Sydney: Associated Newspapers, 1954. 12mo - over 6¾" - 7¾" tall. Stapled. Poor Covers separated from text, in two pieces, with tearing and minor losses. Pages browning with substantial foxing at edges. Includes the complete novelette 'Appointment with Death' by Robert Dudgeon. $8.80

[022923] . Penthouse US Edition May 1974. USA: 1974. Magazine. Good Good copy. $20.00

[022922] . Playboy US Edition June 1977. USA: 1974. Magazine. Good $10.00

[022921] . Playboy US Edition April 1970. USA: 1970. Magazine. Good $10.00

[022920] . Playboy US Edition October 1981. USA: 1981. Magazine. Good $10.00

[022919] . Australian Playboy August 1999. Australia: Australian Consolidated Press, 1999. Magazine. Good $30.00

[022918] . Australian Playboy July 1999. Australia: Australian Consolidated Press, 1999. Magazine. Good $30.00

[022917] . Australian Playboy August 1997. Australia: Australian Consolidated Press, 1997. Magazine. Good $30.00

[022903] . The Australian Amateur Mineralogist March 1956. Adelaide: Geosurveys of Australia, 1956. 8vo - over 7¾" - 9¾" tall. Stapled. Email for details of contents. Of prospecting interest. $10.00

[022877] . Australian Playboy October 1995. Australia: Australian Consolidated Press, 1995. Magazine. Good $33.00

[022901] . The Australian Amateur Mineralogist March1955. Adelaide: Geosurveys of Australia, 1955. 8vo - over 7¾" - 9¾" tall. Stapled. Email for details of contents. Of prospecting interest. Cover corner removed. $10.00

[022878] . Australian Playboy October 1997. Australia: Australian Consolidated Press, 1997. Magazine. Good $33.00

[022899] . The Australian Amateur Mineralogist September 1955. Adelaide: Geosurveys of Australia, 1955. 8vo - over 7¾" - 9¾" tall. Stapled. Email for details of contents. Of prospecting interest. $10.00

[022886] . Playboy US Edition December 1994. USA: 1994. Magazine. Good Bo derek cover. $20.00

[022885] . Australian Penthouse March 1983. Australia: 1983. Magazine. Very Good Very good copy from a private collection. $44.00

[022884] . Australian Playboy October 1996. Australia: Australian Consolidated Press, 1996. Magazine. Good $33.00

[022883] . Australian Playboy January 1984. Australia: Australian Consolidated Press, 1984. Magazine. Good $33.00

[022882] . Australian Playboy January 1994. Australia: Australian Consolidated Press, 1994. Magazine. Very Good Good copy. From private collection. $30.00

[022881] . Australian Playboy October 1983. Australia: Australian Consolidated Press, 1983. Magazine. Very Good Very good copy. $33.00

[022880] . Australian Playboy June 1991. Australia: Australian Consolidated Press, 1991. Magazine. Good $40.00

[022261] . Australian Playboy January 1986. Australia: Australian Consolidated Press, 1986. Magazine. Good Good copy from a private collection. $44.00

[022902] . The Australian Amateur Mineralogist June 1956. Adelaide: Geosurveys of Australia, 1956. 8vo - over 7¾" - 9¾" tall. Stapled. Email for details of contents. Of prospecting interest. $10.00

[021511] . Man June 1971. NSW, Australia: K G Murray Publishing Co, 1971. Magazine. Good Good copy Email for details of contents. $35.00

[022683] . Australian Penthouse October 1995. Australia: 1995. Magazine. Very Good Very good copy. $35.00

[021693] . Manhunt Detective Story Magazine November 1953. Sydney: New Century Press, 1953. Magazine. Good Rare pulp style detective story mag. Inc stories by Spillane, , MacDonald, Evans, Lipsky, Deming etc. Worn copy with a few insect nibbles around the edges. Very rare Australian pulp mag. $35.00

[021692] . Manhunt Detective Story Magazine November 1953. Sydney: New Century Press, 1953. Magazine. Good Rare pulp style detective story mag. Inc stories by Spillane, , MacDonald, Evans, Lipsky, Deming etc. Worn copy with a few insect nibbles around the edges. Very rare Australian pulp mag. $35.00

[021691] . Manhunt Detective Story Magazine December 1953. Sydney: New Century Press, 1953. Magazine. Good Rare pulp style detective story mag. Inc stories by Spillane, Prather, Charteris, Rice, Fischer, Masur etc. Worn copy with a few insect nibbles around the edges. Very rare Australian pulp mag. $35.00

[021549] . It's A Woman's Word. Victoria: Baker Publishing Ltd, . Magazine. Stapled. Good An eye-opening collection of hilariously captioned photographs inclusind the best of Tom Thumb magazine's popular monthly feature. Tear to spine but covers are otherwise tidy. Undated, probably 60s. $30.00

[021517] . Australian Penthouse October 1979. Australia: 1979. Magazine. Good Very good copy. $88.00

[021516] . Australian Playboy February 1979. Australia: Australian Consolidated Press, 1979. Magazine. Very Good Good copy. From private collection. $100.00

[021515] . Penthouse US Edition December 1977. USA: 1977. Magazine. Good Good copy. No 16 pp desk calendar inc. $30.00

[021514] . Man February 1971. NSW, Australia: K G Murray Publishing Co, 1971. Magazine. Good Good copy Email for details of contents. $35.00

[021762] . Australian Playboy August 1985. Australia: Australian Consolidated Press, 1985. Magazine. Very Good Good copy. From private collection. $44.00

[021512] . Man March 1971. NSW, Australia: K G Murray Publishing Co, 1971. Magazine. Good Good copy Email for details of contents. $35.00

[021763] . Australian Playboy August 1995. Australia: Australian Consolidated Press, 1995. Magazine. Good $22.00

[021510] . Man December 1971. NSW, Australia: K G Murray Publishing Co, 1971. Magazine. Good Good copy Email for details of contents. $35.00

[021507] . Oui January 1974. USA: 1974. Magazine. Good Email for details of contents. $10.00

[021506] . Oui March 1974. USA: 1974. Magazine. Good Email for details of contents. $10.00

[021505] . Oui February 1974. USA: 1974. Magazine. Good Email for details of contents. $10.00

[021504] . Man October 1971. NSW, Australia: Man Magazine Pty Ltd, 1971. Magazine. Very Good Email for details of contents. $30.00

[021502] . Man January 1972. NSW, Australia: Man Magazine Pty Ltd, 1972. Magazine. Very Good Very good copy from a private collection. Email for details and contents. $25.00

[021501] . Man May 1971. NSW, Australia: Kenmure Press, 1971. Magazine. Good Good copy. Vintage Australian men's mag. $30.00

[021500] . Man January 1971. NSW, Australia: Man Magazine Pty Ltd, 1971. Magazine. Very Good Very worn along spine. Email for details and contents. $40.00

[021219] . Mayfair Entertainment for Men Volume 12 No 4. London: Fisk Publishing, Magazine. Very Good Very good copy from private collection. $20.00

[021513] . Man August 1971. NSW, Australia: K G Murray Publishing Co, 1971. Magazine. Good Good copy Email for details of contents. $35.00

[022184] . Agrosy for February 1956. London: The Amalgamated Press, 1956. 12mo - over 6¾" - 7¾" tall. Card. Fair Contains stories by Rhys Davies, Michael Gilbert, Arthur C. Clarke, and others. Covers substntially foxed and grubby. Damage to spine has been repaired by tape. Numerous creases and some chipping to edges. Edges grubby, though text clean. Reading copy only. $20.00

[021472] . Man September 1967. NSW, Australia: Man Magazine Pty Ltd, 1967. Magazine. Email for details of contents. $30.00

[022260] . Australian Playboy March 1984. Australia: Australian Consolidated Press, 1984. Magazine. Good Good copy from a private collection. $44.00

[022259] . Australian Playboy February 1999. Australia: Australian Consolidated Press, 1999. Magazine. Good Good copy from a private collection. $44.00

[022258] . Australian Playboy September 1994. Australia: Australian Consolidated Press, 1994. Magazine. Good Good copy from a private collection. $44.00

[022257] . Australian Playboy February 1995. Australia: Australian Consolidated Press, 1995. Magazine. Good Good copy from a private collection. $44.00

[022256] . Australian Playboy September 1997. Australia: Australian Consolidated Press, 1997. Magazine. Good Good copy from a private collection. $44.00

[022255] . Australian Playboy March 1997. Australia: Australian Consolidated Press, 1997. Magazine. Good Good copy from a private collection. $44.00

[022254] . Australian Playboy February 1997. Australia: Australian Consolidated Press, 1997. Magazine. Good Good copy from a private collection. $44.00

[022238] . Ralph November 2006. Sydney: AcP Men's Lifestyle, 2006. Magazine. Mens mag. $10.00

[021694] . Manhunt Detective Story Magazine October 1953. Sydney: New Century Press, 1953. Magazine. Good Rare pulp style detective story mag. Inc stories by Spillane, Irish, Hunter, Prather etc. Worn copy with a few insect nibbles around the edges. Very rare Australian pulp mag. $35.00

[022208] . London Opinion June 1945. London: George Newnes, 1945. 12mo - over 6¾" - 7¾" tall. Stapled. Fair Covers worn with some tearing and creasing to spine and edges, few grubby marks. Spine cracked. Text clean. $10.00

[022262] . Australian Penthouse April 1983. Australia: 1983. Magazine. Good Good copy from a private collection. $35.00

[022161] . Short Story Magazine No 43 February 1948 Esther Williams Cover . Australia: Invincible Press, 1948. 8vo - over 7¾" - 9¾" tall. Stapled. Magazine. Fair Fair copy. Worn and marked. Esther Williams cover. 144 pp. $20.00

[022152] . Australasian Post January 28 1960. Melbourne: Magazine. Good copy. $40.00

[022151] . Australasian Post February 4 1960. Melbourne: Magazine. Good copy. $40.00

[022150] . Australasian Post February 11 1960. Melbourne: Magazine. Good copy. $40.00

[022149] . Australasian Post January 21 1960. Melbourne: Magazine. Good copy. $40.00

[022089] . Fly Past May 2001. London: Key Publishing, 2001. Magazine. Magazine. Good Britain's top selling aviation monthly. Price sticker to front cover. Light wear. $10.00

[021766] . Playboy's Centrefold Sensations. USA: Playboy, . Magazine. Very Good Very good copy. $30.00

[021765] . Australian Playboy July 1997. Australia: Australian Consolidated Press, 1997. Magazine. Very Good Very good copy. $30.00

[021764] . Australian Playboy January 1990. Australia: Australian Consolidated Press, 1990. Magazine. Very Good Good copy. From private collection. $30.00

[022229] . Alfred Hitchcock's Mystery Magazine June 1973. Florida: H S D Publications, 1973. 12mo - over 6¾" - 7¾" tall. Paper Covers. Fair Vol. 18, no. 6. Covers worn and grubby with foxing, minor water damage to edges, some creasing and chips. Pages browning at edges, binding good. $12.00

[021081] . Australian Playboy July 1983. Australia: Australian Consolidated Press, 1983. Magazine. Very Good Good copy $35.00

[021092] . Penthouse US Edition April 1976. USA: 1976. Magazine. Good Good copy. $20.00

[021091] . Penthouse US Edition June 1973. USA: 1973. Magazine. Good Good copy. $20.00

[021090] . Penthouse US Edition December 1981. USA: 1981. Magazine. Good Good copy. $20.00

[021089] . Penthouse US Edition April 1986. USA: 1986. Magazine. Good $20.00

[021088] . Playboy US Edition February 1983. USA: 1983. Magazine. Good Good copy $20.00

[021087] . Playboy US Edition October 1983. USA: 1983. Magazine. Good Good copy $20.00

[021086] . Australian Playboy April 1983. Australia: Australian Consolidated Press, 1983. Magazine. Good Good copy. $32.00

[021084] . Australian Playboy August 1982. Australia: Australian Consolidated Press, 1982. Magazine. Very Good Good copy. $35.00

[021122] . Australian Penthouse September 1981. Australia: 1981. Magazine. Very Good Very good copy from a private collection. $44.00

[021082] . Australian Playboy December 1982. Australia: Australian Consolidated Press, 1982. Magazine. Good Good copy. $30.00

[021096] . Australian Penthouse December 1979. Australia: 1979. Magazine. Good good copy $30.00

[021080] . Australian Penthouse August 1983. Australia: 1983. Magazine. Good $30.00

[021079] . Australian Penthouse October 1982. Australia: 1982. Magazine. Good Very good copy. $50.00

[021078] . Australian Penthouse October 1982. Australia: 1982. Magazine. Good Very good copy. $40.00

[021077] . Australian Penthouse July 1981. Australia: 1981. Magazine. Very Good Very good copy. $45.00

[021076] . Australian Penthouse July 1981. Australia: 1981. Magazine. Very Good Very good copy. $35.00

[021075] . Australian Playboy July 1981. Australia: Australian Consolidated Press, 1981. Magazine. Very Good Very good copy. $40.00

[021074] . Australian Playboy May 1982. Australia: Australian Consolidated Press, 1982. Magazine. Very Good Very good copy. From private collection. $45.00

[021073] . Australian Penthouse May 1982. Australia: 1982. Magazine. Very Good Very good copy. From private collection. $55.00

[021072] . Australian Penthouse May 1982. Australia: 1982. Magazine. Very Good Very good copy. From private collection. $45.00

[021083] . Australian Playboy November 1982. Australia: Australian Consolidated Press, 1982. Magazine. Very Good Very good copy $45.00

[021109] . Australian Playboy May 1981. Australia: Australian Consolidated Press, 1981. Magazine. Very Good Very good copy. $44.00

[021221] . Playboy US Edition January 1977. USA: 1977. Magazine. Good Very good copy from a private collection. $20.00

[021120] . Australian Penthouse October 1981. Australia: 1981. Magazine. Very Good Very good copy from a private collection. $55.00

[021119] . Australian Playboy October 1981. Australia: Australian Consolidated Press, 1981. Magazine. Very Good Very good copy. $44.00

[021118] . Australian Playboy February 1981. Australia: Australian Consolidated Press, 1981. Magazine. Very Good Very good copy. $44.00

[021117] . Australian Penthouse February 1982. Australia: 1982. Magazine. Very Good Very good copy from a private collection. $55.00

[021116] . Australian Penthouse August 1982. Australia: 1982. Magazine. Very Good Very good copy from a private collection. $55.00

[021115] . PM Inspired By Europe's Playmen March 1981. Australia: 1981. Magazine. Very Good Vintage Australian men's mag with Euro content. Very good copy. $44.00

[021114] . Australian Penthouse April 1981. Australia: 1981. Magazine. Very Good Very good copy from a private collection. $55.00

[021113] . Australian Penthouse April 1981. Australia: 1981. Magazine. Very Good Very good copy from a private collection. $44.00

[021093] . Australian Penthouse July 1983. Australia: 1983. Magazine. Very Good Very good copy. $45.00

[021110] . Australian Penthouse May 1981. Australia: 1981. Magazine. Very Good Very good copy. From private collection. $55.00

[021095] . Australian Penthouse December 1979. Australia: 1979. Magazine. Good $40.00

[021108] . Australian Playboy March 1981. Australia: Australian Consolidated Press, 1981. Magazine. Very Good Very good copy. $44.00

[021106] . Australian Playboy June 1981. Australia: Australian Consolidated Press, 1981. Magazine. Very Good Very good copy. $50.00

[021105] . Australian Playboy August 1981. Australia: Australian Consolidated Press, 1981. Magazine. Very Good Very good copy. $50.00

[021104] . Australian Penthouse August 1981. Australia: 1981. Magazine. Good Very good copy. $88.00

[021102] . Australian Penthouse October 1979. Australia: 1979. Magazine. Good Very good copy. $88.00

[021101] . Australian Penthouse October 1979. Australia: 1979. Magazine. Good Very good copy. $80.00

[021100] . Australian Penthouse June 1981. Australia: 1981. Magazine. Very Good Very good copy. $45.00

[021098] . Playboy US Edition November 1976. USA: 1976. Magazine. Good Good copy. $20.00

[021069] . Australian Penthouse January 1981. Australia: 1981. Magazine. Good Near very good copy. $22.00

[021112] . Australian Penthouse March 1981. Australia: 1981. Magazine. Very Good Ver good copy from private collection. $55.00

[020000] . Restored Cars Australia Number 44. Eddie Ford Publications, Magazine. Good Good copy. $20.00

[021071] . Australian Penthouse September 1982. Australia: 1982. Magazine. Very Good Very good copy $45.00

[020874] . Man June 1968 Volume 64 Number 1. NSW, Australia: Man Magazine Pty Ltd, 1968. Magazine. Good Email for details of contents. $30.00

[020872] . Man April 1970. NSW, Australia: Man Magazine Pty Ltd, 1970. Magazine. Good Email for details and contents. Girls and gags. $30.00


[020871] . Man March 1973. NSW, Australia: K G Murray Publishing Co, 1973. Magazine. Good Email for details of contents. $30.00

[020870] . Man April 1968. NSW, Australia: Man Magazine Pty Ltd, 1968. Magazine. Email for details of contents. $30.00

[020834] . Live to Ride The Australian Bikers Journal No 39. Australia: Magazine. $10.00

[020173] . Swag Fun Fact Fiction Monthly No 3. Darlinghurst: Group Publications , Magazine. Good Rare Australian Men's mag. Email for details of contents. $25.00

[020004] . Restored Cars Australia Number 3. Eddie Ford Publications, Magazine. Good Good copy. $20.00

[020003] . Sports Car World August 1964. Australia: Magazine. Rear cover missing $10.00

[020906] . Man February 1958. NSW, Australia: Man Magazine Pty Ltd, 1958. Magazine. Fair Magazine. Email for details of contents. Edges chipped and worn. Old penned price on front. Taped repairs to spine. $35.00

[020001] . Restored Cars Australia Number 13. Eddie Ford Publications, Magazine. Good Good copy. $20.00

[020907] . Man May 1955. NSW, Australia: Man Magazine Pty Ltd, 1955. Magazine. Fair Magazine. Email for details of contents. Edges chipped and worn. Old penned price on front. Taped repairs to spine. Corner missing on front cover. A few dog eared pages. $35.00

[019999] . Restored Cars Australia Number 53. Eddie Ford Publications, Magazine. Good Good copy. $20.00

[019998] . Restored Cars Australia Number 31. Eddie Ford Publications, Magazine. Good Good copy. $20.00

[019997] . Restored Cars Australia Number 6. Eddie Ford Publications, Magazine. Good Good copy. $20.00

[019996] . Restored Cars Australia Number 34. Eddie Ford Publications, Magazine. Good Good copy. $20.00

[019995] . Restored Cars Australia Number 23. Eddie Ford Publications, Magazine. Good Good copy. $20.00

[019994] . Restored Cars Australia Number 39. Eddie Ford Publications, Magazine. Good Good copy. $20.00

[019993] . Restored Cars Australia Number 55. Eddie Ford Publications, Magazine. Good Good copy. $20.00

[019992] . Restored Cars Australia Number 43. Eddie Ford Publications, Magazine. Good Good copy. $20.00

[015726] . Real Action Edition Not numbered #1. NSW, Australia: Page Publications, Magazine. Good Undated. Great collectible Men's mag. Great gals and illustrations. Light wear. A few fold marks. Warrigal Press has a number of these which are undated and unumbered. Email for details. $30.00

[020002] . Restored Cars Australia Number 42. Eddie Ford Publications, Magazine. Good Good copy. $20.00

[020930] . R M Williams Outback Issue 48. Australia: 2006. Magazine. Good Good copy $10.00

[021123] . Australian Penthouse September 1981. Australia: 1981. Magazine. Very Good Very good copy from a private collection. $50.00

[021017] . Adam September 1964. NSW, Australia: Kenmure Press, 1964. Magazine. Good A vintage Australian Men's mag. Email for details of contents. Good copy. $25.00

[020942] . Man December 1971. NSW, Australia: K G Murray Publishing Co, 1971. Magazine. Good Good copy Email for details of contents. $35.00

[020940] . Man August 1971. NSW, Australia: K G Murray Publishing Co, 1971. Magazine. Good Good copy Email for details of contents. $35.00

[020939] . Man April 1973. NSW, Australia: K G Murray Publishing Co, 1973. Magazine. Good Good copy Email for details of contents. $35.00

[020938] . Man July/August 1973. NSW, Australia: K G Murray Publishing Co, 1973. Magazine. Good Good copy Email for details of contents. $35.00

[020935] . R M Williams Outback Issue 56. Australia: 2008. Magazine. Good Good copy $10.00

[020934] . R M Williams Outback Issue 57. Australia: 2007. Magazine. Good Good copy $10.00

[020933] . R M Williams Outback Issue 55. Australia: 2007. Magazine. Good Good copy $10.00

[020903] . Man September 1971. NSW, Australia: Man Magazine Pty Ltd, 1971. Magazine. Email for details and contents. Girls and gags. $25.00

[020931] . R M Williams Outback Issue 60. Australia: 2008. Magazine. Good Good copy $10.00

[021070] . Australian Penthouse December 1979. Australia: 1981. Magazine. Very Good Very good copy. From a private collection. $45.00

[020929] . R M Williams Outback Issue 49. Australia: 2006. Magazine. Good Good copy $10.00

[020928] . R M Williams Outback Issue 60. Australia: 2008. Magazine. Good Good copy $10.00

[020927] . R M Williams Outback Issue 59. Australia: 2008. Magazine. Good $10.00

[020926] . R M Williams Outback Issue 53. Australia: 2007. Magazine. Good $10.00

[020925] . R M Williams Outback Issue 47. Australia: 2006. Magazine. Good $10.00

[020924] . R M Williams Outback Issue 50. Australia: 2007. Magazine. Good $10.00

[020923] . R M Williams Outback Issue 54. Australia: 2004. Magazine. Good $10.00

[020909] . Man September 1950. NSW, Australia: Man Magazine Pty Ltd, 1950. Magazine. Fair Magazine. Email for details of contents. Old penned price on front. Edges chipped and worn. $35.00

[020908] . Man May 1955. NSW, Australia: Man Magazine Pty Ltd, 1955. Magazine. Fair Magazine. Email for details of contents. Edges chipped and worn. Old penned price on front. Corner missing on front cover. Missing corner on front cover and one other page. Some silverfish damage. $35.00

[020932] . R M Williams Outback Issue 58. Australia: 2008. Magazine. Good Good copy $10.00

[021184] . Hustler February 1976. Ohio: Hustler Magazine, 1976. Magazine. Very Good Very good copy from a private collection. Adult mag. $20.00

[021196] . Australian Playboy February 1985. Australia: Australian Consolidated Press, 1985. Magazine. Very Good Good copy. From private collection. $44.00

[021195] . Playboy US Edition october 1984. USA: 1984. Magazine. Good Good copy. From a private collection. $20.00

[021194] . Playboy US Edition August 1980. USA: 1980. Magazine. Good Good copy. From a private collection. $20.00

[021193] . Playboy US Edition December 1979. USA: 1979. Magazine. Good Good copy. $20.00

[021192] . Australian Playboy September 1984. Australia: Australian Consolidated Press, 1984. Magazine. Very Good Good copy. From private collection. $44.00

[021191] . Australian Playboy November 1983. Australia: Australian Consolidated Press, 1983. Magazine. Very Good Good copy. From private collection. $44.00

[021189] . Playboy US Edition December 1976. USA: 1976. Magazine. Good Good copy. $20.00

[021188] . Playboy US Edition January 1984. USA: 1984. Magazine. Good Good copy. $20.00

[021121] . Australian Penthouse October 1981. Australia: 1981. Magazine. Very Good Very good copy from a private collection. $44.00

[021185] . Australian Playboy October 1983. Australia: Australian Consolidated Press, 1983. Magazine. Very Good Very good copy. $33.00

[021199] . Playboy US Edition June 1972. USA: 1972. Magazine. Good Good copy. From a private collection. $20.00

[021183] . Mayfair Entertainment for Men Volume 18 No 7. London: Fisk Publishing, . Magazine. Very Good Very good copy from private collection. $20.00

[021182] . Playboy US Edition May 1972. USA: 1972. Magazine. Good Good copy. $20.00

[021181] . Men Only Volume 40 Number 1. London: Paul Raymond Publications, 1975. Magazine. Good Vintage international Men's magazine. Email for details of contents. Great stories. $22.00

[021180] . Men Only Volume 39 Number 12 . London: Paul Raymond Publications, 1974. Magazine. Good Vintage international Men's magazine. Email for details of contents. Great stories. $22.00

[021179] . Australian Playboy June 1983. Australia: Australian Consolidated Press, 1983. Magazine. Very Good A few marks of front cover. $22.00

[021178] . Playboy US Edition January 1982. USA: 1982. Magazine. Good Good copy. $20.00

[021177] . Playboy US Edition November 1983. USA: 1983. Magazine. Good Good copy. $30.00

[021176] . Australian Playboy September 1979. Australia: Australian Consolidated Press, 1979. Magazine. Very Good Very good copy. From a private collection. Penned price on front. $44.00

[021175] . Australian Playboy August 1979. Australia: Australian Consolidated Press, 1979. Magazine. Very Good Very good copy. From a private collection. $44.00

[021186] . Playboy US Edition July 1983. USA: 1983. Magazine. Good Good copy. $20.00

[021208] . Playboy US Edition March 1975. USA: 1975. Magazine. Good Edgeworn copy. $15.00

[019990] . Restored Cars Australia No 27. Eddie Ford Publications, Magazine. Good Good copy. $20.00

[021218] . Playboy US Edition August 1977. USA: 1977. Magazine. Good Very good copy from a private collection. $20.00

[021217] . Mayfair Entertainment for Men Volume 12 No 3. London: Fisk Publishing, Magazine. Very Good Very good copy from private collection. $20.00

[021216] . Playboy US Edition January 1970. USA: 1970. Magazine. Good Very good copy from a private collection. $20.00

[021215] . Mayfair Entertainment for Men Volume 9 Number 5. London: Fisk Publishing, Magazine. Very Good Very good copy from private collection. $20.00

[021214] . Playboy US Edition November 1977. USA: 1977. Magazine. Good Very good copy from a private collection. $20.00

[021213] . Playboy US Edition May 1978. USA: 1978. Magazine. Good Very good copy from a private collection. $20.00

[021212] . Playboy US Edition November 1978. USA: 1978. Magazine. Good Edgeworn copy. $15.00

[021211] . Penthouse US Edition august 1974. USA: 1981. Magazine. Good Good copy. From a private collection. $15.00

[021197] . Australian Playboy January 1985. Australia: Australian Consolidated Press, 1985. Magazine. Very Good Good copy. From private collection. $44.00

[021209] . Mayfair Entertainment for Men Volume 9 Number 6. London: Fisk Publishing, Magazine. Very Good Very good copy from private collection. $20.00

[021198] . Playboy US Edition December 1984. USA: 1984. Magazine. Good Good copy. From a private collection. $20.00

[021207] . Playboy US Edition March 1970. USA: 1970. Magazine. Good Very good copy from a private collection. $20.00

[021206] . Playboy US Edition February 1970. USA: 1970. Magazine. Good Very good copy from a private collection. $20.00

[021205] . Playboy US Edition November 1980. USA: 1980. Magazine. Good Good copy. $20.00

[021204] . Penthouse US Edition January 1981. USA: 1981. Magazine. Good Light insect nibbles around edges of front cover. $15.00

[021203] . Playboy US Edition December 1978. USA: 1978. Magazine. Good Good copy. Silverfish nibbles around the edges. $20.00

[021202] . Australian Playboy March 1979. Australia: Australian Consolidated Press, 1979. Magazine. Good Very good copy from a private collection. $44.00

[021201] . Australian Playboy Febuary 1980. Australia: Australian Consolidated Press, 1980. Magazine. Good Very good copy from a private collection. $44.00

[021200] . Playboy US Edition March 1976. USA: 1976. Magazine. Good Good copy. From a private collection. $20.00

[021172] . Playboy US Edition April 1970. USA: 1970. Magazine. Good Good copy. $30.00

[021210] . Mayfair Entertainment for Men Volume 9 Number 7. London: Fisk Publishing, Magazine. Very Good Very good copy from private collection. $20.00

[021136] . Australian Penthouse July 1982. Australia: 1982. Magazine. Very Good Very good copy from a private collection. $44.00

[021174] . Australian Playboy August 1979. Australia: Australian Consolidated Press, 1979. Magazine. Very Good Very good copy. From a private collection. $44.00

[021146] . Playboy US Edition July 1976. USA: 1976. Magazine. Very Good Very good copy from a private collection. $20.00

[021145] . Playboy US Edition November 1975. USA: 1975. Magazine. Very Good Very good copy from a private collection. $20.00

[021144] . Australian Playboy June 1982. Australia: Australian Consolidated Press, 1982. Magazine. Very Good Very good copy. From a private collection. $44.00

[021143] . Australian Penthouse June 1982. Australia: 1982. Magazine. Very Good Very good copy from a private collection. $55.00

[021142] . Australian Penthouse June 1982. Australia: 1982. Magazine. Very Good Very good copy from a private collection. $44.00

[021141] . Australian Penthouse April 1982. Australia: 1982. Magazine. Very Good Very good copy from a private collection. $55.00

[021140] . Australian Penthouse April 1982. Australia: 1982. Magazine. Very Good Very good copy from a private collection. $44.00

[021139] . Australian Playboy April 1982. Australia: Australian Consolidated Press, 1982. Magazine. Very Good Very good copy. From a private collection. $44.00

[021148] . Playboy US Edition July 1979. USA: 1976. Magazine. Very Good Very good copy from a private collection. $20.00

[021137] . Australian Penthouse March 1982. Australia: 1982. Magazine. Very Good Very good copy from a private collection. $44.00

[021149] . Australian Penthouse August 1982. Australia: 1982. Magazine. Very Good Very good copy from a private collection. $44.00

[021135] . PM Inspired By italy's Playmen November 1981. Australia: 1981. Magazine. Very Good Vintage Australian men's mag with Euro content. Very good copy. $44.00

[021134] . Australian Penthouse February 1982. Australia: 1982. Magazine. Very Good Very good copy from a private collection. $55.00

[021133] . Australian Penthouse February 1982. Australia: 1982. Magazine. Very Good Very good copy from a private collection. $44.00

[021132] . Australian Playboy February 1982. Australia: Australian Consolidated Press, 1982. Magazine. Very Good Very good copy. From a private collection. $44.00

[021131] . Australian Penthouse January 1982. Australia: 1981. Magazine. Very Good Very good copy from a private collection. $44.00

[021130] . Australian Playboy January 1982. Australia: Australian Consolidated Press, 1982. Magazine. Very Good Very good copy. From a private collection. $44.00

[021128] . Australian Penthouse December 1981. Australia: 1981. Magazine. Very Good Very good copy from a private collection. $44.00

[021126] . Australian Penthouse November 1981. Australia: 1981. Magazine. Very Good Very good copy from a private collection. $50.00

[021124] . Australian Playboy September 1981. Australia: Australian Consolidated Press, 1981. Magazine. Very Good Very good copy. $44.00

[021138] . Australian Playboy March 1982. Australia: Australian Consolidated Press, 1982. Magazine. Very Good Very good copy. From a private collection. $44.00

[021160] . Australian Playboy December 1979. Australia: Australian Consolidated Press, 1979. Magazine. Very Good Very good copy. $55.00

[021220] . Penthouse US Edition April 1978. USA: 1978. Magazine. Good Good copy. From a private collection. $15.00

[021171] . Playboy US Edition December 1969. USA: 1969. Magazine. Good Good copy. $30.00

[021170] . Playboy US Edition January 1968. USA: 1968. Magazine. Good Holiday anniversary issue. Includes Alberto Vargas info. $30.00

[021169] . Mayfair Entertainment for Men June 1977. London: Fisk Publishing, 1977. Magazine. Very Good Very good copy from private collection. $20.00

[021167] . Australian Penthouse December 1982. Australia: 1982. Magazine. Very Good Very good copy from a private collection. $44.00

[021166] . Playboy 20th Anniversary Issue January 1974. USA: 1974. Magazine. Very Good Very good copy from a private collection. $40.00

[021165] . Australian Penthouse December 1982. Australia: 1982. Magazine. Very Good Very good copy from a private collection. $55.00

[021164] . Australian Penthouse December 1982. Australia: 1982. Magazine. Very Good Very good copy from a private collection. $44.00

[021163] . Australian Playboy March 1980. Australia: Australian Consolidated Press, 1980. Magazine. Very Good Very good copy. From a private collection. $55.00

[021147] . Playboy US Edition June 1975. USA: 1975. Magazine. Good Light silverfiss nibbles around edges. $15.00

[021161] . Australian Playboy November 1979. Australia: Australian Consolidated Press, 1979. Magazine. Good Good copy from private collection. $44.00

[021173] . Australian Playboy April 1979. Australia: Australian Consolidated Press, 1979. Magazine. Very Good Very good copy. From a private collection. $44.00

[021158] . Penthouse US Edition December 1980. USA: 1980. Magazine. Good Good copy. From private collection. $20.00

[021157] . Playboy US Edition June 1976. USA: 1976. Magazine. Good Very good copy from private collection. $15.00

[021156] . Penthouse US Edition October 1980. USA: 1980. Magazine. Good Good copy. $20.00

[021155] . Penthouse US Edition December 1980. USA: 1980. Magazine. Good Good copy. $20.00

[021154] . Penthouse US Edition December 1975. USA: 1975. Magazine. Good Good copy. $20.00

[021153] . Playboy US Edition March 1978. USA: 1980. Magazine. Very Good Very good copy from a private collection. $20.00

[021152] . Playboy US Edition October 1980. USA: 1980. Magazine. Very Good Very good copy from a private collection. $20.00

[021151] . Australian Playboy February 1981. Australia: Australian Consolidated Press, 1981. Magazine. Very Good Very good copy. $44.00

[021150] . Australian Penthouse February 1981. Australia: 1981. Magazine. Very Good Very good copy from a private collection. $44.00

[021162] . Australian Playboy March 1980. Australia: Australian Consolidated Press, 1980. Magazine. Very Good Very good copy. From a private collection. $44.00

[013025] . Australasian Post April 21 1966. Melbourne: Magazine. We have hundreds of Australasian Post mags at Warrigal Press. If you are looking for a particular story, cover or topic let us know and we can browse through the collection. Great Australiana, great stories etc... $25.00

[013106] . White Dwarf 260 . Games Workshop, Magazine. Good Email for details of contents. $10.00

[013105] . White Dwarf No 294. Games Workshop, Magazine. Good Email for details of contents. $10.00

[013104] . White Dwarf No 305. Games Workshop, Magazine. Good Email for details of contents. $10.00

[013032] . Australasian Post March 24 1966. Melbourne: Magazine. We have hundreds of Australasian Post mags at Warrigal Press. If you are looking for a particular story, cover or topic let us know and we can browse through the collection. Great Australiana, great stories etc... $25.00

[013031] . Australasian Post June 30 1990. Melbourne: Magazine. We have hundreds of Australasian Post mags at Warrigal Press. If you are looking for a particular story, cover or topic let us know and we can browse through the collection. Great Australiana, great stories etc... $25.00

[013030] . Australasian Post March 31 1966. Melbourne: Magazine. We have hundreds of Australasian Post mags at Warrigal Press. If you are looking for a particular story, cover or topic let us know and we can browse through the collection. Great Australiana, great stories etc... $25.00

[013029] . Australasian Post May 19 1966. Melbourne: Magazine. We have hundreds of Australasian Post mags at Warrigal Press. If you are looking for a particular story, cover or topic let us know and we can browse through the collection. Great Australiana, great stories etc... $25.00

[013028] . Australasian Post May 12 1966. Melbourne: Magazine. We have hundreds of Australasian Post mags at Warrigal Press. If you are looking for a particular story, cover or topic let us know and we can browse through the collection. Great Australiana, great stories etc... $25.00

[014139] . Australian Amatuer Boatbuilder No 49. Queensland ,Australia: P&G Lynch and Assoc, Magazine. Good magazine in good condition. $10.00

[013026] . Australasian Post April 28 1966. Melbourne: Magazine. We have hundreds of Australasian Post mags at Warrigal Press. If you are looking for a particular story, cover or topic let us know and we can browse through the collection. Great Australiana, great stories etc... $25.00

[013109] . White Dwarf 267. Games Workshop, Magazine. Good Email for details of contents. $10.00


[013024] . Australasian Post April 14 1966. Melbourne: Magazine. We have hundreds of Australasian Post mags at Warrigal Press. If you are looking for a particular story, cover or topic let us know and we can browse through the collection. Great Australiana, great stories etc... $25.00

[013023] . Australasian Post April 7 1966. Melbourne: Magazine. We have hundreds of Australasian Post mags at Warrigal Press. If you are looking for a particular story, cover or topic let us know and we can browse through the collection. Great Australiana, great stories etc... $25.00

[013022] . Australasian Post March 17 1966. Melbourne: Magazine. We have hundreds of Australasian Post mags at Warrigal Press. If you are looking for a particular story, cover or topic let us know and we can browse through the collection. Great Australiana, great stories etc... $25.00

[013021] . Australasian Post October 13 1966. Melbourne: Magazine. We have hundreds of Australasian Post mags at Warrigal Press. If you are looking for a particular story, cover or topic let us know and we can browse through the collection. Great Australiana, great stories etc... $25.00

[013020] . Australasian Post October 6 1977. Melbourne: Magazine. We have hundreds of Australasian Post mags at Warrigal Press. If you are looking for a particular story, cover or topic let us know and we can browse through the collection. Great Australiana, great stories etc... $25.00

[013019] . Australasian Post September 29 1966. Melbourne: Magazine. We have hundreds of Australasian Post mags at Warrigal Press. If you are looking for a particular story, cover or topic let us know and we can browse through the collection. Great Australiana, great stories etc... $25.00

[013018] . Australasian Post September 22 1966. Melbourne: Magazine. We have hundreds of Australasian Post mags at Warrigal Press. If you are looking for a particular story, cover or topic let us know and we can browse through the collection. Great Australiana, great stories etc... $25.00

[013017] . Australasian Post September 15 1966. Melbourne: Magazine. We have hundreds of Australasian Post mags at Warrigal Press. If you are looking for a particular story, cover or topic let us know and we can browse through the collection. Great Australiana, great stories etc... $25.00

[013027] . Australasian Post May 5 1966. Melbourne: Magazine. We have hundreds of Australasian Post mags at Warrigal Press. If you are looking for a particular story, cover or topic let us know and we can browse through the collection. Great Australiana, great stories etc... $25.00

[013180] . Esoterra the Journal of Extreme Culture # 7 Spring / Summer 1997. USA: Orcen 777, 1997. Magazine. Good Email for details of contents. $55.00

[013360] . Australian Outdoors July 1955. NSW, Australia: Kenmure Press, 1955. Magazine. Fair Scarce copy of the best Australian hunting, shooting and fishing mag ever produced! Email for details of contents. Covers worn, fair copy only. $30.00

[013328] . Pocket Man December 1956 Vol 6 No 3. Australia: K G Murray Publishing Co, 1956. 12mo - over 6¾" - 7¾" tall. Magazine. Fair Vintage Pocket Man mag with great pulp style stories and glam girls! Fair copy. Very worn covers. Vargas illus on cover. $22.00

[013327] . Pocket Man November 1961. Australia: K G Murray Publishing Co, 1961. 12mo - over 6¾" - 7¾" tall. Magazine. Fair Vintage Pocket Man mag with great pulp style stories and glam girls! Fair copy. Very worn. $15.00

[013307] . Male No 11. Sydney: Stag, Magazine. Very Good Vintage Australian men's mag packed with beautiful girls and hilarious gags. Very good copy. Inc colour centrefold. From unsold stock stacked away by a newsagent. $20.00

[013281] . Man's Epic March 1968 Vol 1 No 3. NSW, Australia: Kenmure Press, 1968. Magazine. Good A vintage Australian Men's mag. . Email for details of contents .Includes story, The Incredible Suicide War of the Marine's Top Viet Cong Head Hunter. $30.00

[013280] . Man's Action Vol 10 No 3 February 1973. USA: Robert C Sproul, 1973. Magazine. Good Scarce Men's magazine in near very good condition. Rub mark on cover. A few silverfish nibbles on the spine. Includes classics such as Wild Orgy of the Nude Girl Surfers, Betrayal of Castros Joy-Girl Bankers, the Carnival of Lust and Elephant Army, Treasure Hunters ! 5 Million Dollars Waiting on the Old Oregon Trail! they don't publish them like this any more! $44.00

[013204] . Australian Trail and Track No 1. Australia: Magazine. $10.00

[013203] . Two Wheels MacH 1973. Australia: Magazine. $10.00

[013107] . White Dwarf 288. Games Workshop, Magazine. Good Email for details of contents. $10.00

[013201] . Two Wheels April 1973. Australia: Magazine. $10.00

[013108] . White Dwarf 265. Games Workshop, Magazine. Good Email for details of contents. $10.00

[013117] . White Dwarf 268. Games Workshop, Magazine. Good Email for details of contents. Worn copy. Some loose pages. $8.80

[013116] . White Dwarf 287. Games Workshop, Magazine. Good Email for details of contents. $10.00

[013115] . White Dwarf 278. Games Workshop, Magazine. Good Email for details of contents. $10.00

[013114] . White Dwarf 249. Games Workshop, Magazine. Good Email for details of contents. $10.00

[013113] . White Dwarf 303. Games Workshop, Magazine. Good Email for details of contents. $10.00

[013112] . White Dwarf 276. Games Workshop, Magazine. Good Email for details of contents. $10.00

[013111] . White Dwarf 264. Games Workshop, Magazine. Good Email for details of contents. $10.00

[013110] . White Dwarf 250. Games Workshop, Magazine. Good Email for details of contents. $10.00

[013013] . Australasian Post August 18 1966. Melbourne: Magazine. We have hundreds of Australasian Post mags at Warrigal Press. If you are looking for a particular story, cover or topic let us know and we can browse through the collection. Great Australiana, great stories etc... $25.00

[013202] . Two Wheels May 1974. Australia: Magazine. $10.00

[012727] . Australasian Post May 28 1964. Melbourne: Magazine. May be some pages missing. $20.00

[013016] . Australasian Post September 8 1966. Melbourne: Magazine. We have hundreds of Australasian Post mags at Warrigal Press. If you are looking for a particular story, cover or topic let us know and we can browse through the collection. Great Australiana, great stories etc... $25.00

[012901] . Man June 1964 Vol 56 No 1. NSW, Australia: Man Magazine Pty Ltd, 1964. Magazine. Poor Part of cover missing. Silverfish nibbles around edges. $15.00

[012865] . Adam August 1968 Vol 45 No 3. NSW, Australia: Kenmure Press, 1968. Magazine. Good A vintage Australian Men's mag. . Email for details of contents. $32.00

[012864] . Man Junior March 1966. NSW, Australia: Kenmure Press, 1966. Magazine. Good Good copy. Vintage Australian men's mag. $32.00

[012863] . Man Junior April 1962. NSW, Australia: Kenmure Press, 1962. Magazine. Good Good copy. Vintage Australian men's mag. $30.00

[012839] . Cavalcade June 1946 Vol 4 No 1. Sydney: K G Murray Publishing Co, 1946. 12mo - over 6¾" - 7¾" tall. Magazine. Fair 118 pp Australian digest.Faie copy. Browning. Some tears. Dog eared. Contents almost loose from covers. $15.00

[012792] . Adam May 1969. NSW, Australia: Kenmure Press, 1969. Magazine. Poor A vintage Australian Men's mag. . Email for details of contents. Worn copy. Front badly stained. Silverfish damage around the edges. Poor copy but may fill a collection. $10.00

[012753] . Eves from Adam No 25. Australia: Kenmure Press, Magazine. Good Pick of the pin-ups from Adam magazine. Girls and humour. Some marks. Late 1960s $15.00

[012992] . Australasian Post March 3 1966. Melbourne: Magazine. Warrigal Press has hundreds of Post mags. If you are looking for a particular story we may be able to help! $25.00

[012728] . Australasian Post December 1 1960. Melbourne: Magazine. Rear cover missing $20.00

[012993] . Australasian Post December 1 1966. Melbourne: Magazine. Good copy. We have hundreds of Post mags. Are you looking for a particular story. If so let us know. $25.00

[012726] . Australasian Post May 20 1965. Melbourne: Magazine. $20.00

[012725] . Australasian Post October 4 1973. Melbourne: Magazine. $20.00

[012724] . Australasian Post April 4 1974. Melbourne: Magazine. $20.00

[012723] . Australasian Post October 12 1978. Melbourne: Magazine. $20.00

[012722] . Australasian Post March 28 1974. Melbourne: Magazine. $20.00

[012721] . Australasian Post June 19 1980. Melbourne: Magazine. $20.00

[012719] . Australasian Post November 2 1978. Melbourne: Magazine. $20.00

[012718] . Australasian Post March 31 1966. Melbourne: Magazine. We have hundreds of Australasian Post mags at Warrigal Press. If you are looking for a particular story, cover or topic let us know and we can browse through the collection. Great Australiana, great stories etc... $25.00

[012717] . Australasian Post May 3 1979. Melbourne: Magazine. $20.00

[012729] . Australasian Post June 11 1970. Melbourne: Magazine. Rear cover missing $20.00

[013003] . Australasian Post July 7 1966. Melbourne: Magazine. We have hundreds of Australasian Post mags at Warrigal Press. If you are looking for a particular story, cover or topic let us know and we can browse through the collection. Great Australiana, great stories etc... $25.00

[013366] . Australasian Post March 21 1957. Melbourne: 1957. Magazine. Good We have hundreds of Australasian Post mags at Warrigal Press. If you are looking for a particular story, cover or topic let us know and we can browse through the collection. Great Australiana, great stories etc... $30.00

[013012] . Australasian Post March 10 1966. Melbourne: Magazine. We have hundreds of Australasian Post mags at Warrigal Press. If you are looking for a particular story, cover or topic let us know and we can browse through the collection. Great Australiana, great stories etc... $25.00

[013011] . Australasian Post February 24 1966. Melbourne: Magazine. We have hundreds of Australasian Post mags at Warrigal Press. If you are looking for a particular story, cover or topic let us know and we can browse through the collection. Great Australiana, great stories etc... $25.00

[013010] . Australasian Post February 17 1966. Melbourne: Magazine. We have hundreds of Australasian Post mags at Warrigal Press. If you are looking for a particular story, cover or topic let us know and we can browse through the collection. Great Australiana, great stories etc... $25.00

[013009] . Australasian Post February 3 1966. Melbourne: Magazine. $25.00

[013008] . Australasian Post October 27 1966. Melbourne: Magazine. We have hundreds of Australasian Post mags at Warrigal Press. If you are looking for a particular story, cover or topic let us know and we can browse through the collection. Great Australiana, great stories etc... $25.00

[013007] . Australasian Post August 11 1966. Melbourne: Magazine. We have hundreds of Australasian Post mags at Warrigal Press. If you are looking for a particular story, cover or topic let us know and we can browse through the collection. Great Australiana, great stories etc... $25.00

[013006] . Australasian Post November 3 1966. Melbourne: Magazine. We have hundreds of Australasian Post mags at Warrigal Press. If you are looking for a particular story, cover or topic let us know and we can browse through the collection. Great Australiana, great stories etc... $25.00

[012902] . Man Junior March 1954. NSW, Australia: Kenmure Press, 1954. Magazine. Poor Poor copy. Cover in 2 parts. Some pieces missing to covers. Poor copy but complete inside. $12.00

[013004] . Australasian Post July 14 1966. Melbourne: Magazine. We have hundreds of Australasian Post mags at Warrigal Press. If you are looking for a particular story, cover or topic let us know and we can browse through the collection. Great Australiana, great stories etc... $25.00

[013014] . Australasian Post August 25 1966. Melbourne: Magazine. We have hundreds of Australasian Post mags at Warrigal Press. If you are looking for a particular story, cover or topic let us know and we can browse through the collection. Great Australiana, great stories etc... $25.00

[013002] . Australasian Post June 23 1966. Melbourne: Magazine. We have hundreds of Australasian Post mags at Warrigal Press. If you are looking for a particular story, cover or topic let us know and we can browse through the collection. Great Australiana, great stories etc... $25.00

[013001] . Australasian Post June 2 1966. Melbourne: Magazine. We have hundreds of Australasian Post mags at Warrigal Press. If you are looking for a particular story, cover or topic let us know and we can browse through the collection. Great Australiana, great stories etc... $25.00

[013000] . Australasian Post October 20 1966. Melbourne: Magazine. We have hundreds of Australasian Post mags at Warrigal Press. If you are looking for a particular story, cover or topic let us know and we can browse through the collection. Great Australiana, great stories etc... $25.00

[012999] . Australasian Post June 9 1966. Melbourne: Magazine. We have hundreds of Australasian Post mags at Warrigal Press. If you are looking for a particular story, cover or topic let us know and we can browse through the collection. Great Australiana, great stories etc... $25.00

[012998] . Australasian Post June 16 1966. Melbourne: Magazine. We have hundreds of Australasian Post mags at Warrigal Press. If you are looking for a particular story, cover or topic let us know and we can browse through the collection. Great Australiana, great stories etc... $25.00

[012997] . Australasian Post May 26 1966. Melbourne: Magazine. We have hundreds of Australasian Post mags at Warrigal Press. If you are looking for a particular story, cover or topic let us know and we can browse through the collection. Great Australiana, great stories etc... $25.00

[012996] . Australasian Post December 22 1966. Melbourne: Magazine. We have hundreds of Australasian Post mags at Warrigal Press. If you are looking for a particular story, cover or topic let us know and we can browse through the collection. Great Australiana, great stories etc... $25.00

[012995] . Australasian Post December 15 1966. Melbourne: Magazine. We have hundreds of Australasian Post mags at Warrigal Press. If you are looking for a particular story, cover or topic let us know and we can browse through the collection. Great Australiana, great stories etc... $25.00

[012994] . Australasian Post November 24 1966. Melbourne: Magazine. We have hundreds of Australasian Post mags at Warrigal Press. If you are looking for a particular story, cover or topic let us know and we can browse through the collection. Great Australiana, great stories etc... $25.00

[013005] . Australasian Post August 4 1966. Melbourne: Magazine. We have hundreds of Australiasian Post mags at Warrigal Press. If you are looking for a particular story, cover or topic let us know and we can browse through the collection. Great Australiana, great stories etc... $25.00

[013792] . Pix January 26 1963. Melbourne: Magazine. Popular Australian magazine $25.00

[013706] . Ralph April 2000. Sydney: AcP Men's Lifestyle, 2000. Magazine. Mens mag. $8.80

[015365] . For Him Magazine FHM 100 Sexiest Women in the World 2000. Magazine. Good Light wear. $15.00

[013840] . Man July 1961 Volume 520 Number 2. NSW, Australia: Man Magazine Pty Ltd, 1962. Magazine. Fair Email for details of contents. Losses on covers. $30.00

[015728] . Real Action Edition Not numbered #3. NSW, Australia: Page Publications, Magazine. Good Undated. Great collectible Men's mag. Great gals and illustrations. Light wear. A few fold marks. Warrigal Press has a number of these which are undated and unumbered. Email for details. $30.00

[013838] . Man December 1961. NSW, Australia: Man Magazine Pty Ltd, 1961. Magazine. Good Email for details and contents. Girls and gags. $25.00

[013807] . Adam December 1955. NSW, Australia: Kenmure Press, 1955. Magazine. Good A vintage Australian Men's mag. . Email for details of contents. Worn and marked copy. $35.00

[013804] . Man in Action No 13. Hong Kong: Transpacific Magazines, Magazine. Good Vintage men's magazine. Email for a list of stories. Great girls and artwork! Features great Earl Norem artwork. $25.00

[013803] . Man's Adventure No 16. Hong Kong: Transpacfic Magazines, Magazine. Good A vintage Men's mag. . Email for details of contents . $30.00

[013851] . Man's Epic November December 1975. NSW, Australia: Kenmure Press, 1975. Magazine. Good A vintage Australian Men's mag. . Email for details of contents $30.00

[013793] . Pix February 17 1945. Melbourne: Magazine. Popular Australian magazine $25.00

[013892] . Man's Epic September October 1974. NSW, Australia: Kenmure Press, 1974. Magazine. Good A vintage Australian Men's mag. . Email for details of contents $30.00

[013791] . People August 12 1953. Melbourne: Magazine. Popular Australian magazine. $20.00

[013790] . People April 9 1952. Melbourne: Magazine. Popular Australian magazine. $20.00

[013789] . People June 19 1963. Melbourne: Magazine. Popular Australian magazine. $20.00

[013759] . Aeroplane October 2005. London: IPC Media Ltd, Magazine. Good History in the air. Fantastic magazine covering aviation history. Numerous interesting aviation articles and illus. Historical fighter aircraft and aircraft restoration a specialty. Old penned price on front cover. $15.00

[013711] . FHM August 2000. Australia: For Him Magazine, 2000. Good Mens mag. $8.80

[013710] . Ralph October 2000. Sydney: AcP Men's Lifestyle, 2000. Magazine. Mens mag. Two mags together. $8.80

[013709] . Ralph December 2000. Sydney: AcP Men's Lifestyle, 2000. Magazine. mens mag $5.50

[013708] . FHM Issue 25 May 2000. Australia: For Him Magazine, 2000. Good Mens mag. $8.80

[013361] . Australian Outdoors Noevmber 1959. NSW, Australia: Kenmure Press, 1959. Magazine. Fair Scarce copy of the best Australian hunting, shooting and fishing mag ever produced! Email for details of contents. Covers worn, fair copy only. $30.00

[013794] . Pix March 22 1947. Melbourne: Magazine. Popular Australian magazine $25.00

[014128] . Australian Amatuer Boatbuilder No 42. Queensland ,Australia: P&G Lynch and Assoc, Magazine. Good magazine in good condition. $10.00

[014138] . Australian Amatuer Boatbuilder No 29. Queensland ,Australia: P&G Lynch and Assoc, Magazine. Good magazine in good condition. $10.00

[014137] . Australian Amatuer Boatbuilder No 36. Queensland ,Australia: P&G Lynch and Assoc, Magazine. Good magazine in good condition. $10.00

[014136] . Australian Amatuer Boatbuilder No 52. Queensland ,Australia: P&G Lynch and Assoc, Magazine. Good magazine in good condition. $10.00

[014135] . Australian Amatuer Boatbuilder No 37. Queensland ,Australia: P&G Lynch and Assoc, Magazine. Good magazine in good condition. $10.00

[014134] . Australian Amatuer Boatbuilder No 33. Queensland ,Australia: P&G Lynch and Assoc, Magazine. Good magazine in good condition. $10.00

[014133] . Australian Amatuer Boatbuilder No 17. Queensland ,Australia: P&G Lynch and Assoc, Magazine. Good magazine in good condition. $10.00

[014132] . Australian Amatuer Boatbuilder No 47. Queensland ,Australia: P&G Lynch and Assoc, Magazine. Good magazine in good condition. $10.00

[014131] . Australian Amatuer Boatbuilder No 32. Queensland ,Australia: P&G Lynch and Assoc, Magazine. Good magazine in good condition. $10.00

[013844] . Man November 1959 Vol 46 No 6. NSW, Australia: Kenmure Press, 1950. Magazine. Fair Wrinkled and marked from dampness. Tears, fair copy only. $40.00

[014129] . Australian Amatuer Boatbuilder No 48. Queensland ,Australia: P&G Lynch and Assoc, Magazine. Good magazine in good condition. $10.00


[013705] . Ralph August 2000. Sydney: AcP Men's Lifestyle, 2000. Magazine. Mens mag. $8.80

[014127] . Australian Amatuer Boatbuilder No 46. Queensland ,Australia: P&G Lynch and Assoc, Magazine. Good magazine in good condition. $10.00

[014126] . Australian Amatuer Boatbuilder No 27. Queensland ,Australia: P&G Lynch and Assoc, Magazine. Good magazine in good condition. $10.00

[014125] . Australian Amatuer Boatbuilder No 44. Queensland ,Australia: P&G Lynch and Assoc, Magazine. Good magazine in good condition. $10.00

[014124] . Australian Amatuer Boatbuilder No 28 . Queensland ,Australia: P&G Lynch and Assoc, Magazine. Good magazine in good condition. $10.00

[014123] . Australian Amatuer Boatbuilder No 50 June 2005. Queensland ,Australia: P&G Lynch and Assoc, 2005. Magazine. Good magazine in good condition. $10.00

[014122] . Australian Amatuer Boatbuilder No 51 September 2005. Queensland ,Australia: P&G Lynch and Assoc, 2005. Magazine. Good magazine in good condition. $10.00

[013897] . Man's Epic May / June 1974 Vol 7 No 5. NSW, Australia: Kenmure Press, 1974. Magazine. Good A vintage Australian Men's mag. . Email for details of contents $30.00

[013894] . Man's Epic March / April 1974. NSW, Australia: Kenmure Press, 1974. Magazine. Good A vintage Australian Men's mag. . Email for details of contents . $30.00

[013893] . Man's Epic Annual 1976. NSW, Australia: Kenmure Press, 1976. Magazine. Good A vintage Australian Men's mag. . Email for details of contents $30.00

[014130] . Australian Amatuer Boatbuilder No 24. Queensland ,Australia: P&G Lynch and Assoc, Magazine. Good magazine in good condition. $10.00

[013489] . Man's Adventure No 12. Hong Kong: Transpacfic Magazines, Magazine. Good A vintage Men's mag. . Email for details of contents . $30.00

[013707] . FHM Issue 24 April 2000. Australia: For Him Magazine, 2000. Good Mens mag. $8.80

[013549] . Male World No 4. Hong Kong: Commag Publications, Magazine. Good Vintage Mens mag released in Australia. Contains mainly USA articles reprinted plus gals and gags. In near very good codition. $30.00

[013548] . Male World No 1. Hong Kong: Commag Publications, Magazine. Good Vintage Mens mag released in Australia. Contains mainly USA articles reprinted plus gals and gags. In near very good codition. Includes large poster pinup. $30.00

[013501] . Strange Experience for Men Vol 1 No 3. NSW, Australia: Gredown Pty, Magazine. Good Great collectible Men's mag. Great gals and illustrations. Light wear. A few fold marks. Email for details. $30.00

[013499] . Man's Life Annual 1979. NSW, Australia: Kenmure Press, 1979. Magazine. Good Great collectible Men's mag. Great gals and illustrations. 132 pp. Light wear. A few fold marks. $30.00

[013498] . Men in Adventure July 1971. New York: Rostam Publishing, 1071. Magazine. Good Vintage men's mag. Light wear. $25.00

[013497] . Man in Action No 17. Hong Kong: Transpacific Magazines, Magazine. Good Vintage men's magazine. Email for a list of stories. Great girls and artwork! $25.00

[013496] . Man in Action No 13. Hong Kong: Transpacific Magazines, Magazine. Good Vintage men's magazine. Email for a list of stories. Great girls and artwork! Features great Earl Norem artwork. $25.00

[013563] . Adam August 1959. NSW, Australia: Kenmure Press, 1959. Magazine. Fair A vintage Australian Men's mag. . Email for details of contents. Worn and marked copy. $25.00

[013490] . Man's Adventure No 9. Hong Kong: Transpacfic Magazines, Magazine. Good A vintage Men's mag. . Email for details of contents . $30.00

[013564] . Adam August 1976. NSW, Australia: Kenmure Press, 1976. Magazine. Fair A vintage Australian Men's mag. . Email for details of contents. Insect damage to covers. Colour lifted. $15.00

[013487] . Man in Action No 6. Hong Kong: Transpacific Magazines, Magazine. Good Vintage men's magazine. Email for a list of stories. Great girls and artwork! Features great Earl Norem artwork. $25.00

[013417] . Man November 1967 Volume 62 Number 6. NSW, Australia: Man Magazine Pty Ltd, 1967. Magazine. Good Email for details of contents. Very good copy. $30.00

[013404] . Australian Outdoors November 191959. NSW, Australia: Kenmure Press, 1959. Magazine. Good Scarce copy of the best Australian hunting, shooting and fishing mag ever produced! Email for details of contents. $22.00

[013371] . Adam May 1962 Vol 32 No 6. NSW, Australia: Kenmure Press, 1962. Magazine. Good A vintage Australian Men's mag. . Email for details of contents. $30.00

[013370] . Australasian Post February 27 1958. Melbourne: 1958. Magazine. Hundreds of Post mags at warrigal press. $30.00

[013369] . Australasian Post November 26 1959. Melbourne: 1959. Magazine. This copy has some pages missing. We have hundreds of Australiasian Post mags at Warrigal Press. If you are looking for a particular story, cover or topic let us know and we can browse through the collection. Great Australiana, great stories etc... $15.00

[013368] . Australasian Post February 19 1959. Melbourne: 1959. Magazine. 100s of Post mags at warrigal press $30.00

[013367] . Australasian Post February 20 1958. Melbourne: 1958. Magazine. We have hundreds of Australasian Post mags at Warrigal Press. If you are looking for a particular story, cover or topic let us know and we can browse through the collection. Great Australiana, great stories etc... $30.00

[012646] . Australasian Post May 24 1956. Melbourne: Magazine. Fair Some damage to cover. Email for details. $25.00

[013495] . Man in Action No 14. Hong Kong: Transpacific Magazines, Magazine. Good Vintage men's magazine. Email for a list of stories. Great girls and artwork! Features great Earl Norem artwork. $25.00

[013609] . The Wide World The Magazine for Men May 1948. United Kingdom: 1948. Magazine. Good Good copy. Worn. $20.00

[013704] . Ralph October 2001. Sydney: AcP Men's Lifestyle, 2000. Magazine. Mens mag. Two mags together. $8.80

[013703] . Ralph May 2000. Sydney: AcP Men's Lifestyle, 2000. Magazine. Mens mag. $8.80

[013702] . Ralph June 2000. Sydney: AcP Men's Lifestyle, 2000. Magazine. Mens mag. $8.80

[013701] . Ralph September 2000. Sydney: AcP Men's Lifestyle, 2000. Magazine. Mens mag. $8.80

[013694] . Ralph Special 100th Issue. Sydney: AcP Magazines, Magazine. $12.00

[013614] . The Australian Journal July 2 1951. Melbourne: A H Massina and Co Pty Ltd, 1951. Magazine. Good Vintage Australian magazine. Great stories and illus. Fact and fiction. $40.00

[013613] . The Australian Journal May 1955. Melbourne: A H Massina and Co Pty Ltd, 1955. Magazine. Good Vintage Australian magazine. Great stories and illus. Fact and fiction. $40.00

[013612] . The Wide World The Magazine for Men January 1954. United Kingdom: 1954. Magazine. Good Worn copy. Front cover loose. $20.00

[013561] . Adam November 1963. NSW, Australia: Kenmure Press, 1963. Magazine. Poor A vintage Australian Men's mag. . Email for details of contents. Incomplete. pages 19-23 missing. Losses on covers etc. Poor copy. $5.00

[013610] . The Wide World The Magazine for Men December 1948. United Kingdom: 1948. Magazine. Good Good copy. Worn. $20.00

[013365] . Australasian Post March 5 1959. Melbourne: 1959. Magazine. Good $35.00

[013608] . The Wide World The Magazine for Men February 1948. United Kingdom: 1948. Magazine. Good Good copy. Worn. $20.00

[013607] . The Wide World The Magazine for Men January 1948. United Kingdom: 1948. Magazine. Good Good copy. Worn. $20.00

[013582] . Strange Experience for Men Vol 1 No 3. NSW, Australia: Gredown Pty, Magazine. Good Great collectible Men's mag. Great gals and illustrations. Light wear. A few fold marks. Email for details. $30.00

[013581] . For Men Only No 1. Hong Kong: Minter Ltd, Magazine. Good Vintage Mens mag released in Australia. Great artowrk, gals and gags. 1970s. $22.00

[013580] . For Men Only January 1972. Hong Kong: Minter Ltd, 1972. Magazine. Good Vintage Mens mag released in Australia. Great artowrk, gals and gags. $22.00

[013569] . Adam February 1972. NSW, Australia: Kenmure Press, 1972. Magazine. Good A vintage Australian Men's mag. . Email for details of contents. Good copy. $25.00

[013568] . Adam November 1973. NSW, Australia: Kenmure Press, 1973. Magazine. Good A vintage Australian Men's mag. . Email for details of contents. Good copy. $25.00

[013566] . Adam December 1966. NSW, Australia: Kenmure Press, 1966. Magazine. Good A vintage Australian Men's mag. . Email for details of contents. Good copy. Old penned price on front cover. $30.00

[013565] . Adam June 1973. NSW, Australia: Kenmure Press, 1973. Magazine. Good A vintage Australian Men's mag. . Email for details of contents. Good copy. $25.00

[013611] . The Wide World The Magazine for Men August 1953. United Kingdom: 1952. Magazine. Good Worn copy. Torn along spine. $20.00

[011826] . Gals and Gags March 1958. Australia: Kenmure Press, Magazine. Fair Worn covers, some damp stains. $14.00

[011737] . FlyLife Australia and New Zealand Number 21 Spring 2000. Tasmania: FlyLife Publishing, 2000. Magazine. Good 88 pp fly fishing magazine. Good copy. $20.00

[011845] . Beau the Inernational Magazine for Men June 1968. England: Publisher's Development Corporation, 1968. Magazine. Good 60 pp mens' mag. Inc some colour pictorials. Great story on the origins of the Hell's Angels. Covers and edges worn. A few marks. $15.00

[011844] . FlyPast October 2005. London: Key Publishing, Magazine. Good Fantastic magazine covering aviation history. Numerous interesting aviation articles and illus. Historical fighter aircraft and aircraft restoration a specialty. $15.00

[011843] . Aeroplane June 2005. London: IPC Media Ltd, Magazine. Good History in the air. Fantastic magazine covering aviation history. Numerous interesting aviation articles and illus. Historical fighter aircraft and aircraft restoration a specialty. $15.00

[011841] . Whisper Annual '68 - '69. Australia: King's Cross Whisper, 1969. Magazine. Fair Highlights of King's Cross Whisper 1968 - 1969. Fair copy. Last page loose. $14.50

[011840] . Eves from Adam No 26. Australia: Kenmure Press, Magazine. Fair Pick of the pin-ups from Adam magazine. Girls and humour. Cover torn. Shop label on cover. Some marks. Late 1960s $14.00

[011839] . Eves from Adam No 10. Australia: Kenmure Press, Magazine. Fair Pick of the pin-ups from Adam magazine. Girls and humour. Cover torn. Shop label on cover. Some marks. $14.00

[011831] . Man Junior October 1959. NSW, Australia: Kenmure Press, 1959. Magazine. Good Vintage Australian men's mag. A few marks and edge wear. $20.00

[011847] . Squire a Man's Magazine June 1954. Sydney: Atlas Publications, 1954. Magazine. Good Scarce Australian Men's magazine. Worn copy. Some damp stains. Quality fiction, true stories and illus. Email for details of contents. Inc Zane Vere sci fi story, Girl of Doom. $40.00

[011828] . Gals and Gags November 1960. Australia: Kenmure Press, Magazine. Fair Worn covers. Some light damp stains. $16.00

[011856] . Man Junior February 1971. NSW, Australia: Kenmure Press, 1971. Magazine. Good Good copy. Vintage Australian men's mag. $30.00

[011825] . Gals and Gags July 1961. Australia: Kenmure Press, Magazine. Fair Mould marks on covers. Damp affected but all pages loose. Email for a scan. $12.00

[011823] . Gals and Gags April 1960. Australia: Kenmure Press, Magazine. Fair Covers worn. A few damp stains. $20.00

[011822] . Gals and Gags August November 1965. Australia: Kenmure Press, Magazine. Fair Covers worn. A few damp stains. $20.00

[011821] . Gals and Gags December 1963. Australia: Kenmure Press, Magazine. Fair Covers worn. $20.00

[011819] . Gals and Gags July 1959. Australia: Kenmure Press, Magazine. Fair Small loss at bottom of front cover. $20.00

[011817] . Gals and Gags June 1958. Australia: Kenmure Press, Magazine. Fair Torn along spine. Cover almost loose from contents. Light silverfish damage around edges. $20.00

[011750] . Bleeding Face of Courage. Sydney: Magazine Services, 12mo - over 6¾" - 7¾" tall. Mass Market Paperback. Fair One of the best of Man series. Heroic, top adventure and thrilling fact stories. 160 pp. Worn paperback. Old penned price inside. Scarce. $25.00

[011747] . Stag #2. Sydney: Scripts, Magazine. Good ISBN: 072520629. Vintage Australian men's mag packed with jokes and red hot lovelies. $25.00

[012018] . Australian Outdoors September 1962. NSW, Australia: Kenmure Press, 1962. Magazine. Good Scarce copy of the best Australian hunting, shooting and fishing mag ever produced! Email for details of contents. Warrigal Press has dozens of these. Some unlisted. Email for list. $20.00

[011830] . Gals and Gags September 1959. Australia: Kenmure Press, Magazine. Good Good copy. $18.00

[011926] . Pocket Man September 1963. Australia: K G Murray Publishing Co, 1963. 12mo - over 6¾" - 7¾" tall. Magazine. Good Vintage Pocket Man mag with great pulp style stories and glam girls! Good copy. Small piece missing from top corner on front. $18.00

[012716] . Australasian Post April 14 1960. Melbourne: Magazine. $20.00

[012016] . Australian Outdoors May 1962. NSW, Australia: Kenmure Press, 1962. Magazine. Good Scarce copy of the best Australian hunting, shooting and fishing mag ever produced! Email for details of contents. Warrigal Press has dozens of these. Some unlisted. Email for list. $20.00

[012015] . Australian Outdoors July 1962. NSW, Australia: Kenmure Press, 1962. Magazine. Good Scarce copy of the best Australian hunting, shooting and fishing mag ever produced! Email for details of contents. Warrigal Press has dozens of these. Some unlisted. Email for list. $20.00

[012014] . Australian Outdoors April 1962. NSW, Australia: Kenmure Press, 1962. Magazine. Good Scarce copy of the best Australian hunting, shooting and fishing mag ever produced! Email for details of contents. Warrigal Press has dozens of these. Some unlisted. Email for list. $20.00

[012013] . Australian Outdoors March 1962. NSW, Australia: Kenmure Press, 1962. Magazine. Good Scarce copy of the best Australian hunting, shooting and fishing mag ever produced! Email for details of contents. Warrigal Press has dozens of these. Some unlisted. Email for list. $20.00

[011989] . Man Junior December 1959. NSW, Australia: Man Magazine Pty Ltd, 1959. Magazine. Good Good copy, and rare! A few marks and light insect nibbles on edges. Great Australian popular fiction. Girls and gags $25.00

[011930] . Laughs Volume 82. Auckland: H B K Hislop Ltd, 8vo - over 7¾" - 9¾" tall. Stapled. Good Vintage NZ risque gals and gags type magazine. 50 pp of jokes and illus. Circa 1950s? Insect nibbles to top corner. $20.00

[011929] . Playgirls No 11. Australia: K G Murray Publishing Co, 12mo - over 6¾" - 7¾" tall. Magazine. Good Vintage men's mag with great great gags and glam girls! Good copy. Circa mid 1960s $20.00

[011846] . Stag #18. Sydney: Stag, Magazine. Good Vintage Australian men's mag packed with beautiful girls and hilarious gags. Good copy. $18.00

[011927] . Pocket Man February 1964. Australia: K G Murray Publishing Co, 1964. 12mo - over 6¾" - 7¾" tall. Magazine. Good Vintage Pocket Man mag with great pulp style stories and glam girls! Good copy. Small piece missing from bottom corner on front cover. $18.00

[011650] . Adam October 1964 Vol 37 No 5. NSW, Australia: Kenmure Press, 1964. Magazine. Good A vintage Australian Men's mag. . Email for details of contents. $35.00

[011925] . Pocket Man July 1964. Australia: K G Murray Publishing Co, 1964. 12mo - over 6¾" - 7¾" tall. Magazine. Good Vintage Pocket Man mag with great pulp style stories and glam girls! Good copy. $20.00

[011880] . Laughs Volume 61. Auckland: H B K Hislop Ltd, 8vo - over 7¾" - 9¾" tall. Stapled. Good Vintage NZ risque gals and gags type magazine. 50 pp of jokes and illus. Circa 1950s? Bookshop stamp on cover. $20.00

[011879] . Laughs Volume 69. Auckland: H B K Hislop Ltd, 8vo - over 7¾" - 9¾" tall. Stapled. Good Vintage NZ risque gals and gags type magazine. 50 pp of jokes and illus. Circa 1950s? Penned initials on cover. $20.00

[011878] . Laughs Volume 89. Auckland: H B K Hislop Ltd, 8vo - over 7¾" - 9¾" tall. Stapled. Good Vintage NZ risque gals and gags type magazine. 50 pp of jokes and illus. Circa 1950s? Insect nibbles to top corner. $20.00

[011877] . Laughs Volume 77. Auckland: H B K Hislop Ltd, 8vo - over 7¾" - 9¾" tall. Stapled. Good Vintage NZ risque gals and gags type magazine. 50 pp of jokes and illus. Circa 1950s? Insect nibbles to top corner. $20.00

[011876] . Laughs Volume 65. Auckland: H B K Hislop Ltd, 8vo - over 7¾" - 9¾" tall. Stapled. Good Vintage NZ risque gals and gags type magazine. 50 pp of jokes and illus. Circa 1950s? Bookshop stamp on cover. $20.00

[011875] . Laughs Volume 64. Auckland: H B K Hislop Ltd, 8vo - over 7¾" - 9¾" tall. Stapled. Good Vintage NZ risque gals and gags type magazine. 50 pp of jokes and illus. Circa 1950s? $20.00

[011861] . Men August 1967 Vol 16 No 8. New York: Zenith Publishing, 1967. Magazine. Good Vintage men's mag. Great girls and gags. Artwork by Bruce Minney, Gil Cohen etc. Email for details of contents. $33.00

[011857] . Man May 1974 Volume 75 No 5. NSW, Australia: Kenmure Press, 1974. Magazine. Good Good copy. Vintage Australian men's mag. $30.00

[011928] . Pocket Man August 1964. Australia: K G Murray Publishing Co, 1964. 12mo - over 6¾" - 7¾" tall. Magazine. Good Vintage Pocket Man mag with great pulp style stories and glam girls! Good copy. Small piece missing from spine corner on front cover. $18.00

[011146] . The Australian Woman's Mirror January 28 1953. Australia: 1953. Magazine. Vintage Australian Womens mag with short stories, kids pages, craft ideas etc. Worn copy. Email for details. Inc Phantom comic strip. $20.00

[011746] . Grass Roots No 21 - 24 Bound Copy. Shepparton, Australia: Night Owl Publishers, 1983. Magazine. Craft and self sufficiency magazine for down to earth people. This is an ex lib bound copy of issues 21 to 24. Some lib marks. $30.00

[011494] . Man March 1969. NSW, Australia: Man Magazine Pty Ltd, 1969. Magazine. Good Email for details and contents. Girls and gags. $25.00

[011493] . Man April 1970. NSW, Australia: Man Magazine Pty Ltd, 1970. Magazine. Fair Email for details and contents. Girls and gags. $25.00

[011492] . Man September 1972. NSW, Australia: Man Magazine Pty Ltd, 1972. Magazine. Email for details and contents. Girls and gags. $25.00

[011491] . Man August 1971. NSW, Australia: Man Magazine Pty Ltd, 1971. Magazine. Email for details and contents. Girls and gags. $25.00

[011268] . High Society's Superstars of Clebrity Skin. Australia: Celebrity Skin, 1983. Magazine. Good Intimate nude shots of 70 superstars! Magazine. $20.00

[011265] . PM Inspired By Europe's Playmen April 1981. Australia: 1981. Magazine. Good Vintage Australian men's mag with Euro content. Worn covers, slight lift bottom corner. $15.00

[011264] . Startling Detective Cases. Australia: Page Publications, 1973. Magazine. Good 66 pp of vintage true crime stories. $14.00

[011496] . Man December 1968. NSW, Australia: Man Magazine Pty Ltd, 1968. Magazine. Good Email for details and contents. Girls and gags. $25.00

[011147] . The Australian Woman's Mirror January 27 1954. Australia: 1954. Magazine. Vintage Australian Womens mag with short stories, kids pages, craft ideas etc. Worn copy. Email for details. Inc Phantom comic strip. $20.00

[011572] . Male Vol 1 No 11 December 1955 Incorporating Eye and Photo. Sydney: Horwitz, 1955. Magazine. Good Scarce Australian Horwitz magazine reprinting US stories. Great Diana Doors pictorial. Gals, Gags, fact and fiction ... Email for details of conents! $35.00

[011145] . The Australian Woman's Mirror June 17 1953. Australia: 1953. Magazine. Vintage Australian Womens mag with short stories, kids pages, craft ideas etc. Worn copy. Email for details. Inc Phantom comic strip. $20.00


[011144] . The Australian Woman's Mirror January 21 1953. Australia: 1953. Magazine. Vintage Australian Womens mag with short stories, kids pages, craft ideas etc. Worn copy. Email for details. Inc Phantom comic strip. $20.00

[011143] . The Australian Woman's Mirror July 22 1953. Australia: 1953. Magazine. Vintage Australian Womens mag with short stories, kids pages, craft ideas etc. Worn copy. Email for details. Inc Phantom comic strip. $20.00

[011142] . The Australian Woman's Mirror January 12 1955. Australia: 1955. Magazine. Vintage Australian Womens mag with short stories, kids pages, craft ideas etc. Worn copy. Email for details. Inc Phantom comic strip. $20.00

[011141] . The Australian Woman's Mirror November 18 1953. Australia: 1953. Magazine. Vintage Australian Womens mag with short stories, kids pages, craft ideas etc. Worn copy. Email for details. Inc Phantom comic strip. $20.00

[011140] . The Australian Woman's Mirror February 16 1949. Australia: 1949. Magazine. Vintage Australian Womens mag with short stories, kids pages, craft ideas etc. Worn copy. Email for details. Inc Phantom comic strip. $20.00

[011139] . The Australian Woman's Mirror November 19 1952. Australia: 1950. Magazine. Vintage Australian Womens mag with short stories, kids pages, craft ideas etc. Worn copy. Email for details. Inc Phantom comic strip. $20.00

[011138] . The Australian Woman's Mirror September 27 1950. Australia: 1950. Magazine. Vintage Australian Womens mag with short stories, kids pages, craft ideas etc. Worn copy. Email for details. Inc Phantom comic strip. $20.00

[011137] . The Australian Woman's Mirror July 8 1953. Australia: 1953. Magazine. Vintage Australian Womens mag with short stories, kids pages, craft ideas etc. Worn copy. Email for details. Inc Phantom comic strip. $20.00

[011263] . High Society's Celebrity Skin Special Collector's Edition. Australia: Celebrity Skin, 1984. Magazine. Good Intimate nude shots of 70 superstars! Magazine. $20.00

[011633] . The Union Jack the Mystery Magazine No 1496 June 18th 1932. London: Amalgamated Press, 1932. Magazine. Good A mystery magazine, pulp. Worn copy. Marked. Complete. Great cover art. Email for details of contents. Some great early authors. $30.00

[011643] . The Union Jack the Mystery Magazine No 1427 February 21st 1931. London: Amalgamated Press, 1931. Magazine. Good A mystery magazine, pulp. Worn copy. Marked. Complete. Great cover art. Email for details of contents. Some great early authors. $30.00

[011642] . The Union Jack the Mystery Magazine No 1440 May 23rd 1931. London: Amalgamated Press, 1931. Magazine. Good A mystery magazine, pulp. Worn copy. Marked. Complete. Great cover art. Email for details of contents. Some great early authors. $30.00

[011641] . The Union Jack the Mystery Magazine No 1466 November 21st 1931. London: Amalgamated Press, 1931. Magazine. Good A mystery magazine, pulp. Worn copy. Marked. Complete. Great cover art. Email for details of contents. Some great early authors. $30.00

[011640] . The Union Jack the Mystery Magazine No 1402 August 30th 1930. London: Amalgamated Press, 1930. Magazine. Good A mystery magazine, pulp. Worn copy. Marked. Complete. Great cover art. Email for details of contents. Some great early authors. $30.00

[011639] . The Union Jack the Mystery Magazine No 1424 January 31st 1931. London: Amalgamated Press, 1931. Magazine. Good A mystery magazine, pulp. Worn copy. Marked. Complete. Great cover art. Email for details of contents. Some great early authors. $30.00

[011638] . The Union Jack the Mystery Magazine No 1469 December 12th 1931. London: Amalgamated Press, 1931. Magazine. Good A mystery magazine, pulp. Worn copy. Marked. Complete. Great cover art. Email for details of contents. Some great early authors. $30.00

[011637] . The Union Jack the Mystery Magazine No 1476 January 30th 1932. London: Amalgamated Press, 1932. Magazine. Good A mystery magazine, pulp. Worn copy. Marked. Complete. Great cover art. Email for details of contents. Some great early authors. $30.00

[011636] . The Union Jack the Mystery Magazine No 1477 February 6th 1932. London: Amalgamated Press, 1932. Magazine. Good A mystery magazine, pulp. Worn copy. Marked. Complete. Great cover art. Email for details of contents. Some great early authors. $30.00

[011495] . Man November 1970. NSW, Australia: Man Magazine Pty Ltd, 1970. Magazine. Good Email for details and contents. Girls and gags. $25.00

[011634] . The Union Jack the Mystery Magazine No 1493 May 26th 1932. London: Amalgamated Press, 1932. Magazine. Good A mystery magazine, pulp. Worn copy. Marked. Complete. Great cover art. Email for details of contents. Some great early authors. $30.00

[012019] . Australian Outdoors October 1962. NSW, Australia: Kenmure Press, 1962. Magazine. Good Scarce copy of the best Australian hunting, shooting and fishing mag ever produced! Email for details of contents. Warrigal Press has dozens of these. Some unlisted. Email for list. $20.00

[011632] . The Union Jack the Mystery Magazine No 1467 November 28th 1931. London: Amalgamated Press, 1931. Magazine. Good A mystery magazine, pulp. Worn copy. Marked. Complete. Great cover art. Email for details of contents. Some great early authors. $30.00

[011631] . The Union Jack the Mystery Magazine No 1509 September 17th 1932. London: Amalgamated Press, 1932. Magazine. Good A mystery magazine, pulp. Worn copy. Marked. Complete. Great cover art. Email for details of contents. Some great early authors. $30.00

[011630] . The Union Jack the Mystery Magazine No 1508 September 10th 1932. London: Amalgamated Press, 1932. Magazine. Good A mystery magazine, pulp. Worn copy. Marked. Complete. Great cover art. Email for details of contents. Some great early authors. $30.00

[011629] . The Union Jack the Mystery Magazine No 1506 August 27th 1932. London: Amalgamated Press, 1932. Magazine. Good A mystery magazine, pulp. Worn copy. Marked. Complete. Great cover art. Email for details of contents. Some great early authors. $30.00

[011628] . The Union Jack the Mystery Magazine No 1504 August 13th 1932. London: Amalgamated Press, 1932. Magazine. Good A mystery magazine, pulp. Worn copy. Marked. Complete. Great cover art. Email for details of contents. Some great early authors. $30.00

[011627] . The Union Jack the Mystery Magazine No 1500 July 16th 1932. London: Amalgamated Press, 1932. Magazine. Good A mystery magazine, pulp. Worn copy. Marked. Complete. Great cover art. Email for details of contents. Some great early authors. $30.00

[011626] . The Union Jack the Mystery Magazine No 1498 July 2nd 1932. London: Amalgamated Press, 1932. Magazine. Good A mystery magazine, pulp. Worn copy. Marked. Complete. Great cover art. Email for details of contents. Some great earyl authors. $30.00

[011625] . The Union Jack the Mystery Magazine No 1406 September 27th 1930. London: Amalgamated Press, 1930. Magazine. Good A mystery magazine, pulp. Worn copy. Marked. Complete. Great cover art. Email for details of contents. Some great earyl authors. $30.00

[011573] . Confidential Uncensored and Off the Record Volume 1 No 4 August 1953. New York: Confidential Inc, 1953. Magazine. Good 66 pp Broadway scandal sheet inc the low down on lots of stars including Monroe and Di Maggio. Email for details of contents. they don't write them like this any more. magazine. Worn around the edges. $44.00

[011635] . The Union Jack the Mystery Magazine No 1487 April 16th 1932. London: Amalgamated Press, 1932. Magazine. Good A mystery magazine, pulp. Worn copy. Marked. Complete. Great cover art. Email for details of contents. Some great early authors. $30.00

[012361] . The Wide World The Magazine for Men April 1944. United Kingdom: 1944. Magazine. Good Spine is worn. $20.00

[012278] . The Wide World The True Adventure Magazine for Men March 1957. United Kingdom: Magazine. Good The magazine for men. $15.00

[012509] . Australasian Post January 31 1957. Melbourne: Magazine. Good Good copy. $30.00

[012506] . Humour July 11 1958. Sydney: New Century Press, 1958. 4to - over 9¾" - 12" tall. Magazine. Good The finest selection of the world's wit. Vintage humour. 28 pp. $20.00

[012505] . Humour July 4 1958. Sydney: New Century Press, 1958. 4to - over 9¾" - 12" tall. Magazine. Good The finest selection of the world's wit. Vintage humour. 28 pp. $20.00

[012504] . Humour August 29 1958. Sydney: New Century Press, 1958. 4to - over 9¾" - 12" tall. Magazine. Good The finest selection of the world's wit. Vintage humour. 28 pp. $20.00

[012500] . Hunter Australia's Favourite Hunting Magazine Edition 17 2006. Australia: SSAA, 2006. Magazine. Good Good copy. $10.00

[012491] . Wide World the True Adventure magazine for Men October 1963. London: George Newnes, 1963. Magazine. Good Covers worn. A few insect niblles on edges. $15.00

[012380] . Pocket Man February 1957. Australia: K G Murray Publishing Co, 1957. 12mo - over 6¾" - 7¾" tall. Magazine. Good Vintage Pocket Man mag with great pulp style stories and glam girls! Good copy. $22.00

[012511] . Australasian Post January 10 1957. Melbourne: Magazine. Good Good copy. $30.00

[012362] . The Wide World The Magazine for Men March 1945. United Kingdom: 1945. Magazine. Good Spine is worn. Penned price on front cover. $20.00

[012512] . Australasian Post May 9 1957. Melbourne: Magazine. Good Good copy. $30.00

[012360] . The Wide World The Magazine for Men February 1943. United Kingdom: 1943. Magazine. Good Spine is worn. $20.00

[012359] . The Wide World The Magazine for Men March 1943. United Kingdom: 1943. Magazine. Good Spine is worn. $20.00

[012358] . The Wide World The Magazine for Men August 1948. United Kingdom: 1948. Magazine. Good Substantial silverfish nibbles along spine. $20.00

[012357] . The Wide World The Magazine for Men April 1948. United Kingdom: 1948. Magazine. Good Substantial silverfish nibbles along spine. $20.00

[012356] . The Wide World The Magazine for Men March 1947. United Kingdom: 1947. Magazine. Good Substantial silverfish nibbles along spine. $20.00

[012355] . The Wide World The Magazine for Men October 1947. United Kingdom: 1947. Magazine. Good Some losses on spine. $20.00

[012354] . The Wide World The Magazine for Men June- July 1947. United Kingdom: 1947. Magazine. Good Substantial silverfish nibbles along spine. $20.00

[012283] . The Wide World The True Adventure Magazine for Men November 1956. United Kingdom: Magazine. Good The magazine for men. $15.00

[012017] . Australian Outdoors August 1962. NSW, Australia: Kenmure Press, 1962. Magazine. Good Scarce copy of the best Australian hunting, shooting and fishing mag ever produced! Email for details of contents. Warrigal Press has dozens of these. Some unlisted. Email for list. $20.00

[012363] . The Wide World The Magazine for Men May 1946. United Kingdom: 1946. Magazine. Good Spine is worn. $20.00

[012547] . People September 19 1990. Sydney: Australian Consolidated Press, 1990. Magazine. Fair Worn copy. $10.00

[013843] . Man May 1968 Volume 63 Number 6. NSW, Australia: Man Magazine Pty Ltd, 1968. Magazine. Fair Email for details of contents. Losses around edges. Damp stains. $30.00

[012645] . Australasian Post March 8 1956. Melbourne: Magazine. Good Good copy. $30.00

[012644] . Australasian Post June 21 1956. Melbourne: Magazine. Good Good copy. $30.00

[012643] . Australasian Post March 22 1956. Melbourne: Magazine. Good Good copy. $30.00

[012642] . The Wide World The True Adventure Magazine for Men February 1962. United Kingdom: 1962. Magazine. Good Edgeworn copy. $20.00

[012641] . The Wide World The Magazine for Men May 1959. United Kingdom: 1959. Magazine. Good Edgeworn copy. $20.00

[012640] . The Wide World The Magazine for Men March 1944. United Kingdom: 1944. Magazine. Fair Contents loose form covers. Insect nibbles around edges. $20.00

[012550] . True Action Vol 11 Jan No 1. ill. Mort Kunstler. New York: Official Magazine Corporation, Magazine. Good 60s ? Men's mag. Undated. Cover art by Kunstler and Scaare. Worn copy. Email for details of contents. $33.00

[012510] . Australasian Post February 7 1957. Melbourne: Magazine. Good Good copy. $30.00

[012548] . Penthouse US Edition September 1990. USA: 1990. Magazine. Good Worn copy. $10.00

[012277] . The Wide World The True Adventure Magazine for Men February 1957. United Kingdom: Magazine. Good The magazine for men. $15.00

[012546] . People September 26 1990. Sydney: Australian Consolidated Press, 1990. Magazine. Fair Worn copy. $10.00

[012545] . People July 25 1990. Sydney: Australian Consolidated Press, 1990. Magazine. Fair Worn copy. $10.00

[012542] . People July 24 1991. Sydney: Australian Consolidated Press, 1991. Magazine. Fair Worn copy. $10.00

[012541] . The Picture December 19 1990 No 119. Sydney: Australian Consolidated Press, 1990. Magazine. Fair Worn copy. $10.00

[012526] . Ozbike No 111. Australia: Magazine. A few pen marks on back cover. Worn copy. $10.00

[012525] . Heavy Duty Vol 7 No 2. Australia: Magazine. $10.00

[012523] . Australian Penthouse December 1988. Australia: 1988. Magazine. Good $20.00

[012522] . Playboy US Edition December 1991. USA: 1991. Magazine. Good $10.00

[012513] . Australasian Post May 2 1957. Melbourne: Magazine. Good Good copy. $30.00

[012549] . Conquest Adventure. London: Top Sellers Ltd , Magazine. Good 60s ? Men's mag. Undated. Inc Spillane article. Interesting. Email for details of contents. $33.00

[012029] . Man April 1954. NSW, Australia: K G Murray Publishing Co, 1954. Magazine. Fair Damp affected. Worn copy. Complete. Email for details of contents. $25.00

[012279] . The Wide World The True Adventure Magazine for Men April 1957. United Kingdom: Magazine. Good The magazine for men. $15.00

[012038] . Australian Outdoors October 1960. NSW, Australia: Kenmure Press, 1960. Magazine. Good Scarce copy of the best Australian hunting, shooting and fishing mag ever produced! Email for details of contents. Warrigal Press has dozens of these. Some unlisted. Email for list. $20.00

[012037] . Australian Outdoors November 1960. NSW, Australia: Kenmure Press, 1960. Magazine. Good Scarce copy of the best Australian hunting, shooting and fishing mag ever produced! Email for details of contents. Corner on cover cut. $20.00

[012036] . Australian Outdoors December 1960. NSW, Australia: Kenmure Press, 1960. Magazine. Good Scarce copy of the best Australian hunting, shooting and fishing mag ever produced! Email for details of contents. Warrigal Press has dozens of these. Some unlisted. Email for list. $20.00

[012035] . Australian Outdoors February 1962. NSW, Australia: Kenmure Press, 1962. Magazine. Good Scarce copy of the best Australian hunting, shooting and fishing mag ever produced! Email for details of contents. $20.00

[012034] . Australian Outdoors January 1962. NSW, Australia: Kenmure Press, 1962. Magazine. Good Scarce copy of the best Australian hunting, shooting and fishing mag ever produced! Email for details of contents. Warrigal Press has dozens of these. Some unlisted. Email for list. $20.00

[012033] . Australian Outdoors December 1961. NSW, Australia: Kenmure Press, 1961. Magazine. Good Scarce copy of the best Australian hunting, shooting and fishing mag ever produced! Email for details of contents. Warrigal Press has dozens of these. Some unlisted. Email for list. $20.00

[012032] . Australian Outdoors October 1961. NSW, Australia: Kenmure Press, 1961. Magazine. Good Scarce copy of the best Australian hunting, shooting and fishing mag ever produced! Email for details of contents. Warrigal Press has dozens of these. Some unlisted. Email for list. $20.00

[012040] . Australian Outdoors August 1960. NSW, Australia: Kenmure Press, 1960. Magazine. Good Scarce copy of the best Australian hunting, shooting and fishing mag ever produced! Email for details of contents. Warrigal Press has dozens of these. Some unlisted. Email for list. $20.00

[012030] . Man Junior March 1955. NSW, Australia: Man Magazine Pty Ltd, 1955. Magazine. Fair Worn and slightly damp affected. Complete.! Great Australian popular fiction. Girls and gags $20.00

[012041] . Australian Outdoors March 1960. NSW, Australia: Kenmure Press, 1960. Magazine. Good Scarce copy of the best Australian hunting, shooting and fishing mag ever produced! Email for details of contents. Warrigal Press has dozens of these. Some unlisted. Email for list. $20.00

[012028] . Man July 1952. NSW, Australia: K G Murray Publishing Co, 1952. Magazine. Fair Damp affected. Worn copy. Complete. Email for details of contents. $25.00

[012027] . Man May 1945. NSW, Australia: K G Murray Publishing Co, 1945. Magazine. Fair Damp affected. Worn copy. Complete. Email for details of contents. $35.00

[012026] . The Australian Journal November 1955. Melbourne: A H Massina and Co Pty Ltd, 1955. Magazine. Good Vintage Australian magazine. Great stories and illus. Fact and fiction. $40.00

[012025] . The Australian Journal November 1957. Melbourne: A H Massina and Co Pty Ltd, 1957. Magazine. Good Vintage Australian magazine. Great stories and illus. fact and fiction. $40.00

[012024] . Australian Outdoors May 1961. NSW, Australia: Kenmure Press, 1961. Magazine. Good Scarce copy of the best Australian hunting, shooting and fishing mag ever produced! Email for details of contents. Warrigal Press has dozens of these. Some unlisted. Email for list. $20.00

[012023] . Australian Outdoors April 1961. NSW, Australia: Kenmure Press, 1961. Magazine. Good Scarce copy of the best Australian hunting, shooting and fishing mag ever produced! Email for details of contents. Warrigal Press has dozens of these. Some unlisted. Email for list. $20.00

[012022] . Australian Outdoors March 1961. NSW, Australia: Kenmure Press, 1961. Magazine. Good Scarce copy of the best Australian hunting, shooting and fishing mag ever produced! Email for details of contents. Warrigal Press has dozens of these. Some unlisted. Email for list. $20.00

[012021] . Australian Outdoors January 1961. NSW, Australia: Kenmure Press, 1961. Magazine. Good Scarce copy of the best Australian hunting, shooting and fishing mag ever produced! Email for details of contents. Warrigal Press has dozens of these. Some unlisted. Email for list. $20.00

[012020] . Australian Outdoors December 1962. NSW, Australia: Kenmure Press, 1962. Magazine. Good Scarce copy of the best Australian hunting, shooting and fishing mag ever produced! Email for details of contents. Warrigal Press has dozens of these. Some unlisted. Email for list. $20.00

[012031] . Australian Outdoors September 1961. NSW, Australia: Kenmure Press, 1961. Magazine. Good Scarce copy of the best Australian hunting, shooting and fishing mag ever produced! Email for details of contents. Warrigal Press has dozens of these. Some unlisted. Email for list. $20.00

[012113] . Laughs Volume 66. Auckland: H B K Hislop Ltd, 8vo - over 7¾" - 9¾" tall. Stapled. Good Vintage NZ risque gals and gags type magazine. 50 pp of jokes and illus. Circa 1950s? $20.00

[012276] . The Wide World The True Adventure Magazine for Men January 1957. United Kingdom: Magazine. Good The magazine for men. $15.00

[012200] . True Action Vol 11 No 1 January 1966. New York: Official Magazine Corporation, 1966. Magazine. Fair Cover art by Harry Schaare and Mort Kunstler. Collectible men's actioin mag from the 60s. Fair copy. Girls, gags and adventure. $25.00

[012199] . Man in Action No 9. Hong Kong: Transpacific Magazines, Magazine. Good Vintage men's magazine. Email for a list of stories. Great girls and artwork! $25.00

[012198] . Laughs and Lovelies New Series No 5. Australia: Kenmure Press, Magazine. Good Girls and humour. Some marks. Late 1960s $16.00

[012177] . Male No 7. Sydney: Stag, Magazine. Good Vintage Australian men's mag packed with beautiful girls and hilarious gags. Good copy. Inc colour centrefold. $18.00


[012149] . The Australian Woodworker January/February 1991. 1991. Magazine. Some writing on front cover $8.00

[012117] . Laughs Volume 87. Auckland: H B K Hislop Ltd, 8vo - over 7¾" - 9¾" tall. Stapled. Good Vintage NZ risque gals and gags type magazine. 50 pp of jokes and illus. Circa 1950s? Bookshop stamp on front cover. $20.00

[012116] . Laughs Volume 71. Auckland: H B K Hislop Ltd, 8vo - over 7¾" - 9¾" tall. Stapled. Good Vintage NZ risque gals and gags type magazine. 50 pp of jokes and illus. Circa 1950s? $20.00

[012039] . Australian Outdoors September 1960. NSW, Australia: Kenmure Press, 1960. Magazine. Good Scarce copy of the best Australian hunting, shooting and fishing mag ever produced! Email for details of contents. Warrigal Press has dozens of these. Some unlisted. Email for list. $20.00

[012114] . Laughs Volume 83. Auckland: H B K Hislop Ltd, 8vo - over 7¾" - 9¾" tall. Stapled. Good Vintage NZ risque gals and gags type magazine. 50 pp of jokes and illus. Circa 1950s? $20.00

[012700] . Cavalcade November 1945 Vol 2 No 5. Sydney: K G Murray Publishing Co, 1945. 12mo - over 6¾" - 7¾" tall. Magazine. Good 126 pp Australian digest. A few insect nibbles around edges. $15.00

[012112] . Laughs Volume 88. Auckland: H B K Hislop Ltd, 8vo - over 7¾" - 9¾" tall. Stapled. Fair Vintage NZ risque gals and gags type magazine. 50 pp of jokes and illus. Circa 1950s? Insect nibbles to top corner. Most of back cover missing. $10.00

[012111] . Man's Epic November 1971 Vol 5 No 2. NSW, Australia: Kenmure Press, 1971. Magazine. Fair A vintage Australian Men's mag. . Email for details of contents. Some damp stains. Marked. $15.00

[012110] . Man Junior June 1967. NSW, Australia: Kenmure Press, 1967. Magazine. Fair Fair copy. Penned price on cover. Some damp marks. A few pencil marks on back cover. Vintage Australian men's mag. $22.00

[012094] . Australian Skin Sizzling Launch Edition Volume 1 No 1. Australia: Redrock Media, 1997. Magazine. Good Sex filled first issue. Launch edition. Good copy. $15.00

[012046] . Australian Outdoors June 1961. NSW, Australia: Kenmure Press, 1961. Magazine. Good Scarce copy of the best Australian hunting, shooting and fishing mag ever produced! Email for details of contents. Warrigal Press has dozens of these. Some unlisted. Email for list. $20.00

[012045] . Australian Outdoors August 1961. NSW, Australia: Kenmure Press, 1961. Magazine. Good Scarce copy of the best Australian hunting, shooting and fishing mag ever produced! Email for details of contents. Warrigal Press has dozens of these. Some unlisted. Email for list. $20.00

[012044] . Australian Outdoors May 1960. NSW, Australia: Kenmure Press, 1960. Magazine. Good Scarce copy of the best Australian hunting, shooting and fishing mag ever produced! Email for details of contents. Warrigal Press has dozens of these. Some unlisted. Email for list. $20.00

[012043] . Australian Outdoors April 1960. NSW, Australia: Kenmure Press, 1960. Magazine. Good Scarce copy of the best Australian hunting, shooting and fishing mag ever produced! Email for details of contents. Warrigal Press has dozens of these. Some unlisted. Email for list. $20.00

[012042] . Australian Outdoors February 1960. NSW, Australia: Kenmure Press, 1960. Magazine. Good Scarce copy of the best Australian hunting, shooting and fishing mag ever produced! Email for details of contents. $20.00

[012115] . Laughs Volume 81. Auckland: H B K Hislop Ltd, 8vo - over 7¾" - 9¾" tall. Stapled. Good Vintage NZ risque gals and gags type magazine. 50 pp of jokes and illus. Circa 1950s? $20.00

[014856] . Minerals Gazette March 1996 Volume 1 Number 86. Western Australia: RIU, 1996. Good Mining industry periodical. If you are lookng for a particular article or details of a mine etc Warrigal Press can search our range of periodicals etc. Email for details. $20.00

[014865] . Australian Stock Exchange Journal Volume 7 No 9 September 1978. Australia: Kralco Printing Co, 1978. Good Industry periodical. If you are lookng for a particular article Warrigal Press can search our range of periodicals etc. Email for details. $30.00

[014864] . Australian Business February 12 1986 Volume 6 Number 7. Australia: Australian Consolidated Press, 1986. Good Industry periodical. If you are lookng for a particular article Warrigal Press can search our range of periodicals etc. Email for details. $30.00

[014863] . The Bulletin July 8 1980 Vol 101 No 5219. Australia: Australian Consolidated Press, 1980. Good Industry periodical. If you are lookng for a particular article Warrigal Press can search our range of periodicals etc. Email for details. $30.00

[014862] . Australian Stock Exchange Journal Volume 9 No 6 June 1980. Australia: Kralco Printing Co, 1980. Good Industry periodical. If you are lookng for a particular article Warrigal Press can search our range of periodicals etc. Email for details. $30.00

[015337] . For Him Magazine FHM No 93 October 1997 Lousie. Magazine. Good Light wear. $15.00

[015338] . For Him Magazine FHM No 104 Yasmine Bleeth. Magazine. Good Light wear. $15.00

[015339] . For Him Magazine FHM No 101 June 1998 Neve Campbell. Magazine. Good Light wear. $15.00

[014781] . Picture Home Girls Annual 1997. Australia: 1997. Magazine. Good The spunkiest homies. $20.00

[014857] . Australian Stock Exchange Journal July 1979. Australia: Australian Associated Stock Exchanges, 1979. Good Industry periodical. If you are lookng for a particular article Warrigal Press can search our range of periodicals etc. Email for details. $30.00

[014870] . Mine Development in the 80's Changing Coniderations in the Feasibility Study a Two Day Seminar February 4 - 5 1982 The Fairmont Hotel Denver Colorado. USA: Metals Economics Group, 1982. Good Seminar notes. 163 pp. $20.00

[014855] . Gold Gazette Australia February 12 1996 Volume 4 Number 14. Western Australia: RIU, 1996. Good Mining industry periodical. $20.00

[014854] . Gold Gazette Australia March 11 1996 Volume 4 Number 16. Western Australia: RIU, 1996. Good Mining industry periodical. $20.00

[014850] . Australasian Post August 14 1986. Melbourne: Magazine. $25.00

[014834] . Man July 1963 Volume 54 Number 2. NSW, Australia: Man Magazine Pty Ltd, 1962. Magazine. Email for details of contents. A few marks. $30.00

[014833] . Man Junior November 1962. NSW, Australia: Kenmure Press, 1962. Magazine. Good Vintage Australian men's mag. Good copy. $22.00

[014832] . Man Junior August 1962. NSW, Australia: Kenmure Press, 1962. Magazine. Fair Vintage Australian men's mag. Some stains. $20.00

[014819] . Australasian Post September 14 1978. Melbourne: Magazine. We have hundreds of Australasian Post mags at Warrigal Press. If you are looking for a particular story, cover or topic let us know and we can browse through the collection. Great Australiana, great stories etc... $25.00

[014752] . Australasian Post March 18 1976. Melbourne: Magazine. We have hundreds of Australasian Post mags at Warrigal Press. If you are looking for a particular story, cover or topic let us know and we can browse through the collection. Great Australiana, great stories etc... $25.00

[014858] . Australian Stock Exchange Journal October 1979. Australia: Australian Associated Stock Exchanges, 1979. Good Industry periodical. If you are lookng for a particular article Warrigal Press can search our range of periodicals etc. Email for details. $30.00

[015025] . Man December 1950 Vol 29 No 1. NSW, Australia: Man Magazine Pty Ltd, 1950. Magazine. Magazine. Email for details of contents. $35.00

[015330] . For Him Magazine FHM No 85 February 1997 Jenny McArthy. Magazine. Good Light wear. $15.00

[015331] . For Him Magazine FHM No 94 February 1997 Rhona Mitra. Magazine. Good Light wear. $15.00

[015031] . Man March 1965 Vol 57 No 4. NSW, Australia: Man Magazine Pty Ltd, 1965. Magazine. Good Email for details of contents. $30.00

[015030] . Man October 1953 Vol 34 No 5. NSW, Australia: K G Murray Publishing Co, 1953. Magazine. Good Email for details of contents. $35.00

[015029] . Man July 1952 Vo 32 N0 2. NSW, Australia: K G Murray Publishing Co, 1952. Magazine. Fair Good copy Email for details of contents. $35.00

[015332] . For Him Magazine FHM No 103 August 1998 Anna Nicole Smith. Magazine. Good Light wear. $15.00

[015333] . For Him Magazine FHM No 90 July 1997 Natsha Henstridge. Magazine. Good Light wear. $15.00

[015028] . Man September 1958 Vol 44 No 4. NSW, Australia: Man Magazine Pty Ltd, 1958. Magazine. Magazine. Email for details of contents. $35.00

[014866] . Australian Stock Exchange Journal Volume 7 No 8 August 1978. Australia: Kralco Printing Co, 1978. Good Industry periodical. If you are lookng for a particular article Warrigal Press can search our range of periodicals etc. Email for details. $30.00

[015026] . Man January 1951 Vol 29 No 2. NSW, Australia: Man Magazine Pty Ltd, 1951. Magazine. Magazine. Email for details of contents. Front cover rubbed. $35.00

[015336] . For Him Magazine FHM No 91 August 1997 Vendela. Magazine. Good Light wear. $15.00

[015024] . Man April 1951 Vol 29 No 5. NSW, Australia: Man Magazine Pty Ltd, 1951. Magazine. Magazine. Email for details of contents. Front cover rubbed. $35.00

[015023] . Man April 1950 Vol 27 No 5. NSW, Australia: Man Magazine Pty Ltd, 1950. Magazine. Magazine. Email for details of contents. $35.00

[015334] . For Him Magazine FHM No 82 November 1996 Kimberley Davies. Magazine. Good Light wear. $15.00

[015335] . For Him Magazine FHM No 92 September 1997 British TV Babes. Magazine. Good Light wear. $15.00

[014885] . Mineral Resources of New Zealand 1997 Edition. Western Australia: Louthean Publishing, 1997. Good Mining industry periodical. If you are lookng for a particular article or details of a mine etc Warrigal Press can search our range of periodicals etc. Email for details. $20.00

[014877] . Forbes May 15 1978 Volume 121 Number 10. USA: Forbes Inc, 1978. Industry/ investment periodical. $22.00

[014875] . The Bulletin July 31 1984 Vol 105 No 5472. Australia: Australian Consolidated Press, 1984. Good Industry periodical. If you are lookng for a particular article Warrigal Press can search our range of periodicals etc. Email for details. $30.00

[014756] . Australasian Post July 8 1976. Melbourne: Magazine. We have hundreds of Australasian Post mags at Warrigal Press. If you are looking for a particular story, cover or topic let us know and we can browse through the collection. Great Australiana, great stories etc... $25.00

[015027] . Man January 1952 Vol 31 No 2. NSW, Australia: Man Magazine Pty Ltd, 1952. Magazine. Magazine. Email for details of contents. $35.00

[014534] . Australasian Post April 26 1984. Melbourne: Magazine. We have hundreds of Australasian Post mags at Warrigal Press. If you are looking for a particular story, cover or topic let us know and we can browse through the collection. Great Australiana, great stories etc... $25.00

[014543] . Australasian Post October 8 1987. Melbourne: Magazine. We have hundreds of Australasian Post mags at Warrigal Press. If you are looking for a particular story, cover or topic let us know and we can browse through the collection. Great Australiana, great stories etc... $25.00

[014542] . Australasian Post June 25 1987. Melbourne: Magazine. We have hundreds of Australasian Post mags at Warrigal Press. If you are looking for a particular story, cover or topic let us know and we can browse through the collection. Great Australiana, great stories etc... $25.00

[014541] . Australasian Post December 31 1987. Melbourne: Magazine. We have hundreds of Australasian Post mags at Warrigal Press. If you are looking for a particular story, cover or topic let us know and we can browse through the collection. Great Australiana, great stories etc... $25.00

[014540] . Australasian Post November 12 1987. Melbourne: Magazine. We have hundreds of Australasian Post mags at Warrigal Press. If you are looking for a particular story, cover or topic let us know and we can browse through the collection. Great Australiana, great stories etc... $25.00

[014539] . Australasian Post January 30 1988. Melbourne: Magazine. We have hundreds of Australasian Post mags at Warrigal Press. If you are looking for a particular story, cover or topic let us know and we can browse through the collection. Great Australiana, great stories etc... $25.00

[014538] . Australasian Post April 9 1987. Melbourne: Magazine. We have hundreds of Australasian Post mags at Warrigal Press. If you are looking for a particular story, cover or topic let us know and we can browse through the collection. Great Australiana, great stories etc... $25.00

[014537] . Australasian Post March 12 1987. Melbourne: Magazine. We have hundreds of Australasian Post mags at Warrigal Press. If you are looking for a particular story, cover or topic let us know and we can browse through the collection. Great Australiana, great stories etc... $25.00

[014782] . Picture Home Girls Annual 1993. Australia: 1993. Magazine. Good The spunkiest homies. $20.00

[014535] . Australasian Post January 5 1984. Melbourne: Magazine. We have hundreds of Australasian Post mags at Warrigal Press. If you are looking for a particular story, cover or topic let us know and we can browse through the collection. Great Australiana, great stories etc... $25.00

[014546] . Australasian Post December 3 1987. Melbourne: Magazine. We have hundreds of Australasian Post mags at Warrigal Press. If you are looking for a particular story, cover or topic let us know and we can browse through the collection. Great Australiana, great stories etc... $25.00

[014533] . Australasian Post April 5 1984. Melbourne: Magazine. We have hundreds of Australasian Post mags at Warrigal Press. If you are looking for a particular story, cover or topic let us know and we can browse through the collection. Great Australiana, great stories etc... $25.00

[014532] . Australasian Post March 22 1984. Melbourne: Magazine. We have hundreds of Australasian Post mags at Warrigal Press. If you are looking for a particular story, cover or topic let us know and we can browse through the collection. Great Australiana, great stories etc... $25.00

[015340] . For Him Magazine FHM No 100 May 1998 Australian Babes. Magazine. Good Light wear. $15.00

[014531] . Australasian Post March 1 1984. Melbourne: Magazine. We have hundreds of Australasian Post mags at Warrigal Press. If you are looking for a particular story, cover or topic let us know and we can browse through the collection. Great Australiana, great stories etc... $25.00

[014530] . Australasian Post May 31 1984. Melbourne: Magazine. We have hundreds of Australasian Post mags at Warrigal Press. If you are looking for a particular story, cover or topic let us know and we can browse through the collection. Great Australiana, great stories etc... $25.00

[014529] . Australasian Post July 5 1984. Melbourne: Magazine. We have hundreds of Australasian Post mags at Warrigal Press. If you are looking for a particular story, cover or topic let us know and we can browse through the collection. Great Australiana, great stories etc... $25.00

[015266] . Australasian Post February 17 1977. Melbourne: Magazine. We have hundreds of Australasian Post mags at Warrigal Press. If you are looking for a particular story, cover or topic let us know and we can browse through the collection. Great Australiana, great stories etc... $40.00

[014528] . Australasian Post October 16 1986. Melbourne: Magazine. We have hundreds of Australasian Post mags at Warrigal Press. If you are looking for a particular story, cover or topic let us know and we can browse through the collection. Great Australiana, great stories etc... $25.00

[014536] . Australasian Post September 26 1985. Melbourne: Magazine. We have hundreds of Australasian Post mags at Warrigal Press. If you are looking for a particular story, cover or topic let us know and we can browse through the collection. Great Australiana, great stories etc... $25.00

[014626] . Master Detective July 1982. New York: RGH Publishing, Magazine. Poor Worn copy. Email for details of contents. US true crime stories. Covers almost loose and torn most of the way up the spine. $8.00

[014755] . Australasian Post August 5 1976. Melbourne: Magazine. We have hundreds of Australasian Post mags at Warrigal Press. If you are looking for a particular story, cover or topic let us know and we can browse through the collection. Great Australiana, great stories etc... $25.00

[014754] . Australasian Post August 12 1976. Melbourne: Magazine. We have hundreds of Australasian Post mags at Warrigal Press. If you are looking for a particular story, cover or topic let us know and we can browse through the collection. Great Australiana, great stories etc... $25.00

[014753] . Australasian Post October 16 1975. Melbourne: Magazine. We have hundreds of Australasian Post mags at Warrigal Press. If you are looking for a particular story, cover or topic let us know and we can browse through the collection. Great Australiana, great stories etc... $25.00

[013839] . Man January 1953 Volume 33 Number 2. NSW, Australia: Man Magazine Pty Ltd, 1953. Magazine. Email for details of contents. $35.00

[014140] . Australian Amatuer Boatbuilder No 25. Queensland ,Australia: P&G Lynch and Assoc, Magazine. Good magazine in good condition. $10.00

[014751] . Australasian Post March 11 1976. Melbourne: Magazine. We have hundreds of Australasian Post mags at Warrigal Press. If you are looking for a particular story, cover or topic let us know and we can browse through the collection. Great Australiana, great stories etc... $25.00

[014750] . Australasian Post January 1 1976. Melbourne: Magazine. We have hundreds of Australasian Post mags at Warrigal Press. If you are looking for a particular story, cover or topic let us know and we can browse through the collection. Great Australiana, great stories etc... $25.00

[014749] . Australasian Post April 8 1976. Melbourne: Magazine. We have hundreds of Australasian Post mags at Warrigal Press. If you are looking for a particular story, cover or topic let us know and we can browse through the collection. Great Australiana, great stories etc... $25.00

[014544] . Australasian Post July 24 1986. Melbourne: Magazine. We have hundreds of Australasian Post mags at Warrigal Press. If you are looking for a particular story, cover or topic let us know and we can browse through the collection. Great Australiana, great stories etc... $40.00

[014627] . Master mind Crime. New South Wales: Gredown Pty, Magazine. Good Worn copy. Email for details of contents. Undated. Probably 70s. Aussie reprints of US true crime stories. $10.00

[014545] . Australasian Post June 5 1986. Melbourne: Magazine. We have hundreds of Australasian Post mags at Warrigal Press. If you are looking for a particular story, cover or topic let us know and we can browse through the collection. Great Australiana, great stories etc... $25.00

[014625] . Front Page Detective . New South Wales: Yaffa Publishing Group, . Magazine. Good Worn copy. Email for details of contents. Undated. Probably 70s. Aussie reprints of US true crime stories. $10.00

[014552] . Australasian Post February 13 1988. Melbourne: Magazine. We have hundreds of Australasian Post mags at Warrigal Press. If you are looking for a particular story, cover or topic let us know and we can browse through the collection. Great Australiana, great stories etc... $25.00

[014551] . Australasian Post July 31 1986. Melbourne: Magazine. We have hundreds of Australasian Post mags at Warrigal Press. If you are looking for a particular story, cover or topic let us know and we can browse through the collection. Great Australiana, great stories etc... $25.00


[014550] . Australasian Post July 17 1986. Melbourne: Magazine. We have hundreds of Australasian Post mags at Warrigal Press. If you are looking for a particular story, cover or topic let us know and we can browse through the collection. Great Australiana, great stories etc... $25.00

[014549] . Australasian Post November 20 1986. Melbourne: Magazine. We have hundreds of Australasian Post mags at Warrigal Press. If you are looking for a particular story, cover or topic let us know and we can browse through the collection. Great Australiana, great stories etc... $25.00

[014548] . Australasian Post December 24 1987. Melbourne: Magazine. We have hundreds of Australasian Post mags at Warrigal Press. If you are looking for a particular story, cover or topic let us know and we can browse through the collection. Great Australiana, great stories etc... $25.00

[014547] . Australasian Post October 22 1987. Melbourne: Magazine. We have hundreds of Australasian Post mags at Warrigal Press. If you are looking for a particular story, cover or topic let us know and we can browse through the collection. Great Australiana, great stories etc... $25.00

[015327] . For Him Magazine FHM No 138 100 Sexiest 2001. Magazine. Good Light wear. $15.00

[014748] . Australasian Post December 4 1975. Melbourne: Magazine. We have hundreds of Australasian Post mags at Warrigal Press. If you are looking for a particular story, cover or topic let us know and we can browse through the collection. Great Australiana, great stories etc... $25.00

[015321] . For Him Magazine FHM No 81 October 1996 Yasmine Bleeth. Magazine. Good Light wear. $15.00

[015261] . Australasian Post April 18 1974. Melbourne: Magazine. We have hundreds of Australasian Post mags at Warrigal Press. If you are looking for a particular story, cover or topic let us know and we can browse through the collection. Great Australiana, great stories etc... $25.00

[015260] . Australasian Post July 25 1974. Melbourne: Magazine. We have hundreds of Australiasian Post mags at Warrigal Press. If you are looking for a particular story, cover or topic let us know and we can browse through the collection. Great Australiana, great stories etc... $25.00

[015259] . Australasian Post June 6 1974. Melbourne: Magazine. We have hundreds of Australiasian Post mags at Warrigal Press. If you are looking for a particular story, cover or topic let us know and we can browse through the collection. Great Australiana, great stories etc... $25.00

[015258] . Australasian Post May 16 1974. Melbourne: Magazine. We have hundreds of Australiasian Post mags at Warrigal Press. If you are looking for a particular story, cover or topic let us know and we can browse through the collection. Great Australiana, great stories etc... $25.00

[015257] . Australasian Post May 2 1974. Melbourne: Magazine. We have hundreds of Australiasian Post mags at Warrigal Press. If you are looking for a particular story, cover or topic let us know and we can browse through the collection. Great Australiana, great stories etc... $25.00

[015256] . Australasian Post April 25 1974. Melbourne: Magazine. We have hundreds of Australasian Post mags at Warrigal Press. If you are looking for a particular story, cover or topic let us know and we can browse through the collection. Great Australiana, great stories etc... $25.00

[015255] . Australasian Post December 27 1973. Melbourne: Magazine. $30.00

[015329] . For Him Magazine FHM No 107 December 1998 Jennifer Lopez. Magazine. Good Light wear. $15.00

[015253] . Australasian Post October 25 1973. Melbourne: Magazine. $22.00

[015264] . Australasian Post May 21 1975. Melbourne: Magazine. We have hundreds of Australasian Post mags at Warrigal Press. If you are looking for a particular story, cover or topic let us know and we can browse through the collection. Great Australiana, great stories etc... $25.00

[015322] . For Him Magazine FHM No 113 June 1999 Gail Porter. Magazine. Good Light wear. $15.00

[015251] . Walkabout Vol 33 No 4 April 1967. Melbourne: Australian National Travel Association, Magazine. Fair Fair copy only. $15.00

[015250] . Walkabout Vol 32 No 12 December 1966. Melbourne: Australian National Travel Association, Magazine. $15.00

[015249] . Walkabout Vol 34 No 4 April 1968. Melbourne: Australian National Travel Association, Magazine. $15.00

[015248] . Walkabout Vol 26 No 9 July 1960. Melbourne: Australian National Travel Association, Magazine. $15.00

[015246] . Walkabout Vol 33 No 12 December 1967. Melbourne: Australian National Travel Association, Magazine. $15.00

[015245] . Walkabout Vol 29 No 11 November 1963. Melbourne: Australian National Travel Association, Magazine. $15.00

[015244] . Walkabout Vol 33 No 6 June 1967. Melbourne: Australian National Travel Association, Magazine. $15.00

[015254] . Australasian Post November 1 1973. Melbourne: Magazine. $25.00

[015313] . For Him Magazine FHM No 124 May 2000. Magazine. Good Light wear. $15.00

[015277] . Australasian Post September 27 1973. Melbourne: Magazine. We have hundreds of Australasian Post mags at Warrigal Press. If you are looking for a particular story, cover or topic let us know and we can browse through the collection. Great Australiana, great stories etc... $25.00

[015304] . For Him Magazine FHM No 106 November 1998 Caprice. Magazine. Good Light wear. $15.00

[015305] . For Him Magazine FHM No 133 February 2001 Caprice. Magazine. Good Light wear. $15.00

[015306] . For Him Magazine FHM No 122 March 2000 Virginie Ledoyen. Magazine. Good Light wear. $15.00

[015307] . For Him Magazine FHM No 118 November 1999 Jennifer Lopez. Magazine. Good Light wear. $15.00

[015308] . For Him Magazine FHM No 121 February 2000 Alicia Silverstone. Magazine. Good Light wear. $15.00

[015309] . For Him Magazine FHM No 127 August 2000 Lisa Faulkner. Magazine. Good Light wear. $15.00

[015310] . For Him Magazine FHM No 96 January 1998 Melanie Sykes. Magazine. Good Light wear. $15.00

[015262] . Australasian Post April 11 1974. Melbourne: Magazine. We have hundreds of Australasian Post mags at Warrigal Press. If you are looking for a particular story, cover or topic let us know and we can browse through the collection. Great Australiana, great stories etc... $25.00

[015312] . For Him Magazine FHM No 128 september 2000 Sarah Michelle Gellar. Magazine. Good Light wear. $15.00

[015263] . Australasian Post May 22 1975. Melbourne: Magazine. We have hundreds of Australasian Post mags at Warrigal Press. If you are looking for a particular story, cover or topic let us know and we can browse through the collection. Great Australiana, great stories etc... $25.00

[015314] . For Him Magazine FHM No 80 September 1996 Jennifer Anniston. Magazine. Good Light wear. $15.00

[015315] . For Him Magazine FHM No 84 January 1999 Gillian Anderson. Magazine. Good Light wear. $15.00

[015316] . For Him Magazine FHM No 83 December 1996 Tiffany. Magazine. Good Light wear. $15.00

[015317] . For Him Magazine FHM No 117 October 1999. Magazine. Good Light wear. $15.00

[015318] . For Him Magazine FHM No 129 October 2000 Britney Spears. Magazine. Good Light wear. $15.00

[015319] . For Him Magazine FHM No 116 September 1999 Shania Twain. Magazine. Good Light wear. $15.00

[015320] . For Him Magazine FHM No 120 January 2000 Geri Halliwell. Magazine. Good Light wear. $15.00

[015241] . Walkabout Vol 27 No 2 February 1961. Melbourne: Australian National Travel Association, Magazine. $15.00

[015311] . For Him Magazine FHM No 89 June 1997 Carmen Electra. Magazine. Good Light wear. $15.00

[015046] . Front Page Detective December 1936. USA: Exposed Publishing Co, 1936. Magazine. Good Rare vintage true crime magazine. Good copy. Light losses on spine. Email for details of contents. $50.00

[015243] . Walkabout Vol 25 No 5 May 1959. Melbourne: Australian National Travel Association, Magazine. $15.00

[015083] . Australasian Post January 12 1961. Melbourne: Magazine. $30.00

[015082] . Australasian Post December 8 1960. Melbourne: Magazine. $30.00

[015081] . Australasian Post January 19 1961. Melbourne: Magazine. $30.00

[015080] . Australasian Post January 5 1961. Melbourne: Magazine. $30.00

[015079] . Australasian Post February 12 1959. Melbourne: Magazine. $30.00

[015078] . Australasian Post August 20 1959. Melbourne: Magazine. $30.00

[015076] . Australasian Post November 22 1956. Melbourne: Magazine. $30.00

[015085] . Australasian Post March 27 1958. Melbourne: Magazine. $30.00

[015325] . For Him Magazine FHM No 109 February 1999 Gail Porter. Magazine. Good Light wear. $15.00

[015086] . Australasian Post June 19 1958. Melbourne: Magazine. $30.00

[015037] . Man August 1964. NSW, Australia: Man Magazine Pty Ltd, 1964. Magazine. Email for details and contents. $25.00

[015036] . Man's World Incorporating Body Sculpture June 1952. United Kingdom: 1952. Magazine. Fair Vintage men's body building mag. Covers loose from contents. Silverfish nibbles around edges. $55.00

[015035] . Man's Life No 2 1977. NSW, Australia: Kenmure Press, 1977. Magazine. Good Great collectible Men's mag. Great gals and illustrations. Light wear. A few fold marks. $30.00

[015034] . Man's Epic January / February 1972. NSW, Australia: Kenmure Press, 1972. Magazine. Good A vintage Australian Men's mag. . Email for details of contents $30.00

[015033] . Man April 1963 Vol 53 No 5. NSW, Australia: Man Magazine Pty Ltd, 1963. Magazine. Good Email for details of contents. $33.00

[015032] . Man April 1961 Vol 49 No 5. NSW, Australia: Man Magazine Pty Ltd, 1961. Magazine. Email for details of contents. $30.00

[015326] . For Him Magazine FHM No 139 July 2001 Carmen Electra. Magazine. Good Light wear. $15.00

[014527] . Australasian Post February 5 1987. Melbourne: Magazine. We have hundreds of Australasian Post mags at Warrigal Press. If you are looking for a particular story, cover or topic let us know and we can browse through the collection. Great Australiana, great stories etc... $25.00

[015064] . Australasian Post December 29 1960. Melbourne: Magazine. $25.00

[015096] . Australasian Post December 15 1960. Melbourne: Magazine. $30.00

[015328] . For Him Magazine FHM No 126 July 2000 Lousie. Magazine. Good Light wear. $15.00

[015240] . Walkabout Vol 29 No 7 July 1963. Melbourne: Australian National Travel Association, Magazine. $15.00

[015323] . For Him Magazine FHM No 123 April 2000 . Magazine. Good Light wear. $15.00

[015239] . Walkabout Vol 25 No 10 October 1959. Melbourne: Australian National Travel Association, Magazine. $15.00

[015238] . Walkabout Vol 31 No 7 July 1965. Melbourne: Australian National Travel Association, Magazine. Cover almost loose. $10.00

[015193] . Man July 1950 Vol 28 No 2. NSW, Australia: K G Murray Publishing Co, 1950. Magazine. Good Good copy Email for details of contents. $35.00

[015142] . Cavalcade September 1945. Sydney: K G Murray Publishing Co, 1945. 12mo - over 6¾" - 7¾" tall. Magazine. Fair Fair copy. Browning. Some tears. $15.00

[015141] . Cavalcade December 1945. Sydney: K G Murray Publishing Co, 1945. 12mo - over 6¾" - 7¾" tall. Magazine. Fair Fair copy. Browning. Some tears. Dog eared. $15.00

[015084] . Australasian Post February 20 1958. Melbourne: Magazine. $30.00

[015136] . Man January 1974 Vol 75 No 1. NSW, Australia: Man Magazine Pty Ltd, 1974. Magazine. Some silverfish nibbles on front cover and along edges. $25.00

[015242] . Walkabout Vol 27 No 5 May 1963. Melbourne: Australian National Travel Association, Magazine. $15.00

[015095] . Australasian Post December 22 1960. Melbourne: Magazine. $30.00

[015094] . Australasian Post December 29 1960. Melbourne: Magazine. $30.00

[015092] . Australasian Post April 3 1958. Melbourne: Magazine. $30.00

[015091] . Australasian Post April 10 1958. Melbourne: Magazine. $30.00

[015090] . Australasian Post January 16 1958. Melbourne: Magazine. $30.00

[015089] . Australasian Post February 6 1958. Melbourne: Magazine. $30.00

[015088] . Australasian Post May 22 1958. Melbourne: Magazine. $30.00

[015087] . Australasian Post May 29 1958. Melbourne: Magazine. $30.00

[015324] . For Him Magazine FHM No 125 June 2000 Kelly Brook. Magazine. Good Light wear. $15.00

[014427] . Australasian Post May 16 1985. Melbourne: Magazine. $20.00

[014435] . People May 1 1980. Melbourne: Magazine. Popular Australian magazine. $20.00

[014434] . Pix September 4 1965. Melbourne: Magazine. Popular Australian magazine $25.00

[014433] . Australasian Post March 24 1984. Melbourne: Magazine. We have hundreds of Australiasian Post mags at Warrigal Press. If you are looking for a particular story, cover or topic let us know and we can browse through the collection. Great Australiana, great stories etc... $25.00

[014432] . Australasian Post May 2 1985. Melbourne: Magazine. We have hundreds of Australiasian Post mags at Warrigal Press. If you are looking for a particular story, cover or topic let us know and we can browse through the collection. Great Australiana, great stories etc... $25.00

[015357] . For Him Magazine FHM No 114 July 1999 Britney Spears. Magazine. Good Light wear. $15.00

[014431] . Australasian Post June 13 1985. Melbourne: Magazine. We have hundreds of Australiasian Post mags at Warrigal Press. If you are looking for a particular story, cover or topic let us know and we can browse through the collection. Great Australiana, great stories etc... $25.00

[014430] . Australasian Post June 20 1985. Melbourne: Magazine. We have hundreds of Australiasian Post mags at Warrigal Press. If you are looking for a particular story, cover or topic let us know and we can browse through the collection. Great Australiana, great stories etc... $25.00

[015341] . For Him Magazine FHM No 97 February 1998 Kylie Minogue. Magazine. Good Light wear. $30.00

[014428] . Australasian Post January 15 1987. Melbourne: Magazine. We have hundreds of Australiasian Post mags at Warrigal Press. If you are looking for a particular story, cover or topic let us know and we can browse through the collection. Great Australiana, great stories etc... $25.00

[014438] . Australasian Post May 9 1985. Melbourne: Magazine. We have hundreds of Australasian Post mags at Warrigal Press. If you are looking for a particular story, cover or topic let us know and we can browse through the collection. Great Australiana, great stories etc... $25.00

[014426] . Australasian Post May 23 1985. Melbourne: Magazine. $20.00

[014425] . Australasian Post March 28 1985. Melbourne: Magazine. We have hundreds of Australiasian Post mags at Warrigal Press. If you are looking for a particular story, cover or topic let us know and we can browse through the collection. Great Australiana, great stories etc... $20.00

[014338] . Ellery Queen's Mystery Magazine December 1980. USA: B.G.Davies, 1980. 12mo - over 6¾" - 7¾" tall. Mass Market Paperback. Fair Worn copy. Spine damaged. For reading only. $8.80

[014316] . Australasian Post April 24 1980. Melbourne: Magazine. $20.00

[014315] . Australasian Post October 23 1980. Melbourne: Magazine. $20.00

[014313] . Australasian Post May 6 1982. Melbourne: Magazine. We have hundreds of Australasian Post mags at Warrigal Press. If you are looking for a particular story, cover or topic let us know and we can browse through the collection. Great Australiana, great stories etc... $25.00

[014312] . Australasian Post August 5 1982. Melbourne: Magazine. We have hundreds of Australasian Post mags at Warrigal Press. If you are looking for a particular story, cover or topic let us know and we can browse through the collection. Great Australiana, great stories etc... $25.00

[014311] . Australasian Post November 25 1982. Melbourne: Magazine. Fair copy. Has some cut outs and pen marks on front cover. We have hundreds of Australasian Post mags at Warrigal Press. If you are looking for a particular story, cover or topic let us know and we can browse through the collection. Great Australiana, great stories etc... $25.00

[014429] . Australasian Post June 27 1985. Melbourne: Magazine. We have hundreds of Australiasian Post mags at Warrigal Press. If you are looking for a particular story, cover or topic let us know and we can browse through the collection. Great Australiana, great stories etc... $25.00

[014446] . Australasian Post April 10 1986. Melbourne: Magazine. We have hundreds of Australasian Post mags at Warrigal Press. If you are looking for a particular story, cover or topic let us know and we can browse through the collection. Great Australiana, great stories etc... $25.00

[014454] . Australasian Post January 21 1989. Melbourne: Magazine. We have hundreds of Australasian Post mags at Warrigal Press. If you are looking for a particular story, cover or topic let us know and we can browse through the collection. Great Australiana, great stories etc... $25.00

[014453] . Australasian Post January 29 1987. Melbourne: Magazine. We have hundreds of Australasian Post mags at Warrigal Press. If you are looking for a particular story, cover or topic let us know and we can browse through the collection. Great Australiana, great stories etc... $25.00

[014452] . Australasian Post February 12 1987. Melbourne: Magazine. We have hundreds of Australasian Post mags at Warrigal Press. If you are looking for a particular story, cover or topic let us know and we can browse through the collection. Great Australiana, great stories etc... $40.00

[014451] . Australasian Post September 5 1985. Melbourne: Magazine. We have hundreds of Australasian Post mags at Warrigal Press. If you are looking for a particular story, cover or topic let us know and we can browse through the collection. Great Australiana, great stories etc... $25.00

[014450] . Australasian Post December 30 1989. Melbourne: Magazine. We have hundreds of Australasian Post mags at Warrigal Press. If you are looking for a particular story, cover or topic let us know and we can browse through the collection. Great Australiana, great stories etc... $25.00

[014449] . Australasian Post January 14 1989. Melbourne: Magazine. We have hundreds of Australasian Post mags at Warrigal Press. If you are looking for a particular story, cover or topic let us know and we can browse through the collection. Great Australiana, great stories etc... $25.00

[015354] . For Him Magazine FHM No 110 March 1999 Rebecca Romjin. Magazine. Good Light wear. $15.00

[015355] . For Him Magazine FHM No 132 January 2000. Magazine. Good Light wear. $15.00

[014436] . Australasian Post August 8 1974. Melbourne: Magazine. We have hundreds of Australasian Post mags at Warrigal Press. If you are looking for a particular story, cover or topic let us know and we can browse through the collection. Great Australiana, great stories etc... $25.00

[014447] . Australasian Post September 4 1986. Melbourne: Magazine. We have hundreds of Australasian Post mags at Warrigal Press. If you are looking for a particular story, cover or topic let us know and we can browse through the collection. Great Australiana, great stories etc... $25.00

[014437] . Australasian Post May 6 1982. Melbourne: Magazine. We have hundreds of Australasian Post mags at Warrigal Press. If you are looking for a particular story, cover or topic let us know and we can browse through the collection. Great Australiana, great stories etc... $25.00

[015356] . For Him Magazine FHM No 111 April 1999 Mariah Carey. Magazine. Good Light wear. $15.00

[014445] . Australasian Post January 1 1987. Melbourne: Magazine. We have hundreds of Australasian Post mags at Warrigal Press. If you are looking for a particular story, cover or topic let us know and we can browse through the collection. Great Australiana, great stories etc... $25.00

[014444]
. Australasian Post December 18 1986. Melbourne: Magazine. We have hundreds of Australasian Post mags at Warrigal Press. If you are looking for a particular story, cover or topic let us know and we can browse through the collection. Great Australiana, great stories etc... $25.00

[014442] . Australasian Post March 21 1985. Melbourne: Magazine. We have hundreds of Australasian Post mags at Warrigal Press. If you are looking for a particular story, cover or topic let us know and we can browse through the collection. Great Australiana, great stories etc... $25.00

[014441] . Australasian Post August 7 1986. Melbourne: Magazine. We have hundreds of Australasian Post mags at Warrigal Press. If you are looking for a particular story, cover or topic let us know and we can browse through the collection. Great Australiana, great stories etc... $25.00

[014440] . Australasian Post October 30 1986. Melbourne: Magazine. We have hundreds of Australasian Post mags at Warrigal Press. If you are looking for a particular story, cover or topic let us know and we can browse through the collection. Great Australiana, great stories etc... $25.00

[014439] . Australasian Post January 28 1989. Melbourne: Magazine. We have hundreds of Australasian Post mags at Warrigal Press. If you are looking for a particular story, cover or topic let us know and we can browse through the collection. Great Australiana, great stories etc... $25.00

[014308] . Famous Detective Stories Volume 3 Number 12 November 1949. Sydney: Frank Johnson, Magazine. Good True accounts of famous adventures in crime and detection. This is a vintage Australian pulp style detective magazine full of great Australian crime stories. Warrigal Press has a number of these for sale . If you are looking for a particular crime please contact us. Worn copy. Interesting true crime. $55.00

[014448] . Australasian Post September 11 1986. Melbourne: Magazine. We have hundreds of Australasian Post mags at Warrigal Press. If you are looking for a particular story, cover or topic let us know and we can browse through the collection. Great Australiana, great stories etc... $25.00

[014194] . Man's Epic March 1969 Vol 2 No 3. NSW, Australia: Kenmure Press, 1969. Magazine. Good A vintage Australian Men's mag. . Email for details of contents . Centre pages loose. $30.00

[014310] . Australasian Post February 3 1983. Melbourne: Magazine. We have hundreds of Australasian Post mags at Warrigal Press. If you are looking for a particular story, cover or topic let us know and we can browse through the collection. Great Australiana, great stories etc... $25.00

[014285] . Man's Epic May / June 1976 Volume 9 Number 5. NSW, Australia: Kenmure Press, 1976. Magazine. Good A vintage Australian Men's mag. . Email for details of contents $30.00

[015362] . For Him Magazine FHM 100 Sexiest Women in the World 1996. Magazine. Good Light wear. $15.00

[014284] . Man's Epic July / August 1976. NSW, Australia: Kenmure Press, 1976. Magazine. Good A vintage Australian Men's mag. . Email for details of contents $30.00

[014283] . Man's Epic November/December 1976. NSW, Australia: Kenmure Press, 1976. Magazine. Good A vintage Australian Men's mag. . Email for details of contents . $30.00

[014282] . Man's Epic Number 6 1977. NSW, Australia: Kenmure Press, 1977. Magazine. Good A vintage Australian Men's mag. . Email for details of contents .Includes story, Good copy. $30.00

[014281] . Man's Epic Number 5 1977. NSW, Australia: Kenmure Press, 1977. Magazine. Good A vintage Australian Men's mag. . Email for details of contents .Includes story, Good copy. Small pen mark on front cover. $30.00

[014205] . Pocket Man August 1954. Australia: K G Murray Publishing Co, 1954. 12mo - over 6¾" - 7¾" tall. Magazine. Fair Vintage Pocket Man mag with great pulp style stories and glam girls! Some insect nibbles around edges. $15.00

[014287] . Man's Epic January / February 1975 Volume 8 Number 3. NSW, Australia: Kenmure Press, 975. Magazine. Good A vintage Australian Men's mag. . Email for details of contents $30.00

[014201] . Man Junior October 1967. NSW, Australia: Kenmure Press, 1967. Magazine. Good Good copy. Vintage Australian men's mag. $30.00

[014288] . Man's Epic May / June 1975 Volume 8 Number 5. NSW, Australia: Kenmure Press, 1975. Magazine. Good A vintage Australian Men's mag. . Email for details of contents $30.00

[014193] . Man Junior January 1967. NSW, Australia: Kenmure Press, 1967. Magazine. Fair Some insect nibbles around edges. Old penned price on front cover. $15.00

[014145] . Australian Amatuer Boatbuilder No 39. Queensland ,Australia: P&G Lynch and Assoc, Magazine. Good magazine in good condition. $10.00

[014144] . Australian Amatuer Boatbuilder No 55. Queensland ,Australia: P&G Lynch and Assoc, Magazine. Good magazine in good condition. $10.00

[014143] . Australian Amatuer Boatbuilder No 40. Queensland ,Australia: P&G Lynch and Assoc, Magazine. Good magazine in good condition. $10.00

[015363] . For Him Magazine FHM 100 Sexiest Women in the World 2001. Magazine. Good Light wear. $15.00

[015364] . For Him Magazine FHM 100 Sexiest Women in the World 1998. Magazine. Good Light wear. $15.00

[014142] . Australian Amatuer Boatbuilder No 19. Queensland ,Australia: P&G Lynch and Assoc, Magazine. Good magazine in good condition. $10.00

[014141] . Australian Amatuer Boatbuilder No 35. Queensland ,Australia: P&G Lynch and Assoc, Magazine. Good magazine in good condition. $10.00

[014204] . Pocket Man June 1955. Australia: K G Murray Publishing Co, 1955. 12mo - over 6¾" - 7¾" tall. Magazine. Fair Vintage Pocket Man mag with great pulp style stories and glam girls! Some insect nibbles around edges. $15.00

[015360] . For Him Magazine FHM Cover Girls! Special Collectors Edition. Magazine. Good Light wear. $15.00

[014457] . Australasian Post October 9 1986. Melbourne: Magazine. We have hundreds of Australasian Post mags at Warrigal Press. If you are looking for a particular story, cover or topic let us know and we can browse through the collection. Great Australiana, great stories etc... $25.00

[014307] . Famous Detective Stories Volume 5 Number 1 December 1955. Sydney: Frank Johnson, . Magazine. Good True accounts of famous adventures in crime and detection. This is a vintage Australian pulp style detective magazine full of great Australian crime stories. Warrigal Press has a number of these for sale . If you are looking for a particular crime please contact us. Worn copy. Interesting true crime. $55.00

[014305] . Australian Shooter May 2006. Magazine. Good $10.00

[015358] . For Him Magazine FHM No 112 May 1999 Cerys Matthews. Magazine. Good Light wear. Covers creased. $15.00

[014304] . Man's Epic March 1970 Volume 3 Number 4. NSW, Australia: Kenmure Press, 1970. Magazine. Good A vintage Australian Men's mag. . Email for details of contents . $30.00

[015359] . For Him Magazine FHM No 135 April 2001 Halle Beryy. Magazine. Good Light wear. Covers creased. A few short edge tears to cover. $15.00

[014303] . Man's Epic May / June 1973 Vol 6 No 5. NSW, Australia: Kenmure Press, 1973. Magazine. Good A vintage Australian Men's mag. . Email for details of contents $30.00

[014302] . Man's Epic March / April 1972 Volume 5 Number 4. NSW, Australia: Kenmure Press, 1972. Magazine. Good A vintage Australian Men's mag. . Email for details of contents . $30.00

[014286] . Man's Epic January / February 1976 Volume 9 Number 3. NSW, Australia: Kenmure Press, 1976. Magazine. Good A vintage Australian Men's mag. . Email for details of contents $30.00

[014300] . Man's Epic November 1970. NSW, Australia: Kenmure Press, 1970. Magazine. Good A vintage Australian Men's mag. . Email for details of contents . $30.00

[014309] . Australasian Post June 30 1983. Melbourne: Magazine. We have hundreds of Australasian Post mags at Warrigal Press. If you are looking for a particular story, cover or topic let us know and we can browse through the collection. Great Australiana, great stories etc... $25.00

[015361] . For Him Magazine FHM 100 Sexiest Women in the World 1999. Magazine. Good Light wear. $15.00

[014298] . Man's Epic September 1970 Volume 4 Number 1. NSW, Australia: Kenmure Press, 1970. Magazine. Good A vintage Australian Men's mag. . Email for details of contents .Includes story by Carl Ruhen. $30.00

[014297] . Man's Epic November/December 1974 Vol 8 No 2. NSW, Australia: Kenmure Press, 1974. Magazine. Good A vintage Australian Men's mag. . Email for details of contents . $30.00

[014294] . Man's Epic July / August 1972 Olume 5 Number 6. NSW, Australia: Kenmure Press, 1975. Magazine. Good A vintage Australian Men's mag. . Email for details of contents $30.00

[014292] . Man's Epic September/October 1973 Vol 7 No 1. NSW, Australia: Kenmure Press, 1973. Magazine. Good A vintage Australian Men's mag. . Email for details of contents .Includes story, I Led the Soviet Secret Sin Girl Brigade. $30.00

[014291] . Man's Epic November/December 1973 Vol 7 No 2. NSW, Australia: Kenmure Press, 1973. Magazine. Good A vintage Australian Men's mag. . Email for details of contents .Includes story, Trapped by the man starved Amazons of Diamond Cove. $30.00

[014290] . Man's Epic July / August 1973 Volume 6 Number 6. NSW, Australia: Kenmure Press, 1973. Magazine. Good A vintage Australian Men's mag. . Email for details of contents . $30.00

[014289] . Man's Epic March / April 1975 Volume 8 Number 4. NSW, Australia: Kenmure Press, 1975. Magazine. Good A vintage Australian Men's mag. . Email for details of contents . $30.00

[014301] . Man's Epic March / April 1976 Volume 9 Number 4. NSW, Australia: Kenmure Press, 1976. Magazine. Good A vintage Australian Men's mag. . Email for details of contents . $30.00

[014495] . Australasian Post October 13 1983. Melbourne: Magazine. We have hundreds of Australasian Post mags at Warrigal Press. If you are looking for a particular story, cover or topic let us know and we can browse through the collection. Great Australiana, great stories etc... $25.00

[014505] . Australasian Post June 9 1990. Melbourne: Magazine. We have hundreds of Australasian Post mags at Warrigal Press. If you are looking for a particular story, cover or topic let us know and we can browse through the collection. Great Australiana, great stories etc... $25.00

[014504] . Australasian Post April 11 1985. Melbourne: Magazine. We have hundreds of Australasian Post mags at Warrigal Press. If you are looking for a particular story, cover or topic let us know and we can browse through the collection. Great Australiana, great stories etc... $25.00

[014503] . Australasian Post April 25 1985. Melbourne: Magazine. We have hundreds of Australasian Post mags at Warrigal Press. If you are looking for a particular story, cover or topic let us know and we can browse through the collection. Great Australiana, great stories etc... $25.00

[014502] . Australasian Post September 22 1983. Melbourne: Magazine. We have hundreds of Australasian Post mags at Warrigal Press. If you are looking for a particular story, cover or topic let us know and we can browse through the collection. Great Australiana, great stories etc... $25.00

[014500] . Australasian Post July 18 1985. Melbourne: Magazine. We have hundreds of Australasian Post mags at Warrigal Press. If you are looking for a particular story, cover or topic let us know and we can browse through the collection. Great Australiana, great stories etc... $25.00

[014499] . Australasian Post July 4 1985. Melbourne: Magazine. We have hundreds of Australasian Post mags at Warrigal Press. If you are looking for a particular story, cover or topic let us know and we can browse through the collection. Great Australiana, great stories etc... $25.00

[014498] . Australasian Post November 28 1985. Melbourne: Magazine. We have hundreds of Australasian Post mags at Warrigal Press. If you are looking for a particular story, cover or topic let us know and we can browse through the collection. Great Australiana, great stories etc... $25.00

[015348] . For Him Magazine FHM No 119 December 1999 Dannie Minogue. Magazine. Good Light wear. $15.00

[014496] . Australasian Post August 22 1985. Melbourne: Magazine. We have hundreds of Australasian Post mags at Warrigal Press. If you are looking for a particular story, cover or topic let us know and we can browse through the collection. Great Australiana, great stories etc... $25.00

[014508] . Australasian Post October 6 1983. Melbourne: Magazine. We have hundreds of Australasian Post mags at Warrigal Press. If you are looking for a particular story, cover or topic let us know and we can browse through the collection. Great Australiana, great stories etc... $25.00

[014494] . Australasian Post October 10 1985. Melbourne: Magazine. We have hundreds of Australasian Post mags at Warrigal Press. If you are looking for a particular story, cover or topic let us know and we can browse through the collection. Great Australiana, great stories etc... $25.00

[014493] . Australasian Post January 5 1984. Melbourne: Magazine. We have hundreds of Australasian Post mags at Warrigal Press. If you are looking for a particular story, cover or topic let us know and we can browse through the collection. Great Australiana, great stories etc... $25.00

[014492] . Australasian Post October 17 1985. Melbourne: Magazine. We have hundreds of Australasian Post mags at Warrigal Press. If you are looking for a particular story, cover or topic let us know and we can browse through the collection. Great Australiana, great stories etc... $25.00

[015343] . For Him Magazine FHM No 102 July 1998 Cat Deely. Magazine. Good Light wear. $15.00

[015344] . For Him Magazine FHM No 105 October 1998 Denise Richards. Magazine. Good Light wear. $15.00

[015345] . For Him Magazine FHM No 88 May 1997 Tina Hobley. Magazine. Good Light wear. $15.00

[015346] . For Him Magazine FHM No 130 November 2000 Girls of Music. Magazine. Good Light wear. $15.00

[014455] . Australasian Post February 19 1987. Melbourne: Magazine. We have hundreds of Australasian Post mags at Warrigal Press. If you are looking for a particular story, cover or topic let us know and we can browse through the collection. Great Australiana, great stories etc... $25.00

[014497] . Australasian Post July 11 1985. Melbourne: Magazine. We have hundreds of Australasian Post mags at Warrigal Press. If you are looking for a particular story, cover or topic let us know and we can browse through the collection. Great Australiana, great stories etc... $25.00

[014515] . Australasian Post June 2 1990. Melbourne: Magazine. We have hundreds of Australasian Post mags at Warrigal Press. If you are looking for a particular story, cover or topic let us know and we can browse through the collection. Great Australiana, great stories etc... $25.00

[014525] . Australasian Post September 19 1985. Melbourne: Magazine. We have hundreds of Australasian Post mags at Warrigal Press. If you are looking for a particular story, cover or topic let us know and we can browse through the collection. Great Australiana, great stories etc... $25.00

[014524] . Australasian Post October 24 1985. Melbourne: Magazine. We have hundreds of Australasian Post mags at Warrigal Press. If you are looking for a particular story, cover or topic let us know and we can browse through the collection. Great Australiana, great stories etc... $25.00

[014523] . Australasian Post September 12 1985. Melbourne: Magazine. We have hundreds of Australasian Post mags at Warrigal Press. If you are looking for a particular story, cover or topic let us know and we can browse through the collection. Great Australiana, great stories etc... $25.00

[014522] . Australasian Post May 26 1983. Melbourne: Magazine. We have hundreds of Australasian Post mags at Warrigal Press. If you are looking for a particular story, cover or topic let us know and we can browse through the collection. Great Australiana, great stories etc... $25.00

[014521] . Australasian Post November 14 1985. Melbourne: Magazine. We have hundreds of Australasian Post mags at Warrigal Press. If you are looking for a particular story, cover or topic let us know and we can browse through the collection. Great Australiana, great stories etc... $25.00

[014520] . Australasian Post October 31 1985. Melbourne: Magazine. We have hundreds of Australasian Post mags at Warrigal Press. If you are looking for a particular story, cover or topic let us know and we can browse through the collection. Great Australiana, great stories etc... $25.00

[014519] . Australasian Post May 30 1985. Melbourne: Magazine. We have hundreds of Australasian Post mags at Warrigal Press. If you are looking for a particular story, cover or topic let us know and we can browse through the collection. Great Australiana, great stories etc... $25.00

[014518] . Australasian Post December 25 1986. Melbourne: Magazine. We have hundreds of Australasian Post mags at Warrigal Press. If you are looking for a particular story, cover or topic let us know and we can browse through the collection. Great Australiana, great stories etc... $25.00

[014506] . Australasian Post February 20 1988. Melbourne: Magazine. We have hundreds of Australasian Post mags at Warrigal Press. If you are looking for a particular story, cover or topic let us know and we can browse through the collection. Great Australiana, great stories etc... $25.00

[014516] . Australasian Post February 26 1987. Melbourne: Magazine. We have hundreds of Australasian Post mags at Warrigal Press. If you are looking for a particular story, cover or topic let us know and we can browse through the collection. Great Australiana, great stories etc... $25.00

[014507] . Australasian Post February 4 1989. Melbourne: Magazine. We have hundreds of Australasian Post mags at Warrigal Press. If you are looking for a particular story, cover or topic let us know and we can browse through the collection. Great Australiana, great stories etc... $25.00

[014514] . Australasian Post December 16 1989. Melbourne: Magazine. We have hundreds of Australasian Post mags at Warrigal Press. If you are looking for a particular story, cover or topic let us know and we can browse through the collection. Great Australiana, great stories etc... $25.00

[014513] . Australasian Post February 10 1990. Melbourne: Magazine. We have hundreds of Australasian Post mags at Warrigal Press. If you are looking for a particular story, cover or topic let us know and we can browse through the collection. Great Australiana, great stories etc... $25.00

[014512] . Australasian Post July 25 1985. Melbourne: Magazine. We have hundreds of Australasian Post mags at Warrigal Press. If you are looking for a particular story, cover or topic let us know and we can browse through the collection. Great Australiana, great stories etc... $25.00

[014511] . Australasian Post April 4 1985. Melbourne: Magazine. We have hundreds of Australasian Post mags at Warrigal Press. If you are looking for a particular story, cover or topic let us know and we can browse through the collection. Great Australiana, great stories etc... $25.00

[015342] . For Him Magazine FHM No 86 March 1997 Cameron Diaz. Magazine. Good Light wear. $20.00

[014510] . Australasian Post February 4 1989. Melbourne: Magazine. We have hundreds of Australasian Post mags at Warrigal Press. If you are looking for a particular story, cover or topic let us know and we can browse through the collection. Great Australiana, great stories etc... $25.00

[014509] . Australasian Post July 10 1986. Melbourne: Magazine. We have hundreds of Australasian Post mags at Warrigal Press. If you are looking for a particular story, cover or topic let us know and we can browse through the collection. Great Australiana, great stories etc... $25.00


[014491] . Australasian Post July 3 1986. Melbourne: Magazine. We have hundreds of Australasian Post mags at Warrigal Press. If you are looking for a particular story, cover or topic let us know and we can browse through the collection. Great Australiana, great stories etc... $25.00

[014517] . Australasian Post November 26 1987. Melbourne: Magazine. We have hundreds of Australasian Post mags at Warrigal Press. If you are looking for a particular story, cover or topic let us know and we can browse through the collection. Great Australiana, great stories etc... $25.00

[014465] . Australasian Post February 11 1989. Melbourne: Magazine. We have hundreds of Australasian Post mags at Warrigal Press. If you are looking for a particular story, cover or topic let us know and we can browse through the collection. Great Australiana, great stories etc... $25.00

[015347] . For Him Magazine FHM No 134 March 2001 Martine McCutcheon. Magazine. Good Light wear. $15.00

[015352] . For Him Magazine FHM No 95 December 1997 Terri Hatcher. Magazine. Good Light wear. $15.00

[014472] . Australasian Post January 9 1988. Melbourne: Magazine. We have hundreds of Australasian Post mags at Warrigal Press. If you are looking for a particular story, cover or topic let us know and we can browse through the collection. Great Australiana, great stories etc... $25.00

[015353] . For Him Magazine FHM No 115 August 1999 Britsh Beauties Special. Magazine. Good Light wear. $15.00

[014471] . Australasian Post October 23 1986. Melbourne: Magazine. We have hundreds of Australasian Post mags at Warrigal Press. If you are looking for a particular story, cover or topic let us know and we can browse through the collection. Great Australiana, great stories etc... $25.00

[014470] . Australasian Post August 27 1987. Melbourne: Magazine. We have hundreds of Australasian Post mags at Warrigal Press. If you are looking for a particular story, cover or topic let us know and we can browse through the collection. Great Australiana, great stories etc... $25.00

[014469] . Australasian Post August 20 1987. Melbourne: Magazine. We have hundreds of Australasian Post mags at Warrigal Press. If you are looking for a particular story, cover or topic let us know and we can browse through the collection. Great Australiana, great stories etc... $25.00

[014468] . Australasian Post November 27 1986. Melbourne: Magazine. We have hundreds of Australasian Post mags at Warrigal Press. If you are looking for a particular story, cover or topic let us know and we can browse through the collection. Great Australiana, great stories etc... $25.00

[014474] . Australasian Post February 6 1988. Melbourne: Magazine. We have hundreds of Australasian Post mags at Warrigal Press. If you are looking for a particular story, cover or topic let us know and we can browse through the collection. Great Australiana, great stories etc... $25.00

[014466] . Australasian Post October 2 1986. Melbourne: Magazine. We have hundreds of Australasian Post mags at Warrigal Press. If you are looking for a particular story, cover or topic let us know and we can browse through the collection. Great Australiana, great stories etc... $25.00

[014475] . Australasian Post March 26 1987. Melbourne: Magazine. We have hundreds of Australasian Post mags at Warrigal Press. If you are looking for a particular story, cover or topic let us know and we can browse through the collection. Great Australiana, great stories etc... $25.00

[014464] . Australasian Post August 28 1986. Melbourne: Magazine. We have hundreds of Australasian Post mags at Warrigal Press. If you are looking for a particular story, cover or topic let us know and we can browse through the collection. Great Australiana, great stories etc... $25.00

[014463] . Australasian Post Augus 21 1986. Melbourne: Magazine. We have hundreds of Australasian Post mags at Warrigal Press. If you are looking for a particular story, cover or topic let us know and we can browse through the collection. Great Australiana, great stories etc... $25.00

[014462] . Australasian Post September 14 1986. Melbourne: Magazine. We have hundreds of Australasian Post mags at Warrigal Press. If you are looking for a particular story, cover or topic let us know and we can browse through the collection. Great Australiana, great stories etc... $25.00

[014461] . Australasian Post November 6 1986. Melbourne: Magazine. We have hundreds of Australasian Post mags at Warrigal Press. If you are looking for a particular story, cover or topic let us know and we can browse through the collection. Great Australiana, great stories etc... $25.00

[014460] . Australasian Post January 22 1987. Melbourne: Magazine. We have hundreds of Australasian Post mags at Warrigal Press. If you are looking for a particular story, cover or topic let us know and we can browse through the collection. Great Australiana, great stories etc... $25.00

[014459] . Australasian Post April 18 1985. Melbourne: Magazine. We have hundreds of Australasian Post mags at Warrigal Press. If you are looking for a particular story, cover or topic let us know and we can browse through the collection. Great Australiana, great stories etc... $25.00

[014458] . Australasian Post March 14 1985. Melbourne: Magazine. We have hundreds of Australasian Post mags at Warrigal Press. If you are looking for a particular story, cover or topic let us know and we can browse through the collection. Great Australiana, great stories etc... $25.00

[014526] . Australasian Post October 29 1987. Melbourne: Magazine. We have hundreds of Australasian Post mags at Warrigal Press. If you are looking for a particular story, cover or topic let us know and we can browse through the collection. Great Australiana, great stories etc... $25.00

[014467] . Australasian Post March 5 1987. Melbourne: Magazine. We have hundreds of Australasian Post mags at Warrigal Press. If you are looking for a particular story, cover or topic let us know and we can browse through the collection. Great Australiana, great stories etc... $25.00

[014483] . Australasian Post September 10 1987. Melbourne: Magazine. We have hundreds of Australasian Post mags at Warrigal Press. If you are looking for a particular story, cover or topic let us know and we can browse through the collection. Great Australiana, great stories etc... $25.00

[014490] . Australasian Post February 18 1989. Melbourne: Magazine. We have hundreds of Australasian Post mags at Warrigal Press. If you are looking for a particular story, cover or topic let us know and we can browse through the collection. Great Australiana, great stories etc... $25.00

[014489] . Australasian Post December 17 1987. Melbourne: Magazine. We have hundreds of Australasian Post mags at Warrigal Press. If you are looking for a particular story, cover or topic let us know and we can browse through the collection. Great Australiana, great stories etc... $25.00

[014488] . Australasian Post June 18 1987. Melbourne: Magazine. We have hundreds of Australasian Post mags at Warrigal Press. If you are looking for a particular story, cover or topic let us know and we can browse through the collection. Great Australiana, great stories etc... $25.00

[015349] . For Him Magazine FHM No 108 January 1999 Lisa Faulkner. Magazine. Good Light wear. $15.00

[015350] . For Him Magazine FHM No 99 April 1998 Jenny McCarthy. Magazine. Good Light wear. $15.00

[014487] . Australasian Post June 19 1986. Melbourne: Magazine. We have hundreds of Australasian Post mags at Warrigal Press. If you are looking for a particular story, cover or topic let us know and we can browse through the collection. Great Australiana, great stories etc... $25.00

[014486] . Australasian Post May 21 1987. Melbourne: Magazine. We have hundreds of Australasian Post mags at Warrigal Press. If you are looking for a particular story, cover or topic let us know and we can browse through the collection. Great Australiana, great stories etc... $25.00

[014473] . Australasian Post December 11 1986. Melbourne: Magazine. We have hundreds of Australasian Post mags at Warrigal Press. If you are looking for a particular story, cover or topic let us know and we can browse through the collection. Great Australiana, great stories etc... $25.00

[014484] . Australasian Post July 9 1987. Melbourne: Magazine. We have hundreds of Australasian Post mags at Warrigal Press. If you are looking for a particular story, cover or topic let us know and we can browse through the collection. Great Australiana, great stories etc... $25.00

[014456] . Australasian Post March 19 1987. Melbourne: Magazine. We have hundreds of Australasian Post mags at Warrigal Press. If you are looking for a particular story, cover or topic let us know and we can browse through the collection. Great Australiana, great stories etc... $25.00

[014482] . Australasian Post December 4 1986. Melbourne: Magazine. We have hundreds of Australasian Post mags at Warrigal Press. If you are looking for a particular story, cover or topic let us know and we can browse through the collection. Great Australiana, great stories etc... $25.00

[014481] . Australasian Post September 24 1987. Melbourne: Magazine. We have hundreds of Australasian Post mags at Warrigal Press. If you are looking for a particular story, cover or topic let us know and we can browse through the collection. Great Australiana, great stories etc... $25.00

[014480] . Australasian Post September 3 1987. Melbourne: Magazine. We have hundreds of Australasian Post mags at Warrigal Press. If you are looking for a particular story, cover or topic let us know and we can browse through the collection. Great Australiana, great stories etc... $25.00

[014479] . Australasian Post August 6 1987. Melbourne: Magazine. We have hundreds of Australasian Post mags at Warrigal Press. If you are looking for a particular story, cover or topic let us know and we can browse through the collection. Great Australiana, great stories etc... $25.00

[014478] . Australasian Post August 29 1985. Melbourne: Magazine. We have hundreds of Australasian Post mags at Warrigal Press. If you are looking for a particular story, cover or topic let us know and we can browse through the collection. Great Australiana, great stories etc... $25.00

[014477] . Australasian Post May 29 1986. Melbourne: Magazine. We have hundreds of Australasian Post mags at Warrigal Press. If you are looking for a particular story, cover or topic let us know and we can browse through the collection. Great Australiana, great stories etc... $25.00

[014476] . Australasian Post April 9 1987. Melbourne: Magazine. We have hundreds of Australasian Post mags at Warrigal Press. If you are looking for a particular story, cover or topic let us know and we can browse through the collection. Great Australiana, great stories etc... $25.00

[015351] . For Him Magazine FHM No 98 March 1998. Magazine. Good Light wear. $15.00

[014485] . Australasian Post January 16 1988. Melbourne: Magazine. We have hundreds of Australasian Post mags at Warrigal Press. If you are looking for a particular story, cover or topic let us know and we can browse through the collection. Great Australiana, great stories etc... $25.00

[016271] . FHM July1997. London: For Him Magazine, 1997. Good Mens mag. $10.00

[016052] . English Woman Week Ending May 28 1955. London: 1955. Fair Vintage woman's mag. $30.00

[017454] . FHM June 2008. London: For Him Magazine, 1997. Good Mens mag. $10.00

[019703] . Man November 1959. Sydney: Man Magazine Pty Ltd, 1959. Magazine. Good A few creases and short tears. Worn copy. Scarce Oz mens mag. $30.00

[019702] . Man Annual 1960. Sydney: Man Magazine Pty Ltd, 1960. Magazine. Good A few creases and short tears. Worn copy. Scarce Oz mens mag. $30.00

[017455] . FHM 100 Sexiest 2001. London: For Him Magazine, 2001. Good Mens mag. $10.00

[017827] Abbott, J.H.M. Squire the New Magazine for Modern Men Vol 1 No 8. Sydney: Squire Magazines, Magazine. Good Scarce Australian Men's magazine from the mid 60s. In good condition. $40.00

[018670] Alexander, Ed. English Glamor Models. USA: Fawcett Haynes, 1966. 8vo - over 7¾" - 9¾" tall. Magazine. Fair Beauty and poise, nude studies, decorative poses. Nude art photos. 112 pp. Fair copy. $15.00

[011110] Ashworth, Ron. Ashworth's Dare Australia's Most Startling Magazine Incorporating the Australian Sunbather Vol 7 No 4 April May 1953. Balgowah NSW Australia: Ron Ashworth, 1954. Magazine. Good Very rare copy of Ron Ashworth's mag. Australia's most startling magazine. 20 pp of starling galmour etc from the 50s. Includes stories on Bedroom Snoopers, Sadism in Sydney , Are Actresses Human , Vintage nude pictorial, The Australian Sunbather, etc. Nude pictorials. Worn copy. A few short tears. very, very rare! This one must have pushed the limits at the time! $100.00

[004713] Balint, Emery. Shipyards of Early Sydney [ in Heritage Australia ]. Australia: Australian Council of National Trusts, 1985. Large Format. Pictorial Card. Good Article in Heritage Australia. Summer 1985 edition. Pages 21-25 with 1 b/w and 6 colour illus. Slight wrinkling of last few ages of mag. Also inc article on Freo Roundhouse. $12.00

[018671] Basch, Peter. Peter Basch Photographs Beauties of the World. USA: Fawcett Haynes, 1958. 8vo - over 7¾" - 9¾" tall. Magazine. Fair International nudes. Nude art photos. 144pp. Fair copy. Wrinkled and marked. $15.00

[012345] Beer, P (ed). Tarndanya Magazine of the Adelaide Buswalkers May 1966. Adelaide: Adelaide Bushwalkers, 1966. 12mo - over 6¾" - 7¾" tall. Stapled. Good 50 pp small format mag for the Adelaide bushwalkers. Email for details of contents. $22.00

[010780] Berk, Merle ( Editor-in-Chief ). Lapidary Journal Vol 41 No 12 March 1988. California: Lapidary Journal Inc, 1988. Magazine. Good Good copy. Valuable lapidary info. magazine. $10.00

[010772] Berk, Merle ( Editor-in-Chief ). Lapidary Journal Vol 41 No 5 August 1987. California: Lapidary Journal Inc, 1987. Magazine. Good Good copy. Valuable lapidary info. magazine. $10.00

[022160] Clune, Frank. Interview with a Sheik in Short Story Magazine No 43 February 1948. Australia: Invincible Press, 1948. 8vo - over 7¾" - 9¾" tall. Stapled. Magazine. Fair Short article by Clune in a Short Story magzine. Inc other stories. Fair copy. Worn and marked. $20.00

[010858] Crawford, Ashley. World Art the Magazine of Contemporary Visual Arts 4 / 1995. Australia: 1995. First Edition. Large Format. Magazine. Good 108 pp. Near very good copy. Email for details of contents. $35.00

[002758] Curtis, Ruth Ann. The Power of Dreams (Article in Walkabout Magazine). Australia: Australian National Travel Association, 1947. First Edition. Large Format. Saddlestitched. Good 8 pp article in Walkabout magazine Aug 1 1947. Inc 12 b/w photographs of RFDS activities and outback scenes. 1 map. Magazine in good condition. Inc other great Australiana stories. $13.50

[010183] Farrell, E. The National Police Gazette May 1940 Vol 144 No 37. USA: National Police Gazette, 1964. Magazine. Good Vintage true crime, risque , expose mag from the USA. Boxing, baseball, crime, girls and more girls! Worn. Interesting! $40.00

[010182] Farrell, E. The National Police Gazette May 1940 Vol 144 No 37. USA: Harold H Roswell, 1940. Magazine. Fair Vintage true crime, risque , expose mag from the USA. Boxing, baseball, crime, girls and the odd glimpse of a stocking!. Worn. Pages coming loose. Interesting! $40.00

[004799] Finneran, Jack. The "Wirraway" Advanced Trainer. Article in Radio and Hobbies in Australia.. Sydney: Associated Newspapers, 1944. Magazine. Good Article in Radio and Hobbies in Australia magazine June 1944. 2 pp article on the Wirraway and basic scale plan. One b/w illus. $20.00

[010209] Fitzgibbon, Constantine. The Life of Dylan Thomas. London: Sphere, 1968. 12mo - over 6¾" - 7¾" tall. Mass Market Paperback. Good ISBN: dylan thomas. Thomas bio. Paperback in good condition. $8.80

[020948] Flanagan, Dennis. Scientific American May 1977 Volume 236 Number 5. USA: Scientific American Inc, 1977. Magazine. Good Good copy. $15.00

[020947] Flanagan, Dennis. Scientific American April 1979 Volume 240 Number 4. USA: Scientific American Inc, 1979. Magazine. Good Good copy. $15.00

[005280] Greenop, Frank S. Rough on the Coast. Short Story in Man Magazine. NSW, Australia: Man Magazine Pty Ltd, 1955. Magazine. 7 page short story in Man magazine. Greenop was the editor. $35.00

[012047] Hamilton, Maxwell. Blebook Adventure in Fact and Fiction October 1953 Vol 97 No 6. United States of America: McCall Corporation, 1953. Magazine. Good Fact , fiction and adventure magazine. Magazine is chipped around the edges. $20.00

[012152] Hatt, Robin (ed). The Searcher Volume 6 No 2 October 1990. England: Searcher Publications, 1990. Magazine. Good Metal detecting/treasure hunting magazine. $12.00

[009730] Hearn, Marcus (ed). Bizarre Collector's Special. London: Marvel Magazines, Magazine. Good An A-Z of the strangest films you're never likely to see! Magazine in good condition. $22.00

[005313] Herbert, Xavier. Look Into My Eyes. NSW, Australia: Man Magazine Pty Ltd, 1963. Magazine. 7 page short story in Man magazine. $30.00

[002759] Hilder, Brett. Whaling at Norfolk Island (Article in Walkabout Magazine). Australia: Australian National Travel Association, 1958. First Edition. Large Format. Saddlestitched. Good 4 pp article in Walkabout magazine 1 Sep 1956. Inc 4 b/w photographs whaling activities. Magazine in good condition. Inc other great Australiana stories. $15.00

[005299] Holthouse, Hector. A Feast of Talgoro. NSW, Australia: Man Magazine Pty Ltd, 1963. Magazine. Interesting 5 page article on Aboriginal cannibalim in Australia. Some illus. Email for more details. $30.00

[005293] Holthouse, Hector. Nemesis of the Outback. NSW, Australia: Man Magazine Pty Ltd, 1965. Magazine. Fred Walker and his native troops spread death and chaos. Interesting 6 page article on Fred Walker and white/black conflict in Queensland. Some illus. Email for more details. $30.00

[010774] Kraus, Pansy D. Lapidary Journal Vol 37 No 1 April 1983. California: Lapidary Journal Inc, 1983. Magazine. Poor Poor copy. Binding has cracked spliiting the magazine into 2 parts. Valuable lapidary info. Magazine. $10.00

[010773] Kraus, Pansy D. Lapidary Journal Vol 36 No 3 June 1982. California: Lapidary Journal Inc, 1982. Magazine. Good Good copy. Valuable lapidary info. magazine. $10.00

[010782] Kraus, Pansy D. Lapidary Journal Vol 37 No 11 February 1984. California: Lapidary Journal Inc, 1984. Magazine. Good Good copy. Valuable lapidary info. magazine. $10.00

[010783] Kraus, Pansy D. Lapidary Journal Vol 35 No 8 February 1981. California: Lapidary Journal Inc, 1984. Magazine. Good Good copy. Valuable lapidary info. magazine. $10.00

[014886] Louthean, Ross. Australia's Paydirt July 1997 Volume I Issue 30. Western Australia: RIU, 1997. Good Mining industry periodical. If you are lookng for a particular article or details of a mine etc Warrigal Press can search our range of periodicals etc. Email for details. $20.00

[014889] Louthean, Ross. Gold Minng Journal July 1997 Volume 1 Issue 34. Western Australia: RIU, 1997. Good Mining industry periodical. If you are lookng for a particular article or details of a mine etc Warrigal Press can search our range of periodicals etc. Email for details. $25.00

[011028] McCrae, Stewart. "We've Never Lost a father". Sydney: Shakespeare Head, 4to - over 9¾" - 12" tall. Stapled. Fair Vintage humour book for the father to be. Worn and marked. Some small losses and tears around cover edges. A few marks inside. Interesting father to be humour. Card covers have creases. $15.00

[015140] McGuiness, Robert M. Illustrated Satires Magazine. Australia: Stag Publishing, Stapled. Good Very rare Australian satire mag. Undated. 1960s? Vietnam era satire. Some edge wear. Similar to Mad mag. $55.00


[017041] Miller, Meg and Anderson, Lisa (ed.). Grass Roots Fireside Reader. Shepparton, Australia: Night Owl Publishers, 1984. 4to - over 9¾" - 12" tall. Paperback. Good ISBN: 0 9595244 9 5. Covers worn, edges bumped. Pages yellowing. A few pages clipped but this doesn't interfere with the text. $18.00

[017007] Miller, Megg and David. Grass Roots Bumper Book. Shepparton, Australia: Night Owl Publishers, 1981. 4to - over 9¾" - 12" tall. Stapled. Good A wealth of environmentally friendly activities and informative reading for the holiday season. Covers worn, edges bumped, pages yellowing. $15.00

[017006] Miller, Megg and Horsfall, Mary (ed.). Living Better for Less. Euroa, Victoria: Night Owl Publishers, 1992. 4to - over 9¾" - 12" tall. Stapled. Good A book that will save you money with hints, advice and recepies for healthier, happier and more environmentally aware living in the modren world. Covers worn, text clean. $20.00

[012145] Patison, N D ( Editor ). The Australian Lapidary Magazine June 1973 Vol 9 N 11. Australia: Jay Kay Publications, 1973. Magazine. Fair Worn copy. $20.00

[021099] Playboy. The Best from Playboy Number Five. USA: Playboy, 1971. Magazine. Good Good copy. Includes Vargas article. $30.00

[021094] Playboy. The Best from Playboy Number Two. USA: Playboy, 1968. Magazine. Good Good copy $20.00

[021168] Playboy. The Best from Playboy Number Three. USA: Playboy, 1969. Magazine. Good Good copy. From a private collection. $30.00

[021291] Playboy. The Best from Playboy Number Four. USA: Playboy, 1970. Magazine. Good Good copy. From a private collection. $30.00

[013088] Powell, Herb ( Ed ). Flying Aces Volume XXVI May 1937 Number 2. USA: Magazine Publishers, 1937. Pulp. Good Interesting aviation pulp magazine. Great fighter ace stories. Plane info. Model building. Good copy. Light wear. A few marks. Small losses along edges of covers and a few short tears. tape along spine. Warrigal Press has a number of these magazines. Email for details of contents or if you are looking for specific information let us know. $33.00

[013082] Powell, Herb ( Ed ). Flying Aces Volume XXV February 1937 Number 3. USA: Magazine Publishers, 1937. Pulp. Good Interesting aviation pulp magazine. Great fighter ace stories. Plane info. Model building. Good copy. Light wear. A few marks. Small losses along edges of covers and a few short tears. Tape along spine. Warrigal Press has a number of these magazines. Email for details of contents or if you are looking for specific information let us know. $33.00

[013083] Powell, Herb ( Ed ). Flying Aces Volume XXXIII October 1939 Number 3. USA: Magazine Publishers, 1939. Pulp. Fair Interesting aviation pulp magazine. Great fighter ace stories. Plane info. Model building. Good copy. Light wear. A few marks. Small losses along edges of covers and a few short tears. Corner missing off front cover. Tape along spine. Warrigal Press has a number of these magazines. Email for details of contents or if you are looking for specific information let us know. $33.00

[013087] Powell, Herb ( Ed ). Flying Aces Volume XXV March 1937 Number 4. USA: Magazine Publishers, 1937. Pulp. Good Interesting aviation pulp magazine. Great fighter ace stories. Plane info. Model building. Good copy. Light wear. A few marks. Small losses along edges of covers and a few short tears. tape along spine. Warrigal Press has a number of these magazines. Email for details of contents or if you are looking for specific information let us know. $33.00

[013089] Powell, Herb ( Ed ). Flying Aces Volume XXVI June 1937 Number 3. USA: Magazine Publishers, 1937. Pulp. Good Interesting aviation pulp magazine. Great fighter ace stories. Plane info. Model building. Good copy. Light wear. A few marks. Small losses along edges of covers and a few short tears. tape along spine. Warrigal Press has a number of these magazines. Email for details of contents or if you are looking for specific information let us know. $33.00

[014299] Ruhen, Carl. Beware o the Bleeding Rainbow Short Story in Man's Epic September 1970 Volume 4 Number 1. NSW, Australia: Kenmure Press, 1970. Magazine. Good A vintage Australian Men's mag. . Email for details of contents .Includes story by Carl Ruhen. Slightlywrinkled magazine with a few stains. $30.00

[014859] Rydge, Norman B. Rydge's March 1980 Volume LIII No 3. Australia: 1980. Good Industry periodical. If you are lookng for a particular article Warrigal Press can search our range of periodicals etc. Email for details. $30.00

[014860] Rydge, Norman B. Rydge's January 1980 Volume LIII No 1. Australia: 1980. Good Industry periodical. If you are lookng for a particular article Warrigal Press can search our range of periodicals etc. Email for details. $30.00

[014867] Rydge, Norman B. Rydge's February 1980 Volume LIII No 2. Australia: 1980. Good Industry periodical. If you are lookng for a particular article Warrigal Press can search our range of periodicals etc. Email for details. $30.00

[013034] Stagles., Ian (ed). Western Angler Aug/Sept 1996. Perth: Western Angler Magazine, 1996. Good Good copy. Email for details. $12.00

[014861] Stanwix, Helen. AFR Spring Review September 1986. Australia: Australian Financial Review, 1986. Good Industry periodical. If you are lookng for a particular article Warrigal Press can search our range of periodicals etc. Email for details. $30.00

[002756] Thomson, Donald. F. The Masked Dancers Oe I'wai'i. A Remarkable Hero Cult Which Has Invaded Cape York Peninsula (article in Walkabout magazine). Australia: Australian National Travel Association, 1956. First Edition. Large Format. Saddlestitched. Good 3 pp article in Walkabout magazine Dec 1 1956. Inc 3 b/w photographs of masked Aboriginal dancers and musicians. Magazine in good condition. Inc other great Australiana stories. $19.00

[010776] White, Merle. Lapidary Journal March 2001. California: Lapidary Journal Inc, 2001. Magazine. Good Good copy. Lapidary magazine. $10.00

[010788] White, Merle. Lapidary Journal Vol 53 No 2 May 1999. California: Lapidary Journal Inc, 1999. Magazine. Good Annual Buyer Directory. Good copy. $10.00

[010787] White, Merle. Lapidary Journal Vol 53 No 5 August 1999. California: Lapidary Journal Inc, 1999. Magazine. Good Good copy. Lapidary magazine. $10.00

[010786] White, Merle. Lapidary Journal Vol 54 No 9 December 2000. California: Lapidary Journal Inc, 2000. Magazine. Good Good copy. Lapidary magazine. $10.00

[010785] White, Merle. Lapidary Journal Vol 55 No 4 July 2001. California: Lapidary Journal Inc, 2001. Magazine. Good Good copy. Lapidary magazine. $10.00

[010784] White, Merle. Lapidary Journal Vol 55 No 5 August 2001. California: Lapidary Journal Inc, 2001. Magazine. Good Good copy. Lapidary magazine. $10.00

[010781] White, Merle. Lapidary Journal Vol 53 No 9 December 1999. California: Lapidary Journal Inc, 1999. Magazine. Good Good copy. Lapidary magazine. $10.00

[010779] White, Merle. Lapidary Journal Vol 55 No 1 April 2001. California: Lapidary Journal Inc, 2001. Magazine. Good Good copy. Lapidary magazine. $10.00

[010777] White, Merle. Lapidary Journal Vol 55 No 2 May 2001. California: Lapidary Journal Inc, 2001. Magazine. Good Good copy. Lapidary magazine. $10.00

[010775] White, Merle. Lapidary Journal September 1999. California: Lapidary Journal Inc, 1999. Magazine. Good Good copy. Lapidary magazine. $10.00

[010778] White, Merle. Lapidary Journal Vol 55 No 3 June 2001. California: Lapidary Journal Inc, 2001. Magazine. Good Good copy. Lapidary magazine. $10.00

[010486] Williams, Neville. Video Mag Feb/March 1982. Sydney: Magazine Promotions, 1982. Magazine. Good Video mag. Vintage. Email for details of contents. $15.00

[010485] Williams, Neville. Video Mag June/July 1982. Sydney: Magazine Promotions, 1982. Magazine. Good Video mag. Vintage. Email for details of contents. $15.00

[018946] Yeager, Bunny. Bunny Yeager;s New Photo Studies. USA: Fawcett Haynes, 1966. 8vo - over 7¾" - 9¾" tall. Magazine. Fair International nudes. Nude art photos and glamour girls. Fair copy. Wrinkled and marked. $15.00