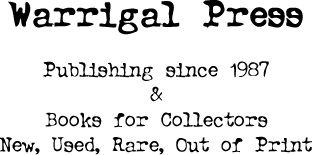 Welcome to our hardcover crime section. Below you will find books by well known international crime authors, including
Agatha Christie
,
Arthur Upfield
,
Joan Fleming
,
Selwyn Jepson, James Hadley Chase, Vernon Warren, Bruce Sanders
,
Francis Durbridge
and others. If you are a collector of hardcover crime novels, and are looking for a specific book, please email
Bob Sheppard
and he will keep a look out for you.
To order, visit our
Order Page
. Be sure to quote the book reference number and title. If you would like additional information about any particular book as well as a scan of the cover or dust jacket, please
email Bob
.
Catalog Report
Crime
: 755 Books
[021361] Airth, Rennie. Snatch. London: Readers Book Club, 1969. 8vo - over 7¾" - 9¾" tall. Original Cloth. Good / Good. Tidy copy. Text clean, binding good. Very minor wear to back cover jacket edges. $15.00

[016643] Alderson, Alexander. The Subtle Minotaur. Great Britain: The Thriller Book Club, 12mo - over 6¾" - 7¾" tall. Hard Cover. Good / Fair. Circa 1950s. (?) Jacket worn and creased, few tears, edges chipped. Losses to spine. Pages browning, spine cracked, some stains on spine. $10.00

[015155] Allerton, Berridge. Who Killed Roger Whiteley. Melbourne: Georgian House, 12mo - over 6¾" - 7¾" tall. Original Cloth. Fair Spine sunned, previous owner's name inside $12.00

[011547] Allingham, Margery. The Tiger in the Smoke. New York: Doubleday, 1952. 8vo - over 7¾" - 9¾" tall. Original Cloth. Good / Fair. Book club edition. Jacket is chipped and worn with a few silverfish nibbles around the edges. $10.00

[001244] Ambler, Eric. Epitath for a Spy. London: The Bodley Head, 1966. 8vo - over 7¾" - 9¾" tall. Original Cloth. Ex-Library. Fair / No Jacket. Covers rubbed and worn. AM written on spine Ex-library, usual markings. First page removed. Reading copy. $15.00

[021384] Ambler, Eric. A Kind of Anger. London: Readers Book Club, 8vo - over 7¾" - 9¾" tall. Orginal Cloth. Good / Good. Very minor wear to jacket edges. Few grubby markings to back cover jacket. Pages browning with some foxing to edges. Binding good. $12.00

[019393] Ambler, Eric. The Siege of the Villa Lipp. New York: Random House, 1977. First Edition. 8vo - over 7¾" - 9¾" tall. Orginal Cloth. Very Good / Good. Jacket is worn and discoloured along edges, some chips and small tears. Text clean and binding good. $12.00

[012079] Ambler, Eric. Judgement on Deltchev. London: Thriller Book Club, 1952. 12mo - over 6¾" - 7¾" tall. Original Cloth. Good / No Jacket. Pages browning. Previous owner's name inside. Spine sunned. $10.00

[017967] Ambler, Eric. Dirty Story. London: The Bodley Head, 196. 8vo - over 7¾" - 9¾" tall. Original Cloth. Good / Fair. Jacket is clipped, chipped and worn. Binding good. Text clean. $15.00

[022421] Ambler, Eric. The Mask of Dimitrios. London: Hodder and Stoughton, 1953. 12mo - over 6¾" - 7¾" tall. Original Cloth. Good / Good. A yellow jacket edition. Jacket is chipped and worn with light losses. Now protected. Not clipped. Covers have a few small sun marks and corners have been nudged. Gift inscription inside. A tidy copy. Rare in a jacket. $66.00

[004019] Anthony, Evelyn. The Defector. London: Hutchinson, 1986. 8vo - over 7¾" - 9¾" tall. Original Cloth. Very Good / Very Good. ISBN: 0091429501. Jacket and book in very good condition. Small white ink mark inside covering old price. $9.00

[016194] Ashe, Gordon. Wait for Death. London: John Long, 1957. 12mo - over 6¾" - 7¾" tall. Hard Cover. Ex Lib. Fair / No Jacket. Ex WA Government Railways Library copy. Reading copy only. Spine cracked, Covers worn and stained, edges bumped, minor losses to spine, pages browning and stained, large tear on last blank page. Library-related remnants; due date stamps, library regulations plaque. $10.00

[004007] Ashford , Jeffrey. Hostage to Death. London: John Long, 1977. First Edition. 12mo - over 6¾" - 7¾" tall. Original Cloth. Good / Good. ISBN: 0091292905. Jacket has light wear and is clipped. Binding good. This is a once read review copy and has a compliments paste in on the first page. Small white ink mark inside covering an old price. $12.00

[004008] Ashford , Jeffrey. A Recipe for Murder. London: John Long, 1980. First Edition. 12mo - over 6¾" - 7¾" tall. Original Cloth. Good / Good. ISBN: 0091411106. Jacket has light wear and is clipped. Binding good. Small white ink mark inside covering an old price. Previous owner's name inside. $12.00

[012133] Athen, Astor. The Ladies Leave the Castle. London: The Thriller Book Club, 12mo - over 6¾" - 7¾" tall. Original Cloth. Good / No Jacket. Undated 1940s? Spine sunned. No jacket. Binding good. Pages browning with age. Good copy. Previous owner's name inside. $10.00

[023154] Atkinson, Hugh. Billy Two-Toes' Rainbow. Australia: Nelson, 1982. First Edition. 8vo - over 7¾" - 9¾" tall. Original Cloth. Good / Good. A novel of violence and intrigue in the Australian desert. Light shelf wear, some light scratching and a small tear to the back cover jacket. Text clean, binding good, tidy copy. $18.00

[004014] Audemars , Pierre. Now Dead is Any Man. London: John Long, 1978. First Edition. 12mo - over 6¾" - 7¾" tall. Original Cloth. Good / Good. ISBN: 0091322006. Jacket has light wear and is clipped. Binding good. This is a once read review copy and has a compliments paste in on the first page. Small white ink mark inside covering an old price. Previous owner's name inside. $15.00

[005769] Audemars , Pierre. The White Leaves of Death. London: John Long, 1968. First Edition. 12mo - over 6¾" - 7¾" tall. Original Cloth. Good / Fair. Jacket is chipped and worn with losses at extremities. Bumped. Some marks. A scarce Audemars title. Email for a scan. Previous owner's name inside. $40.00

[003883] Audemars , Pierre. And One for the Dead. London: John Long, 1975. First Edition. 12mo - over 6¾" - 7¾" tall. Original Cloth. Good / Good. Light wear. Small white ink mark covering old price? inside front cover. PON inside. $10.00

[011741] Audemars, Pierre. Stolen Like Magic Away. London: John Long, 1971. First Edition. 12mo - over 6¾" - 7¾" tall. Original Cloth. Good / Good. Jacket is chipped and worn with losses at extremities. A very scarce Audemars title. Email for a scan. Pages browning with age. $95.00

[012978] Audemars, Pierre. The Delicate Dust of Death. London: John Long, 1973. First Edition. 12mo - over 6¾" - 7¾" tall. Original Cloth. Ex Lib. Fair / Fair. Ex lib reading copy only. $20.00

[002976] Avallone, Michael. The February Doll Murders. London: W.H.Allen, 1966. First Edition. 8vo - over 7¾" - 9¾" tall. Original Cloth. Fair / No Jacket. Private investigator Ed Noon gets caught up in a web of intrigue. Covers are worn and have been damaged by denting with a blunt object. A slightly better than reading copy of a scarce and interesting title. Blue cloth covers. Bright gilt lettering on spine. Insc inside. $40.00

[003974] Babson , Marian. Death in Fashion. London: Collins, 1985. First Edition. 12mo - over 6¾" - 7¾" tall. Original Cloth. Good / Good. ISBN: 0002319624. Collins Crime Club Edition. Jacket has ony light wear. Previous owner's name inside. Small white ink mark covering old price on first page. Book near very good. $15.00

[001359] Babson, Marian. Death Warmed Up. London: Book Club Associates, 1982. 8vo - over 7¾" - 9¾" tall. Hard Cover. Very Good / Very Good. Very good copy. Previous owner's name inside. A few marks on edges. $12.00

[020018] Backhouse, Elizabeth. Death Climbs a Hill. London: Robert Hale, 1963. First Edition. 12mo - over 6¾" - 7¾" tall. Orginal Cloth. Signed by Author. Good / Good. Signed by author with an inscription to previous owner Nene Garr inside. Some minor losses and creases to jacket edges, some rub marks. Slight roll. Jacket has been covered with (removable) plastic. Jacket price clipped. Text clean and binding good. $150.00

[018495] Bagley, Desmond. Running Blind. London: Collins, 1970. First Edition. 8vo - over 7¾" - 9¾" tall. Original Cloth. Good / Fair. Jacket and covers edgeworn. Jacket clipped. Previous owner's name inside. $12.00

[001342] Ballinger, Bill, S. The Longest Second. London: Max Renhardt, 1958. First Edition. 12mo - over 6¾" - 7¾" tall. Original Cloth. Good / Good. Jacket has minor wear. Previous owner's name inside. Text clean, binding good. A nice copy. $18.00

[019035] Bardsley, Michael. Caught in Terror. Great Britain: Robert Hale and Company, 1969. 12mo - over 6¾" - 7¾" tall. Orginal Cloth. Ex Lib. Fair / No Jacket. Large 'Boans Book Club' sticker on cover, which has been varnished. Front cover jacket glued to first blank page. Last page is loose. Some writing in back cover. Inscriptions by previous owners on publishing information page. Reading copy only. $10.00

[021049] Barnett, James. Backfire is Hostille. Great Britain: Secker and Warburg, 1979. 8vo - over 7¾" - 9¾" tall. Orginal Cloth. Good / Good. Near very good copy. Price clipped jacket. Binding good. Clean and tidy. $10.00

[014010] Barrington, John. Murder in White Pit. Sydney: Consolidated Press Ltd, 8vo - over 7¾" - 9¾" tall. Original Cloth. Fair / No Jacket. One of the Condor Crime Series. Binding slack. Covers worn. Corner missing off first page. Fair copy only. $12.00

[002162] Barrington, John. The Moving Finger. London: Condor Crime Series, First Edition. 8vo - over 7¾" - 9¾" tall. Original Cloth. Fair / No Jacket. No jacket. Covers worn, grubby and out of shape. Binding firm. $12.00

[013050] Barry, John Evarts. The Uranium Murders. London: John Long, 1951. First Edition. 12mo - over 6¾" - 7¾" tall. Original Cloth. Good / Good. Jacket is chipped and worn with light losses. Jacket spine browning. Good copy. $18.00

[013081] Barry, John Evarts. Skeleton in Concrete. London: The Thriller Book Club, 12mo - over 6¾" - 7¾" tall. Original Cloth. Good / Fair. Edge worn covers. Board stains inside. Jacket fair only, worn with short tears and losses at extremities. Browning with age. $16.00

[012831] Barry, John Evarts. Skeleton in Concrete. London: The Thriller Book Club, 12mo - over 6¾" - 7¾" tall. Original Cloth. Good / No Jacket. Edge worn covers. Board stains inside. Browning with age. $12.00

[003980] Baxt , George. The Dorothy Parker Murder Case. London: Collins, 1985. First Edition. 12mo - over 6¾" - 7¾" tall. Original Cloth. Good / Good. ISBN: 0002319772. Collins Crime Club Edition. Jacket has ony light wear. Previous owner's name inside. Small white ink mark covering old price on first page. Book near very good. $22.00

[022820] Beare, George. The Snake on the Grave. London: John Long, 1973. 12mo - over 6¾" - 7¾" tall. Orginal Cloth. Fair / Fair. Jacket is chipped and worn. Back cover has slight insect damage in a small area. Binding good. Text clean. $12.00

[001039] Becker, Stephen. A Covenant with Death. London: Readers Book Club, 1966. Readers Book Club Edition. 12mo - over 6¾" - 7¾" tall. Original Cloth. Good / Fair. Jacket has pieces missing at top and bottom of spine. Edges dusted and browning. Pages browning. $8.00

[022278] Bedford, John. Operation Trigeminal. London: Robert Hale, 1978. First Edition. 12mo - over 6¾" - 7¾" tall. Orginal Cloth. Good / Good. Clipped jacket is chipped and lightly worn. A tidy copy. $15.00

[012616] Bell, Josephine. Double Doom. London: Hodder and Stoughton, 1957. First Edition. 12mo - over 6¾" - 7¾" tall. Original Cloth. Good / Fair. Jacket has losses around edge and on spine from silverfish nibbles. Covers bright and clean. Binding good. Pages clean. A nice copy. $18.00

[002238] Bell, Josephine. The Hunter and the Trapped. London: The Thriller Book Club, 1963. First Edition. 12mo - over 6¾" - 7¾" tall. Original Cloth. Good / Good. Jacket lightly chipped. Covers bright and clean. Binding good. pages clean. A nice copy. $10.00

[003376] Bellairs, George. The Tormentors. London: The Thriller Book Club, 1962. First Edition. 12mo - over 6¾" - 7¾" tall. Oblong Quarto. Good / Fair. Another of the Littlejohn Manx cases. Jacket is chipped and worn with losses at extremities. Small pen marked price on front of jacket. Jacket now protected. Old price white inked over inside. Binding good. Text clean. $10.00

[019674] Bellairs, George. The Body in the Dumb River. London: The Thriller Book Club, 1961. First Edition. 12mo - over 6¾" - 7¾" tall. Orginal Cloth. Good / No Jacket. Slight roll. Pen marks and scribbles along bottom edge. Covers worn. Spine sunned. Text clean. $10.00

[012141] Bellairs, George. The Case of the Famished Parson. London: The Thriller Book Club, 12mo - over 6¾" - 7¾" tall. Original Cloth. Good / No Jacket. Spine lightly sunned. Good copy. Pages browning with age. $10.00

[002380] Bellairs, George. The Body in the Dumb River. London: The Thriller Book Club, 1961. First Edition. 12mo - over 6¾" - 7¾" tall. Original Cloth. Good / Good. Jacket lightly chipped, worn and a few marks. Covers clean. Binding good. Pages clean. A nice copy. $12.00

[002399] Bellairs, George. A Knife for Harry Dodd. London: The Thriller Book Club, 12mo - over 6¾" - 7¾" tall. Original Cloth. Good / Fair. Jacket is chipped, worn, some tears and losses, especially at top and bottom of spine and other extremities but is worth prerserving. Bumped. Covers good. Binding good. Text clean. PON inside front cover. $10.00

[011900] Bellairs, George. Death in Dark Glasses. London: The Thriller Book Club, 12mo - over 6¾" - 7¾" tall. Original Cloth. Good / Good. Jacket is in good condition with taped reinforcements at extremities. Binding good. Text clean. $30.00

[012370] Bellairs, George. Crime in Leper's Hollow. London: The Thriller Book Club, 12mo - over 6¾" - 7¾" tall. Original Cloth. Good / Fair. Jacket is chipped and worn with losses. Email for a scan. $14.00

[021330] Bennett, Margot. The Widow of Bath. London: Eyre and Spottiswoode, 1956. 8vo - over 7¾" - 9¾" tall. Orginal Cloth. Good / Good. Popular fiction series. Light wear to jacket. Text clean and binding good, tidy copy. $20.00

[022068] Berkely, Mather. The Break in the Line. London: The Companion Book Club, 1970. 12mo - over 6¾" - 7¾" tall. Orginal Cloth. Good / Good. Shelf wear to jacket. Text clean and binding good. Tidy copy. $10.00

[012332] Beson, Ben. The Broken Shield. London: Collins, 1957. First Edition. 12mo - over 6¾" - 7¾" tall. Original Cloth. Good / Fair. Clipped jacket has losses and tears but is worth preserving. Binding good. Text clean. $22.00

[015443] Biggers, e d. The Black Camel. London: Cassell, 1946. 12mo - over 6¾" - 7¾" tall. Original Cloth. Good / Fair. Another Charlie Chan case. Previous owners name inside. Jacket chipped and worn. $40.00

[019515] Black, Gavin. A Path for Serpents. London: The Crime Club, 1991. 8vo - over 7¾" - 9¾" tall. Orginal Cloth. Good / Good. Collins Crime Club edition. Shelf wear. Rolled. Pages yellowing. Binding good. $35.00

[013311] Black, Lionel. Breakaway. London: The Crime Club, 1970. 12mo - over 6¾" - 7¾" tall. Original Cloth. Good / No Jacket. Covers lightly worn. Previous owner's name inside. $10.00

[015414] Blake, Joe. Warning Shots Last. Western Australia: Warrigal Press, 2007. First Edition. 12mo - over 6¾" - 7¾" tall. Mass Market Paperback. Signed by Author. Fine At last, new Australian pulp fiction featuring Western Australia's best known detective, Joe Blake. This is a brand new book! Brand new hero! Only 500 first edition copies. Sequel to the pulp classic, Murder is Never Pretty ... Even When the Corpse is a Blonde. Cover art has been created by Julie Billoud. 92 pp. Postage in Australia is $2.50. International postage is $5.00. Signed by Joe Blake of course! $12.00

[015398] Blake, Joe. Warning Shots Last. Western Australia: Warrigal Press, 2007. First Edition. 12mo - over 6¾" - 7¾" tall. Mass Market Paperback. Signed by Author. Fine At last, new Australian pulp fiction featuring Western Australia's best known detective, Joe Blake. This is a brand new book! Brand new hero! Only 500 first edition copies. Sequel to the pulp classic, Murder is Never Pretty ... Even When the Corpse is a Blonde. Cover art has been created by Julie Billoud. 92 pp. Postage in Australia is $2.50. International postage is $5.00. Signed by Joe Blake of course! $12.00

[015397] Blake, Joe. Warning Shots Last. Western Australia: Warrigal Press, 2007. First Edition. 12mo - over 6¾" - 7¾" tall. Mass Market Paperback. Signed by Author. Fine At last, new Australian pulp fiction featuring Western Australia's best known detective, Joe Blake. This is a brand new book! Brand new hero! Only 500 first edition copies. Sequel to the pulp classic, Murder is Never Pretty ... Even When the Corpse is a Blonde. Cover art has been created by Julie Billoud. 92 pp. Postage in Australia is $2.50. International postage is $5.00. Signed by Joe Blake of course! $12.00

[015419] Blake, Joe. Warning Shots Last. Western Australia: Warrigal Press, 2007. First Edition. 12mo - over 6¾" - 7¾" tall. Mass Market Paperback. Signed by Author. Fine At last, new Australian pulp fiction featuring Western Australia's best known detective, Joe Blake. This is a brand new book! Brand new hero! Only 500 first edition copies. Sequel to the pulp classic, Murder is Never Pretty ... Even When the Corpse is a Blonde. Cover art has been created by Julie Billoud. 92 pp. Postage in Australia is $2.50. International postage is $5.00. Signed by Joe Blake of course! $12.00

[015394] Blake, Joe. Warning Shots Last. Western Australia: Warrigal Press, 2007. First Edition. 12mo - over 6¾" - 7¾" tall. Mass Market Paperback. Signed by Author. Fine At last, new Australian pulp fiction featuring Western Australia's best known detective, Joe Blake. This is a brand new book! Brand new hero! Only 500 first edition copies. Sequel to the pulp classic, Murder is Never Pretty ... Even When the Corpse is a Blonde. Cover art has been created by Julie Billoud. 92 pp. Postage in Australia is $2.50. International postage is $5.00. Signed by Joe Blake of course! $12.00

[015420] Blake, Joe. Warning Shots Last. Western Australia: Warrigal Press, 2007. First Edition. 12mo - over 6¾" - 7¾" tall. Mass Market Paperback. Signed by Author. Fine At last, new Australian pulp fiction featuring Western Australia's best known detective, Joe Blake. This is a brand new book! Brand new hero! Only 500 first edition copies. Sequel to the pulp classic, Murder is Never Pretty ... Even When the Corpse is a Blonde. Cover art has been created by Julie Billoud. 92 pp. Postage in Australia is $2.50. International postage is $5.00. Signed by Joe Blake of course! $12.00

[015421] Blake, Joe. Warning Shots Last. Western Australia: Warrigal Press, 2007. First Edition. 12mo - over 6¾" - 7¾" tall. Mass Market Paperback. Signed by Author. Fine At last, new Australian pulp fiction featuring Western Australia's best known detective, Joe Blake. This is a brand new book! Brand new hero! Only 500 first edition copies. Sequel to the pulp classic, Murder is Never Pretty ... Even When the Corpse is a Blonde. Cover art has been created by Julie Billoud. 92 pp. Postage in Australia is $2.50. International postage is $5.00. Signed by Joe Blake of course! $12.00

[015422] Blake, Joe. Warning Shots Last. Western Australia: Warrigal Press, 2007. First Edition. 12mo - over 6¾" - 7¾" tall. Mass Market Paperback. Signed by Author. Fine At last, new Australian pulp fiction featuring Western Australia's best known detective, Joe Blake. This is a brand new book! Brand new hero! Only 500 first edition copies. Sequel to the pulp classic, Murder is Never Pretty ... Even When the Corpse is a Blonde. Cover art has been created by Julie Billoud. 92 pp. Postage in Australia is $2.50. International postage is $5.00. Signed by Joe Blake of course! $12.00

[015423] Blake, Joe. Warning Shots Last. Western Australia: Warrigal Press, 2007. First Edition. 12mo - over 6¾" - 7¾" tall. Mass Market Paperback. Signed by Author. Fine At last, new Australian pulp fiction featuring Western Australia's best known detective, Joe Blake. This is a brand new book! Brand new hero! Only 500 first edition copies. Sequel to the pulp classic, Murder is Never Pretty ... Even When the Corpse is a Blonde. Cover art has been created by Julie Billoud. 92 pp. Postage in Australia is $2.50. International postage is $5.00. Signed by Joe Blake of course! $12.00

[015392] Blake, Joe. Warning Shots Last. Western Australia: Warrigal Press, 2007. First Edition. 12mo - over 6¾" - 7¾" tall. Mass Market Paperback. Signed by Author. Fine ISBN: . At last, new Australian pulp fiction featuring Western Australia's best known detective, Joe Blake. This is a brand new book! Brand new hero! Only 500 first edition copies. Sequel to the pulp classic, Murder is Never Pretty ... Even When the Corpse is a Blonde. Cover art has been created by Julie Billoud. 92 pp. Postage in Australia is $2.50. International postage is $5.00. Signed by Joe Blake of course! $12.00


[015393] Blake, Joe. Warning Shots Last. Western Australia: Warrigal Press, 2007. First Edition. 12mo - over 6¾" - 7¾" tall. Mass Market Paperback. Signed by Author. Fine At last, new Australian pulp fiction featuring Western Australia's best known detective, Joe Blake. This is a brand new book! Brand new hero! Only 500 first edition copies. Sequel to the pulp classic, Murder is Never Pretty ... Even When the Corpse is a Blonde. Cover art has been created by Julie Billoud. 92 pp. Postage in Australia is $2.50. International postage is $5.00. Signed by Joe Blake of course! $12.00

[015396] Blake, Joe. Warning Shots Last. Western Australia: Warrigal Press, 2007. First Edition. 12mo - over 6¾" - 7¾" tall. Mass Market Paperback. Signed by Author. Fine At last, new Australian pulp fiction featuring Western Australia's best known detective, Joe Blake. This is a brand new book! Brand new hero! Only 500 first edition copies. Sequel to the pulp classic, Murder is Never Pretty ... Even When the Corpse is a Blonde. Cover art has been created by Julie Billoud. 92 pp. Postage in Australia is $2.50. International postage is $5.00. Signed by Joe Blake of course! $12.00

[010737] Blake, Joe. Murder is Never Pretty Even When the Corpse is a Blonde ( 1A Ikin Cover ). Western Australia: Warrigal Press, 2006. First Edition. 12mo - over 6¾" - 7¾" tall. Mass Market Paperback. Signed by Author. Fine ISBN: 1875291059. At last, new Australian pulp fiction featuring Western Australia's best known detective, Joe Blake. This is a brand new book! Brand new hero! Only 1000 first edition copies. Cover art has been created by Paul Ikin. ( 1 A Ikin cover ) 92 pp. Postage in Australia is $2.50. International postage is $5.00. Signed by Joe Blake of course! $12.00

[010736] Blake, Joe. Murder is Never Pretty Even When the Corpse is a Blonde ( 1A Ikin Cover ). Western Australia: Warrigal Press, 2006. First Edition. 12mo - over 6¾" - 7¾" tall. Mass Market Paperback. Signed by Author. Fine ISBN: 1875291059. At last, new Australian pulp fiction featuring Western Australia's best known detective, Joe Blake. This is a brand new book! Brand new hero! Only 1000 first edition copies. Cover art has been created by Paul Ikin. ( 1 A Ikin cover ) 92 pp. Postage in Australia is $2.50. International postage is $5.00. Signed by Joe Blake of course! $12.00

[010738] Blake, Joe. Murder is Never Pretty Even When the Corpse is a Blonde ( 1A Ikin Cover ). Western Australia: Warrigal Press, 2006. First Edition. 12mo - over 6¾" - 7¾" tall. Mass Market Paperback. Fine ISBN: 1875291059. At last, new Australian pulp fiction featuring Western Australia's best known detective, Joe Blake. This is a brand new book! Brand new hero! Only 1000 first edition copies. Cover art has been created by Paul Ikin. ( 1 A Ikin cover ) 92 pp. Postage in Australia is $2.50. International postage is $5.00. Signed by Joe Blake of course! $12.00

[019361] Bloch, Robert. Psycho 2. London: Corgi, 1982. 8vo - over 7¾" - 9¾" tall. Orginal Cloth. Good / Fair. Just when you thought it was safe to go back in the shower... Jacket is worn along edges with creases, chips and minor losses. Previous owner's name written on front cover jacket along with label remnants. Pages yellowing, binding good. $15.00

[003876] Bobker , Lee R. The Unicorn Group. London: Constable, 1980. First Edition. 12mo - over 6¾" - 7¾" tall. Original Cloth. Good / Good. Light wear only to jacket. Near very good. Small white ink mark on first page covering previous owner's name. Price clipped. Some small remnants of a private library plate on first page. $10.00

[013666] Brean, Herbert. The Traces of Brillhart. London: Heinemann, 1961. First Edition. 12mo - over 6¾" - 7¾" tall. Original Cloth. Good / Good. jJacket has light wear. Good copy. $15.00

[022037] Brent, Madeleine. Tregaron's Daughter. Australia: The Companion Book Club, 1971. 12mo - over 6¾" - 7¾" tall. Orginal Cloth. Good / No Jacket. Some light shelf wear and fading to gilt on covers and spine. Corners bumped, binding good, square. $10.00

[004991] Brett, Simon. So Much Blood. London: Book Club Associates, 1976. 8vo - over 7¾" - 9¾" tall. Original Cloth. Very Good / Very Good. Jacket and book are very good. The second thriller featuring Charles Paris. $11.00

[018604] Brett, Simon. A Box of Tricks. London: Victor Gollancz Ltd, 1985. 8vo - over 7¾" - 9¾" tall. Orginal Cloth. Good / Good. The first collection of short stories by Simon Brett. Label lift on front cover jacket, spine and back cover jacket. Rub marks and scratches to jacket. Inscription to previous owner on first blank page.Text clean and binding good. $12.00

[004990] Brett, Simon. A Comedian Dies. London: Book Club Associates, 1979. 8vo - over 7¾" - 9¾" tall. Original Cloth. Very Good / Very Good. Jacket and book are very good. Another delightful and suspenseful mixture of theatrical life with crime : featuring Charles Paris. $11.00

[004992] Brett, Simon. Murder Unprompted. London: Victor Gollancz, 1982. First Edition. 8vo - over 7¾" - 9¾" tall. Original Cloth. Very Good / Very Good. Jacket and book are very good. At last Charles Paris plays the lead - and incidentally solves the nurder. $20.00

[004670] Brett, Smon. A Shock to the System. London: Guild Publishing, 1984. 8vo - over 7¾" - 9¾" tall. Original Cloth. Good / Good. A near very good copy. Clean $10.00

[020415] Brooks, Jean M. The Opal Witch. London: Robert Hale, 1967. First Edition. 8vo - over 7¾" - 9¾" tall. Orginal Cloth. Good / Fair. Jacket is price clipped, worn, chipped and creased at edges with some minor losses. Part of the free endpage has been removed. Text clean and binding good. $40.00

[005668] Bruce, Leo. Crack of Doom. London: Peter Davies, 1963. First Edition. 12mo - over 6¾" - 7¾" tall. Original Cloth. Good / Good. Scarce hard cover edition with jacket. Jacket is chipped and worn with some marks and short tears. Jacket now protected. Covers clean. Binding good. A Carolus Deene novel. Email for a scan A great copy! $130.00

[018296] Buck, Paul. The Honeymoon Killers. New York: Award Books, 1970. 16mo - over 5¾" - 6¾" tall. Mass Market Paperback. Good Slight roll. Light wear. Good copy. $40.00

[002102] Bude, John. Death Deals a Double. London: Cassell, 1947. First Australian. 12mo - over 6¾" - 7¾" tall. Original Cloth. Fair / No Jacket. No jacket, covers worn and frayed at extremities. Binding cracked but still firm. A very scarce crime title. $80.00

[015947] Bullett, Gerald. Judgement in Suspense. Great Britain: J M Dent and Sons, 1946. 16mo - over 5¾" - 6¾" tall. Original Cloth. Good / Poor. Substantial losses to the jacket spine, back cover jacket is browning, few small tears. Pages spotting with age. Binding good. $12.00

[019833] Bullivant, Cecil H. Whose Wife?. London: Herbert Jenkins, . 12mo - over 6¾" - 7¾" Tall. Orginal Cloth. Good / No Jacket. Bright orange cloth covers with a few marks. Binding good. $12.00

[014584] Burnett, W R. Little Men Big World. London: Kaye and Ward, 1973. 12mo - over 6¾" - 7¾" tall. Original Cloth. Good / Good. ISBN: 0718209370. Clipped and wrinkled jacket is chipped and worn. Covers clean. Binding good. Text clean. A good copy. $20.00

[007320] Burns, Rex. The Alvarez Journal. New York: Harper and Row, 1975. First Edition. 8vo - over 7¾" - 9¾" tall. Original Cloth. Good / Good. A novel of suspense. Jacket is chipped and worn with a few short tears. Else good. $28.00

[009015] Burt, Michael. Catch-'Em-Alive-O!. London: Ward, Lock and Co, 1948. 12mo - over 6¾" - 7¾" tall. Original Cloth. Fair / No Jacket. Worn copy. Sunned spine. Binding starting to slacken. $12.00

[017860] Butcher, Margaret. Hogdown Farm Mystery. London: Skeffington and Son Ltd, First Australian Edition. 12mo - over 6¾" - 7¾" tall. Original Cloth. Fair / No Jacket. Scarce copy. Ex lib with part of jacket pasted inside and lib label on front. Worn copy. Previous owner's name inside. $30.00

[011593] Butler, Gerald. Mad with Much Heart. London: Jarrolds, 12mo - over 6¾" - 7¾" tall. Original Cloth. Good / Fair. Jacket is price clipped, chipped and worn with some short tears and light losses. Penned price on front of jacket. Binding good. Text clean. Good copy. $50.00

[022565] Butler, Joan. Sheet Lightning. London: Stanley Paul and Co, 12mo - over 6¾" - 7¾" tall. Orginal Cloth. Good / Fair. Clipped jacket has significant losses but is worth preserving. Binding good. Text clean. Gift inscription inside. $50.00

[003970] Butterworth , Michael. X Marks the Spot. London: Collins, 1978. First Edition. 12mo - over 6¾" - 7¾" tall. Original Cloth. Good / Good. ISBN: 0002319349. Collins Crime Club Edition. Jacket is chipped and worn. Previous owner's name inside. Small white ink mark covering old price on first page. Book near very good. $15.00

[017809] Cain, James M. The Postman Always Rings Twice. New York: Grosset and Dunlap, 1934. First Edition. 12mo - over 6¾" - 7¾" tall. Original Cloth. Good / No Jacket. Front cover clean with only minor markings. Edges bumped. Few chips on back cover. Pages yellowing and deckled. Tidy copy. $35.00

[002314] Cain, James M. Jealous Woman. London: Robert Hale, 1955. First Edition. 12mo - over 6¾" - 7¾" tall. Original Cloth. Good / Good. Jacket is chipped, clipped and worn with some small losses and a few marks. Email for a scan. Covers good. Binding good. Text clean. PON inside. Edges dusty. A nice copy. $80.00

[012857] Callan, Michael Feeney. Cinderella's Dead. London: Robert Hale, 1978. First Edition. 12mo - over 6¾" - 7¾" tall. Original Cloth. Ex Lib. Fair / Fair. Ex lib , reading copy only. $10.00

[001498] Calvin, Henry. The Poison Chasers. London: The Thriller Book Club, 1972. 12mo - over 6¾" - 7¾" tall. Original Cloth. Good / Very Good. Jacket is very good,. Book has "no exchange" stamp inside but else is very clean and tidy. Binding good. Text bright and clean. Few signs of wear. Old penned price appears to have been white inked over. $12.00

[017200] Cameron, Don. White For a Shroud. London: Boardman Books, 12mo - over 6¾" - 7¾" tall. Original Cloth. Good / Fair. Undated. 1950s? Jacket has numerous creases along top and bottom edges, edges chipped, fea tears. Back cover jacket discoloured. Large crease on front jacket flap. Pages browning, some light foxing in places. $15.00

[014744] Carlon, Patricia. Crcle of Fear. London: Ward Lock, 1961. First Edition. 12mo - over 6¾" - 7¾" tall. Original Cloth. Fair / Fair. Very rare copy of Carlons's first novel. Ex lib copy with minimal wear and markings. $200.00

[017197] Cassells, John. The Picaroon Gets the Run-Around. London: John Long, 1976. 12mo - over 6¾" - 7¾" tall. Orginal Cloth. Ex Lib. Good / Good. Ex-library copy, so the book contains remnants of library-related paraphenalia. Jacket covered in protective plastic. Pages browning with a few light stains. $18.00

[017994] Chance, John Newton. The Little Crime. London: Robert Hale, 1957. First Edition. 12mo - over 6¾" - 7¾" tall. Original Cloth. Good / Fair. Jacket is chipped and worn with losses, esp on spine. Email for a scan. Scarce with a jacket. Previous owner's name inside $35.00

[022431] Chandler, Raymond. The Big Sleep. London: Hamish and Hamilton, 1960. 12mo - over 6¾" - 7¾" tall. Orginal Cloth. Ex Lib. Fair / Fair. This is an exlib copy with usual wear. The book has been repaired. The jacket is enclosed in plastic protection. If you are looking fr a cheap hardcover copy with jacket ... $18.00

[016804] Chandler, Raymond. The Big Sleep. London: Book Club Associates, 1978. 8vo - over 7¾" - 9¾" tall. Original Cloth. Good / Good. A Chandler classic. Jacket is insect-nibbled in places along the edges, and there are a few light scratches on the front and back covers. Edges of text bumped and grubby though the text itself is clean. $14.00

[006032] Chandler, Raymond. The Raymond Chandler Omnibus. London: Hamish Hamilton, 1953. 8vo - over 7¾" - 9¾" tall. Original Cloth. Good / No Jacket. Inc The Big Sleep, Farewell, My Lovely, The High Window, and The Lady in the Lake. Covers worn. Lettering on spine faded. Binding good. $15.00

[019875] Chandler, Raymond. Playback. London: Hamish and Hamilton, 1958. First Edition. 12mo - over 6¾" - 7¾" tall. Orginal Cloth. Good / Fair. First edition. Jacket is clipped and chipped with some losses to edges. Board stains. Pages yellowing. Scarce Chandler. $20.00

[002408] Chandler, Raymond. The Long Good-bye. London: The Thriller Book Club, 12mo - over 6¾" - 7¾" tall. Original Cloth. Good / No Jacket. Bumped. Binding good. Text clean. Edges dusty. PON inside. $9.00

[020647] Chandler, Raymond. The Screenplay of Playback. Great Britain: Harrap Ltd, 1985. 8vo - over 7¾" - 9¾" tall. Orginal Cloth. Good / Good. Some light wear and rubbing to jacket. Edges of back cover jacket lightly bumped with wear. Text clean and binding good. $12.00

[018446] Chandler, Raymond. Playback. London: Hamish and Hamilton, 1958. First Edition. 12mo - over 6¾" - 7¾" Tall. Orginal Cloth. Good / Fair. First edition. Jacket is clipped, chipped and worn with short tears. Email for a scan. Covers clean and bright. A smattering of foxing along edges. A few marks. Scarce copy! Chandler classic! $25.00

[015513] Chandler, Raymond. The Little Sister. London: Hamish and Hamilton, 1949. First Edition. 12mo - over 6¾" - 7¾" tall. Orginal Cloth. Good / Fair. First edition, second impression. Jacket is clipped, chipped and worn with short tears and some losses. Email for a scan. Covers clean and bright. A smattering of foxing inside and along edges. A few grubby marks. Scarce copy! Chandler classic! $250.00

[021723] Chapman, Maurice. Jimmie Colt Air-Borne Investigator. Sydney: The Australasian Publishing Co, 1947. First Edition. 12mo - over 6¾" - 7¾" tall. Orginal Cloth. Good / Poor. Jacket has a quarter loss on front and other light losses. Binding good. Text clean. Scarce crime title. $18.00

[023060] Charteris, Leslie. The Last Hero. London: Hodder and Stoughton, 1948. 12mo - over 6¾" - 7¾" tall. Original Cloth. Good / No Jacket. Covers grubby, corners bumped. Pages yellowing at edges. Binding good. $12.00

[005648] Charteris, Leslie. The Saint Goes West. London: Hodder, 1961. 12mo - over 6¾" - 7¾" tall. Mass Market Paperback. Good Nothing ordinary ever happens to the Saint. Paperback. Vintage paperback. Worn. Binding good. Great cover ! $5.00

[012979] Charteris, Leslie. The Saint Plays with Fire. London: Hodder and Stoughton, 1951. 12mo - over 6¾" - 7¾" tall. Original Cloth. Good / Fair. Originally published as Prelude for War. Jacket is chipped and worn with losses at extremities and some tears. Clipped jacket. Light foxing on edges. $12.00

[010237] Charteris, Leslie. Thieve's Picnic. London: Hodder and Stoughton, 1937. First Edition. 12mo - over 6¾" - 7¾" tall. Original Cloth. Fair / No Jacket. Spine and covers are worn and marked. Binding cracked at last page. Previous owner's name inside. $20.00

[003879] Charteris, Leslie. Send for the Saint. London: Hodder and Stoughton, 1977. First Edition. 12mo - over 6¾" - 7¾" tall. Original Cloth. Good / Very Good. ISBN: 0340224614. This is a scarce first edition of the Charteris classic. The jacket is lightly worn with a few marks. Email for a scan. Jacket now protected. PON inside. This was a review copy provided by Hodder and Stoughton "for favour of review" and the compliments slip is loose inside. Email for a complete report. $200.00

[008550] Charteris, Leslie. Vendetta for the Saint. London: The Book Club, 1965. 12mo - over 6¾" - 7¾" tall. Original Cloth. Good / No Jacket. Spine is sunned. Corners nudged. Binding good. $10.00

[004832] Charteris, Leslie. Daredevil. London: Ward Lock, 12mo - over 6¾" - 7¾" tall. Original Cloth. Good / No Jacket. A scarce Charteris title. Undated. Probable first. Red cloth covers are clean, bright lettering on spine. Binding good. Some browning inside covers and on edges. $30.00

[013387] Charteris, Leslie. X Esquire. London: Ward, Lock and Co, 12mo - over 6¾" - 7¾" tall. Original Cloth. Fair / No Jacket. Possible FE.Some WA lib marks. Binding cracked inside back cover. A few folds inside. Covers worn. Sme marks. Gift inscription inside. $12.50

[005636] Charteris, Leslie. The Saint in Miami. London: Hodder and Stoughton, 1952. 12mo - over 6¾" - 7¾" tall. Original Cloth. Fair / No Jacket. Spine and covers are worn and marked. Binding slightly cracked. An early edition. $6.00

[000990] Chase, James Hadley. There's Always a Price Tag. London: Thriller Book Club, 12mo - over 6¾" - 7¾" tall. Original Cloth. Good / No Jacket. 254pp. No jacket. A few marks on covers. Text clean, binding good. $8.00

[002839] Chase, James Hadley. The World in My Pocket. London: Robert Hale, 1958. First Edition. 12mo - over 6¾" - 7¾" tall. Original Cloth. Good / Good. Jacket is chipped , clipped, worn and marked with some losses at extremities. Binding good. Text clean. Insc inside. $15.00

[017580] Chase, James Hadley. There's Always a Price Tag. London: Robert Hale, 1956. First Edition. 12mo - over 6¾" - 7¾" Tall. Original Cloth. Ex Lib. Good / No Jacket. Few light scratches and marks to front and back covers. Pages browning. Square copy. $12.00

[012139] Chase, James Hadley. Strictly for Cash. London: Thriller Book Club, 12mo - over 6¾" - 7¾" tall. Original Cloth. Good / No Jacket. Covers lightly worn. Binding good. Text clean. No jacket. $10.00

[011204] Chase, James Hadley. Not Safe to be Free. London: Thriller Book Club, 1958. 12mo - over 6¾" - 7¾" tall. Original Cloth. Good / Good. Jacket is chipped and worn and some losses at extremities. Covers clean, binding good. . Browning with age. $12.00

[006722] Chase, James Hadley. A Coffin from Hong Kong. London: Robert Hale, 1979. 12mo - over 6¾" - 7¾" tall. Original Cloth. Good / Good. Ex lib copy. Jacket was protected by plastic, now removed. Jacket is clipped and has a tear inside. Usual wear and library paste ins etc. $10.00

[004842] Chase, James Hadley. You've Got it Coming. London: Thriller Book Club, 12mo - over 6¾" - 7¾" tall. Original Cloth. Good / Fair. Jacket is chipped and worn and some losses at extremities. Covers clean, binding good. Board satns. Browning with age. $10.00

[002135] Chase, James Hadley. Eve. London: Jarrolds, 16mo - over 5¾" - 6¾" tall. Original Cloth. Good / Fair. Jacket is chipped and wor with some losses and fold marks but is worth retaining. Email for a scan. Clipped. Covers good. Text clean. Browning with age. $65.00

[006338] Chase, James Hadley. You Never Know with Women. London: Jarrolds, 16mo - over 5¾" - 6¾" tall. Original Cloth. Good / Fair. Jacket is chipped and worn with some losses and fold marks but is worth retaining. Email for a scan. Clipped. Covers good. Text clean. Bumped. Undated. Probably first edition. $18.00

[004870] Chase, James Hadley. Figure it Out for Yourself. London: Robert Hale, 1950. First Edition. 12mo - over 6¾" - 7¾" tall. Original Cloth. Good / No Jacket. No jacket. Covers worn. Binding good. Text cean. $8.00

[004933] Chase, James Hadley. Tiger By the Tail. London: Robert Hale, 1954. First Edition. 12mo - over 6¾" - 7¾" tall. Original Cloth. Good / Fair. Jacket is chipped , clipped, worn and marked with large losses but is worth preserving. Binding good. Text clean. $8.00

[019433] Chase, James Hadley. You're Lonely When You're Dead. London: Robert Hale, 1951. 12mo - over 6¾" - 7¾" tall. Original Cloth. Good / Good. Jacket is chipped , clipped, worn and marked with some losses at extremities. Binding good. Text clean. Insc inside. $15.00

[019491] Cheyney, Peter. I'll Say She Does!. London: Collins, 1947. 12mo - over 6¾" - 7¾" tall. Orginal Cloth. Good / No Jacket. Edges bumped. Spine cracked. Square. $12.00

[012143] Cheyney, Peter. Dark Wanton. London: The Thriller Book Club, 12mo - over 6¾" - 7¾" tall. Original Cloth. Fair / No Jacket. Worn and marked. Pages browning with age. Previous owner's name inside. $8.80


[012142] Cheyney, Peter. Dark Bahama. London: The Thriller Book Club, 12mo - over 6¾" - 7¾" tall. Original Cloth. Good / No Jacket. Covers lightly worn. Pages browning with age. Previous owner's name inside. $10.00

[019497] Cheyney, Peter. Dance Without Music. London: Collins, 1948. First Australian Edition. 12mo - over 6¾" - 7¾" tall. Orginal Cloth. Good / Fair. Jacket is worn with substantial rub marks and lifts to cover, edges chipped and creased. Pages yellowing. Spine cracked. $15.00

[012985] Cheyney, Peter. Dark Interlude. London: Collins, 1955. 12mo - over 6¾" - 7¾" tall. Original Cloth. Good / Fair. Jacket is chipped and worn withsome tears and light losses. Tidy copy. $10.00

[004981] Cheyney, Peter. Knave Takes Queen. London: Faber and Faber Ltd, 8vo - over 7¾" - 9¾" tall. Original Cloth. Fair / No Jacket. A Cheyney classic. Covers and spine are worn and marked. Binding good. Text clean. $12.00

[021824] Cheyney, Peter. You Can Call it a Day. London: Collins, 1950. 8vo - over 7¾" - 9¾" tall. Orginal Cloth. Good / Poor. Jacket is worn with numerous creases, tears, chips and some losses. Pages yellowing. $10.00

[021718] Cheyney, Peter. Dark Bahama. London: Collins, 1950. 12mo - over 6¾" - 7¾" tall. Original Cloth. Good / Poor. Jacket is tattered but worth preserving. Pages browning with age. Previous owner's name inside. $10.00

[009220] Cheyney, Peter. One of Those Things. London: Collins, 1950. 12mo - over 6¾" - 7¾" tall. Original Cloth. Good / Poor. Jacket is chipped and worn with losses, but is worth preserving. Bumped. Book exchange stamp inside. $10.00

[020674] Cheyney, Peter. You Can Call it a Day. London: Collins, 1951. 12mo - over 6¾" - 7¾" tall. Orginal Cloth. Good / Fair. Jacket is worn, chipped and creased at edges with some tears. Back cover jacket is grubby and rubbed. Pages browning. Board stains inside front and back covers. $14.00

[005415] Cheyney, Peter. Ladies Won't Wait. London: The Book Club, 1951. First Edition. 8vo - over 7¾" - 9¾" tall. Original Cloth. Good / No Jacket. Covers worn with a few marks. Binding good. Pages browning with age. $8.00

[019467] Cheyney, Peter. The Stars are Dark. London: Collins, 12mo - over 6¾" - 7¾" tall. Orginal Cloth. Good / No Jacket. Covers worn and rubbed, edges bumped. Rolled. Pages yellowing on edges. $12.00

[004818] Cheyney, Peter. Best Stories of the Underworld. London: Faber and Faber Ltd, 1949. First Edition. 12mo - over 6¾" - 7¾" tall. Original Cloth. Good / No Jacket. An anthology of crime stories from authors such as Gielgud, Williams, Kersh , Gilbert , Farjeon , Crofts , Keverne , White , Benson , Maugham , Berkeley , Allingham etc. Email for a full list if required. No Jacket. Covers clean. Gilt lettering on spine faded. Remanants of an old price label on first blank page. Date penned inside. $35.00

[018689] Cheyney, Peter. Lemmy Caution Omnibus. London: Collins, 1952. 12mo - over 6¾" - 7¾" tall. Original Cloth. Good / No Jacket. A collection of Cheyney stories. Short tear on first page.; Pages browning. Previouds owner's name inside. $10.00

[004920] Cheyney, Peter. Making Crime Pay. London: Faber and Faber Ltd, Second Impression. 8vo - over 7¾" - 9¾" tall. Original Cloth. Good / Fair. How peter Cheyney has developed fiction out of fact. Real stories of crime from his experiences as a crime journalist and investigator. Jacket is chipped and worn with some losses. Some sun marks adjacent to losses and on edges. Clipped. Now protected. Binding good. Text clean. Browning with age. Interesting. Great for Cheyney collectors. $14.00

[015801] Christie Agatha. Ordeal By Innocence. Australia: Collins, 1958. 12mo - over 6¾" - 7¾" tall. Orginal Cloth. Good / No Jacket. Edges bumped and worn, slightly rolled, large stains on back cover. Binding loose, pages browning, a few stains. $8.80

[004306] Christie, Agatha. The Mirror Crack'd from Side to Side. London: The Book Club, 1962. 12mo - over 6¾" - 7¾" tall. Original Cloth. Good / No Jacket. 256 pp. Covers clean. Small sun mark at top and bottom of spine. Binding good. Text clean. $10.00

[014344] Christie, Agatha. The ABC Murders. London: The Crime Club, 1972. 12mo - over 6¾" - 7¾" tall. Original Cloth. Ex Lib. Fair / Fair. Ex ib copy with conatct over jacket and covers. $10.00

[007272] Christie, Agatha. Hickory Dickory Dock. London: The Book Club, 1956. 12mo - over 6¾" - 7¾" tall. Original Cloth. Good / Good. Jacket is chipped and worn. Corners lightly bumped. A few marks. Great cover art! $14.00

[012861] Christie, Agatha. Endless Night. London: The Book Club, 1967. 12mo - over 6¾" - 7¾" tall. Original Cloth. Good / Fair. 224 pp. Jacket lightly chipped and worn.Substantial jacket losses bu is worth preserving. Great cover art. Email for a scan if you haven't seen a copy of this book before. Binding good. Text clean. $8.80

[016644] Christie, Agatha. 4:50 From Paddington. London: The Book Club, 1959. 12mo - over 6¾" - 7¾" tall. Hard Cover. Good / Poor. Jacket very worn and damaged, numerous tears and creases, major damage to spine, jacket is nearly in pieces. Large stain on front cover of book. Text clean, spine cracked. $8.80

[016646] Christie, Agatha. Dead Man's Folly. London: The Book Club, 1957. 12mo - over 6¾" - 7¾" tall. Hard Cover. Good / Poor. Large sections of the jacket are missing, particicularly on the spine and front cover. Numerous tears, creases and chips. Spine stained. Pages browning and brittle. Spine cracked. $8.80

[016719] Christie, Agatha. 4:50 From Paddington. London: Collins, 1957. 12mo - over 6¾" - 7¾" tall. Hard Cover. Ex Book Exchange. Fair / Fair. Very worn copy. Jacket is covered in protective plastic, however jacket is still chipped and worn along the edges. Book exchange stamps inside. First blank page and following bage badly spotted and stained with age. First two pages are very loose. Several pages are loose, have been repaired with tape but have come loose again. Text clean. Reading copy only. $8.80

[016896] Christie, Agatha. Sad Cypress. London: The Crime Club, 1949. 12mo - over 6¾" - 7¾" tall. Orginal Cloth. Good / No Jacket. Some light discolouring on spine and top edge of front cover. Pages yellowing, spine cracked. $12.00

[011851] Christie, Agatha. They Came to Bagdad. London: The Crime Club, 1951. 12mo - over 6¾" - 7¾" tall. Original Cloth. Good / Fair. Jacket is chipped and worn with some losses. Jacket clipped. Email for a scan. A few marks inside covers. Covers clean but faded. $50.00

[017061] Christie, Agatha. At Bertram's Hotel. London: The Book Club, 1965. 12mo - over 6¾" - 7¾" tall. Original Cloth. Good / No Jacket. Covers worn, edges bumped, spine discoloured along top edge. Pages yellowing and spotted with age. $10.00

[000721] Christie, Agatha. The Hollow. Australia: The Crime Club, 12mo - over 6¾" - 7¾" tall. Hard Cover. Good / No Jacket. 255pp. Previous owner's name and nscription inside. Some pencil marks inside and outside covers. Orange covers with black writing on spine. No d/j. Small split on spine. Circa 1947 from inscription inside. $12.00

[004773] Christie, Agatha. The Mystery of the Blue Train. London: The Crime Club, 1953. 12mo - over 6¾" - 7¾" tall. Original Cloth. Good / Good. Scarce copy of this Christie classic with a dustjacket. Jacket is chipped and worn with a few creases and light losses at extremities and top of spine. Jacket has internal tape repairs. Jacket now protected. Binding good. Text clean. Email for a scan. $90.00

[012140] Christie, Agatha. A Murder s Announced. London: The Thriller Book Club, 1951. 12mo - over 6¾" - 7¾" tall. Original Cloth. Fair / No Jacket. Worn copy. Previous owner's name inside. $10.00

[002457] Christie, Agatha. By the Pricking of My Thumbs. London: The Crime Club, 1968. 12mo - over 6¾" - 7¾" tall. Original Cloth. Good / Fair. Wrapper is wrinkled, chipped and a few small tears. Price clipped. A few marks inside covers. Text clean. $10.00

[001389] Christie, Agatha. Endless Night. London: The Crime Club, 1967. First Edition. 12mo - over 6¾" - 7¾" tall. Original Cloth. Good / No Jacket. Spine slightly sunned. A few grubby marks. Binding good. $10.00

[000934] Christie, Agatha. Dead Man's Folly. London: The Book Club, 1957. 12mo - over 6¾" - 7¾" tall. Hard Cover. Good / Fair. 256 pp. Jacket rubbed and chipped, some tears and a few small pieces missing. Slight fold mark on front cover and some dents. Some spotting. Corners bumped. $8.00

[001242] Christie, Agatha. Death on the Nile. London: The Crime Club, 1967. 8vo - over 7¾" - 9¾" tall. Original Cloth. Good / Fair. This is an ex-library copy. Label has been removed inside cover (remnants). Jacaranda Lodge Library stamps here and there throughout book. Jacket has been laminated. There are a few grubby marks inc a transparent stain on bottonm corner that does not extend into text over about 60 pp. Binding is good. Pages browning with age. Looks better than the description. $35.00

[001338] Christie, Agatha. Sparkling Cyanide. London: The Crime Club, 1947. 12mo - over 6¾" - 7¾" tall. Original Cloth. Fair / No Jacket. Repairs to binding inside but intact. Some marks and light damage to covers. A reading copy which is better than it sounds! $6.00

[002875] Christie, Agatha. Endless Night. London: The Book Club, 1967. 12mo - over 6¾" - 7¾" tall. Hard Cover. Good / Good. 224 pp. Jacket lightly chipped and worn. Some very small tears and losses. Great cover art. Email for a scan if you haven't seen a copy of this book before. Binding good. Text clean. $10.00

[001035] Christie, Agatha. Passenger to Frankfurt. London: The Crime Club, 1970. First Edition. 12mo - over 6¾" - 7¾" tall. Original Cloth. Very Good / Very Good. ISBN: 0002311216. Very nice copy. Only light rubbing to jacket. Looks new. The Crime Club Edition. $25.00

[000935] Christie, Agatha. Passenger to Frankfurt. London: The Crime Club, 12mo - over 6¾" - 7¾" tall. Hard Cover. Very Good / Very Good. 256 pp. Covers and jacket very good. Text clean and bright. $10.00

[001327] Christie, Agatha. The Sittaford Mystery. London: The Crime Club, 1955. 12mo - over 6¾" - 7¾" tall. Original Cloth. Good / No Jacket. No jacket. Previous owner's name and address inside. Cover has light insect damage or chipping around edges. Edges browning, pages browning with age. Text clean. Binding is tight. $22.00

[002458] Christie, Agatha. Third Girl. London: The Crime Club, 1966. 12mo - over 6¾" - 7¾" tall. Original Cloth. Good / Fair. Wrapper is wrinkled, chipped and a few small tears. A few damp marks inside covers. Text clean. Marked along edges. PON inside. $8.00

[004665] Clad, Noel. A Taste for Brilliants. New York: Random House, 1964. First Edition. 8vo - over 7¾" - 9¾" tall. Original Cloth. Good / Fair. A random House Mystery. Jacket is chipped, clipped and worn with some tears and repairs and light losses. Covers edgeworn. Binding good. Clean copy. $25.00

[017055] Clancy, Tom. The Teeth of the Tiger. Australia: Michael Joseph, 2003. Australian Edition. 8vo - over 7¾" - 9¾" tall. Original Cloth. Good / Good. Edges of spine bumped. Tidy square copy. $15.00

[017053] Cleary, Jon. Remember Jack Hoxie. London: Collins, 1969. 8vo - over 7¾" - 9¾" tall. Original Cloth. Good / Good. Jacket bumped along the edges. Numerous tape stains on inside front cover and first blank page. Previous owner's name has been scribbled out. Text clean, binding good. $10.00

[002319] Cleary, Jon. Dilemma. Australia: Doubleday, 1999. 12mo - over 6¾" - 7¾" tall. Original Cloth. Very Good / Very Good. ISBN: 1 876590149. A very nice copy. Appears unread. $16.00

[019076] Cleary, Jon. Endpeace. London: BCA, 1996. 8vo - over 7¾" - 9¾" tall. Orginal Cloth. Good / Good. General shelf wear. Text clean. Minor damage to bottom edge of jacket spine. $12.00

[022029] Cleary, Jon. Helga's Web. London: The Companion Book Club, 1971. 12mo - over 6¾" - 7¾" tall. Orginal Cloth. Good / Good. Some light shelf wear to jacket. Binding good, corners bumped, square. $11.00

[018677] Cleary, Jon. A Different Turf. Australia: Collins, 1997. 8vo - over 7¾" - 9¾" tall. Original Cloth. Good / Good. Near very good copy. Light wear. Slight page browning. $20.00

[022034] Clifford, Francis. All Men are Lonely Now. London: Readers Book Club, 12mo - over 6¾" - 7¾" tall. Orginal Cloth. Good / Good. Some light shelf wear to jacket, minor discolouration to back cover jacket. Pages lightly browning, square. $10.00

[002669] Cobb, Belton. Need a Body Tell?. London: W.H.Allen, 1954. First Edition. 12mo - over 6¾" - 7¾" tall. Original Cloth. Good / Fair. Jacket chipped and worn with some losses inc corner on front. Covers clean. Binding good. Edges browning. A Cheviot Burmann mystery. $40.00

[004545] Cody , Liza. Headcase. New York: Charles Scribner's Sons, 1986. First Edition. 8vo - over 7¾" - 9¾" tall. Hard Cover. Good / Good. ISBN: 0684185865. An Anna Lee mystery. Near very good condition. $26.00

[003979] Cody, Liza. Dupe. London: Collins, 1985. 12mo - over 6¾" - 7¾" tall. Original Cloth. Good / Good. ISBN: 0002312727. Collins Crime Club Edition. Jacket has ony light wear.Small white ink mark covering old price on first page. Book near very good. $7.00

[003729] Cohen, Octavus Roy. Perfect Alibi. Short Story in Best American Detective Stories of the Year 1955. London: T.V. Boardman and Co, 1956. First Edition. 12mo - over 6¾" - 7¾" tall. Original Cloth. Good / No Jacket. 8 pp short story in 249 pp anthology. Covers worn. Binding cracked inside front cover. Spine lightly sunned and is marked. PON inside. $18.00

[012331] Coles, Manning. Alias Ucle Hugo. London: Thriller Book Club, 12mo - over 6¾" - 7¾" tall. Original Cloth. Good / Fair. Jacket is chipped and worn with a significant loss on front. Edges dusty. $15.00

[015782] Coles, Manning. The Man in the Green Hat. London: Hodder & Stoughton, 12mo - over 6¾" - 7¾" tall. Original Cloth. Good / No Jacket. Binding cracked, edges bumped and worn, spine discoloured, original owner's name inside front cover. $20.00

[019517] Collis, Louise. The Great Flood. London: MacMillan, 1966. 8vo - over 7¾" - 9¾" tall. Orginal Cloth. Good / Fair. Jacket worn, scratched and rubbed with chips, creases and minor tears to edges. Pages yellowing. Binding good. $18.00

[003728] Cooke, David C. Best American Detective Stories of the Year 1955. London: T.V. Boardman and Co, 1956. First Edition. 12mo - over 6¾" - 7¾" tall. Original Cloth. Good / No Jacket. Great detective stories from Evan Hunter, Richard Deming, Octavus Roy Cohen, Ellery queen, Harry Widmer, Helen Nielsen, Burnham Carter, Richard Martsen etc etc. 249 pp. Covers worn. Binding cracked inside front cover. Spine lightly sunned and is marked. PON inside. $18.00

[001033] Corrigan, Mark. Menace in Siam. Sydney: Angus and Roberston, 1958. First Edition. 12mo - over 6¾" - 7¾" tall. Original Cloth. Good / Fair. Book and covers in good clean codition. Jacket is good apart from small tears on edges and small piece missing at top of spine. $15.00

[015593] Corrigan, Mark. The Big Squeeze. Australia: Angus and Roberston, 1955. First Edition. 12mo - over 6¾" - 7¾" tall. Orginal Cloth. Good / Good. Jacket is chipped and worn with light losses. Previous owner's name inside with corner of first page coloured to identify owner? Nice copy. Great cover art.Email for a scan. $18.00

[019804] Corrigan, Mark. Sydney for Sin. Sydney: Angus and Roberston, 1955. First Edition. 12mo - over 6¾" - 7¾" tall. Orginal Cloth. Good / Good. Jacket is chipped and worn with losses at extremities. A few marks. Binding good. $20.00

[011770] Corris, Peter. The Dying Trade. Sydney: Mcgraw-Hill, 1980. 8vo - over 7¾" - 9¾" tall. Original Cloth. Good / Good. ISBN: 007072928x. Jacket and covers are shelf edge worn. Previous owner's name inside. Pages browning. $14.00

[001780] Cory, Desmond. Johnny Goes South. London: Frederick Muller, 1959. First Edition. 12mo - over 6¾" - 7¾" tall. Original Cloth. Good / Good. A Johnny Fedora Story. Jacket is chipped and a few small tears. Binding good. Text clean. A very nice copy. $20.00

[009226] Cousins, E G. Week-End with Maxwell. London: Thriller Book Club, 1961. 12mo - over 6¾" - 7¾" tall. Original Cloth. Good / Good. Jacket is chipped and worn with silverfish nibbles around edges and has a few marks. A good copy. $12.00

[013545] Cousins, E G. Fear of Mr Taltry. London: Thriller Book Club, 1961. 12mo - over 6¾" - 7¾" tall. Original Cloth. Fair / No Jacket. Worn copy. No jacket. Spine sunned. Marks on first four pages. $9.90

[006027] Cowen, Frances. The Lost One. London: Robert Hale, 1977. First Edition. 12mo - over 6¾" - 7¾" tall. Original Cloth. Ex Lib. Fair / Fair. ISBN: 0709159358. Ex lib copy. Worn. Scarce. $20.00

[020335] Coxe, George Harmon. An Easy Way to Go. London: Robert Hale and Company, 1969. 12mo - over 6¾" - 7¾" tall. Orginal Cloth. Good / Good. Covers slightly worn at edges. Library miscellania inside front and back covers. Text clean. $10.00

[012077] Crane, Frances. Murder on the Purple Water. London: Thriller Book Club, 12mo - over 6¾" - 7¾" tall. Original Cloth. Good / No Jacket. Lettering on spine slightly faded. Previous owner's name inside. $10.00

[005428] Crawford, Robert. The Shroud Society. New York: G P Putnam's Sons, 1969. 8vo - over 7¾" - 9¾" tall. Original Cloth. Good / No Jacket. Red Mask Mystery. Covers worn. Binding good. Text clean. $9.00

[016718] Creasey, John. Inspector West At Bay. Great Britain: The Thriller Book Club, 1952. 12mo - over 6¾" - 7¾" tall. Hard Cover. Fair / Fair. Jacket is covered in protective plastic, however the jacket is still very edgeworn, rubbed and creased. First blank page missing. Pages yellowing. Spine cracked. $8.80

[002406] Creasey, John. A Kind of Prisoner. London: The Thriller Book Club, 12mo - over 6¾" - 7¾" tall. Original Cloth. Good / No Jacket. Bumped. Pages browning along edges. Binding good. Text clean. PON inside. $8.00

[001279] Creasey, John. Inspector West Takes Charge. London: Stanley Paul and Co, 1949. 12mo - over 6¾" - 7¾" tall. Original Cloth. Fair Binding cracked, some damage to spine. Grubby. Reading copy only. $7.00

[009081] Creasey, John. The Third Bedside Book Edited By John Creasey. London: Hodder and Stoughton, 1962. First Edition. 12mo - over 6¾" - 7¾" tall. Original Cloth. Good / Good. Jacket is chipped and worn and has a few marks. A few marks inside covers. Binding good. Crime anthology inc cartoons. $35.00

[009051] Creasey, John. Murder, London-Miami. London: The Thriller Book Club, 1969. 12mo - over 6¾" - 7¾" tall. Original Cloth. Good / No Jacket. Spine sunned. Top corner nudged. Binding good. $10.00

[015210] Creasey, John. Parcels for Inspector West. London: The Thriller Book Club, 12mo - over 6¾" - 7¾" tall. Original Cloth. Good / Good. Book in good condition overall. Another in the series of Inspector West. $10.00

[008012] Creasey, John. The Toff Down Under. London: Hodder and Stoughton, 1953. First Edition. 12mo - over 6¾" - 7¾" tall. Original Cloth. Good / No Jacket. Covers are clean. A few marks along edges. Previous owner's stamp inside and a large penned price on first blank page. $20.00

[004988] Creasey, John. Murder - London South Africa. London: Hodder and Stoughton, 1966. First Edition. 12mo - over 6¾" - 7¾" tall. Original Cloth. Good / Very Good. A story of Roger West of the Yard. Jacket is lightly worn. Now protected. Book very good. $27.00

[021880] Crofts, Freeman Wills. The 12.30 from Croydon. London: Hodder and Stoughton, 1936. 16mo - over 5¾" - 6¾" tall. Orginal Cloth. Fair / No Jacket. Covers worn, edges bumped, some fraying to spine, spine sunned, a few grubby marks. Spine cracked, pages browning. Previous owner's name inside, 'Canning Bridge Senior Citizens Centre' stamp inside. Rolled. Reading copy. $12.00

[015450] Cross, R. Key to Murder. Hong Kong: Horwitz, 1975. 12mo - over 6¾" - 7¾" tall. Paperback. Good ISBN: 0725506946. Good copy, some page yellowing with age. $18.00


[013075] Cumberland, Marten. No Sentiment in Murder. London: Hutchinson, 1966. First Edition. 12mo - over 6¾" - 7¾" tall. Original Cloth. Ex Lib. Good / Good. Ex lib copy with near very good jacket. $20.00

[008034] Curry, Avon. Shack-up. London: John Long, 1971. First Edition. 12mo - over 6¾" - 7¾" tall. Original Cloth. Good / Good. Jacket is lightly chipped and worn. Pages browning. Good copy. $22.00

[015453] Curry, Avon. A Place of Execution. London: John Long, 1969. 12mo - over 6¾" - 7¾" tall. Original Cloth. Good / Good. ISBN: 090979605. Good condition, has previous owner's gift inscription. Jacket is chipped. $25.00

[018687] Curzon, Clare. Close Quarters. New York: St Martins Press, 1997. First Edition. 8vo - over 7¾" - 9¾" tall. Original Cloth. Very Good / Very Good. ISBN: 0312150792. A Thames Valley Mystery featuring Inspector Mike Yeadings. In very good condition. $10.00

[002993] Curzon, Clare. Close Quarters. New York: St Martins Press, 1997. First Edition. 8vo - over 7¾" - 9¾" tall. Original Cloth. Very Good / Very Good. ISBN: 0312150792. A Thames Valley Mystery featuring Inspector Mike Yeadings. In very good condition. $10.00

[010850] Daly, Caroll John. Death's Juggler. London: Hutchinson, First Edition. 12mo - over 6¾" - 7¾" tall. Original Cloth. Fair A very rare copy of an early Daly thriller. Pulp style crime story starring Satan Hall and his battle against mobster Johnny Zitto. The first blank page has been removed. Covers clean and bright. Binding good , text clean. Light bumped corner. Good copy. Good yarn! $220.00

[008673] Davidson, Lionel. A Long Way to Shiloh. London: Victor Gollancz, 1966. First Edition. 12mo - over 6¾" - 7¾" tall. Original Cloth. Good / Good. Yellow jacket is chipped and worn. Clipped. Sun shaow on jacket. Binding good. Text clean. $10.00

[010980] Davis, Howard Charles. Dead Man's Cross. London: The Mystery Book Guild, 1966. 12mo - over 6¾" - 7¾" tall. Original Cloth. Good / No Jacket. Covers wedgeworn. Spine sunned. Some light foxing. $15.00

[017054] Deighton, Len. Charity. London: HarperCollins Publishers, 1996. Australian Edition. 8vo - over 7¾" - 9¾" tall. Original Cloth. Good / Good. Apart from a few scratches and grubby marks on the jacket this is an 'as new' edition. $15.00

[001410] Delving, Micahel. A Wave of Fatalities. London: The Crime Club, 1975. First Edition. 12mo - over 6¾" - 7¾" tall. Original Cloth. Good / No Jacket. ISBN: 0 00 231904 7. A few light marks on covers. Near very good. $14.00

[001191] Deming, Richard. The Careful Man. London: W.H.Allen, 1962. First Edition. 8vo - over 7¾" - 9¾" tall. Hard Cover. Good / No Jacket. Ex-CWA library. Stamp marks and penned number but no paste ins. A few minor tape marks inside covers and some light damage to spine. Binding good, text clean. $14.00

[020664] Deming, Richard. Juvenile Delinquent. London: Boardman & Co, 1958. 12mo - over 6¾" - 7¾" tall. Orginal Cloth. Fair / Fair. American Mystery 194. Jacket is worn and grubby at edges with some foxing, grubby marks, etc. Insect nibbles to back cover. Spine browning and slightly faded in places.Edges of pages dusty and grubby with some water marking. Spine is cracked. Some insect nibbling to last blank page. Reading copy. $20.00

[003977] Devine , Dominic. This is Your Death. London: Collins, 1981. First Edition. 12mo - over 6¾" - 7¾" tall. Original Cloth. Good / Good. ISBN: 0002318660. Collins Crime Club Edition. Jacket has ony light wear. There is what appears to be the remnant of a label on the front cover. Email for a scan.Small white ink mark covering old price on first page. Book near very good. $25.00

[019231] Devine, Dominic. The Sleeping Tiger . London: The Crime Club, 1968. 8vo - over 7¾" - 9¾" tall. Original Cloth. Good / Fair. Jacket is worn with tears and creases to edges. Some grubby marks and light scratching. Text is clean. Square. $15.00

[022478] Devine, Dominic. Three Green Bottles. Newton Abbot: Crime Fiction Book Club, 1972. 12mo - over 6¾" - 7¾" tall. Orginal Cloth. Good / Fair. Jacket is chipped and worn. Binding good. Text clean. A scarce mystery title. $18.00

[005888] Dick, Alexandra. The Innocence of Rosamond Prior. London: Robert Hale, 1953. First Edition. 8vo - over 7¾" - 9¾" tall. Original Cloth. Ex Lib. Poor / Poor. This is a reading copy only. In poor condition, ex lib, page loose etc but is a very scarce Dick title so this copy satisfy an interest or fill a collection. $10.00

[017486] Dickson, Carter. My Late Wives. London: Heinemann, 1947. 12mo - over 6¾" - 7¾" tall. Orginal Cloth. Good / No Jacket. Some light discolouration to spine, edges lightly bumped, few light water stains (?) on front and back covers. Board stains inside front and back covers. Text clean, binding good. $30.00

[006587] Dickson, Carter. Lord of the Sorcerers. London: William Heinemann, 1946. Reprint. 12mo - over 6¾" - 7¾" tall. Original Cloth. Good / Fair. A scarce title. From the author of The Judas Window. Creator of the famous detective H.M. Jacket is very worn and there are losses but is worth preserving and is now protected. Binding good. A good copy. $45.00

[017219] Diehl, William. Sharky's Machine. South Victoria: Hutchinson, 1978. 8vo - over 7¾" - 9¾" tall. Original Cloth. Good / Good. Jacket rubbed, edges worn and creased. Light scratches. Pages yellowing, binding good. Remainder mark on bottom edge. $14.00

[017425] Diment, Adam. The Bang Bang Birds. London: Thriller Book Club, 1968. 12mo - over 6¾" - 7¾" tall. Orginal Cloth. Good / Good. Some grubby rub marks on front and back cover jackets. Some creases to top edge of back cover jacket. Binding very good, text clean. $12.00

[003967] Doliner , Roy. On the Edge. London: Collins, 1978. First Edition. 12mo - over 6¾" - 7¾" tall. Original Cloth. Good / Good. ISBN: 0002316129. Collins Crime Club Edition. Jacket is chipped and worn with some tears on front. Previous owner's name inside. Small white ink mark covering old price on first page. Book near very good. $5.00

[006483] Donovan, J B. The Laughing Horses. London: Kingfisher Books, 1961. First Edition. 12mo - over 6¾" - 7¾" tall. Original Cloth. Good / Good. Another Bill Speed adventure. Jacket is chipped and worn and has some browning. Pages browning slightly. Bindng good. $20.00

[019551] Doyle, Arthur Conan. The Return of Sherlock Holmes. New York: Platinum Press, 1977. 8vo - over 7¾" - 9¾" tall. Orginal Cloth. Good / Good. Facsimile of the first publication in The Strand magazine. Minor shelf wear. Text is clean and binding good. Slight roll. $20.00

[001248] Doyle, Sir Arthur Conan. The Complete Sherlock Holmes Long Stories. London: Book Club Associates, 1973. 12mo - over 6¾" - 7¾" tall. Hard Cover. Very Good / Good. Four volmes in one. A Study in Scarlet, The Sign of Four, The Hound Of The Baskervilles and The Valley of Fear. Covers very good, text clean, binding very good. Minor rubbing to jacket. $15.00

[015580] Draper, Alfred. The Con Man. United Kingdom: Piatkus, 1987. 8vo - over 7¾" - 9¾" tall. Orginal Cloth. Good / Good. Near very good copy. Lightv wear. $10.00

[023144] Drewe, Robert. The Shark Net. Australia: Viking, 2000. 8vo - over 7¾" - 9¾" tall. Original Cloth. Good / Good. Some light shelf wear, jacket edgeworn with a small tear. Previous owner's name inside. Pages yellowed. $20.00

[007456] DuBois, Theodora. Seeing Red. London: The Crime Club, 1955. First Edition. 12mo - over 6¾" - 7¾" tall. Original Cloth. Ex Lib. Fair Scarce Dubois title. part of jacket pasted on front cover. Covers worn. Binding good. Ex lib. $15.00

[011049] Durant, Theo. The Marble Forest. London: Allan Wingate, 1951. First Edition. 12mo - over 6¾" - 7¾" tall. Original Cloth. Good / Fair. Clipped jacket is chipped and worn and has short tears and small losses. Jacket spine sunned. Top edge dusty. $55.00

[005362] Durbridge, Francis. Another Woman's Shoes. London: Hodder and Stoughton, 1965. First Edition. 12mo - over 6¾" - 7¾" tall. Original Cloth. Very Good / Good. Scarce Durbridge title. First edition. Jacket and book are near very good condition. Jacket now protected. A Mike Baxter murder story. $210.00

[017423] Durbridge, Francis. Bat Out of Hell. London: Thriller Book Club, 1973. 12mo - over 6¾" - 7¾" tall. Orginal Cloth. Good / Good. Jacket lightly yellowing with some wear along edges. Text clean, binding good, square copy. $20.00

[014736] Durbridge, Francis. The Geneva Mystery. Great Britain: Ian Henry, 1982. 8vo - over 7¾" - 9¾" tall. Original Cloth. Ex Lib. Fair / Fair. Ex library copy in worn condition. Mared. Fair only. Rare! $88.00

[002661] Durbridge, Francis. Paul Temple and the Madison Case. London: Hodder and Stoughton, 1988. First Edition. 12mo - over 6¾" - 7¾" tall. Original Cloth. Ex-Library. Good / Good. ISBN: 0340416084. This book is ex-library and there are the usual paste ins and markings. Jacket was covered with plastic, now removed. Jacket is edgeworn and slightly wrinkled. A scarce title of the collectible Paul Temple series. Email for a scan and full report. $90.00

[012070] Durham, Mary. Castle Mandragora. London: Thriller Book Club, 1951. 12mo - over 6¾" - 7¾" tall. Original Cloth. Good / No Jacket. Worn copy. A few marks. Light brown stain first few pages. Binding good. Previous owner's name inside. $10.00

[014672] Durham, Mary. Forked Lightning. London: Thriller Book Club, 1952. 12mo - over 6¾" - 7¾" tall. Original Cloth. Good / Fair. Worn copy. Jacket has losses on spine and rear and small taped repais. Previous owner's name inside. $10.00

[017912] Early, John. Flesh and Metal. New York: Carroll and Graf, 1998. 8vo - over 7¾" - 9¾" tall. Original Cloth. Good / Good. Jacket is worn with light scratching. Texta price on front cover. Some light creases and marks. Edges yellowing. Binding good. $15.00

[006634] Eberhart, M G. Hunt with the Hounds. London: The Crime Club, 1951. First Edition. 12mo - over 6¾" - 7¾" tall. Original Cloth. Ex Lib. Fair / No Jacket. Ex lb reading copy. Worn and marked. $10.00

[019403] Ekstrom, Jan. The Ancestral Precipice. London: MacMillan, 1983. 8vo - over 7¾" - 9¾" tall. Orginal Cloth. Ex Lib. Fair / Fair. Ex lib copy. Name clipped inside. Binding good. Light wear. $20.00

[001231] Fair, A A. Some Women Won't Wait. London: Heinemann, 1958. First Edition. 12mo - over 6¾" - 7¾" tall. Original Cloth. Good / No Jacket. "The steam roller skill of Bertha Cool and the brains and sex appeal of Donal Lam form one of the most unlikely and spectcular detective combinations in the world." No jacket. Text clean, binding good. Covers good. Old price covered with white out inside front. $15.00

[019482] Fairlie, Gerald. Captain Bulldog Drummond. London: The Book Club, 1946. 12mo - over 6¾" - 7¾" tall. Orginal Cloth. Good / No Jacket. Covers worn, edges bumped, minor damage to spine edges.Text clean, pages yellowing. $15.00

[004854] Fairlie, Gerald. Bulldog Drummond. London: Hodder and Stoughton, 1938. 12mo - over 6¾" - 7¾" tall. Original Cloth. Good / Fair. An early Bulldog Drummond title. Jacket is chipped and worn with a few small tears and some losses. Email for a scan. Now protected. Binding good. $15.00

[003087] Fairlie, Gerald. Calling Bulldog Drummond. London: Hodder and Stoughton, 1951. First Edition. 12mo - over 6¾" - 7¾" tall. Original Cloth. Good / Good. One of the scarce Bulldog Drummond titles. Jacket is chipped and worn with a few small tears. Light losses at top and bottom of spine. Jacket now protected. Binding is good. Text clean. Previous owners name and gift inscription written neatly inside. Email for further details and a scan of the jacket. Great copy. $100.00

[009082] Fairlie, Gerald. Bulldog Drummond Stands Fast. London: Hodder and Stoughton, 1951. 12mo - over 6¾" - 7¾" tall. Original Cloth. Good / Fair. An early Bulldog Drummond title. Jacket is chipped (and clipped) and worn with a few small tears and some losses. Email for a scan. Binding good. Light foxing first few pages and along edges. $22.00

[011255] Fairlie, Gerald. Hands Off Bulldog Drummond!. London: Hodder and Stoughton, 1949. First Edition. 12mo - over 6¾" - 7¾" tall. Original Cloth. Fair / No Jacket. An early Bulldog Drummond title. Covers worn and binding starting to slacken. Foxing inside covers and on edges. Previous owner's name inside. $14.00

[018699] Fairlie, Gerald. Calling Bulldog Drmmond. London: Hodder and Stoughton, 1955. 8vo - over 7¾" - 9¾" tall. Mass Market Paperback. Fair An early Bulldog Drummond title. Edgeworn paperback. Rolled. A few marks. $10.00

[020646] Fairlie, Gerald following Sapper. Bulldog Drummond Attacks. London: Hodder and Stoughton, 1952. 12mo - over 6¾" - 7¾" tall. Orginal Cloth. Fair / No Jacket. Covers worn with grubby marks, spine browning. Spine cracked, previous owner's name inside. Text clean. Slight roll. $20.00

[015579] Fanklin, Eugene. Murder Trapp. USA: Stein and Day, 1971. 8vo - over 7¾" - 9¾" tall. Orginal Cloth. Good / Fair. Jacket is chipped and worn. Rubbed. Good copy. $10.00

[012379] Farjeon, J Jefferson. Greenmask. London: The Crime Club, 1951. 16mo - over 5¾" - 6¾" tall. Original Cloth. Good / Good. Jacket ischipped and worn. Pages browning with age. $10.00

[001783] Farjeon, Jefferson. The Judge Sums Up. London: The Crime Club, 1952. 12mo - over 6¾" - 7¾" tall. Original Cloth. Good / No Jacket. Lightly worn covers. Pages browning with age. Binding good. PON inside. $9.00

[010577] Farjeon, Jefferson. Number Nineteen. London: The Crime Club, 1954. 12mo - over 6¾" - 7¾" tall. Original Cloth. Good / No Jacket. Lightly worn covers. Pages browning with age. Binding good. $45.00

[009029] Farmer, Philip Jose. Nothing Burns in Hell. New York: Forge, 1998. First Edition. 8vo - over 7¾" - 9¾" tall. Original Cloth. Good / Good. Near very good copy. Light wear. $10.00

[004986] Ferrars, Elizabeth. Give a Corpse a Bad Name. London: Collins Crime Club, 1981. 8vo - over 7¾" - 9¾" tall. Original Cloth. Very Good / Very Good. ISBN: 0002312948. A Crime Club Famous First. Reprint of the 1940 classic. In very good condition. Jacket protected. $45.00

[015441] Ferrars, Elizabeth. Drowned Rat. London: Book Club Associates, 1975. 8vo - over 7¾" - 9¾" tall. Original Cloth. Good / Good. Slight tearing and losses on jacket otherwise in good condition. $10.00

[015432] Ferrars, Elizabeth. Skeleton Staff. London: The Crime Club, 1969. First Edition. 8vo - over 7¾" - 9¾" tall. Original Cloth. Good / Good. Slight wear on jacket otherwise in good condition. $35.00

[021863] Fleming, Ian. Casino Royale . London: Jonathan Cape, 1960. 12mo - over 6¾" - 7¾" tall. Orginal Cloth. Good / No Jacket. Covers worn with some very minor tearing along spine. Slight roll, corners bumped. Text is clean and binding good, inscription to previous owner inside. $10.00

[021862] Fleming, Ian. Goldfinger. London: The Book Club, 1959. 12mo - over 6¾" - 7¾" tall. Orginal Cloth. Good / Good. Some wear to jacket, a few creases, chips and tears, grubby rub marks to back cover. Slight roll. Binding good, pages yellowing. $10.00

[005909] Fleming, Joan. Midnight Hag. London: The Crime Club, 1966. First Edition. 12mo - over 6¾" - 7¾" tall. Original Cloth. Good / Good. Crime Club Choice. Book and jacket in near very good condition. $10.00

[001334] Fleming, Joan. Nothing is the Number When You Die. London: The Crime Club, 1965. First Edition. 12mo - over 6¾" - 7¾" tall. Original Cloth. Good / Good. A very nice copy. Top corner bumped. Previous owner's iniotials inside. Great cover art on jacket. Jacket chipped and minor tears. Text clean, binding good. $22.00

[021386] Fletcher, Lucille. The Strange Blue Yawl. London: Eyre and Spottiswoode, 1965. 8vo - over 7¾" - 9¾" tall. Orginal Cloth. Good / Good. Jacket yellowing at edges with some marking. Text clean and binding good. $20.00

[009660] Footner, Hulbert. Trial By Water. London: Hodder and Stoughton, 12mo - over 6¾" - 7¾" tall. Original Cloth. Good / No Jacket. Red cloth covers have light wear. Undated but is a early or even first edition. Some foxing on edges and first and last few pages. $35.00

[017924] Freeling, Nicolas. Criminal Convictions. Great Britain: Peter Owen Limited, 1994. 8vo - over 7¾" - 9¾" tall. Original Cloth. Good / Good. Errant essays on perpetrators of literary license. Price sticker on front cover jacket, remainder mark on inside front cover jacket flap. Tidy copy. $12.00

[014689] Freeman R Austin. A Certain Dr Thorndyke. London: Hodder and Stoughton, 1944. 12mo - over 6¾" - 7¾" tall. Original Cloth. Good / No Jacket. Covers worn nand have a few marks. Spine slightly faded. Inscription inside. $40.00

[005039] Fremlin, Celia. The Spider-Orchid. London: Book Club Associates, 1977. 8vo - over 7¾" - 9¾" tall. Original Cloth. Very Good / Very Good. Yellow jacket. In very good condition. $20.00

[005038] Fremlin, Celia. With No Crying. London: Book Club Associates, 1980. 8vo - over 7¾" - 9¾" tall. Original Cloth. Very Good / Very Good. Gollancz Suspense edition with yellow jacket. In very good condition. $12.00

[005040] Fremlin, Celia. The Long Shadow. London: Book Club Associates, 1975. 8vo - over 7¾" - 9¾" tall. Original Cloth. Very Good / Very Good. Yellow jacket. In very good condition. $30.00

[019200] Friedman, Bruce Jay. The Dick. London: Jonathan Cape, 1971. First Edition. 12mo - over 6¾" - 7¾" tall. Orginal Cloth. Good / Good. Jacket is chipped and worn. Price clipped jacket. A few marks. Binding good. $21.00

[015452] Gardener, Erle Stanley. The D A Takes a Chance. London: Heinemann, 1957. 12mo - over 6¾" - 7¾" tall. Original Cloth. Very Good / Very Good. Very good condition considering the age. Great copy! $12.00

[015880] Gardner, Erle Stanley. The D.A. Takes a Chance. Great Britain: Heinemann, 1957. Third Edition. 12mo - over 6¾" - 7¾" tall. Orginal Cloth. Good / Poor. Water damage to spine of jacket, tears along the edges of the jacket, reading crease, few small chips along the top half of jacket. Spine slightly cracked. $11.00

[002403] Gardner, Erle, Stanley. The Case of the Angry Mourner. London: The Thriller Book Club, 1959. 12mo - over 6¾" - 7¾" tall. Original Cloth. Good / Good. Jacket lightly worn and chipped, especially at top and bottom of spine. Back of jacket slightly wrinkled from dampness but there are no damp marks. Binding good. Text clean. $10.00

[012884] Gardner, Erle, Stanley. The Case of the Mythical Monkeys. London: Thriller Book Club, 1966. 12mo - over 6¾" - 7¾" tall. Original Cloth. Good / No Jacket. Light wear. A few marks. A good copy. $10.00

[004997] Gardner, Erle, Stanley. The Case of the Daring Decoy. London: The Thriller Book Club, 1964. 12mo - over 6¾" - 7¾" tall. Original Cloth. Good / Good. Jacket lightly worn and chipped and has a few marks. Binding good. Text clean. $10.00

[005971] Gardner, Erle, Stanley. The Case of the Mischievous Doll. London: Thriller Book Club, 1968. 12mo - over 6¾" - 7¾" tall. Original Cloth. Good / Good. Jacket lightly chipped and worn. Covers good. Previous owner's name stamped inside. A very nice copy. $14.00

[002725] Gardner, Erle, Stanley. The Case of the Demure Defendant. London: Thriller Book Club, 1963. 12mo - over 6¾" - 7¾" tall. Original Cloth. Good / Good. Jacket chipped and edge worn. Corners lightly bumped. Covers good. Top edge dusty. Pages clean, binding good. 244 pp. $10.00

[009052] Gardner, Erle, Stanley. The Case of the Mischievous Doll. London: Thriller Book Club, 1968. 12mo - over 6¾" - 7¾" tall. Original Cloth. Good / No Jacket. Spine sunned. Covers clean. A good copy. $10.00

[008432] Gary, Dulcie. The Murder of Love. London: Macdonald, 1967. First Edition. 12mo - over 6¾" - 7¾" tall. Original Cloth. Good / Good. A grim story of the criminal mind as a student studies james manson. Novel. Ineresting. Jacket is clipped, worn and marked. A few marks inside. Good copy. $35.00

[019230] Gielgud, Val and Marvell, Holt.
Death at Broadcasting House. London: Rich and Cowan Ltd, 1935. 12mo - over 6¾" - 7¾" tall. Orginal Cloth. Fair / No Jacket. Rolled, edges bumped. Damage to top edge of spine, cover is peeling off and exposing binding. Some scribbling on first blank page. Spine cracked. Light foxing to edges of all pages. $20.00

[002889] Gilbert, Anthony. Lady-Killer. London: The Thriller Book Club, 12mo - over 6¾" - 7¾" tall. Original Cloth. Good / No Jacket. Bumped. Pages browning along edges. Binding good. Text clean. Spine sunned. $10.00

[012138] Gilbert, Anthony. Lady-Killer. London: The Thriller Book Club, 12mo - over 6¾" - 7¾" tall. Original Cloth. Good / No Jacket. Pages browning along edges. Binding good. Text clean. Spine sunned. $10.00

[004802] Gilbert, Anthony. Don't Open the Door. London: The Crime Club, 12mo - over 6¾" - 7¾" tall. Original Cloth. Good / Good. The strange adventure of a young nurse. Two shilling edition. Undated. Jacket is chipped and worn. Some light losses and short tears. Now protected. Binding good. Browning. $30.00

[019238] Gilbert, Michael. After the Fine Weather. London: Hodder and Stoughton, 1967. 12mo - over 6¾" - 7¾" tall. Orginal Cloth. Fair / Fair. Ex school library. Usual wear but binding is good. $12.00

[002850] Gloag, John. In Camera. London: Cassell, 1945. First Edition. 12mo - over 6¾" - 7¾" tall. Original Cloth. Good / Fair. Jacket is chipped and worn with some tears and losses. Covers good, spine faded. Severe foxing inside covers and mild foxing along edges. War economy paper. Binding good. $22.00

[017132] Glover, Robert. Murderers Maze. London: Paul Elek, 1951. 12mo - over 6¾" - 7¾" tall. Original Cloth. Good / Fair. Jacket is worn and chiped on edges, spine discoloured. Large tear on spine and onto front cover. Small initials on front cover jacket. Inside there is some light foxing and age discolouration. Spine cracked. $15.00

[003897] Goodman , Jonathon. The Last Sentence. London: Hutchinson, 1978. First Edition. 12mo - over 6¾" - 7¾" tall. Original Cloth. Good / Good. Jacket worn, marked and has a few tears. Price clipped. Small white ink mark covering old price? inside front cover. Review copy. "With compliments ..." review label pasted inside front. PON inside. $10.00

[015427] Gott, Robert. A Thing of Blood. Melbourne: Scribe, 2005. 8vo - over 7¾" - 9¾" tall. Paperback. Very Good ISBN: 1920769587. A William Power mystery. Very good condition $14.00

[017312] Goulart, Ron (ed.). The Hardboiled Dicks. Great Britain: Boardman & Co, 1967. 8vo - over 7¾" - 9¾" tall. Orginal Cloth. Good / Fair. An anthology of detective fiction from American pulp magazines. Jacket is very stained, particularly along edges and spine. Edges bumped, few light tears and water stains. Price stickers on inside front cover jacket flap. Light foxing on first blank page and book edges. Text clean, binding good. $20.00

[009140] Graham, Neill. The Temple of Slumber. London: Andrew Melrose, First Edition. 12mo - over 6¾" - 7¾" tall. Original Cloth. Good / Good. Interesting cover art jacket is chpped and worn. Gift inscription (1955) inside. $20.00

[019365] Grape, Jan; James, Dean; and Nehr, Ellen (eds). Deadly Women: The Woman Mystery Reader's Indesnable Companion. New York: Carroll and Graf, 1998. 4to - over 9¾" - 12" tall. Paperback. Good A collection of articles by and about such luminaries as Mary Higgens Clark, Patricia Cornwall, Sara Paretsky and Joan Hess, among others. Covers are worn with some light scratches and chips. Edges bumped. Text clean. Some illustrations. Remainder mark along bottom edge. $20.00

[002402] Gray, Berkeley. Blonde for Danger. London: Collins, 1952. 12mo - over 6¾" - 7¾" tall. Original Cloth. Ex-Library. Fair Covers worn. Binding good. Pages browning. PON inside. $10.00

[010303] Green, Alan. What a Body!. London: Alvin Redman, 1950. First Edition. 12mo - over 6¾" - 7¾" tall. Original Cloth. Good / Fair. Jacket has numerous tears but is almost complete. Binding good. Text clean. $20.00

[017088] Green, Alan. What a Body!. London: Alvin Redman, 1950. 12mo - over 6¾" - 7¾" tall. Original Cloth. Good / No Jacket. Covers rolled, edges of spine bumped. Large crease on back cover as well as a few small stains. Pages yellowing. Spine cracked. Previous owner's name inside. $10.00

[004813] Gregg, Cecil Freeman. Melander's Millions. London: Methuen, 1944. First Edition. 8vo - over 7¾" - 9¾" tall. Original Cloth. Good / Good. A tale of Inspector Higgins. Jacket is chipped and worn. Mark where a label has been lifted. Email for a scan. Covers clean and bright. Binding good. Text clean. A very nice copy. Great cover art! $30.00

[019743] Grierson, Francis. The Buddha of Fleet Street. London: Hutchinson Universal Book Club, 1950. 12mo - over 6¾" - 7¾" tall. Orginal Cloth. Good / No Jacket. Covers worn and marked. Spine marked. prev owner's name inside. Board stainsinside covers, $18.00

[022688] Grierson, Francis D. Murder at the Wedding. London: The Literary Press Ltd, 16mo - over 5¾" - 6¾" tall. Orginal Cloth. Good Pages browning with age. Covers have a few silverfish nibbles. A good copy. No jacket. $20.00

[023018] Griffith, Geoffrey. Homicide: true stories of Australian Crime. Sydney: Farleigh Books, 1967. 12mo - over 6¾" - 7¾" tall. Paperback. Fair Includes the Melbourne Warder Murderer, the Sydney Models Case & the Case of the Headless Bodies. Covers are worn with tearing and creasing to front cover (front cover is slightly larger than the rest of the book due to a printing error, and the back cover is slightly smaller.) Some grubby marks and rubbing. Substantial foxing inside front and back covers and to the last five or so pages of the book (doesn't interfere with text). Pages browning, binding good. $30.00

[013663] Hackforth-Jones, Gilbert. Chines Poison. London: Hodder and Stoughton, 1969. First Edition. 8vo - over 7¾" - 9¾" tall. Original Cloth. Ex Lib. Fair / Fair. Ex lib copy with minor wear and markings. $20.00

[002412] Hadley Chase, James. The Guilty are Afraid. London: The Thriller Book Club, 12mo - over 6¾" - 7¾" tall. Original Cloth. Good / No Jacket. No jacket. Binding good. Text clean. A nice copy. $8.00

[002409] Hadley Chase, James. You've Got it Coming. London: The Thriller Book Club, 12mo - over 6¾" - 7¾" tall. Original Cloth. Good / Fair. Jacket is chipped and worn, has some losses and has been repaired but is worth preserving. Binding good. Text clean. $10.00

[001246] Hadley Chase, James. The Flesh of the Orchid. London: Jarrolds, 12mo - over 6¾" - 7¾" tall. Original Cloth. Good / Fair. Undated, 40th thousand. Previous owner's name inside. Jacket clipped, tears, repaired and pieces missing. Front of jacket good. Previous owner's name also written neatly on cover. Binding good, text clean. Browning with age. $15.00

[002434] Hadley Chase, James. Tiger By the Tail. London: The Thriller Book Club, 12mo - over 6¾" - 7¾" tall. Original Cloth. Good / No Jacket. No jacket. Binding good. Text clean. Bumped. A nice copy. PON inside. $8.00

[002410] Hadley Chase, James. Not Safe to be Free. London: The Thriller Book Club, 12mo - over 6¾" - 7¾" tall. Original Cloth. Good / Good. Jacket is chipped and lightly worn. Binding good. Text clean. $12.00

[015228] Haggard, William. The Heirloom. London: Hodder and Stoughton, 1983. 8vo - over 7¾" - 9¾" tall. Original Cloth. Ex Lib. Fair / Fair. ISBN: 034032665 4. Very worn copy. A thriller from New York, Venice and Corfu. Linb marks and wear. $20.00

[018694] Haining, Peter. A Sherlock Holmes Compendium. London: W H Allen, 1980. First American Edition. 4to - over 9¾" - 12" tall. Mass Market Paperback. Good 235 pp. Illus.Sherlock Holmes info. Light wear. $12.00

[020161] Hall, Angus. The Rigoletto Murder. London: Robert Hale, 1978. 12mo - over 6¾" - 7¾" tall. Orginal Cloth. Ex Lib. Good / Good. Jacket covered in slightly worn (back cover) protective plastic, 'Boans Book Club' sticker inside front cover, some stamps and pen marks inside back cover. Rolled. Pages yellowing and binding good. $80.00

[007327] Halliday, Michael. As Lonely as the Damned. London: Thriller Book Club, 1972. 12mo - over 6¾" - 7¾" tall. Original Cloth. Good / Good. A Dr Emmanuel Cellini story. Jacket has a few silverfish nibbles along extremities. Else near very good. John Creasey novel. $15.00

[004331] Hallinan, Timothy. Everything But the Squeal. New York: NAL Books, 1990. First Edition. 8vo - over 7¾" - 9¾" tall. Original Cloth. Good / Good. A Simon Grist suspense novel. A very nice copy. Near very good. $22.00

[001031] Hardin, Peter. The Frightened Dove. Melbourne: William Heineman, 1952. First Edition. 12mo - over 6¾" - 7¾" tall. Original Cloth. Good / No Jacket. Nice tidy copy. Binding good. A few spots on edges. Remants of a price label on cover. Gilt lettering on spine good. $10.00

[019586] Hardwick, Michael. The Revenge of the Hound. ill. Steranko. New York: Villiard Books, 1987. 8vo - over 7¾" - 9¾" tall. Orginal Cloth. Good / Good. Billed as 'the new Sherlock Holmes' novel. Minor edgewear and shelfwear. Text clean, binding good. $15.00

[004984] Harris, Herbert. John Creasey's Mystery Bedside Book. London: Hodder and Stoughton, 1966. First Edition. 12mo - over 6¾" - 7¾" tall. Original Cloth. Very Good / Good. Edited by Herbert Harris for the Crime Writers Association. Email for a full list of stories and contributors. Jacket is lightly worn and has a short tear on front. Jacket now protected. A very nice , clean copy. $26.00

[010573] Hart, L H. You'll End Up Dead. London: Macdonald & Co, 12mo - over 6¾" - 7¾" tall. Original Cloth. Good / No Jacket. Undated, probably first edition. Worn covers. A few sun marks at top and bottom of spine. Corners nudged. Binding good and text clean. $16.00

[014330] Harvester, Simon. Treacherous Road. London: Jarrolds, 1966. First Edition. 12mo - over 6¾" - 7¾" tall. Original Cloth. Ex Lib. Fair / Fair. Worn and marked ex ib copy. $12.00

[019786] Hay, James. That Washington Affair. London: Herbert Jenkins, 12mo - over 6¾" - 7¾" tall. Orginal Cloth. Good / No Jacket. Undated. Orange cloth covers are clean and bright. Cloth spine has 2 small dents. Binding good. $12.00

[019785] Hay, James. The Winning Clue. London: Herbert Jenkins, 12mo - over 6¾" - 7¾" tall. Orginal Cloth. Good / No Jacket. Undated. Orange cloth covers are clean and bright. Binding good. $15.00

[005133] Heating, H R F. Inspector Ghote Draws a Line. London: Book Club Associates, 1979. 8vo - over 7¾" - 9¾" tall. Original Cloth. Good / Good. Jacket has light sun browning along top edge. Near very good condition. Clean and bright. $10.00

[004955] Heatter, Basil. The Dim View. London: Hammond, Hammond and Co, First Edition. 12mo - over 6¾" - 7¾" tall. Original Cloth. Good / Good. Jacket is chipped and worn. Binding good. Text clean. $18.00

[001717] Hendryx, James, B. On the Rim of the Arctic. London: Museum Press, 1952. First Edition. 12mo - over 6¾" - 7¾" tall. Original Cloth. Good / Good. One of a series of books of crime and detection in the Arctic Circle. Jacket is chipped and worn. Some small tears and light losses. Binding good. Text clean. A very nice copy. $30.00

[019490] Heyer, Georgette. These Old Shades. London: William Heineman, 1937. 12mo - over 6¾" - 7¾" tall. Orginal Cloth. Good / No Jacket. Edges bumped and grubby. Pages yellowing. Text clean. $12.00

[010530] Heyer, Georgette. Pistols for Two. London: William Heinemann Ltd, 1975. 12mo - over 6¾" - 7¾" tall. Original Cloth. Good / Good. Uniform edition (No 30). jacket has shelf wear and a few marks. Covers clean. Binding good. Book near very good.. $14.00

[010531] Heyer, Georgette. Sprig Muslin. London: William Heinemann Ltd, 1977. 12mo - over 6¾" - 7¾" tall. Original Cloth. Good / Good. Uniform edition (No 23). Jacket has shelf wear and a few marks. Covers clean. Binding good. Book near very good.. $14.00

[019489] Heyer, Georgette. The Convenient Marriage. London: William Heinemann Ltd, 1936. 12mo - over 6¾" - 7¾" tall. Orginal Cloth. Good / Fair. Jacket is worn with some tears, creases and insect nibbles. Previous owner's name inside. Pages browning. $14.00

[019477] Heyer, Georgette. Regency Buck. London: William Heinemann Ltd, 1935. 12mo - over 6¾" - 7¾" tall. Orginal Cloth. Good / No Jacket. Reprint. Edges bumped. Previous owner's name inside. Text clean and binding good. $12.00

[015556] Heyer, Georgette. These Old Shades. Melbourne: William Heinemann, 1951. 12mo - over 6¾" - 7¾" tall. Original Cloth. Fair / No Jacket. Fair copy, binding loose, pages browning with age. Previous owner's name inside. $10.00

[004612] Heyer, Georgette. Arabella. Melbourne: William Heinemann Ltd, 1949. 12mo - over 6¾" - 7¾" tall. Original Cloth. Good / No Jacket. Cover has a few light marks. Corners lightly bumped. Price slight damage and mark where a price label has been removed from inside. Pages browning. $8.00

[016821] Heyer, Georgette. These Old Shades. Melbourne: Heinemann, 1951. 12mo - over 6¾" - 7¾" tall. Original. Fair / No Jacket. Covers worn, texta price on front cover, spine sunned, edges bumped. Pages browning and brittle. Page 341 has a large crease in it. Some light water stains (?) on first few pages. $10.00

[018313] Heyer, Georgette. They Found Him Dead. Melbourne: William Heinemann, 1952. 12mo - over 6¾" - 7¾" Tall. Original Cloth. Fair / No Jacket. Wear at top and bottom ofspine. Pages browning with age. Previous owner's name inside. $10.00

[015557] Heyer, Georgette. Friday's Child. Melbourne: William Heinemann, 1949. 12mo - over 6¾" - 7¾" tall. Original Cloth. Fair / No Jacket. Some spine damage, foxing and browing of pages, some bumping. $10.00

[015017] Heyer, Georgette. Duplicate Death. London: The Thriller Book Club, 1952. 12mo - over 6¾" - 7¾" tall. Original Cloth. Good / No Jacket. Covers worn. A few marks inside. Previous owner's name inside. $10.00

[001388] Heyer, Georgette. The Toll Gate. Melbourne: William Heinemann Ltd, 1954. First Australian Edition. 12mo - over 6¾" - 7¾" tall. Original Cloth. Good / No Jacket. Very nice, clean copy. Binding good. Bright gilt lettering on spine. $10.00

[007342] Heyer, Georgette. The Reluctant Widow. Melbourne: William Heinemann Ltd, 1946. First Australian Edition. 12mo - over 6¾" - 7¾" tall. Original Cloth. Good / No Jacket. Covers worn. Binding starting to slacken. Clean copy. $10.00

[008473] Heyer, Georgette. Detection Unlimited. London: The Thriller Book Club, 12mo - over 6¾" - 7¾" tall. Original Cloth. Good / No Jacket. Covers worn. A few marks inside. $10.00

[001209] Higson, Kit. Evil Communications. London: Ward Lock, 1952. First Edition. 12mo - over 6¾" - 7¾" tall. Original Cloth. Good / Good. A very nice copy of a scarce title. Price clipped jacket. A few minor tears and small pieces missing. Binding good. Text clean. $65.00

[003972] Hilton , John Buxton. The Innocents at Home. London: Collins, 1986. First Edition. 12mo - over 6¾" - 7¾" tall. Original Cloth. Good / Good. ISBN: 0002320762. Collins Crime Club Edition. Jacket has ony light wear. Previous owner's name inside. Small white ink mark covering old price on first page. Book near very good. $9.00

[013996] Hinde, Thomas. Bird. London: Hodder and Stoughton, 1970. Fifth Edition. 8vo - over 7¾" - 9¾" tall. Original Cloth. Good / Fair. ISBN: 0340129875. Jacket is chipped, worn and marked with short tears. Binding good. Text clean. $11.00

[019543] Hitchcock, Alfred (ed). Alfred Hitchcock Presents: Stories They Wouldn't Let Me Do on TV. London: Max Reinhardt, 1960. 8vo - over 7¾" - 9¾" tall. Orginal Cloth. Good / Good. A collection of stories that Hitchcock wanted to, but was unable to, adapt for television. Minor wear to jacket spine edges. Edges bumped. Text clean and binding good. $20.00

[005041] Hobson, Polly. Titty's Dead. London: Constable, 1968. First Edition. 8vo - over 7¾" - 9¾" tall. Original Cloth. Good / Good. Lesbianism? A crime of passion? Insector Basil picks his way through a hotbed of intrigue and jealousy in an English private school. Jacket is worn, chipped and has a few marks. Covers clean, binding good. Text clean. $15.00

[018743] Hocking, Anne. Mediterranean Murder. London: Evans Brothers, 1952. 12mo - over 6¾" - 7¾" tall. Orginal Cloth. Good / No Jacket. Covers are clean, Gilt lettering on spine is faded. Previous owner's name inside has been penned over. Good copy, and scarce. $180.00

[019929] Holledge, James. The Big Con. Australia: Scripts, 1968. 16mo - over 5¾" - 6¾" tall. Mass Market Paperback. Good An expose of cons! Good copy. Old penned price on fronmt cover. $20.00

[021738] Holton, Hugh. Violent Crimes. New York: Forge, 1997. First Edition. 8vo - over 7¾" - 9¾" tall. Orginal Cloth. Good / Good. Near very good copy with worn jacket. $20.00

[004559] Horler, Sydney. The Lady With the Limp. London: Hodder and Stoughton, 1946. 12mo - over 6¾" - 7¾" tall. Original Cloth. Good / Good. A Tiger standish novel. Jacket is lightly chipped and worn. Now protected. (Email for a scan). Date written neatly inside. Small taped repair to corner of first page where there is a penned price that was removedf and replaced. Text clean and binding good. This is a very nice copy. $55.00

[001462] Horler, Sydney. The Lady with the Limp. London: Hodder and Stoughton, 1944. First Edition. 12mo - over 6¾" - 7¾" tall. Original Cloth. Good / No Jacket. Spine sunned, frayed at top and bottom and some marks. Binding good. Some spotting on edges. Inscription inside. A Tiger Standish adventure. $10.00

[001722] Houghton, Claude. Transformation Scene. London: Collins, 1946. First Edition. 12mo - over 6¾" - 7¾" tall. Original Cloth. Ex-Library. Good / No Jacket. Covers worn. Bumped. Spine faded. Binding cracked. Pages browning. Number painted on spine. $10.00

[003878] Household, Geoffrey. The Last Two Weeks of Georges Rivac. London: Michael Joseph, 1978. First Edition. 8vo - over 7¾" - 9¾" tall. Original Cloth. Good / Good. ISBN: 0718117298. Light wear. Near very good. PON inside. Small white ink mark inside covering old price? Clean copy. $12.00

[005722] Howard, Hartley. Cry on My Shoulder. London: Thriller Book Club, 1970. First Edition. 12mo - over 6¾" - 7¾" tall. Original Cloth. Good / Good. A few grubby marks on edge of first few pages. Jacket is near very good. $10.00

[012629] Howard, Tom. The Rim of Heaven the Youth Club Murders. Sydney: Rastar Press, 1986. First Edition. 12mo - over 6¾" - 7¾" tall. Original Cloth. Very Good / Very Good. Near fine copy. $15.50

[002404] Hughes, Ken. High Wray. London: The Thriller Book Club, 12mo - over 6¾" - 7¾" tall. Original Cloth. Good / Good. Jacket lightly worn and chipped, especially at top and bottom of spine. Some losses and 2 tapes marks from repairs. Bumped. Pages browning. Binding good. Text clean. $10.00

[016839] Hughes, Ken. High Wray. London: The Thriller Book Club, 12mo - over 6¾" - 7¾" tall. Original Cloth. Good / Fair. Jacket lightly worn and chipped, especially at top and bottom of spine. Large tear on front cover where price sticker has been torn off. Bumped. Pages browning. Slightly rolled. $10.00

[018192] Hume, David. Requiem for Rogues. London: Collins, 1952. 12mo - over 6¾" - 7¾" tall. Original Cloth. Good / Fair. Jacket is worn with numerous chips and creases to edges, minor losses at spine and back cover corner. Rub marks. Pages browning, binding good. $12.00

[021392] Hurd, Douglas and Osmond, Andrew. Send Him Victorious. London: Readers Book Club, 1970. 12mo - over 6¾" - 7¾" tall. Orginal Cloth. Good / Good. Jacket lightly yellowing with some browning at edges. Pages browning, spine lightly cracked, square. $10.00

[015125] Hyer, Georgette. Beauvallet. London: William Heinemann, 1951. 12mo - over 6¾" - 7¾" tall. Original Cloth. Good Pages browning with age. Good condition. 271pp $10.00

[000988] Iles, Francis. Malice Aforethought. London: Victor Gollancz, 1952. 12mo - over 6¾" - 7¾" tall. Original Cloth. Good / No Jacket. Pages browing with age. Corners bumped. Spine faded. 200 pp. July 1952 re-issue. $12.00


[003978] Inchbald, Peter. Or the Bambino Dies. London: Collins, 1985. First Edition. 12mo - over 6¾" - 7¾" tall. Original Cloth. Good / Good. ISBN: 0002319845. Collins Crime Club Edition. Jacket has ony light wear. .Small white ink mark covering old price on first page. Book near very good. $7.00

[017985] Innes, Michael. Operation Pax. Ondon: Victor Gollancz, 1951. First Edition. 12mo - over 6¾" - 7¾" tall. Original Cloth. Good / No Jacket. Covers worn, spine slightly sunned. Good copy. Previous owner's name inside. $15.00

[006785] Jacobs, T C H. The Red Eyes of Kali. London: Stanley Paul, 12mo - over 6¾" - 7¾" tall. Original Cloth. Good / No Jacket. Covers are clean. Small sun line on top of cover spine. A few foxing spots along edges. Binding good. Text clean. Undated. Probably first edition. $55.00

[004995] Jacquemard-Senecal. The Eleventh Little Nigger. London: Collins, 1979. First English. 8vo - over 7¾" - 9¾" tall. Original Cloth. Good / Good. ISBN: 000231214x. A tribute to Agatha Christie. A novel set on her book, Ten Little Niggers. Book and jacket in good condition. Jacket has light wear. $12.00

[003896] Jacquemard-Senecal. The Eleventh Little Nigger. London: Collins, 1979. First English. 8vo - over 7¾" - 9¾" tall. Original Cloth. Good / Good. ISBN: 000231214x. A tribute to Agatha Christie. A novel set on her book, Ten Little Niggers. Book and jacket in good condition. PON inside. Small white ink mark inside covering old price? $10.00

[004651] Jeffries, Roderic. Death in the Coerts. London: The Crime Club, 1966. First Edition. 8vo - over 7¾" - 9¾" tall. Original Cloth. Ex-Library. Fair / Fair. Ex-lib with usual wear and labels etc. Binding good. Text clean. $10.00

[002110] Jepson, Selwyn. Tiger Dawn. London: The Modern Publishing Co, First Edition. 12mo - over 6¾" - 7¾" tall. Original Cloth. Good / Fair. Jacket has some small pieces missing and tears. Interesting cover art. Pages browning with age. Binding good. $10.00

[001195] Jepson, Selwyn. I Met Murder. London: The Modern Publishing Co, First Edition. 12mo - over 6¾" - 7¾" tall. Original Cloth. Good / Fair. Jacket has some small pieces missing and tears. Interesting cover art. Pages browning with age. Binding good. $10.00

[008672] Jobson, Hamilton. The Sand Pit. London: John Long, 1972. First Edition. 12mo - over 6¾" - 7¾" tall. Original Cloth. Good / Fair. Jacket is chipped and worn. Book has a few marks. Previous owner's name inside. $15.00

[016872] Jobson, Hamilton. Contract with a Killer. London: John Long, 1974. First Edition. 12mo - over 6¾" - 7¾" Tall. Hard Cover. Good / Fair. Jacket worn and creased, particularly along edges. Few rub marks on front cover jacket, some light water damage on back cover jacket. Mark from price sticker on front cover. Text clean. $15.00

[018797] Johnson, Diane. The Life of Dashiell Hammett. London: Picador, 1985. 12mo - over 6¾" - 7¾" tall. Paperback. Fair A comprehensive biography. Covers worn with creases, edges bmped. Rolled. Reading creases. Pages yellowing at edges. $10.00

[015883] Johnson, Lee. Heads for Death. Great Britain: John Gifford Limited, 1966. First Edition. 12mo - over 6¾" - 7¾" tall. Orginal Cloth. Good / Good. Jacket worn, spine rubbed, small tear in back cover jacket. Jacket is price clipped. Top edge marked. Binding good. $20.00

[017213] Johnson, Lee. Heads for Death. Great Britain: John Gifford Limited, 1966. First Edition. 12mo - over 6¾" - 7¾" tall. Original Cloth. Ex Lib. Good / No Jacket. Ex Royal Perth Hospital library copy. Large library sticker on front cover. Jacket has been covered in protective plastic. Stamps inside front cover. Texta writing along the top edge of the text. Pages yellowing. $12.50

[005723] Jones, Bradshaw. Death Deals in Diamonds. London: John Long, 1965. First Edition. 12mo - over 6¾" - 7¾" tall. Original Cloth. Ex Lib. Fair / No Jacket. Appears to be ex lib but no markings except penned number on first page. Part of jacket has been pasted on front cover. Very worn copy. Reading copy. $10.00

[017232] Keating, H R F. Sherlock Holmes: The Man and His World. London: Thames and Hudson, 1979. Large. Orginal Cloth. Good / Good. Some minor shelf wear, edges of jacket lightly worn. Few small tears on top edge of spine jacket. Text clean, binding good. Contains 130+ illustrations and photographs. $15.00

[023146] Keating, H R F. Agatha Christie: First Lady of Crime. London: Weidenfeld and Nicholson, 1977. 8vo - over 7¾" - 9¾" tall. Original Cloth. Good / Good. Some wear to jacket, light scratching, edgeworn. Text clean and binding good, square. Some yellowing to jacket flaps. $18.00

[019761] Keating, H R F. Death and the Visiting Firemen. London: Victor Gollancz, 1959. 12mo - over 6¾" - 7¾" tall. Orginal Cloth. Ex Lib. Good / No Jacket. Covers worn, edges bumped. Spine slightly sunned, slight roll. Library stamps and remnants inside front cover. Binding good and text clean. $12.00

[017033] Keating, H R F. The Perfect Murder. Great Britain: The Crime Club, 1964. 12mo - over 6¾" - 7¾" tall. Original Cloth. Fair / No Jacket. Very worn copy. Tape stains on front cover, edges bumped. Inside front cover contains numerous grubby marks and a few pen numbers. Ex St Kilda Book Club edition, few stamps relating to this on title page, publication information page, inside back cover. Reading copy only. $12.00

[011457] Keeler, Harry Stephen. The Blue Spectacles. London: Ward, Lock and Co, 12mo - over 6¾" - 7¾" tall. Original Cloth. Good / No Jacket. Quite scarce. Good copy. Covers have light wear and a few marks. Undated. Probably FE. $25.00

[011298] Kelly, Vince. The Greedy Ones. Sydney: Angus and Roberston, 1958. First Edition. 8vo - over 7¾" - 9¾" tall. Original Cloth. Good / Good. Jacket is chipped and worn with light losses at extremities and a few sort tears. Binding good. Text clean. Vintage Australian crime story. $15.00

[007621] Kennington, Alan. The Golden Horse. London: Robert Hale, 1958. First Edition. 12mo - over 6¾" - 7¾" tall. Original Cloth. Ex Lib. Fair / No Jacket. Ex lib cop of this scarce title. Part of jacket pasted on front. Usual lib marks etc. Horse racing crime story. $25.00

[003968] Kenyon , Michael. Zigzag. London: Collins, 1981. First Edition. 12mo - over 6¾" - 7¾" tall. Original Cloth. Good / Good. ISBN: 0002319810. Collins Crime Club Edition. Jacket is chipped and worn. Small white ink mark covering old price on first page. Book near very good. $7.00

[001779] Kenyon, Michael. May You Die in Ireland. London: The Crime Club, 1965. First Edition. 12mo - over 6¾" - 7¾" tall. Original Cloth. Ex-Library. Good / No Jacket. Ex-library with the usual markings and wear. Binding good. Text clean. An American inherits an castle in Ireland, and a big heap of trouble ... $10.00

[014250] Kenyon, Michael. The Whole Hog. London: The Crime Club, 1967. First Edition. 12mo - over 6¾" - 7¾" tall. Original Cloth. Good / No Jacket. Good copy. A few light rub maks on covers. Binding good. Text clean. No jacket. $15.00

[012829] Kittredge, Robert Yates. Skylight. London: Weidenfield and Nicolson, 1959. First Edition. 8vo - over 7¾" - 9¾" tall. Original Cloth. Ex Lib. Fair / No Jacket. Ex lib copy with part of jacket pasted on front. $12.00

[012072] Knight , Kathleen Moore. The Trouble at Turkey Hill. London: The Thriller Book Club, 1950. 12mo - over 6¾" - 7¾" tall. Original Cloth. Good / No Jacket. Worn copy. A few marks. Binding good. Previous owner's name inside. $10.00

[013326] Knight, Stephen. Form and Ideology in Crime Fiction. London: MacMillan, 1980. First Edition. 8vo - over 7¾" - 9¾" tall. Original Cloth. Good / Good. ISBN: 0333288769. A serious look at the crime fiction genre.. Near very good copy. Light wear. $18.00

[002952] Knox, Bill. The Scavengers. London: John Long, 1964. First Edition. 12mo - over 6¾" - 7¾" tall. Original Cloth. Ex-Library. Fair / No Jacket. Covers worn and marked, spine sunned. Edges browning. Binding cracked inside front cover. Ex library with some markings inside back cover. $25.00

[020902] Kurland, Michael. The Girls in the High-Heeled Shoes. New York: St Martin's Press, 1998. First Edition. 8vo - over 7¾" - 9¾" tall. Orginal Cloth. Good / Good. Jacket is chipped and worn. Binding giood. Text clean. A good copy. $15.00

[001336] Laing, Kenneth. The Midnight Walkers. London: Herbert Jenkins, 1951. Second Impression. 12mo - over 6¾" - 7¾" tall. Original Cloth. Good / Good. Top corners bumped. Covers, binding and text good. Previous owner's name inside. Jacket chipped and lightly rubbed. A nice copy. $18.00

[022570] Landon, Christopher. The Shadow of Time. Melbourne: Heinemann, 1957. 12mo - over 6¾" - 7¾" tall. Orginal Cloth. Fair / No Jacket. Lacks wrapper. Covers clean a bright. Binding good. A few marks. Penned price inside. $10.00

[005194] Lane, Margaret. Edgar Wallace. The Biography of a Phenomenon. London: William Heinemann, 8vo - over 7¾" - 9¾" tall. Original Cloth. Good / No Jacket. 423 pp bio of Wallace. Some illus. Index. Covers worn and marked. Light foxing inside covers. Binding good. Spine frayed at extremities. $10.00

[009765] Lane, Margaret. Edgar Wallace. The Biography of a Phenomenon. London: William Heinemann, 8vo - over 7¾" - 9¾" tall. Original Cloth. Good / No Jacket. 423 pp bio of Wallace. Some illus. Index. Good copy. Circa 1941. Inscription inside. $13.00

[011343] Langmaid, Kenneth. Mystery Cruise. London: Robert Hale, 1958. 12mo - over 6¾" - 7¾" tall. Original Cloth. Ex Lib. Fair / Fair. Scarce Langmaid title. Ex lib. Fair only. Worn and marked. Complete. $75.00

[012060] Larbalestier, P G. The Yellow Card Mystery. London: The Thriller Book Club, 12mo - over 6¾" - 7¾" tall. Original Cloth. Good / Fair. Jacket is chipped, has light losses and is worn. Has a label lift on front. Good copy. $12.00

[019575] Lariar, Lawrence. He Died Laughing. London: T V Boardman and Company Ltd, 1951. 12mo - over 6¾" - 7¾" tall. Orginal Cloth. Fair / No Jacket. Bloodhound Mysteries edition. Large crease on front cover. Board stains inside front and back covers. Pages yellowing. Text clean and binding good. Apart from the crease on cover this is a tidy copy. $35.00

[004558] Latham, Murray. Even from the Law. London: Hutchinson, First Edition. 12mo - over 6¾" - 7¾" tall. Original Cloth. Good / No Jacket. A spy story, and an introduction to the Wall family. No jacket. Part of pasted inside front cover. Covers worn and some marks. Foxing inside covers and on edges. Scarce tile. From the author of Enjoy Such Liberty and River in the Dark. 192 pp. $80.00

[015442] Latimer, Jonathan. The Dead Don't Care. New York: MacFadden, 1964. 12mo - over 6¾" - 7¾" tall. Paperback. Good Paperback in good condition, a bend in the front cover. $10.00

[021389] Lawton, John. A Little White Death. London: Weidenfeld and Nicholson, 1998. 8vo - over 7¾" - 9¾" tall. Orginal Cloth. Good / Good. Covers worn with some very minor staining to edges. Light scratching. Previous owner's name inside. Text clean and binding good. $15.00

[023002] Laymon, Richard. No Sanctuary. Australia: Doubleday Book Clubs, 2002. 8vo - over 7¾" - 9¾" tall. Original Cloth. Good / Good. Creasing to front cover jacket. Light rubbing and scratches. Book is edgeworn, text clean, binding good and square. $15.00

[005946] Le Queux, William. Guilty Bonds. London: R E King and Coc Ltd, 12mo - over 6¾" - 7¾" tall. Original Cloth. Poor / No Jacket. Early Le Queux novel. Undated. In poor condition. Binding cracked and slack. Intact. Covers worn. Pages browned with age. $30.00

[012966] Leader, Charles. Nightmare on the Nile. London: Robert Hale, 1967. First Edition. 12mo - over 6¾" - 7¾" tall. Original Cloth. Ex Lib. Fair / Fair. Ex railway lib with minimal wear and markings. $10.00

[017188] Leather, Edwin. The Duveen Letter. London: MacMillan, 1980. 8vo - over 7¾" - 9¾" tall. Original Cloth. Good / Good. Some light wear on cover jacket, few light rub marks. Discolouration on jacket flaps. Pages yellowing. Some white-out on first blank page. Binding good. $15.00

[012496] Lees, Hannah. Death in the Doll's House. London: John Mrr, 1944. First Edition. 12mo - over 6¾" - 7¾" tall. Original Cloth. Fair / No Jacket. Worn and marked copy. Fair only. Binding good. $20.00

[019754] Lenehan, J C. The Masked Blackmailer. London: Herbert Jenkins, 12mo - over 6¾" - 7¾" tall. Orginal Cloth. Good / No Jacket. Covers are bright with a few marks. Binding slightly cracked inside covers. Tidy copy. $18.00

[002524] Leonard, Charles. Sinister Shelter. London: Museum Press, 1951. First Edition. 12mo - over 6¾" - 7¾" tall. Original Cloth. Fair / No Jacket. Covers clean. A small sharp object has punched a hole through the front cover and first few pages. This would therefore class it as a reading copy. Some tape marks inside. Binding good. Text clean. $8.00

[020452] Leonard, Elmore. Killshot. London: Viking, 1989. 8vo - over 7¾" - 9¾" tall. Orginal Cloth. Good / Fair. Jacket worn at edges with some chips, tears. Grubby marks and scratches to jacket. Rolled. Pages yellowing and binding good. $15.00

[007028] Leonard, Elmore. Get Shorty. New York: Delacorte Press, 1990. First Edition. 8vo - over 7¾" - 9¾" tall. Hard Cover. Good / Good. First edition of the Elmore Leonard classic. Jacket is worn with a few marks. Light edge wear. A good copy. $25.00

[018941] Leroux, Gaston. The Floating Prison. Great Britain: Daily Express Fiction Library, 16mo - over 5¾" - 6¾" tall. Orginal Cloth. Good / No Jacket. Covers worn and marked. Cloth lifting slightly along spine edges. Browning with age. Undated. Scarce. $20.00

[014704] Leslie, Norman. Preluse To Murder. London: Arthur Barker, 1954. First Edition. 12mo - over 6¾" - 7¾" tall. Original Cloth. Fair / No Jacket. Scarce Leslie title. Covers worn and marked. A museum street thriller. Previous owner's initials inside. Some foxing on edges. $66.00

[015219] Lewis, H H. Pearls and Perjury. London: Cocker & Co, 1950. First Edition. 12mo - over 6¾" - 7¾" tall. Original Cloth. Fair / Fair. Some page browning with age, jacket torn and worn. Previous owner's name inside. $20.00

[017418] Lindall, Edward. A Lively Form of Death. London: Constable, 1972. 8vo - over 7¾" - 9¾" tall. Orginal Cloth. Good / Good. Edges of jacket bumped. Numerous light scratches on front and back cover jacket. Jacket has also been price clipped. Text very lightly yellowing. $14.00

[019191] Lindall, Edward. No Place to Hide. London: Hutchinson, 1959. 12mo - over 6¾" - 7¾" tall. Orginal Cloth. Good / Good. Jacket is chipped and worn with a few short tears and light losses. Binding good. Free endpaper has been corner cut to remove a price or name. $18.00

[021713] Little, Conyth. The Black Stocking. London: The Crime Club, 1947. 12mo - over 6¾" - 7¾" tall. Orginal Cloth. Good / No Jacket. Covers are worn and marked. Binding good. Previous owner'sname inside. $12.00

[017187] Livingston, Jack. Die Again, Macready. London: MacMillan, 1984. 8vo - over 7¾" - 9¾" tall. Orginal Cloth. Good / Good. Some light rubs on front cover jacket. Light discolouration on back cover jacket and some discolouration on inside jacket flaps. Small white-out mark on first blank page. Pages yellowing. Binding good. $15.00

[013076] Lloyd, Allen. The Eighteenth Concubine. London: Hutchinson, 1972. First Edition. 12mo - over 6¾" - 7¾" tall. Original Cloth. Good / Good. Near very good copy. jacket has been protected by plastic now removed. Tape stains inside covers but no lifts. Jacket clipped. $30.00

[011442] Lockridge, Richard. Murder in False Face. Philadelphia: J B Lippincott Co, 1968. Second Printing. 8vo - over 7¾" - 9¾" tall. Original Cloth. Good / Good. Jacket is chipped and worn. Binding good. Text clean. $10.00

[017198] Lockridge, Richard. Write Murder Down. London: John Long Ltd, 1974. 12mo - over 6¾" - 7¾" tall. Original Cloth. Ex Lib. Good / Good. Ex-library copy, includes library paraphenalia. Jacket is covered in protective plastic. Few stains on back cover jacket. Light stains on a few pages. Worn copy. $18.00

[006196] Long, Manning. Here's Blood in Your Eye. London: Hammond, Hammond and Co, 1949. 12mo - over 6¾" - 7¾" tall. Original Cloth. Fair / No Jacket. Ex lib copy with vintage Coolgardie Library paste in and a few penned numbers and a penned name. Little library wear. Orange cloth covers, spine lightly sunned. Pages browning with age. Corners bumped. $14.00

[018757] Lowe, Kenneth. No Tears for Shirley Minton. London: T.V. Boardman and Co, 1957. First American Edition. 12mo - over 6¾" - 7¾" tall. Orginal Cloth. Ex Lib. Fair / Fair. Ex lib copy. First page has been removed. Fair copy. American Bloodhound edition. $10.00

[002856] Lucas, Norman. Corner in Crime. London: Herbert Jenkins, 1952. Second Impression. 12mo - over 6¾" - 7¾" tall. Original Cloth. Good / No Jacket. Covers worn and spine slightly sunned. No jacket. Bump mark on bottom edge. Some foxing on edges. Inscr inside penned over. A few marks. Binding good. $15.00

[017603] Lynch, William. The Intimate Stranger. Sydney: Freelance Press, 1948. 12mo - over 6¾" - 7¾" tall. Original Cloth. Signed by Author. Fair / Poor. Jacket is very worn with numerous chips, losses and tears. Back cover flap is nearly completely seperate to the rest of the jacket. Some grubby marks. Text is clean, tear on last page. Signed by author (?) Email for scans. Rare copy with a jacket. $25.00

[017746] Maass, Joachim. The Gouffe Case. London: Barrie and Rockliff, 1960. 8vo - over 7¾" - 9¾" tall. Original Cloth. Good / Fair. Jacket is edgeworn with chips, small tears and creases. Some grubby marks. Pages lightly yellowing, spine cracked. $15.00

[016841] MacDonald, John D. The Empty Copper Sea. London: Hale, 1978. 8vo - over 7¾" - 9¾" tall. Hard Cover. Good / Good. Tidy copy. Jacket lightly worn, back cover jacket yellowing slightly, small stain on edges, text clean. $18.00

[018903] MacDonald, John D. Cinnamon Skin. Great Britain: Collins, 1982. First Edition. 12mo - over 6¾" - 7¾" tall. Orginal Cloth. Good / Good. Jacket and book near very good. Light wear and a few marks. Pages browning with age. $12.00

[018937] MacDonald, John D. The Drowning Pool. London: Cassell and Co, 1952. 12mo - over 6¾" - 7¾" tall. Orginal Cloth. Ex Lib. Fair / Poor. Ex lib copy with covered jacket. Binding cracked. Markings etc. First edition ! $25.00

[018496] MacDonald, John D. One More Sunday. London: Hodder & Stoughton, 1984. First Edition. 12mo - over 6¾" - 7¾" tall. Original Cloth. Good / Good. Near very good copy. Light wear. A few marks $15.00

[010341] MacDonald, John D. The Price of Murder. Great Britain: Robert Hale, 1958. First Edition. 12mo - over 6¾" - 7¾" tall. Original Cloth. Good / Fair. This is a scarce copy of an early MacDonald novel. It appears to have been an ex-lib copy as the jacket was once covered with plastic , now removed. There are tape stains inside and a blemish where a label has been removed from the first blank page. Sadly half of the inside back flap must have been removed with the plastic. The rest of the jacket is in good condition, though chipped. It is a worn copy, but scarce. The external part of the jacket looks great! There are two small numbers penned inside and a small white ink mark on first blank page covering an old price. The book is better than it sounds ! $400.00

[010710] MacDonald, John D. Soft Touch. Great Britain: Robert Hale, 1960. First Edition. 12mo - over 6¾" - 7¾" tall. Original Cloth. Fair / Fair. This is a scarce copy of an early MacDonald novel. It appears to have been an ex-lib copy as there are a few names printed inside the back cover. The jacket is chipped, clipped and worn and the interior falps have been pasted on to the inside covers. The jacket is chipped and wor and has tears and some losses. Email for a scan. There is a small stamp mark and eraser rub inside on the first blank page. Edges a bit dusty, a few other marks. $350.00


[016895] MacDonald, John D. The Dreadful Lemon Sky. London: Book Club Associates, 1976. 8vo - over 7¾" - 9¾" tall. Hard Cover. Good / Fair. A Travis McGee novel. Edges of jacket worn and rubbed, few rub marks on front cover jacket, few stains on back cover jacket. Text clean, binding good. $12.00

[006575] MacDonald, John D. Condominium. London: Robert Hale, 1977. 8vo - over 7¾" - 9¾" tall. Hard Cover. Good / Good. ISBN: 0709164645. Jacket is lightly worn. Clean copy near very good. Gift insc inside. $12.00

[015479] MacDonald, John D. The Good Old Stuff. London: Collins, 8vo - over 7¾" - 9¾" tall. Hard Cover. Good / Good. Jacket and book in good condition considering age. Label removal inside cover. Previous owner name inside. $15.00

[010373] MacDonald, John Ross. Find a Victim. London: Cassell, 1955. First Edition. 12mo - over 6¾" - 7¾" tall. Original Cloth. Fair / No Jacket. Worn copy. Previous owner's name inside. A few short tears and some marks. A fair copy. $15.00

[009080] MacDonald, Ross. The Goodbye Look. London: Thriller Book Club, 1969. 12mo - over 6¾" - 7¾" tall. Original Cloth. Fair / No Jacket. Spine is sunned. Binding good. Text clean. $10.00

[003831] Macinnes , Helen. The Venetian Affair. London: Collins, 1964. First Edition. 8vo - over 7¾" - 9¾" tall. Original Cloth. Good / Fair. Jacket is chipped and worn with some losses and repairs. Email for a scan. Clipped. Jacket now protected. Binding good. Text clean. $10.00

[018492] Macinnes , Helen. Agent in Place. London: Collins, 1976. First Edition. 8vo - over 7¾" - 9¾" tall. Original Cloth. Good / No Jacket. Near very good copy lacking jacket. $10.00

[011344] Macinnes , Helen. Assignment in Brittany. London: George G Harrap, 1944. 12mo - over 6¾" - 7¾" tall. Original Cloth. Good / Good. Jacket is chipped and worn with some losses Clipped. Jacket and covers have a few marks. Edges lightly foxed. Binding good. War econmoy paper. $18.00

[017304] MacInnes, Helen. The Hidden Target. London: Collins, 1980. First Edition. 8vo - over 7¾" - 9¾" tall. Original Cloth. Good / Fair. Jacket is grubby and worn along edges. Minor scratches on back cover, small tear on bottom corner of back cover. Binding good, text clean. $18.00

[001037] MacInnes, Helen. North from Rome. London: Collins, 1958. First Edition. 8vo - over 7¾" - 9¾" tall. Original Cloth. Good / Good. Jacket rubbed and chipped plus some tears, especially on top of spine. Prices have been inked over on jacket with a felt pen. Text and binding good. $12.00

[018538] Mackenzie, Donald. Double Exposure. London: The Crime Club, 1963. 12mo - over 6¾" - 7¾" tall. Original Cloth. Good / Good. A 'Crime Club Choice' edition. Some chipping to edges of jacket, and slight discolouration. Small tears on back cover jacket. Board stains inside front and back covers. Pages yellowing. $12.00

[018508] Mackenzie, Donald. Salute from a Dead Man. Lnd: Hodder & Stoughton, 1966. First Edition. 8vo - over 7¾" - 9¾" tall. Original Cloth. Good / No Jacket. Near very good copy lacking a jacket. $15.00

[010284] Maddock, Stephen. I'll Never Like Friday Again. London: Collins, 1952. 12mo - over 6¾" - 7¾" tall. Original Cloth. Good / Fair. Jacket is chipped and worn with losses at extremities. Binding good. Pages browning with age. $20.00

[012668] Maddock, Stephen. Conspirators in Capri. London: Collins, 1938. 12mo - over 6¾" - 7¾" tall. Original Cloth. Fair / Fair. A new secret service story. Jacket is contact covered. Pages browning with age. Scarce. $50.00

[001038] Maine, Charles Eric. Subterfuge. London: Hodder and Stoughton, 1959. First Edition. 12mo - over 6¾" - 7¾" tall. Original Cloth. Fair / Good. First page has been removed from book. Top of covers faded. Jacket has some damp marks, price clipped and worn. Small piece missing at top of spine. $10.00

[010519] Mair, George B. Crimson Jade. London: Jarrolds, 1971. First Edition. 12mo - over 6¾" - 7¾" tall. Original Cloth. Good / Good. The ninth David Grant assignment. Scarce copy. Jacket is worn. Some foxing first and last few pages. Binding good. Text clean. Covers clean and bright. $100.00

[003971] Malcolm , John. The Godwin Sideboard. The Second Tim Simpson Adventure. London: Collins, 1984. First Edition. 12mo - over 6¾" - 7¾" tall. Original Cloth. Good / Good. ISBN: 0002319616. Collins Crime Club Edition. Jacket has ony light wear. Previous owner's name inside. Small white ink mark covering old price on first page. Book near very good. $10.00

[001010] Mallon, Andrew. Leonski. The Brown Out Murders. Melbourne: Outback Press, 1979. First Edition. 8vo - over 7¾" - 9¾" tall. Hard Cover. Good / Good. ISBN: 0 86888 231 3. 202pp. Good condition apart from some slight damage to front bottom corner of jacket and cover. A few numbers have been penned on the title page which may relate to an address or postcode of the publisher. Jacket rubbed. Edges chipped. $12.00

[002407] Marquand, John P. Stopover Tokyo. London: The Thriller Book Club, 1959. 12mo - over 6¾" - 7¾" tall. Original Cloth. Good / Fair. Jacket is chipped and worn with some insect damage along extremities. Large section missing along top of jacket, front and back. Bumped. Binding good. Text clean. PON inside. $9.00

[015591] Marquand, John P. Ming Yellow. London: Pocket Book Publications, 1950. 16mo - over 5¾" - 6¾" tall. Mass Market Paperback. Good Very nice copy. Previ0us owner's name inside. $10.00

[001409] Marsh, John. Operation Snatch. London: The Thriller Book Club, 1958. First Edition. 12mo - over 6¾" - 7¾" tall. Original Cloth. Good / No Jacket. Spine sunned. Previous owner's name inside. Binding good. Text clean. Old penned price inside. $8.00

[006643] Marsh, Ngaio. Died in the Wool. London: The Crime Club, 1948. 12mo - over 6¾" - 7¾" tall. Original Cloth. Good / Fair. Jacket is chipped and worn with some tears and losses. Jacket fair only. Pages browning. Old penned price inside. Bumped. Edgeworn. $18.00

[021385] Marsh, Ngaio. Clutch of Constables. London: Readers Book Club, 8vo - over 7¾" - 9¾" tall. Orginal Cloth. Good / Good. Jacket is tidy with very minor wear. Text clean and binding good. $15.00

[001412] Marsh, Ngaio. Clutch of Constables. London: The Crime Club, 1968. First Edition. 8vo - over 7¾" - 9¾" tall. Original Cloth. Good / Very Good. Previous owner's name and inscription inside. One small tape mark. Else very good. $10.00

[022379] Marsh, Ngaio. Light Thickens. London: The Crime Club, 1982. 8vo - over 7¾" - 9¾" tall. Original Cloth. Good / Good. Jacket has light wear. Good copy. Pages browning. $12.00

[001332] Marshall, Raymond. Mission to Sienna. London: Robert Hale, 1955. First Edition. 12mo - over 6¾" - 7¾" tall. Original Cloth. Good / No Jacket. No jacket, covers and spine have a few marks. Previous owner's name inside. Text clean, binding good. Corners lightly bumped. A nice copy. $22.00

[013827] Marshall, Raymond. Make the Corpse Walk. London: Jarrolds, 8vo - over 7¾" - 9¾" tall. Original Cloth. Fair / No Jacket. Covers worn and rubbed along edges. Some marks. Binding good. Previous owner's name inside. $15.00

[006204] Marshall, Raymond. Hit and Run. London: Robert Hale, 1958. First Edition. 12mo - over 6¾" - 7¾" tall. Original Cloth. Good / No Jacket. Covers lightly worn with a few marks. A few marks inside. Pages starting to brown with age. A good copy. $22.00

[002330] Marshall, Raymond. In a Vain Shadow. London: Jarrolds, 1953. 12mo - over 6¾" - 7¾" tall. Mass Market Paperback. Good One of the Cresta Books series. Only lightly chipped. Apart from browning could be classed as very good. $20.00

[011375] Marshall, Raymond. Mission To Venice. London: Robert Hale, 1954. First Edition. 12mo - over 6¾" - 7¾" tall. Original Cloth. Good / No Jacket. No jacket, covers and spine have a few marks.Text clean, binding good. Corners lightly bumped. A nice copy. $12.00

[013298] Marshall, William. The Hatchet Man. London: Hamish and Hamilton, 1976. First Edition. 8vo - over 7¾" - 9¾" tall. Original Cloth. Good / Good. Jacket has light wear. Small square of paper pasted over previous owner's name inside on first blank page. Binding good. Text clean. $10.00

[001378] Marshall, William. Gelignite. London: Hamish Hamilton, 1976. First Edition. 12mo - over 6¾" - 7¾" tall. Original Cloth. Good / No Jacket. A Yellowthread Street Mystery. Text clean, binding good. Slightly askew. Bumped lightly. $7.00

[014203] Marshall, William. War Machine. New York: The Mysterious Press, 1982. 8vo - over 7¾" - 9¾" tall. Hardcover. Ex Lib. Fair / No Jacket. Worn ex lib copy with the usual wear etc. $15.00

[013863] Martin, A E. Common People. Sydney: Consolidated Press, 1944. 16mo - over 5¾" - 6¾" tall. Cloth. Good / Good. Spine has slight sunning, book is nudged, binding cracked. $10.00

[019779] Martyn, Wyndham. The Death Fear. St James' Place, London: Herbert Jenkins, 16mo - over 5¾" - 6¾" tall. Orginal Cloth. Good / No Jacket. Undated, 1950s. Tidy copy. Covers clean. Binding good. $35.00

[003973] Mason , Sarah J. Let's Talk of Wills. London: Collins, 1985. First Edition. 12mo - over 6¾" - 7¾" tall. Original Cloth. Good / Good. ISBN: 0002314703. Collins Crime Club Edition. Jacket has ony light wear. Previous owner's name inside. Small white ink mark covering old price on first page. Book near very good. $9.00

[002400] Mason, F Van Wyck. The Gracious Lily Affair. London: Robert Hale, 1958. First Edition. 12mo - over 6¾" - 7¾" tall. Original Cloth. Good / Good. Jacket chipped and worn with some small tears and losses at extremities. Some insect damage to jacket along edges but no damage to book or covers. Price clipped. Covers and binding good. $15.00

[018645] Mason, F Van Wyck. The Gracious Lily Affair. London: Robert Hale, 1958. First Edition. 12mo - over 6¾" - 7¾" tall. Original Cloth. Good / Poor. Jacket has numerous losses but is wrth preserving. Corners bumped. Binding good. $10.00

[010848] McBain, Ed. Ten Plus One. London: The Thriller Book Club, 1964. 12mo - over 6¾" - 7¾" tall. Original Cloth. Good / Good. An 87th Precinct Mystery. Chipping along edge of jacket. $12.00

[002968] McBain, Ed. Shotgun. London: Hamish Hamilton, 1969. First Edition. 12mo - over 6¾" - 7¾" tall. Original Cloth. Good / Good. An 87th Precinct Mystery. Light chipping along edge of jacket. Near very good. $50.00

[001263] McBain, Ed. The House That Jack Built. Great Britain: Guild Publishing, 1988. 8vo - over 7¾" - 9¾" tall. Hard Cover. Fine / Fine. A very nice copy. Like new. $12.00

[019227] McBain, Ed. Snow White and Rose Red. New York: Holt, Rinehart and Winston, 1985. First Edition. 8vo - over 7¾" - 9¾" tall. Orginal Cloth. Good / Good. A Matthew Hope novel. Some grubby marks on front cover jacket. Text clean and binding good. Tidy copy. $12.00

[001265] McBain, Ed. Tricks. Great Britain: Guild Publishing, 1987. 8vo - over 7¾" - 9¾" tall. Hard Cover. Fine / Fine. A very nice copy. Like new. $12.00

[021737] McBain, Ed. Sadie When She Died. New York: Doubleday Andco, 1972. First Edition. 8vo - over 7¾" - 9¾" tall. Orginal Cloth. Good / Fair. An 87th Precinct Mystery. Jacket is chipped and worn with light losses. Binding good. Text clean. $18.00

[001264] McBain, Ed. Puss in Boots. Great Britain: Guild Publishing, 1987. 8vo - over 7¾" - 9¾" tall. Hard Cover. Fine / Fine. A very nice copy. Like new. $12.00

[018029] McCutchan, Philip. Redcap. London: Harrap, 1961. First Edition. 8vo - over 7¾" - 9¾" tall. Original Cloth. Ex Lib. Fair / Fair. Jacket is covered in protective plastic, which is worn with some tears. Jacket is water stained on back cover, some bumps to edges. Library paraphenalia and miscellania inside front and back cover jacket, as well as water stains and some damage. Text is yellowing. $10.00

[001414] McDougall, Murdoch, C. Soft as Silk. London: T.V. Boardman and Co, 1957. First Edition. 12mo - over 6¾" - 7¾" tall. Original Cloth. Ex-Library. Good / No Jacket. No 142 of the British Bloodhound Series. Ex- Fremantle Club library. A few ink stamps but no other markings. Spine sunned. Covers rubbed. A few grubby marks. Light fraying at top and bottom of spine. Binding good. $25.00

[017074] McGerr, Patricia. Stranger with my Face. Washington: Robert B Luce, 1968. 8vo - over 7¾" - 9¾" tall. Original Cloth. Good / Fair. Jacket is worn and rubbed with a small tear on the front cover. Plastic covering over jacket is scratched and worn. Numerous tape stains inside front and back covers. Text clean. Binding good. $15.00

[003981] McMullen , Mary. My Cousin Death. London: Collins, 1981. First Edition. 12mo - over 6¾" - 7¾" tall. Original Cloth. Good / Good. ISBN: 0002316625. Collins Crime Club Edition. Jacket has ony light wear and is price clipped.Small white ink mark covering old price on first page. Book near very good. $7.00

[012941] Medicus. Infamous Conduct. London: Henry Walker, 12mo - over 6¾" - 7¾" tall. Original Cloth. Good / No Jacket. Undated. Early if not first edition. Blue cloth with yellow lettering on spine and cover. Scarce title. Previous owner's name inside. $100.00

[003982] Meek , M R D. In Remembrance of Rose. London: Collins, 0002. First Edition. 12mo - over 6¾" - 7¾" tall. Original Cloth. Good / Fair. ISBN: 0002319772. Collins Crime Club Edition. Jacket is worn and has some large tears on rear. Previous owner's name inside. Small white ink mark covering old price on first page. Book near very good. $8.00

[010280] Mercer, Ian. Journey Into Darkness. London: T.V. Boardman and Co, 1958. First Edition. 12mo - over 6¾" - 7¾" tall. Original Cloth. Good / Good. British Bloodhound No 196, mystery. Jacket is clipped, chipped and worn. Previous owner's name inside. $20.00

[006185] Meynell, Laurence. Give Me the Knife. London: White Lion Publishers, 1974. 8vo - over 7¾" - 9¾" tall. Original Cloth. Good / Fair. Jacket is chipped and worn with some short tears. Binding good , text clean. $14.00

[014009] Meynell, Laurence. Where is She Now?. London: Collins, 1955. 12mo - over 6¾" - 7¾" tall. Original Cloth. Ex Lib. Poor / Poor. Ex lib reading copy only. $20.00

[012081] Millar, F N. Grant's Overture. London: Thriller Book Club, 12mo - over 6¾" - 7¾" tall. Original Cloth. Good / No Jacket. Pages browning. Previous owner's name inside. Spine sunned. $10.00

[004993] Millar, Margaret. The Murder of Miranda. London: Book Club Associates, 1980. 8vo - over 7¾" - 9¾" tall. Original Cloth. Very Good / Very Good. A witty tragicomedy in which the reader can take nothing for granted. Jacket and book are in very good condition. $20.00

[022687] Mills, Arthur. Escapade. London: The Literary Press Ltd, 16mo - over 5¾" - 6¾" tall. Orginal Cloth. Good / Fair. Jacket is worn with losses to edges and numerous small tears but is bright and interesting. Now protected. Pages browning with age. Covers have a few silverfish nibbles. A good copy. Previous owner's name inside the front cover. Email for a scan if required. $25.00

[005052] Mitchell, Gladys. The Saltmarsh Murders. London: Hogarth Press, 1984. First Edition. 8vo - over 7¾" - 9¾" tall. Original Cloth. Very Good / Very Good. ISBN: 0701205717. Jacket is price clipped. Unmarked copy. Very good. $20.00

[016884] Moore, Robin. The French Connection. Great Britain: Hodder and Stoughton, 1969. First Edition. 8vo - over 7¾" - 9¾" tall. Hard Cover. Good / No Jacket. The story of the world's most crucial narcotics investigation. Numerous black-and-white photographs. Text clean. Edges of spine bumped. Tidy copy. $12.00

[013252] Morland, Nigel. A Bullet for Midas. London: Cassell, 1958. First Edition. 12mo - over 6¾" - 7¾" tall. Original Cloth. Fair / No Jacket. Worn copy a few marks. $15.00

[006567] Morris, Ira. Kidnap. London: Dennis Dobson, 1974. First Edition. 8vo - over 7¾" - 9¾" tall. Original Cloth. Good / Good. ISBN: 0234778695. Jacket lightly worn. and has a few marks. Binding ood. Text clean. Good copy. When Luiza Hartley's wife is kidnapped by South American terrorists ahe discoveries the truth about him ... $10.00

[012071] Morrissey, J L. Poison is Queen. London: The Thriller Book Club, 12mo - over 6¾" - 7¾" tall. Original Cloth. Fair / No Jacket. Good copy but first blank page has been corner cut. $8.80

[017186] Mosley, Walter. RL's Dream. New York: Norton, 1995. First Edition. 8vo - over 7¾" - 9¾" tall. Orginal Cloth. Very Good / Very Good. Apart from some light shelf wear, this is an as-new copy. Pages deckled. $25.00

[016138] Murray, Max. Breakfast with a Corpse. London: Michael Joseph, 1956. 12mo - over 6¾" - 7¾" tall. Hard Cover. Ex Lib. Fair / No Jacket. Ex library copy. Reading copy only. The front cover jacket has been glued to the front cover of the book. It is worn and rubbed. Spine cracked, discolouration on spine, pages browning, binding loose. Assorted pen and pencil marks inside front cover, library stamp $25.00

[014018] Newman, Bernard. The Otan Plot. London: Robert Hale, 1957. Fifth Edition. 12mo - over 6¾" - 7¾" tall. Original Cloth. Ex Lib. Fair / Fair. Ex lib with jacket pasted onto covers. Binding is good. $18.00

[001032] Nichols, Beverley. Death to Slow Music. London: Thriller Book Club, 12mo - over 6¾" - 7¾" tall. Original Cloth. Good Spine faded slightly. Some pen marks and numbers written inside cover plus date, 23/1/1959. Corners bumped. Text clean $9.00

[003732] Nielsen, Helen. You Can't Trust a Man . Short Story in Best American Detective Stories of the Year 1955. London: T.V. Boardman and Co, 1956. First Edition. 12mo - over 6¾" - 7¾" tall. Original Cloth. Good / No Jacket. 18 pp short story in 249 pp anthology. Covers worn. Binding cracked inside front cover. Spine lightly sunned and is marked. PON inside. $18.00

[015907] O'Brine, Manning. Dagger Before Me. Great Britain: Hammond Hammond & Co, 12mo - over 6¾" - 7¾" tall. Orginal Cloth. Good / Very Poor. Large tear on top left-hand corner of front jacket. Small part of the spine jacket missing. Large tear on spine jacket. Jacket edges rubbed. Book itself is in good conditon. $8.80

[012078] O'Brine, Manning. Killers Must Eat. London: Thriller Book Club, 12mo - over 6¾" - 7¾" tall. Original Cloth. Good / No Jacket. Pages browning. Previous owner's name inside. $10.00

[017039] O'Connell, Carol. The Man Who Lied to Women. London: Hutchinson, 1995. 8vo - over 7¾" - 9¾" tall. Hard Cover. Good / Good. Jacket is lightly scratched and bumped along the edges. Text yellowing. Tidy copy. $15.00

[019518] O'Hagan, Joan. Incline and Fall: The Death of Geoffrey Stretton. London: Angus and Roberston, 1976. 8vo - over 7¾" - 9¾" tall. Orginal Cloth. Good / Good. Jacket worn and grubby, particularly on edges. Light scratches. Pages yellowing. $20.00

[010839] O'Sullivan, J B. Someone Walked Over My Grave. London: Werner Laurie, 1954. First Edition. 12mo - over 6¾" - 7¾" tall. Original Cloth. Good / Fair. Jacket has tears and some losses. Email for a scan. Binding good . Text clean. $15.00

[012958] Oppenheim, E Phillips. Conspirators. London: Hodder and Stoughton, 1907. First Edition. 12mo - over 6¾" - 7¾" tall. Original Cloth. Good / No Jacket. Edgeworn covers. Some light patches of foxing inside. A few marks. FE. Taped repair to binding inside back cover. Binding slightly easing inside front cover. $44.00

[022435] Oppenheim, E Phillips. Mr Marx's Secret. London: Hodder and Stoughton, . 12mo - over 6¾" - 7¾" tall. Original Cloth. Fair / No Jacket. Fair copy only. Cloth ine is almost loose. Binding is good. Price reduced on this scarce title. $12.00

[016827] Oppenheim, E Phillips. The Lion and The Lamb. London: Hodder and Stoughton, 1936. 12mo - over 6¾" - 7¾" tall. Original Cloth. Poor / No Jacket. Rare book, creading copy only. Substantial water stain on front cover, pen price on front cover, substantial damage to spine which is also stained and discoloured. Edges bumped. Pages yellowing, spine cracked. $12.00

[004553] Overholster, Wayne D.
The Violent Land. London: Ward Lock, 1956. First Edition. 12mo - over 6¾" - 7¾" tall. Original Cloth. Good / No Jacket. Retirement library copy? A few ink stamps. No other library markings. Covers worn. Binding good. $10.00

[020094] Pachter, Josh (ed). Top Crime. London: Book Club Associates, 1983. 8vo - over 7¾" - 9¾" tall. Orginal Cloth. Good / Good. A selection of stories by authors like Issac Asimov, Leslie Charteris, Patricia Highsmith, Peter Lovesey, and others. Jacket scratched with label lift on front cover. Some grubby marks on edges. Pages yellowing. Binding good. $15.00

[014673] Pape, Richard. No Time to Die. London: Elek Books, 1962. First Edition. 12mo - over 6¾" - 7¾" tall. Original Cloth. Signed by Author. Good / Fair. Bok has light wear. Board stansinsde covers. Jacket is chipped and worn and as losses. Inscribed by the author. $44.00

[020133] Paretsky, Sara. Indemnity Only and Killing Orders. London: BCA, 1991. 8vo - over 7¾" - 9¾" tall. Orginal Cloth. Good / Good. Two novels in one featuring Chicago private investigator V I Warshawski. Some wear to jacket edges, edges grubby, text clean. $18.00

[022277] Parker, Robert B. The Godwulf Manuscript, Mortal Stakes, Promised Land. New York: Wings Books, 1995. 8vo - over 7¾" - 9¾" tall. Orginal Cloth. Ex Lib. Good / Fair. Three complete Spenser novels. Jacket covered in protective plastic which is rubbed and grubby. Library stamps, label lift inside front and back covers, small piece of first blank page has been removed. Pages yellowing, binding good, edges bumped with general wear. $20.00

[020494] Parker, Robert B. Perchance to Dream. New York: G P Putnam's Sons, 1991. 8vo - over 7¾" - 9¾" tall. Orginal Cloth. Ex Book Exchange. Good / Good. Robert B Parker's sequel to Raymond Chandler's "The Big Sleep". Price stickers on front cover jacket, book exchange stamp on free endpage. General wear to jacket, pages yellowing, binding good. $10.00

[017494] Parker, Robert B. Thin Air. Great Britain: Viking, 1995. 8vo - over 7¾" - 9¾" tall. Orginal Cloth. Fair / Fair. Jacket is worn with tears and chips along edges. Original price sticker on front cover. Light scratches. Rolled. Spine cracked. $14.00

[015657] Parker, Robert B. Melancholy Baby. New York: Putnam, 2004. 8vo - over 7¾" - 9¾" tall. Hard Cover. Good / Good. Near very good copy. Light edge wear. $20.00

[016123] Parker, Robert B. A Savage Place. Great Britain: Piatkus, 1982. 12mo - over 6¾" - 7¾" tall. Hard Cover. Good / Good. Good copy. Jacket lightly worn, few small tears on inside flaps. Pages browning. Binding very good. A tidy copy. $55.00

[015660] Parker, Robert B. Sea Change. New York: Putnam, 2005. 8vo - over 7¾" - 9¾" tall. Hardcover. Good / Good. Near very good copy. Jacket slightly worn. $20.00

[015661] Parker, Robert B. Stone Cold. New York: Putnam, 203. 8vo - over 7¾" - 9¾" tall. Hardcover. Good / Good. Near very good copy. $20.00

[015659] Parker, Robert B. Small Vices. New York: Putnam, 1997. 8vo - over 7¾" - 9¾" tall. Hardcover. Good / Good. Near very good copy. Jacket edges slightly worn. $20.00

[016397] Parker, Robert B. School Days. New York: Putnam, 2005. 8vo - over 7¾" - 9¾" tall. Hard Cover. Very Good / Good. Apart from some light wear on the jacket spine and edges this text is an 'as new' copy. $25.00

[015658] Parker, Robert B. Family Honor. New York: Putnam, 1999. 8vo - over 7¾" - 9¾" tall. Hardcover. Good / Good. Near very good copy. Edges slightly worn. $20.00

[013546] Paul, John . Murder By Appointment. London: Skeffington and Son Ltd, 1952. First Edition. 12mo - over 6¾" - 7¾" tall. Original Cloth. Good / No Jacket. No jacket. Covers edge worn with a few marks. Good copy. $25.00

[019634] Pearce, Michael. The Mamur Zapt and the Camel of Destruction. London: Collins Crime Club, 1993. 8vo - over 7¾" - 9¾" tall. Orginal Cloth. Ex Lib. Good / Good. Jacket covered in worn protective plastic. Assorted library miscellania inside front cover and on free endpage. Pages yellowing. Binding good. $18.00

[016182] Peters, Ellis. The House of Green Turf. Great Britain: Macdonald and Co., 1991. 8vo - over 7¾" - 9¾" tall. Hard Cover. Good / Good. A 1991 reprint of the 1969 novel. Jacket in good condition, no creases or tears. Text clean. Square copy. $10.00

[003781] Plummer, T Arthur. The Man with the Crooked Arm. London: The Crime Book Society, 12mo - over 6¾" - 7¾" tall. Original Cloth. Fair / No Jacket. A scarce title from the "Frampton" series. Covers worn, bumped. Binding cracked. Gift inscription inside. $30.00

[018188] Pollard, Captain A O. A Deal in Death. London: Hutchinson's Universal Book Club, 1948. 12mo - over 6¾" - 7¾" tall. Original Cloth. Fair / No Jacket. Covers worn, edges bumped. Spine sunned and seprating from text. Light water damage to front cover. Pages yellowing. $10.00

[014197] Porter, Joyce. A Meddler and her Murderer. New York: David Mckay Co, 1973. First American Edition. 8vo - over 7¾" - 9¾" tall. Original Cloth. Good / Fair. Jacket is chipped and worn with light losses at extremities. Binding good. Text clean. $18.00

[015196] Powell Richard. Leave Murder to Me. London: Hodder and Stoughton, 1952. 12mo - over 6¾" - 7¾" tall. Original Cloth. Fair First blank page missing, reading copy only. Previous owner's name inside. $12.00

[014007] Pratt, Theodore. Murder Goes Fishing. London: Selwyn and Blount, 12mo - over 6¾" - 7¾" tall. Original Cloth. Fair Anthony Adam's first mystery. Fair copy only. Worn and marked. $12.00

[003417] Price, Anthony. Colonel Butler's Wolf. London: Readers Union, 1973. 12mo - over 6¾" - 7¾" tall. Original Cloth. Good / No Jacket. Covers clean. Binding good. A few marks. PON inside. $10.00

[018810] Price, Richard. Clockers. London: Bloomsbury, 1992. 8vo - over 7¾" - 9¾" tall. Orginal Cloth. Good / Good. Jacket is worn at edges with some tears to edges of back cover jacket. Minor label remnants on back cover jacket. Text clean. $15.00

[004821] Priwin, H W. Inspector Hornleigh Investigates. London: Hodder and Stoughton, 1940. 12mo - over 6¾" - 7¾" tall. Original Cloth. Good / No Jacket. Covers worn. Spine slightly sunned. Binding good. $14.00

[010513] Proper, Milton. The Divorce Court Murder. London: Faber and Faber Ltd, 1934. First Edition. 12mo - over 6¾" - 7¾" tall. Original Cloth. Good / No Jacket. Spine is sunned, covers worn. Binding good. Scarce. $100.00

[003462] Puig, Manuel. The Buenos Aires Affair. New Yok : E.P.Dutton, 1976. First English Edition. 8vo - over 7¾" - 9¾" tall. Original Cloth. Very Good / Good. A detective novel. Translated by Suzanne Jill Levine. Jacket lightly worn. Covers clean. Binding and text good. $22.00

[003836] Queen , Ellery. Double, Double. London: Victor Gollancz, 1950. First Edition. 12mo - over 6¾" - 7¾" tall. Original Cloth. Good / No Jacket. A new novel of Wrightsville. Covers clean. Binding good. $9.00

[013631] Queen , Ellery. Cat of Many Tales. London: Victor Gollancz, 1949. First Edition. 12mo - over 6¾" - 7¾" tall. Original Cloth. Good / Poor. Jacket is chipped and worn and has losses at corners and top of spine. Light foxing along top edge. Previous owner's name inside. $14.00

[005721] Queen , Ellery. The Four of Hearts. London: Victor Gollancz, 1939. First Edition. 8vo - over 7¾" - 9¾" tall. Original Cloth. Fair / No Jacket. Edition unstated but appears to be a first edition. Covers very worn and bumped. Frayed at spine extremities. Email for a scan and report. $20.00

[015481] Queen, Ellery. Ellery Queen's Awards Tenth Series. London: Crime Club, 1957. 12mo - over 6¾" - 7¾" tall. Original Cloth. Good / Good. Some insect damage on jacket otherwise copy is in good condition. Winners of the tenth annual short story contest. $20.00

[005197] Radley, Sheila. Blood on the Happy Highway. London: Constable, 1983. First Edition. 8vo - over 7¾" - 9¾" tall. Original Cloth. Good / Good. jacket has light wear and is clipped. Jacket and book near very good. Clean copy. $15.00

[019812] Randisi, Robert J (ed). Writing the Private Eye Novel. Ohio: Writer's Digest Books, 1997. First Edition. 8vo - over 7¾" - 9¾" tall. Orginal Cloth. Very Good / No Jacket. A handbook by The Private Eye Writers of America, comprising articles from authors such as Sue Grafton, Loren D Estleman, Ed Gorman and Lawrence Block. Apart from some minor scratches on back cover this is a near new copy. $20.00

[010283] Ransome, Stephen. Deadly Bedfellows. London: Victor Gollancz, 1955. First Edition. 12mo - over 6¾" - 7¾" tall. Original Cloth. Good / No Jacket. Covers bright, spine slightly sunned. A few marks. Binding good. Text clean. $15.00

[018541] Reade, Hamish. A Comeback for Stark. New York: Putnam, 1968. First American Edition. 8vo - over 7¾" - 9¾" tall. Orginal Cloth. Good / Fair. Jacket is worn with chipped and creased edges, and fairly substantial insect nibbling to spine. Some discolouration to jacket front cover. Spine itself is spotted with discolouration. Light foxing inside front and back covers. Pages yellowing, binding good. $15.00

[016396] Reichs, Kathy. Bare Bones. Australia: Doubleday Book Clubs, 2003. 8vo - over 7¾" - 9¾" tall. Hard Cover. Good / Good. Jacket clean and slightly worn. Spine cracked. $12.00

[014916] Reilly, John R. Twentieth Century Crime and Mystery Writers. London: MacMillan, 1980. First Edition. 4to - over 9¾" - 12" tall. Original Cloth. Ex Lib. Good / Fair. ISBN: 0333301072. Ex lb copy with usual wear and marks. 1568 paes. $55.00

[005917] Rendell, Ruth. Make Death to Me. London: Book Club Associates, 1979. 8vo - over 7¾" - 9¾" tall. Original Cloth. Good / Good. Jacket and book are in near very good condition. A crime novel. $20.00

[013809] Rhode, John. The Domestic Agency. London: Geoffrey Bles, 1955. 12mo - over 6¾" - 7¾" tall. Original Cloth. Good / No Jacket. Covers clean with light wear and light sunning to spine. Binding good. Text clean. $66.00

[020416] Richards, Francis. First Come First Kill. London: John Long, 1963. 12mo - over 6¾" - 7¾" tall. Orginal Cloth. Ex Lib. Fair / No Jacket. Covers worn, edges chipped, 'Boans Book Club' plaque pasted on front cover. Some pen and stamp marks inside front cover. Front cover jacket glued on free endpage, some light pen marks (?) on it. Spine cracked, edges grubby, some pages stained at edges but text is legible. Pencil scribbles and some writing inside back cover. Worn reading copy. Rolled. $80.00

[019487] Richards, W E. Mother Hubbard. London: The Book Club, 1946. 12mo - over 6¾" - 7¾" tall. Orginal Cloth. Good / No Jacket. Spine sunned, edges bumped, slight roll. Pages browning and binding good. $10.00

[001343] Riley, W. Jack and John. London: Herbert Jenkins, Fourth Printing. 12mo - over 6¾" - 7¾" tall. Original Cloth. Good / Good. By the author of "Windyridge". Previous owner's name inside and inscription dated 1947. Small piece missing from jacket spine. Binding good. Some light foxing on first and last pages. $10.00

[017810] Roberts Rinehart, Mary. The Frightened Wife and Other Stories. London: Cassell and Co Ltd, 1954. 12mo - over 6¾" - 7¾" tall. Original Cloth. Good / Fair. A Crime Connoisseur book. Losses to spine jacket. Jacket edges bumped and chipped with some tears and creases. Back cover jacket grubby. Board stains inside front and back covers. Text clean. $12.00

[019469] Roberts, Anthony. Scheme for One. London: The Book Club, 1946. 12mo - over 6¾" - 7¾" tall. Orginal Cloth. Good / No Jacket. Square. Edges bumped. Board stains inside front and back covers. $12.00

[019470] Roberts, Anthony. The Five Houses. London: The Book Club, 12mo - over 6¾" - 7¾" tall. Orginal Cloth. Good / No Jacket. Corners bumped, spine sunned. $10.00

[006783] Robertson, Colin. Alibi in Black. London: Ward Lock, 1944. First Edition. 12mo - over 6¾" - 7¾" tall. Original Cloth. Good / No Jacket. A Peter Gayleigh story. Covers worn and have a few marks. Corners lightly bumped. Binding good. Gift inscription inside. $20.00

[017974] Robertson, E Arnot. Three Came Unarmed. Leeds: Morley Baker, 1970. 12mo - over 6¾" - 7¾" tall. 0. Good / Good. Jacket is chipped and worn. Binding good. Text clean. $12.00

[004704] Rogers, Samuel. Murder is Grim. London: Hammond, Hammond and Co, 1955. 12mo - over 6¾" - 7¾" tall. Original Cloth. Fair / No Jacket. Previously published in the USA as"You'll Be Sorry." Covers are worn and marked. Ex a booklovers library. Hole punched in top of spine for book mark tape. Scarce in this form. $12.00

[022585] Rohan, Criena. The Delinquents. London: Victor Gollancz, 1962. First Edition. 8vo - over 7¾" - 9¾" tall. Orginal Cloth. Good / Fair. A story abut teenage low life- its loves, desires and sins. Clipped jacket has extensive losses but is worth preserving. Binding good. Covers bright except for sun marks adjacent to losses. Edges grubby. A tidy collectible copy. $18.00

[012481] Rohmer, Sax. Hangover House. London: Herbert Jenkins, 1950. Second Impression. 12mo - over 6¾" - 7¾" tall. Original Cloth. Fair / No Jacket. Covers worn and marked. Binding good. $15.00

[007624] Rosenblum, Robert. The Good Thief. London: Hart-Davis MacGibbon, 1974. First Edition. 8vo - over 7¾" - 9¾" tall. Original Cloth. Good / Good. ISBN: 0246108428. Near very good copy. $10.00

[003993] Ross, Angus. The Hamburg Switch. London: John Long, 1980. First Edition. 12mo - over 6¾" - 7¾" tall. Original Cloth. Good / Good. ISBN: 0091405009. Jacket has light wear and is clipped. Binding good. Small white ink mark inside covering an old price. $20.00

[003994] Ross, Angus. The Burgos Contract. London: John Long, 1978. First Edition. 12mo - over 6¾" - 7¾" tall. Original Cloth. Good / Good. ISBN: 0091334101. Jacket has light wear and is clipped. Binding good. This is a once read review copy and has a compliments paste in on the first page. Small white ink mark inside covering an old price. $15.00

[003995] Ross, Angus. The Congleton Lark. London: John Long, 1979. First Edition. 12mo - over 6¾" - 7¾" tall. Original Cloth. Good / Good. ISBN: 0091383900. Jacket has light wear and is clipped. Binding good. This is a once read review copy and has a compliments paste in on the first page. Small white ink mark inside covering an old price. Previous owner's name inside. $20.00

[004006] Ross, Angus. The Ampurias Exchange. London: John Long, 1976. First Edition. 12mo - over 6¾" - 7¾" tall. Original Cloth. Good / Good. ISBN: 0091266408. Jacket has light wear. Binding good. Small white ink mark inside covering an old price. Previous owner's name inside $16.00

[001371] Rowe, Jennifer. Murder By The Book. Sydney: Allen and Unwin, 1989. First Edition. 12mo - over 6¾" - 7¾" tall. Hard Cover. Very Good / Very Good. ISBN: 0 04 374008 1. A very good, clean copy. $15.00

[003874] Roy, Archie. Devil in the Darkness. London: John Long, 1978. First Edition. 12mo - over 6¾" - 7¾" tall. Original Cloth. Good / Good. ISBN: 0091326702. Hutchinson Group review copy dated 18-9-78. Label pasted inside cover. Price clipped. Light wear only to jacket. Near very good. Small white ink mark on first page covering old price? A good copy of this scarce novel. $65.00

[003976] Russell , Martin. Backlash. London: Collins, 1981. First Edition. 12mo - over 6¾" - 7¾" tall. Original Cloth. Good / Good. ISBN: 0002310252. Collins Crime Club Edition. Jacket has ony light wear. Previous owner's name inside. Small white ink mark covering old price on first page. Book near very good. $10.00

[019579] Russell, Alan K (ed.). Rivals of Sherlock Holmes Two. New Jersey: Castle Books, 1979. 8vo - over 7¾" - 9¾" tall. Orginal Cloth. Good / Good. A collection of 46 stories with the original illustrations. Jacket edgeworn. Some air bubbles on back cover jacket. Otherwise tidy copy. $20.00

[001996] Russell, Martin. Deadline. London: Thriller Book Club, 1971. 12mo - over 6¾" - 7¾" tall. Original Cloth. Very Good / Very Good. Murder thriller in a seaside town. In very good condition. Clean and bright. $6.50

[001355] Russell, Martin. The Search for Sara. London: Collins Crime Club, 1983. First Edition. 8vo - over 7¾" - 9¾" Tall. Hard Cover. Good / Good. ISBN: 0 00 231730 3. Jacket has minor chipping along edges. Old price label on rear of jacket. Covers good. Small stain on first page. Else bright and clean. Binding good. $12.00

[004010] Rutherford , Douglas. Porcupine Basin. London: MacMillan, 1981. First Edition. 12mo - over 6¾" - 7¾" tall. Original Cloth. Good / Good. ISBN: 0333322304. Jacket has light wear and is clipped. Binding good. Small white ink mark inside covering an old price. Previous owner's name inside. $14.20

[004009] Rutherford , Douglas. Porcupine Basin. London: MacMillan, 1981. First Edition. 12mo - over 6¾" - 7¾" tall. Original Cloth. Good / Good. ISBN: 0333322304. Jacket has light wear and is clipped. Binding good. Small white ink mark inside covering an old price. Previous owner's name inside. $14.00

[001335] Rutherford, Douglas. A Shriek of Tyres. London: The Crime Club, 1961. 12mo - over 6¾" - 7¾" tall. Original Cloth. Good / Good. Previous owner's name inside. Covers good, binding good, text clean. Jacket chipped, minor tears and small piece missing at top of spine. Clipped. $25.00

[002727] Sanders, Bruce. Blonde Blackmail. London: Herbert Jenkins, First Edition. 12mo - over 6¾" - 7¾" tall. Original Cloth. Fair / Fair. Jacket is chipped and worn with some losses. Binding cracked opposite title page but still firm. Bumped. First blank page has been removed. Binding cracked inside cover. A Colour Crime mystery. $25.00

[019695] Sanders, Lawrence. The Fourth Deadly Sin. London: Guild Publishing, 1985. 8vo - over 7¾" - 9¾" tall. Orginal Cloth. Good / Good. Jacket is worn with some tears and scratching. Slight roll. Text clean. Spine cracked. $18.00

[016533] Sanders, Lawrence. The Timothy Files. Great Britain: New English Library, 1987. 8vo - over 7¾" - 9¾" tall. Hard Cover. Good / Good. Back cover rubbed and worn, pages browning. Binding good. Tidy copy. $15.00

[017496] Sanders, Lawrence. The Eighth Commandment. London: New English Library, 1986. 8vo - over 7¾" - 9¾" tall. Original Cloth. Good / Good. Some light scratches to jacket, jacket spine sunned. Pages yellowing, binding good. $15.00

[009030] Sanders, Lawrence. Caper. London: Severn House, 1987. 8vo - over 7¾" - 9¾" tall. Original Cloth. Good / Very Good. Jacket is price clipped. Has a scratch along spine. Near very good. $30.00

[002435] Sapper. Bulldog Drummond. ill. Caney. London: The Brockhampton Press, 1950. 12mo - over 6¾" - 7¾" tall. Original Cloth. Good / Good. Jacket is chipped, clipped and worn. Binding good.. Foxing along edges. A nice copy. $14.00

[008551] Sax Rohmer. The Wrath of Fu Manchu and Other New Stories. London: Tom Stacey, 1973. First Edition. 8vo - over 7¾" - 9¾" tall. Original Cloth. Good / Good. ISBN: 0854681965. A collection of Sax Rohmer stories. Jacket has light wear. Near very good copy. $70.00

[015212] Sayers, Dorothy. Clouds of Witness. London: Victor Gollancz, 1956. 12mo - over 6¾" - 7¾" tall. Original Cloth. Good A story of Lord Peter Wimsey. Some page browing and cover slightly sunned. $8.80

[005287] Sayers, Dorothy. The Unpleasantness at the Bellona Club. London: Victor Gollancz, 1939. 12mo - over 6¾" - 7¾" tall. Original Cloth. Good / No Jacket. Inc biographical note by Delagardie. Covers worn. Cloth at top and bottom of spine is frayed and spine cloth cracked in a few places. Binding is good. Browning with age. Previous owner's name inside. $25.00

[015539] Sayers, Dorothy. Clouds of Witness. London: Victor Gollancz, 1950. 12mo - over 6¾" - 7¾" tall. Original Cloth. Fair A story of Lord Peter Wimsey. Some page browing , fair copy. $14.00

[006466] Sayers, Dorothy. The New Sayers Omnibus. London: Victor Gollancz, 1956. 8vo - over 7¾" - 9¾" tall. Original Cloth. Good / No Jacket. Contains The Five Red Herrings, Have Her Carcase and Murder Must Advertise. 247 pp. Pages browning with age. Binding good. Spine lightly sunned. Fold mark on first few pages. Previous owner's name written neatly inside. $35.00


[015555] Sayers, Dorothy. Murder Must Advertise. London: Victor Gollancz, 1949. 12mo - over 6¾" - 7¾" tall. Original Cloth. Fair / No Jacket. Fair copy, some water marking on front inside cover, pages yellowing. Sunned on spine, previous owner's name inside. $8.80

[020219] Sayers, Dorothy L. Murder Must Advertise. London: Victor Gollancz, 1951. 12mo - over 6¾" - 7¾" tall. Orginal Cloth. Good / No Jacket. Edges bumped, spine sunned, pages browning. $14.00

[015693] Sayers, Dorothy L. Have His Carcase. London: Victor Gollancz, 1950. 12mo - over 6¾" - 7¾" tall. Original Cloth. Fair / No Jacket. Rolled. Spine discoloured, edges bumped. Pages browning. Binding loose. Previous owner's name inside front page. $10.00

[016566] Sayers, Dorothy L. Unnatural Death. London: Victor Gollancz, 1950. 12mo - over 6¾" - 7¾" tall. Hard Cover. Fair / No Jacket. Covers worn. Rolled. Edges bumped. Pages browning, spine cracked, original owner's name inside front cover. $12.00

[015692] Sayers, Dorothy L. Gaudy Night. London: Victor Gollancz, 1949. 12mo - over 6¾" - 7¾" tall. Original Cloth. Fair / No Jacket. Spine discoloured, cracked, torn and loose. Edges bumped. Pages browning. Previous owner's name inside front cover. $8.00

[016671] Sayers, Dorothy L. Have his Carcase. London: Gollancz, 1938. 12mo - over 6¾" - 7¾" Tall. Original Cloth. Fair / No Jacket. Covers worn, edges bumped, some stains on front cover, spine cracked, large crease in the centre of spine cover, spine sunned. Pages browning. $12.00

[003969] Scott , Jack. The Gospel Lamb. London: Collins, 1980. First Edition. 12mo - over 6¾" - 7¾" tall. Original Cloth. Good / Good. ISBN: 0002316609. Collins Crime Club Edition. Jacket has very light wear. Small white ink mark covering old price on first page. Book near very good. $8.00

[004989] Scott , Jack. A Clutch of Vipers. London: The Crime Club, 1979. First Edition. 12mo - over 6¾" - 7¾" tall. Original Cloth. Good / Good. Collins Crime Club Edition. Jacket has very light wear. Book very good. $10.00

[013149] Scott, Denis. Murder Makes a Villain. London: The Thriller Book Club, 12mo - over 6¾" - 7¾" tall. Original Cloth. Good / Fair. Jacket is chipped and worn with light losses. Not price clipped. Old penned price on front cover at top edge. Binding good. Previous owner's name inside. $15.00

[014669] Scott, Denis. Murder Makes a Villain. London: The Thriller Book Club, 12mo - over 6¾" - 7¾" tall. Original Cloth. Good / Fair. Jacket is chipped and worn with light losses. Not price clipped. Binding good. Previous owner's name inside. $16.00

[003975] Scott, Gavin. Hot Pursuit. London: Collins, 1977. First Edition. 12mo - over 6¾" - 7¾" tall. Original Cloth. Good / Good. ISBN: 0002313189. Collins Crime Club Edition. Jacket has ony light wear and is clipped. Previous owner's name inside. Small white ink mark covering old price on first page. Book near very good. $7.00

[009635] Sewymour, H. Intrigue in Tangier. London: Thriller Book Club, 1958. 12mo - over 6¾" - 7¾" tall. Original Cloth. Good / Good. Jacket is lightly chipped and worn. Price clipped. White ink covering previous owner's name inside. Good copy, in fact near very good copy! $16.00

[002894] Seymour, H. The Bristol Affair. London: John Gifford Ltd, 1960. First Edition. 12mo - over 6¾" - 7¾" tall. Original Cloth. Fair / Good. Price clipped jacket is covered and will be very good when covering is removed. Great cover art. Some tape marks inside covers and the frist blank page has been removed. Binding good. Text clean. Edges dusty. $20.00

[001782] Seymour, Henry. Hot Ice. London: John Gifford Ltd, 1966. First Edition. 12mo - over 6¾" - 7¾" tall. Original Cloth. Ex-Library. Good / Fair. Ex-library. Usual marks and wear. Jacket has been laminated. Page 143 has a taped tear. Some marks. A reading copy. $9.00

[019182] Sheldon, Richard. Harsh Evidence. London: Hutchinson and Co, 12mo - over 6¾" - 7¾" tall. Orginal Cloth. Fair / No Jacket. Covers and edges worn and marked. Binding good. A fair copy. $12.00

[020659] Sherrill, Robert. The Saturday Night Special. New York: Charterhouse, 1973. 8vo - over 7¾" - 9¾" tall. Orginal Cloth. Good / Fair. Jacket is worn and marked, chipped and grubby at edges with some losses and tears. Original price sticker to front cover. Slight roll. Text clean and binding good. $15.00

[008552] Simenon, Georges. The Disappearance of Odile. London: Hamish Hamilton, 1972. First English Edition. 12mo - over 6¾" - 7¾" tall. Original Cloth. Ex Lib. Good / Good. Jacket is covered by plastic. Usual library marks but on minor wear. $12.00

[002947] Simenon, Georges. The Widower. London: Hamish Hamilton, 1961. First English Edition. 12mo - over 6¾" - 7¾" tall. Original Cloth. Good / No Jacket. Translated from French by Robert Baldwick. Light wear. Bumped. Binding good. $10.00

[019462] Simenon, Georges. African Trio. London: Hamish Hamilon, 1979. 8vo - over 7¾" - 9¾" tall. Orginal Cloth. Good / Good. Some light wear to jacket. Some minor board stains to jacket flaps. Pages slightly yellowing. Square. $25.00

[022046] Simenon, Georges. Maigret's Pickpocket and the Nahour Case. London: Readers Book Club, 12mo - over 6¾" - 7¾" tall. Orginal Cloth. Good / Good. Some light shelf wear, very minor tearing and bumping to jacket edges. Text clean, square. $10.00

[022038] Simenon, Georges. Maigret's Boyhood Friend/Maigret and the Wine Merchant. Australia: The Companion Book Club, 1972. 12mo - over 6¾" - 7¾" tall. Orginal Cloth. Good / No Jacket. Light shelf wear. Corners bumped, pages browning, binding good. $10.00

[022036] Simenon, Georges. Maigret and the Madwoman/Maigret and the Killer. Australia: The Companion Book Club, 1973. 12mo - over 6¾" - 7¾" tall. Orginal Cloth. Good / No Jacket. Some light shelfwear. Square, text clean and binding good. $10.00

[004985] Simenon, Georges. Maigret Victorious. A Sixth Omnibus. London: Book Club Associates, 1975. 8vo - over 7¾" - 9¾" tall. Original Cloth. Good / Good. Inc Maigret's Memoirs, Maigret and the Headless Corpse and Maigret and the Saturday Caller. Jacket has light shelf wear. Near very good. $22.50

[005773] Simenon, Georges. The Glass Cage. London: Hamish Hamilton, 1973. First English Edition. 12mo - over 6¾" - 7¾" tall. Original Cloth. Very Good / Good. Translated from French by Antonia White. jacket has a small rub mark where a label has been removed. Book very good,. $20.00

[006135] Simons, Francis. Don't Give Me a Mirror. London: Frederick Muller, First Edition. 8vo - over 7¾" - 9¾" tall. Original Cloth. Good / Good. A psychological study of a thief, a detailed analsis of his emotions and motives ... Scarce crime novel. Jacket is chipped and clipped. Some losses at extremities. Jacket now protected. Interesting! $140.00

[009020] Simons, Roger. Taxed to Death. London: Geoffrey Bles, 1967. First Edition. 12mo - over 6¾" - 7¾" tall. Original Cloth. Very Good / Good. Jacket is clipped and lightly worn. Near very good. $20.00

[003730] Sitan, John M. Confession . Short Story in Best American Detective Stories of the Year 1955. London: T.V. Boardman and Co, 1956. First Edition. 12mo - over 6¾" - 7¾" tall. Original Cloth. Good / No Jacket. 11 pp short story in 249 pp anthology. Covers worn. Binding cracked inside front cover. Spine lightly sunned and is marked. PON inside. $18.00

[007044] Smith, Frederick E. The Persuaders at Large. Great Britain: Ian Henry, 1976. 12mo - over 6¾" - 7¾" tall. Hard Cover. Ex Lib. Good / Good. ISBN: 0860250121. Three stories about Brett Sinclair, an English aristocrat and Danny Wilde, American go-getter. The Gold Napolean, Greensleeves and Old New and Deadly. Scarce hardcover copy of the Persuaders Book Three. Ex lib. Damage where paste-ins have been removed. Jacket is good though sunned on spine. $44.00

[016153] Smith, Shelley. This is the House. London: The Crime Club, 1948. 12mo - over 6¾" - 7¾" tall. Hard Cover. Good / No Jacket. Covers worn, binding loose, spine rubbed. Pages browning. First blank page missing. $10.00

[012076] Spain, Nancy. Cinderella Goes to the Morgue. London: Thriller Book Club, 12mo - over 6¾" - 7¾" tall. Original Cloth. Good / No Jacket. Lettering on spine faded. Previous owner's name inside. $10.00

[003882] Sparks , Christine. The Enigma Files. London: BBC Books, 1980. First Edition. 12mo - over 6¾" - 7¾" tall. Original Cloth. Very Good / Very Good. ISBN: 0563177330. Light wear. In very good condition. Small white ink mark covering old price? inside front cover. PON inside. $10.00

[010670] Spence, Ainslie. The Mystery of Redgum. Perth, Western Australia: C H Pitman, 1946. First Edition. 12mo - over 6¾" - 7¾" tall. Original Cloth. Good / No Jacket. A vintage and scarce Western Australian mystery. Covers lightly worn. Text clean. Binding good. $30.00

[019537] Spillane ,Mickey. The Killing Man. London: Heinemann, 1990. 8vo - over 7¾" - 9¾" tall. Orginal Cloth. Good / No Jacket. Covers worn with some paint marks to spine and front cover. Interior tidy and binding good. $20.00

[016541] Spillane, Mickey. The Killing Man. London: Guild Publishing, 1990. 8vo - over 7¾" - 9¾" tall. Hard Cover. Good / Good. Jacket worn and rubbed, edges chipped. Few small creases. Binding good. Text clean. $18.00

[013092] Spillane, Mickey. Survival Zero. London: 1970. 12mo - over 6¾" - 7¾" tall. Original Cloth. Good / No Jacket. Cover worn. A few bumps along edges. No jacket. Previous owner's name inside. $18.00

[005208] Spillane, Mickey. The Erection Set. London: W.H.Allen, 1972. First British Edition. 8vo - over 7¾" - 9¾" tall. Original Cloth. Good Covers lightly worn with a few marks. Previous owner's initials inside. Binding good. $15.00

[012947] Spillane, Mickey. The Long Wait. London: Thriller Book Club, 1954. 12mo - over 6¾" - 7¾" tall. Original Cloth. Good / No Jacket. No jacket. Spine lightly sunned. Binding good. $15.00

[015428] Spillane, Mickey. Tomorrow I Die . New York: The Mysterious Press, 1953. First Edition. 8vo - over 7¾" - 9¾" tall. Original Cloth. Ex Lib. Fair / Fair. Ex library book. Reading copy only. $10.00

[016823] Spillane, Mickey. The Killing Man. New York: Dutton, 1989. First Edition. 8vo - over 7¾" - 9¾" Tall. Orginal Cloth. Good / Good. Some light scratches on jacket. Remainder mark along botom edge of text. A tidy copy. $20.00

[017114] Spillane, Mickey. The Long Wait. London: Arthur Barker, 1953. 12mo - over 6¾" - 7¾" tall. Orginal Cloth. Good / No Jacket. Edges worn- particularly on the corners, some light wear on spine. Few small stains on back cover. Pages yellowing slightly. Original owner's name inside front cover. 'A Museum Street Thriller'. $35.00

[012193] Spillane, Mickey. The Body Lovers. London: Thriller Book Club, 1967. 12mo - over 6¾" - 7¾" tall. Original Cloth. Good / Good. Mike Hammer mystery from Mickey Spillane. Jacket worn. Light wear. Good copy. $15.00

[009463] Spiller, Andrew. They Tell No Tales. London: Stanley Paul, 1953. First Edition. 12mo - over 6¾" - 7¾" tall. Original Cloth. Good / No Jacket. nNo jacket . Covers lightly worn. Previous owner's name, book shop label and old white inked over price inside. Binding good. text clean. Good copy. $35.00

[022422] Spiller, Andrew. Curtain Call for Murder. London: John Long, 1957. First Edition. 12mo - over 6¾" - 7¾" tall. Original Cloth. Good / No Jacket. No jacket, a few marks inside. Ex CWA library inscription inside. Binding starting to loosen. Covers clean and bright. Some tape stains inside. $15.00

[001270] Stanton, Paul. Village of Stars. London: Michael Joseph, 1960. First Edition. 8vo - over 7¾" - 9¾" tall. Hard Cover. Good / No Jacket. Small mark on cover. Previous owner's name inside. Binding good, text clean. Bumped. $8.00

[010277] Sted, Richard. They All Bled Red. London: T.V. Boardman and Co, 1955. First Edition. 12mo - over 6¾" - 7¾" tall. Original Cloth. Ex Lib. Fair / No Jacket. An American Bloodhound mystery. Ex lib with part of jacket pasted on front cover. $18.00

[001337] Stephenson, Ralph. Festival Death. London: Thriller Book Club, 1966. First Edition. 12mo - over 6¾" - 7¾" tall. Original Cloth. Good / No Jacket. Spine sunned and some sun marks on covers. Bumped. A few grubby marks. Binding good. $8.00

[017421] Stephenson, Ralph. Body in My Arms. London: Thriller Book Club, 1963. 12mo - over 6¾" - 7¾" tall. Orginal Cloth. Good / Good. Some light wear to jacket edges (few tears, edges bumped). Some grubby marks on back cover jacket. Light foxing to edges. Text clean, binding god. $15.00

[007408] Sterling, Stewart. The Hinges of Hell. London: T.V. Boardman and Co, 1956. First Edition. 12mo - over 6¾" - 7¾" tall. Original Cloth. Ex Lib. Good / No Jacket. American Bloodhound Mystery. Ex lib with usual markings. Part of jacket pasted on front cover.(interesting art work). Scarce. $40.00

[017571] Stevens, Dal. The Wide Arch. Sydney: Angus and Roberston, 1958. First Edition. 8vo - over 7¾" - 9¾" tall. Original Cloth. Good / Good. Some minor wear to jacket edges. Pages yellowing. Small tape stains inside front and back covers. Square copy. $10.00

[005732] Stevens, Frank. She Left a Silver Slipper. London: W Foulsham, 1955. First Edition. 8vo - over 7¾" - 9¾" tall. Original Cloth. Good / No Jacket. A Mask Mystery. Black cloth covers with bright gilt lettering on spine. Light foxing inside covers. Else good. $12.00

[014187] Stilgebauer, Edward. The Star of Holywood. USA: International Fction Library, 1929. First Edition. 12mo - over 6¾" - 7¾" tall. Original Cloth. Fair / Fair. Jacket is chipped and worn with light losses at extremties. Clipped. Edges grubby. Insc inside. $20.00

[003986] Stone , Zachary. Paper Money. London: Collins, 1977. First Edition. 12mo - over 6¾" - 7¾" tall. Original Cloth. Good / Good. ISBN: 0002316153. Collins Crime Club Edition. Jacket has light wear. Small white ink mark covering old price on first page. Previous owner's name inside. Book near very good. Email for a full report. Aka Ken Follett. $150.00

[014692] Stone, Hampton. The Girl with the Hole in Her Head. Australia: Invincible Press, 8vo - over 7¾" - 9¾" tall. Mass Market Paperback. Good Good copy. Light wear. Pages browning with age. carec Australian edition. Crime. $35.00

[005616] Stone, Hampton. The Corpse That Refused to Stay Dead. London: Dennis Dobson, 12mo - over 6¾" - 7¾" tall. Original Cloth. Good / No Jacket. A Blue Lamp Mystery. Undated 1950s? Covers have a few marks. Binding good. Text clean. Previous owner's name inside cover. $12.00

[020032] Stout, Rex. Out Goes She. London: The Crime Club, 1953. 12mo - over 6¾" - 7¾" tall. Orginal Cloth. Good / No Jacket. Spine sunned, edges bumped. Text clean. Square. $25.00

[023148] Strange, John Stephen. Murder Game. Great Britain: The Crime Club Ltd, 1935. 12mo - over 6¾" - 7¾" tall. Original Cloth. Fair / No Jacket. Very rare copy. Covers worn and stained, edges bumped with some fraying along spine. Some water staining. Spine sunned and cracked with covers coming away from text. Text clean, slightly browning along edges. Email for scans and more information. $200.00

[021681] Stuart, Ian. The Snow on the Ben. London: Ward Lock, 1961. First Edition. 12mo - over 6¾" - 7¾" tall. Orginal Cloth. Good / Good. Clipped jacket is chipped and worn with a few short tears. Small taped repair at top of front jacket. Small pen mark (4mm) on front of jacket. Binding good. Text clean. $50.00

[011485] Symons, Julian. Sweet Adelaide. A Victorian Puzzle Solved. London: Collins Crime Club, 1958. 12mo - over 6¾" - 7¾" tall. Original Cloth. Fair / No Jacket. Covers worn. Corners bumped. $10.00

[005044] Symons, Julian. Sweet Adelaide. A Victorian Puzzle Solved. London: Collins Crime Club, 1980. First Edition. 8vo - over 7¾" - 9¾" tall. Original Cloth. Very Good / Very Good. Jacket has light shelf wear. A very nice copy. $28.00

[010981] Tack, Alfred. The Prospect's Dead. London: Herbert Jenkins, First Edition. 12mo - over 6¾" - 7¾" tall. Original Cloth. Fair / No Jacket. Worn copy. Edge worn covers. First blank page has been removed. $10.00

[003983] Tapply , William G. The Dutch Blue Error. London: Collins, 1985. First Edition. 12mo - over 6¾" - 7¾" tall. Original Cloth. Good / Good. ISBN: 0002319829. Collins Crime Club Edition. Jacket has light wear and a few small tears at extremities. Small white ink mark covering old price on first page. Book near very good. $50.00

[019420] Taylor, Hendersdon. Counterpoise of Death. London: The Modern Publishing Co, 12mo - over 6¾" - 7¾" tall. Orginal Cloth. Good / Good. A grim mystery thriller. rare with a jacket. Jacket is chipped and worn with losses at extremities. Binding good. Pages browning. Gift insciption inside. $65.00

[013826] Teilhet, Darwin and Hildegarde. The Double Agent. London: Victor Gollancz, 1946. 8vo - over 7¾" - 9¾" tall. Original Cloth. Fair / No Jacket. Covers worn. Spine snned. Binding cracked. Previous owner's name inside. $10.00

[015472] Temple, Paul. East of Algiers. London: Hodder, 1959. 12mo - over 6¾" - 7¾" tall. Orginal Cloth. Good / Good. Book is generally in good condition, jacket is chipped and worn and is clipped, front page also nameclipped. Few pages have fold marks. $150.00

[014563] Thomson, June. A Dying Fall. London: Guild Publishing, 1985. 8vo - over 7¾" - 9¾" tall. Original Cloth. Good / Good. Bookclub associates edition. Near very good copy. $10.00

[011852] Tilton, Alice. Dead Ernest. London: The Crime Club, 1945. First Edition. 12mo - over 6¾" - 7¾" tall. Original Cloth. Good / Poor. Jacket is tatty, marked and has large losses but is worth preserving. Scarce with a jacket. Sun marks on covers adjacent losses. Some juvenile pencilled scribble on first blank page. $55.00

[018014] Tilton, Alice. Beginning with A Bash. London: The Crime Club, 1985. 8vo - over 7¾" - 9¾" tall. Original Cloth. Good / No Jacket. No jacket. Covers clean. Binding good. Browning with age. $15.00

[012887] Traver, Robert. Anatomy of a Murder. London: Faber and Faber, 1958. First Edition. 8vo - over 7¾" - 9¾" tall. Original Cloth. Fair / No Jacket. Worn copy. Marked and bumped. $10.00

[016359] Tripp, Miles. Going Solo. London: MacMillan, 1981. 8vo - over 7¾" - 9¾" tall. Hard Cover. Good / Fair. Covers worn and rubbed, jacket has been price clipped, remnants of original price sticker on inside front jacket flap. Few stains and some discolouration to back cover jacket. Rolled. Pages browning. Binding cracked. $10.00

[001034] Turner, James. The Dark Index. London: Cassell and Co, 1959. First Edition. 12mo - over 6¾" - 7¾" tall. Original Cloth. Good / No Jacket. A Rampion Savage novel. Covers good. No jacket. Previous owner's name on edges and inside. Clean text. $40.00

[010278] Underwood, Michael. Arm of the Law. London: Hammond, Hammond and Co, 1959. First Edition. 12mo - over 6¾" - 7¾" tall. Original Cloth. Good / Good. Jacket is chipped, has a few short tears and is clipped. Binding good. Text clean. $30.00

[011983] Upfield , Arthur. The Mystery of Swordfish Reef. London: Readers Book Club, 1963. Book Club Edition. Hard Cover. Good / No Jacket. One of the Napoleon Bonaparte mysteries. No jacket. Green cloth. Light wear. Bumped. White ink covering old price inside front cover. Binding good. $10.00

[003582] Upfield , Arthur. The Mystery of Swordfish Reef. London: Readers Book Club, 1963. Book Club Edition. Hard Cover. Good / No Jacket. One of the Napoleon Bonaparte mysteries. No jacket. Green cloth. Light wear. Bumped. White ink covering old price inside front cover. Binding good. $10.00

[008958] Upfield, Arthur. The Lake Frome Monster. London: Heinemann, 1967. Reprint. 12mo - over 6¾" - 7¾" tall. Original Cloth. Ex-Library. Fair / Fair. Ex lib copy. Jacket chipped and worn and is clipped. Tape stains inside and on covers. pasteins have been torn out woith usual marks. Rear inside binding has been reinforced. $18.00


[019777] Upfield, Arthur. Cake in the Hat Box. Melbourne: William Heinemann, 1955. 12mo - over 6¾" - 7¾" tall. Orginal Cloth. Good / No Jacket. First edition. Covers tidy. Binding good. Board stains inside front and back covers. $20.00

[009189] Upfield, Arthur. The Bachelors of Broken Hill. Melbourne: William Heinemann Ltd, 1958. First Edition. 12mo - over 6¾" - 7¾" tall. Original Cloth. Ex Lib. Fair / No Jacket. Ex lib copy. Part of jacket pasted inside. Usual library wear and marks. Covers worn. Binding cracked inside rear cover. $20.00

[022008] Upfield, Arthur. The Mystery of Swordfish Reef. London: Readers Book Club, 12mo - over 6¾" - 7¾" tall. Orginal Cloth. Good / Good. Jacket lightly edgeworn. Some rubbing to back cover. Edges bumped. Text clean, binding good, square. Board stains inside front and back covers. $15.00

[022972] Upfield, Arthur. The mystery of Swordfish Reef. London: Heinemann, 1960. 12mo - over 6¾" - 7¾" tall. Original Cloth. Good / Fair. Jacket is worn with substantial tearing and creasing at edges, some foxing to back cover. Some foxing inside front and back covers and to page edges. Previous owner's name inside. Text clean, square. $22.00

[009280] Upfield, Arthur. The Winds of Evil. Melbourne: William Heinemann Ltd, 1961. First Edition. 12mo - over 6¾" - 7¾" tall. Original Cloth. Ex Lib. Poor / No Jacket. Ex lib copy. Part of jacket pasted on cover. Usual library wear and marks. Covers worn. Spine has been damaged and is taped. Reading copy only. $12.00

[009281] Upfield, Arthur. The Lake Frome Monster. Melbourne: William Heinemann Ltd, 1966. First Edition. 12mo - over 6¾" - 7¾" tall. Original Cloth. Ex Lib. Poor / No Jacket. Ex lib copy. Part of jacket pasted on cover. Usual library wear and marks. Covers worn. $20.00

[004808] Upfield, Arthur. Bony Buys a Woman. London: Heinemann, 1957. First Edition. 12mo - over 6¾" - 7¾" tall. Original Cloth. Good / No Jacket. Gilt lettering on spine faded. Pages browning with age. Binding good. Text clean. Gift inscription inside. $20.00

[012450] Urquhart, Paul. The Shadow. London: Ward, Lock and Co, 1908. First Edition. 12mo - over 6¾" - 7¾" tall. Original Cloth. Fair / No Jacket. Very rare Urquhart title. Covers worn. Gilt lettering on front and spine. Cloth frayed at top and bottom of spine. Binding cracked inside covers. First blank page missing. Fair copy. a few stamps inside. Some taped repairs to pages. Story complete. $120.00

[012385] Van Dine, S S. The Garden Murder Case a Philo Vance Story. London: Cassell and Co, 1937. Third Edition. 12mo - over 6¾" - 7¾" tall. Original Cloth. Fair / No Jacket. Worn copy. Clean. Binding good. Some light foxing around the edges. Previous owner's name inside. $20.00

[004560] Vardre, Leslie. Tell it to the Dead. London: John Long, 1966. First Edition. 12mo - over 6¾" - 7¾" tall. Original Cloth. Good / No Jacket. Covers worn and a number inked on front. Book exchange stamp inside. Binding good. $10.00

[019787] Vickers, Roy. Bardelow's Heir. London: Herbert Jenkins, 12mo - over 6¾" - 7¾" tall. Orginal Cloth. Good / No Jacket. Bright orange cloth covers. Binding good. Text clean. Small tear at top of spine. $20.00

[019835] Vickers, Roy. Four Past Four. London: Herbert Jenkins, 12mo - over 6¾" - 7¾" Tall. Original Cloth. Good / No Jacket. Good copy. Covers clean and bright. No jacket. $12.00

[010359] Vickers, Roy. Four Past Four. London: Herbert Jenkins, 12mo - over 6¾" - 7¾" tall. Original Cloth. Fair / No Jacket. Binding cracked inside covers. Splits at top of spine. Fair copy. $10.00

[008022] Vickers, Roy. The Can't Hang Caroline. London: Herbert Jenkins, 1950. Second Impression. 12mo - over 6¾" - 7¾" tall. Original Cloth. Ex Lib. Fair / No Jacket. Ex lib copy with part of jacket pasted inside. Worn. A reading copy only. $14.00

[003881] Wainwright , John. The Ride. London: MacMillan, 1984. First Edition. 12mo - over 6¾" - 7¾" tall. Original Cloth. Very Good / Very Good. Light wear. In very good condition. Small white ink mark covering old price? inside front cover. $10.00

[004994] Wainwright , John. The Crystalised Carbon Pig. London: The Crime Club, 1966. First Edition. 12mo - over 6¾" - 7¾" tall. Original Cloth. Good / Good. Jacket has light wear and a few small tears. Binding good. Text clean. Nice copy. $18.00

[004013] Wainwright , John. The Eye of the Beholder. London: MacMillan, 1980. First Edition. 12mo - over 6¾" - 7¾" tall. Original Cloth. Good / Good. ISBN: 0333274105. Jacket has light wear and is clipped. Binding good. Small white ink mark inside covering an old price. Previous owner's name inside. $10.00

[004703] Wainwright, John. Potrait in Shadows. London: MacMillan, 1986. 8vo - over 7¾" - 9¾" tall. Original Cloth. Good / Good. Jacket and covers near very good. Light browning of pages. Small white ink mark covering old price? inside. $14.00

[006035] Walker, David J. Applaud the Hollow Ghost. New York: St Martins Press, 1998. First Edition. 8vo - over 7¾" - 9¾" tall. Original Cloth. Very Good / Very Good. A Malachhy Foley mystery. Book and jacket are in very good condition. Very light wear. Author's signature inside. Unsure if it is printed or signed. $15.00

[015439] Wallace, E C. The Lady of Ascot. London: Hutchinson, 12mo - over 6¾" - 7¾" tall. Original Cloth. Fair Old book but has no date. Slight stain on front cover. Some bumping on spine. $10.00

[022689] Wallace, Edgar. The Terror. London: The Literary Press Ltd, 16mo - over 5¾" - 6¾" tall. Orginal Cloth. Good / No Jacket. Pages browning with age. Covers have a few silverfish nibbles. A good copy. Email for a scan if required. $60.00

[014803] Wallace, Edgar. The India-Rubber Men. London: Hodder and Stoughton, 1935. 12mo - over 6¾" - 7¾" tall. Original Cloth. Good / Poor. Yellow jacket. Jacket has losses and repairs but is worth preserving. Good copy. $12.00

[019655] Wallace, Edgar. Four Square Jane. London: The Readers Library Publishing Company, 16mo - over 5¾" - 6¾" tall. Orginal Cloth. Fair / Fair. Jacket is worn with losses to edges and numerous small tears. Slight roll. Free endpage has been removed, publisher's name and information cut out and pasted on title page. Pages browning and spine cracked. Undated, possibly 1940s? $50.00

[012805] Wallace, Edgar. On the Spot. London: John Long Ltd, 1955. 12mo - over 6¾" - 7¾" tall. Original Cloth. Fair / No Jacket. No jacket. Worn covers are marked. Binding starting to slacken. $12.00

[022690] Wallace, Edgar. The Steward. London: The Literary Press Ltd, 16mo - over 5¾" - 6¾" tall. Orginal Cloth. Good / Fair. Jacket is worn with losses to edges and numerous small tears but is bright and interesting. Now protected. Pages browning with age. Covers have a few silverfish nibbles. A good copy. Previous owner's name inside the front cover. Some light foxing. Email for a scan if required. $90.00

[018316] Wallace, Edgar. The Frightened Lady. London: Hodder and Stoughton, 1949. 12mo - over 6¾" - 7¾" Tall. Original Cloth. Fair Worn copy. A few marks and browning with age. $10.00

[008625] Walling, R A J. Mr Tolefree's Reluctant Witnesses. London: Hodder and Stoughton, 1937. Reprint. 12mo - over 6¾" - 7¾" tall. Original Cloth. Good / No Jacket. A scarce copy. Cloth covers are worn. Some tape stains inside (not lifts) and some rub marks where an attempt has been made to remove them. Senior citizens lcentre stamp mark inside but no other signs of library use. Good copy. $90.00

[007753] Wambaugh, Joseph. The Golden Orange. USA: Perigold, First Edition. 8vo - over 7¾" - 9¾" tall. Original Cloth. Very Good / Good. ISBN: 0688094082. Jacket has slight edge wear along top and is close to very good. Book very good. $20.00

[014745] Warren, Vernon. Brandon Returns. London: The Thriller Book Club, 12mo - over 6¾" - 7¾" tall. Original Cloth. Good / Poor. Jacket has large loss on rear. Previous owner's name inside. Binding good. Text clean. $10.00

[014732] Warren, Vernon. No Bouquets for Brandon. London: Thriller Book Club, 12mo - over 6¾" - 7¾" tall. Original Cloth. Good / Good. A Mark Brandon Thriller. Jacket is chipped and worn with small losses and has some short tears. Previous owner's name inside. Binding good. $12.00

[015582] Warren, Vernon. Stop-over Danger. London: The Thriller Book Club, 12mo - over 6¾" - 7¾" tall. Orginal Cloth. Good / No Jacket. Mark Brandon thriller. Old penned price on cover. Biding good.Text clean. $15.00

[014679] Warren, Vernon. Brandon Takes Over. London: Thriller Book Club, . 12mo - over 6¾" - 7¾" tall. Original Cloth. Good / Good. A Mark Brandon Thriller. Jacket is chipped and worn and has some closed tears. Previous owner's name inside. Binding good. $12.00

[014678] Warren, Vernon. Brandon in New York. London: Thriller Book Club, 1958. First Edition. 12mo - over 6¾" - 7¾" tall. Original Cloth. Good / Good. A Mark Brandon Thriller. Jacket is chipped and worn. Previous owner's name inside. Binding good. $18.00

[013786] Warren, Vernon. Runaround. London: Thriller Book Club, 1958. First Edition. 12mo - over 6¾" - 7¾" tall. Original Cloth. Good / No Jacket. A Mark Brandon Thriller. No jacket. Worn copy. Some damp stains on covers. Inked over name inside. Binding good. $10.00

[015468] Warren, Vernon. The Blue Mauritius. London: The Thriller Book Club, 12mo - over 6¾" - 7¾" tall. Orginal Cloth. Good / Good. Mark Brandon thriller. Jacket is chipped and worn. Good copy. $11.00

[001333] Warren, Vernon. Appointment in Hell. London: Thriller Book Club, 12mo - over 6¾" - 7¾" tall. Hard Cover. Good / Fair. Library stamp inside but no other library markings. 189 pp. Wrapper is chipped and rubbed with some small pieces missing. Text is clean and binding is good. $12.00

[015469] Warren, Vernon. The Blue Mauritius. London: The Thriller Book Club, 12mo - over 6¾" - 7¾" tall. Orginal Cloth. Good / Good. Mark Brandon thriller, small wear and tear marks on jacket, small piece of jacket missing on lower spine, otherwise good clean copy. $10.00

[015470] Warren, Vernon. By Fair Means or Foul. London: Thriller Book Club, 12mo - over 6¾" - 7¾" tall. Orginal Cloth. Good / Good. Near very good copy . In almost new condition. Jacket has light wear. $16.00

[001463] Warren, Vernon. Runaround. London: Thriller Book Club, 1958. First Edition. 12mo - over 6¾" - 7¾" tall. Original Cloth. Good / Good. A Mark Brandon Thriller. Blonde with a gun on the front cover. Jacket is chipped, worn, some tears and an area of damage on back but is intact and well worth preserving. Binding good. $11.00

[000850] Warren, Vernon. By Fair Means or Foul. London: Thriller Book Club, 12mo - over 6¾" - 7¾" tall. Hard Cover. Good / Fair. Previous owner's name inside.191pp. Wrapper is chipped and rubbed with some small pieces missing. Text is clean and binding is good. $9.00

[002413] Warren, Vernon. Three Steps to Hell. London: Thriller Book Club, 12mo - over 6¾" - 7¾" tall. Hard Cover. Good / Poor. Jacket has large losses. Pages browning. Dusty and musty. $8.00

[011901] Warren, Vernon. Brandon Returns. London: The Thriller Book Club, 12mo - over 6¾" - 7¾" tall. Original Cloth. Good / Good. Jacket is in good condition with taped reinforcements at extremities. Binding good. Text clean. $14.00

[012420] Waten, Judah. Shares in Murder. Melbourne: Australasian Book Society, 1957. First Edition. 8vo - over 7¾" - 9¾" tall. Original Cloth. Good / No Jacket. Covers worn. Some sun browning to spine. Corners nudged. Binding good. Australian crime novel. $15.00

[015223] Waten, Judah. Shares in Murder. Melbourne: Australadsian Book Society, 1957. 8vo - over 7¾" - 9¾" tall. Original Cloth. Fair / Fair. Some page browing, jacket torn and has losses. $15.00

[004958] Wentworth, Patricia. The Fingerprint. London: Thriller Book Club, 1959. 12mo - over 6¾" - 7¾" tall. Original Cloth. Fair / Good. Jacket is chipped and worn. First page blank page has been removed. Some foxing along edges and first few pages. Binding good. $8.00

[010832] Wentworth, Patricia. The Silent Pool. London: Thriller Book Club, 12mo - over 6¾" - 7¾" tall. Original Cloth. Good / Good. Jacket is chipped and worn with light losses. Binding good. Some stains inside front cover and inside rear jacket. $10.00

[011099] Westmacott, Mary. Absent in Spring. London: Collins, 1973. 12mo - over 6¾" - 7¾" tall. Original Cloth. Good / No Jacket. Westmacott is Agatha Christie. This book is in good condition. Text is clean, binding good. $13.00

[001215] Westmacott, Mary. A Daughter's a Daughter. London: William Heinemann Ltd, 1952. First Edition. 12mo - over 6¾" - 7¾" tall. Original Cloth. Good / Good. Westmacott is Agatha Christie. One of the few non crime novels. This book is in good condition. Only minor chipping and a few small tears and folds to wrapper. Text is clean, binding good. $50.00

[004702] Whalley, Peter. Love and Murder. London: MacMillan, 1985. 8vo - over 7¾" - 9¾" tall. Original Cloth. Good / Good. Jacket and covers near very good. Light browning of pages. Small white ink mark covering old price? inside. $10.00

[013253] Wheatley, Dennis. The Rape of Venice. London: Hutchinson, 1959. First Edition. 8vo - over 7¾" - 9¾" tall. Original Cloth. Good / Fair. Jacket has been nibbled by silverfish. Covers clean. Good copy. $9.00

[013239] Wheatley, Dennis. Faked Passports. London: Hutchinson, 12mo - over 6¾" - 7¾" tall. Original Cloth. Fair / No Jacket. No jacket. Covers worn. Spine sunned. Fair copy. $15.00

[013240] Wheatley, Dennis. Come Into My Parlour. London: Hutchinson, 12mo - over 6¾" - 7¾" tall. Original Cloth. Good / No Jacket. No jacket. Covers worn. Undated. Possible first edition? $15.00

[013256] Wheatley, Dennis. The Black Baroness. London: Hutchinson, 12mo - over 6¾" - 7¾" tall. Original Cloth. Good / No Jacket. Undated. 32nd thousand. Covers worn. Corners bumped. Binding good. $17.00

[001247] Wheatley, Dennis. Curtain of Fear. London: The Book Club, 12mo - over 6¾" - 7¾" tall. Original Cloth. Fair / No Jacket. Covers worn, bumped. pages browning with age. Edges grubby. Binding good. A few marks inside. $10.00

[013255] Wheatley, Dennis. The Devil Rides Out. London: Hutchinson, 12mo - over 6¾" - 7¾" tall. Original Cloth. Good / No Jacket. Undated. 132nd thousand. Coivers worn. Corners nudged.. Binding good. $40.00

[013241] Wheatley, Dennis. The Second Seal. London: Hutchinson, 1950. First Edition. 8vo - over 7¾" - 9¾" tall. Original Cloth. Good / No Jacket. No jacket. Covers worn. Good copy. $15.00

[013249] Wheatley, Dennis. Codeword Golden Fleece. London: Hutchinson, 1947. 8vo - over 7¾" - 9¾" tall. Original Cloth. Good / No Jacket. No jacket. Covers worn. Universal book club edition. $10.00

[013242] Wheatley, Dennis. Black August. London: Hutchinson, 12mo - over 6¾" - 7¾" tall. Original Cloth. Good / No Jacket. No jacket. Covers worn. Good copy. 102nd thousand. $15.00

[013243] Wheatley, Dennis. The Quest of Julian Day. London: Hutchinson, 12mo - over 6¾" - 7¾" tall. Original Cloth. Fair / No Jacket. No jacket. Covers worn. Cloth cracked slightly on edge of spine. Undated. $10.00

[013244] Wheatley, Dennis. The Golden Spaniard. London: Hutchinson, 1951. 12mo - over 6¾" - 7¾" tall. Original Cloth. Fair / No Jacket. No jacket. Covers worn. A few marks. $8.80

[013248] Wheatley, Dennis. The Rising Storm. London: Hutchinson, 8vo - over 7¾" - 9¾" tall. Original Cloth. Good / No Jacket. No jacket. Covers worn and marked. $15.00

[013247] Wheatley, Dennis. The Eunuch of Stamboul. London: Hutchinson, 1950. 12mo - over 6¾" - 7¾" tall. Original Cloth. Good / No Jacket. No jacket. Light wear. A few marks. $15.00

[013245] Wheatley, Dennis. Strange Conflict. London: Hutchinson, 1950. 12mo - over 6¾" - 7¾" tall. Original Cloth. Good / No Jacket. No jacket. Bright covers. A few marks. $13.00

[013235] Wheatley, Dennis. To the Devil - a Daughter. London: Hutchinson, 1954. 8vo - over 7¾" - 9¾" tall. Original Cloth. Good / Fair. Jacket is has front flap separate but present. Jacket is chipped and worn. Jacket fair only. Binding good. Text clean. $15.00

[013246] Wheatley, Dennis. V for Vengeance. London: Hutchinson, 12mo - over 6¾" - 7¾" tall. Original Cloth. Good / No Jacket. No jacket. Worn covers. A few marks. $12.00

[013254] Wheatley, Dennis. Sixty Days to Live. London: Hutchinson, 1950. 12mo - over 6¾" - 7¾" tall. Original Cloth. Good / No Jacket. Scarce Wheatley title. Covers clean. Binding good. A few marks. $100.00

[013231] Wheatley, Dennis. The Forbidden Territory. London: Hutchinson, 1954. 8vo - over 7¾" - 9¾" tall. Original Cloth. Good / Good. Jacket is clipped, chipped and worn with light losses at extremities and a few short tears. Binding good. Text clean. $18.00

[003046] Wheatley, Dennis. The Time Has Come ... The Memoirs of Dennis Wheatley. London: Hutchinson, 1977. First Edition. 8vo - over 7¾" - 9¾" tall. Original Cloth. Ex-Library. Good / No Jacket. ISBN: 0091278902. Ex-library copy. Plastic covering. Part of jacket pasted on front and inside back covers. Bumped. Library markings and wear. Wheatley writes about his life from 1897-1914. $45.00

[003049] Wheatley, Dennis. Gateway to Hell. a Black Magic Story. London: Hutchinson, 8vo - over 7¾" - 9¾" tall. Original Cloth. Ex-Library. Good / Fair. Ex-RAAF Sergeants Mess library with stamp inside. V label on spine. Jackey is chipped and worn with some tears and losses at extremities. Binding good. Text clean. The Lymington Edition. $22.00

[003722] Wheatley, Dennis. Those Modern Musketeers. London: Hutchinson, 1954. First Edition. 8vo - over 7¾" - 9¾" tall. Original Cloth. Good / No Jacket. Worn red cloth covers with faded gilt lettering on spine. Binding cracked at front and rear. Maps at ends. Inscr penned over inside. $45.00

[017283] Wheatley, Dennis. The Island Where Time Stands Still. London: Hutchinson, 1957. 8vo - over 7¾" - 9¾" tall. Orginal Cloth. Good / No Jacket. A Gregory Sallust story. Some light stians on front and back cover. Edges bumped. Pages browning, binding good. $12.00

[012885] Wheatley, Dennis. The Haunting of the Toby Jug. London: Universal Book Club, 1950. 12mo - over 6¾" - 7¾" tall. Original Cloth. Good / No Jacket. Covers have light wear. Binding good. Text clean. No jacket. $12.00

[004779] Wheatley, Dennis. The Rape of Venice. London: The Book Club, 1959. 12mo - over 6¾" - 7¾" tall. Original Cloth. Good / Good. Jacket has light wear, a few marks and small loss at top of spine. Bumped. Foxing first and last few pages and on edges. PON inside cas been penned over. $14.00

[004780] Wheatley, Dennis. Vendetta in Spain. London: The Book Club, 1961. 12mo - over 6¾" - 7¾" tall. Original Cloth. Fair / Good. Jacket is near very good. First page as been torn out. Binding good. Text clean. Some foxing along edges. $10.00

[002346] Wheatley, Dennis. Traitor's Gate. London: The Book Club, 1958. 12mo - over 6¾" - 7¾" tall. Original Cloth. Good / No Jacket. Covers worn, bumped and spine sunned. Binding is good. Text clean. PON inside. $15.00

[001469] Wheatley, Dennis. The Ka of Gifford Hillary. London: The Book Club, 12mo - over 6¾" - 7¾" tall. Original Cloth. Good / Good. Jacket is worn and chipped but will look great protected. Binding is good. Text clean. A nice copy. Bumped. Great cover! $14.00

[002098] Wheatley, Dennis. Curtain of Fear. London: The Book Club, 12mo - over 6¾" - 7¾" tall. Original Cloth. Good / Good. Jacket chipped and worn. Some small losses. Binding good, text clean, pages browning. PON inside. $12.00

[006937] Wheatley, Dennis. Traitor's Gate. London: Hutchinson, 1958. First Edition. 8vo - over 7¾" - 9¾" tall. Original Cloth. Good / Fair. Jacket is clipped, chipped and worn witha few tears and losses. There is a lift where a square label has been removed from front. Book shop remainder pen cross (small) inside jacket eaf and on first page. Binding good. Text clean. $15.00

[013232] Wheatley, Dennis.
The Man Who Missed the War. London: Hutchinson, 1954. 8vo - over 7¾" - 9¾" tall. Original Cloth. Good / Good. Jacket is chipped and worn with light losses at extremities and a few short tears. Binding good. Text clean. $20.00

[013233] Wheatley, Dennis. Such Power is Dangerous. London: Hutchinson, 1957. 8vo - over 7¾" - 9¾" tall. Original Cloth. Good / Good. Jacket is chipped and worn with light losses at extremities and a few short tears. Binding good. Text clean. $25.00

[001194] Wheatley, Dennis. Curtain of Fear. London: Hutchinson, 1967. 8vo - over 7¾" - 9¾" tall. Original Cloth. Good / Fair. The Lymington Edition 38. Wrapper, rubbed and chipped. Small tears, some small pieces missing. Insect damage along edges. Spine bumped. Covers lightly marked. Edges spotted. Text clean, binding good. $35.00

[001690] Wheatley, Dennis. The Black Baroness. Great Britain: Hutchinson, 12mo - over 6¾" - 7¾" tall. Original Cloth. Good / No Jacket. Covers worn. Slight fraying at ends of spine. Edges and pages browning with age. Gift inscription inside. Binding starting to loosen. Cica 1942. Edition not stated. $10.00

[013236] Wheatley, Dennis. The Island Where Time Stands Still. London: Hutchinson, 1954. 8vo - over 7¾" - 9¾" tall. Original Cloth. Good / No Jacket. No jacket. Binding good. Text clean. $10.00

[005728] Wheatley, Dennis. The Golden Spaniard. Great Britain: Hutchinson, 1951. 12mo - over 6¾" - 7¾" tall. Original Cloth. Good / Fair. Jacket is chipped and worn with some tears and losses. Inscription inside. A good copy. $20.00

[001399] Wheatley, Dennis. The Wanton Princess. London: The Book Club, 1966. 12mo - over 6¾" - 7¾" tall. Original Cloth. Good / Good. Jacket is very good only a couple of small chips.Tape marks inside. Previous owner's name white inked over. Bumped. $12.00

[018725] Wheatley, Dennis. The Forbidden Territory. London: Hutchinson, 1972. 8vo - over 7¾" - 9¾" tall. Original Cloth. Ex Lib. Good / Good. Ex lib copy in good condition. $10.00

[013234] Wheatley, Dennis. Three Inquisiive People. London: Hutchinson, 1. 12mo - over 6¾" - 7¾" tall. Original Cloth. Good / Good. Jacket is chipped and worn with light losses at extremities and a few short tears. Binding good. Text clean. 145th thousand. $20.00

[014251] Wheatley, Dennis. The Shadow of the Tyburn Tree. London: Hutchinson, 1948. 8vo - over 7¾" - 9¾" tall. Original Cloth. Fair / No Jacket. Worn covers. Binding cracked. Text clean. $12.00

[012892] Wheatley, Dennis. They Used Dark Forces. London: The Book Club, 1964. 12mo - over 6¾" - 7¾" tall. Original Cloth. Good / Good. Jacket is worn and chipped but will look great protected. Binding is good. A few marks. $10.00

[012827] Whelton, Paul. Pardon My Blood. London: Thriller Book Club, 1952. 12mo - over 6¾" - 7¾" tall. Original Cloth. Good / No Jacket. Covers clean and bright. Spine lightly sunned. Pages browning with age. A good copy. $12.00

[006515] White, Valerie. Case for Treachery. London: Arthur Barker, 1955. First Edition. 12mo - over 6¾" - 7¾" tall. Original Cloth. Good / Good. A nuclear thriller. Scarce. Jacket has only light wear. A good copy. Gift inscription inside. $30.00

[003575] Wilcox, Collin. Dead Aim. New York: Random House, 1971. First Edition. 8vo - over 7¾" - 9¾" tall. Original Cloth. Good / Good. The third Lieutenant Hastings mystery. Jacket is chipped and worn. Now protected. Binding good. Text clean. White ink covers old price on first blank page. $15.00

[003875] Williams , David. The Brandenburg Concerto. London: Cassell, 1980. First Edition. 12mo - over 6¾" - 7¾" tall. Original Cloth. Good / Good. Light wear only to jacket. Near very good. Small white ink mark on last page covering previous owner's name. $10.00

[004012] Williams, David. Wedding Treasure. London: MacMillan, 1985. First Edition. 12mo - over 6¾" - 7¾" tall. Original Cloth. Good / Good. ISBN: 0333387155. Jacket has light wear and is clipped.. Binding good. Small white ink mark inside covering an old price. $8.00

[004011] Williams, David. Murder in Advent. London: MacMillan, 1985. First Edition. 12mo - over 6¾" - 7¾" tall. Original Cloth. Good / Good. ISBN: 0333405730. Jacket has light wear. Binding good. Small white ink mark inside covering an old price. $8.00

[012806] Williams, Valentine. The Gold Comfit Box. Great Britain: Hodder and Stoughton, 1934. 12mo - over 6¾" - 7¾" tall. Original Cloth. Good / No Jacket. Tidy copy. Covers edgeworn. Gift inscription inside. $20.00

[017868] Wills, Cecil M. Death on the Line. Lod: Hutchinson, 1954. First Australian Edition. 12mo - over 6¾" - 7¾" tall. Original Cloth. Good / Good. Scarce copy. Jacket is chipped and worn. Losses at top and bottom of jacket spine. Binding good. $350.00

[001395] Wills, Ronald. The Big Fish. London: Wingate, 1951. First Edition. 12mo - over 6¾" - 7¾" tall. Original Cloth. Good / No Jacket. Spine sunned. A few light marks on jacket. Retirement village stamp inside. First page browned. Binding good. $12.00

[019836] Wilson, Alexander. The Crimson Dacoit. London: Herbert Jenkins, 12mo - over 6¾" - 7¾" Tall. Orginal Cloth. Good / No Jacket. Orange cloth covers are bright and have light wear. Binding good. Text clean. $88.00

[005157] Wilson, Sloan. The Man in the Grey Flannel Suit. London: Cassell, 1956. First Australian Edition. 8vo - over 7¾" - 9¾" tall. Original Cloth. Good / No Jacket. Covers worn and marked. Pages browning with age. Binding good. $9.00

[005156] Wilson, Sloan. The Man in the Grey Flannel Suit. London: Cassell, 1956. 8vo - over 7¾" - 9¾" tall. Original Cloth. Good / Fair. Jacket is chipped (and clipped) and worn and has a coffee circle on it. A few tears. Covers bright and clean. A bump on the top of spine. Binding good. Text clean. $12.00

[020444] Windsor, Hugh. Lead Him to Death. London: The Thriller Book Club, 1963. First Edition. 12mo - over 6¾" - 7¾" tall. Orginal Cloth. Good / No Jacket. Covers worn, edges bumped, spine sunned, square, text clean. $12.00

[005667] Witting, Clifford. There Was a Crooked Man. London: Hodder and Stoughton, 1960. First Edition. 12mo - over 6¾" - 7¾" tall. Original Cloth. Good / Good. Scarce hard cover edition with jacket. Jacket is chipped and worn with some marks and short tears. Clipped. Covers clean. Binding good. A Detective Inspector Peter Bradfield mystery. $50.00

[019661] Woods, Sara. And Shame the Devil. London: Crime Club, 1967. 12mo - over 6¾" - 7¾" tall. Orginal Cloth. Ex Lib. Good / Good. Jacket covered in worn and rubbed protective plastic. Library plaque pasted on back cover jacket. Library stamps on free endpage and inside back cover. Text clean and binding good. $12.00

[015848] Woods, Sara. Bloody Instructions. Great Britain: The Crime Club, 1971. 12mo - over 6¾" - 7¾" tall. Orginal Cloth. Good / No Jacket. Edges bumped, spine cracked, pages browning. $12.00

[016357] Woods, Sara. Where Should He Die?. London: MacMillan, 1983. 8vo - over 7¾" - 9¾" tall. Hard Cover. Good / Good. Small crease on front cover jacket, few stains on back cover jacket. Small pen price on first blank page. Binding good. Pages browning. $12.00

[017279] Wright, Jim. The Last Grame. New York: Carroll and Graf, 1990. First Edition. 8vo - over 7¾" - 9¾" tall. Original Cloth. Good / Fair. A novel of suspense. Jacket is worn, edges bumped and clipped with minor losses. Grubby marks and discolouration on back cover. Pages yellowing. Binding good. $15.00

[021797] Wright, L R. A Chill Rain in January. London: Viking, 1990. 4to - over 9¾" - 12" Tall. Orginal Cloth. Good / Good. Edgeworn, light shelf wear. Text clean, binding good, square. $15.00

[003731] Yaffe, James. Mom Sheds a Tear. Short Story in Best American Detective Stories of the Year 1955. London: T.V. Boardman and Co, 1956. First Edition. 12mo - over 6¾" - 7¾" tall. Original Cloth. Good / No Jacket. 24 pp short story in 249 pp anthology. Covers worn. Binding cracked inside front cover. Spine lightly sunned and is marked. PON inside. $18.00

[003895] Yorke , Margaret. The Hand of Death. London: Hutchinson, 1981. First Edition. 12mo - over 6¾" - 7¾" tall. Original Cloth. Good / Good. ISBN: 009145140x. Light wear. In good condition. Jacket price clipped. Small white ink mark covering old price? inside front cover. Review copy. "With compliments ..." review label pasted inside front. $10.00